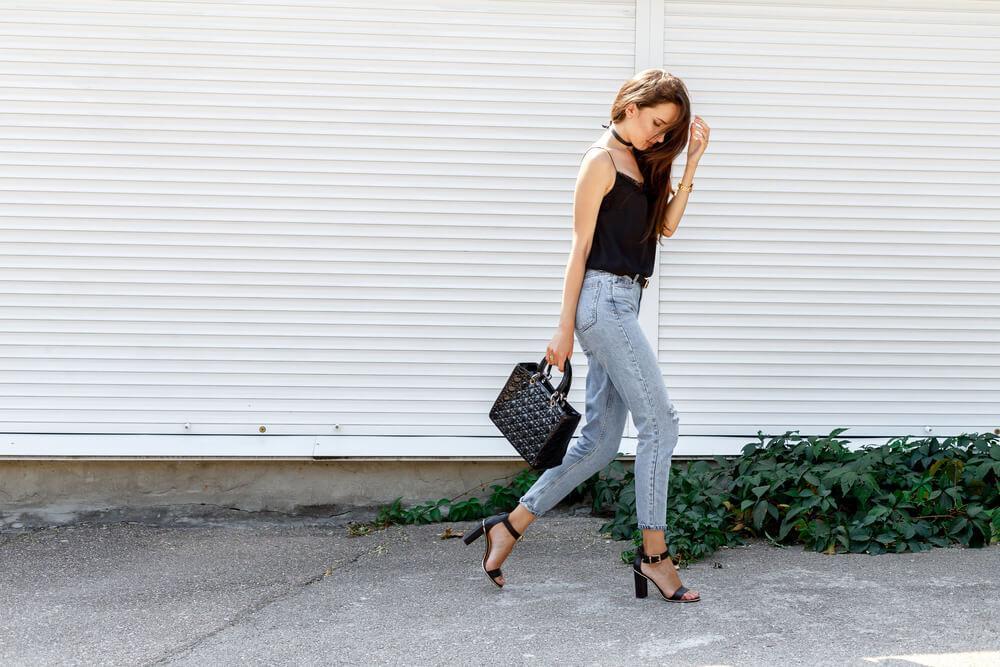 Has anyone told you this yet – 2019 is the year of denim!
Well, possibly not, but it should be.
Because, you know, every year is the year of denim.
While we're nearing the end of another decade, we turn to new and old looks to keep us warm during the fall and make us look like any celebrity out there.
Denim is, quite possibly, the most popular material in the world. Everyone wears it. We wear it, you wear it and, surprise, surprise, celebrities wear it!
So, let's see what the celebrities have picked for this fall as their go-to denim outfits.
Buckle up (no pun intended, unless you have a really good belt), and we're off!
The Popularity of Denim
Would you believe us if we said that denim and jeans were initially meant to serve as comfortable work clothes?
First models of denim trousers were rough and not that appealing. It was in the 1920s and the 1930s that jeans as we know them became popular in the US. They were worn by miners and other male workers that needed sturdy clothes.
But then, in the 1930s, Vogue kick-started denim's stardom outside of the world of work when it featured a female fashion model in denim. That was the first time people thought denim could be a great fashion choice even for women, not just practical work attire.
Jeans became all the rage in the 1950s because Hollywood's bad boys like James Dean and Marlon Brando wore jeans while shaking up the town. But it wasn't until the 1960s that women embraced the (now almost) 90-year-old fashion trend. And it is then that the fashion of jeans really took off. Some of the ways jeans were decorated include bright colors, stone washing, rhinestones, embroidery and patches. Groovy, right?
At that time, it was also popular to wear bell bottom flares and low-rise hip huggers. It was also in the 1960s that denim jackets became widespread. Denim skirts and vests became common in the following decade, while the 1980s brought new looks, like ripped jeans (and aren't we grateful for that??).
Denim became even more casual in the 1990s, with baggy jeans taking over due to hip hop while its (a bit less) baggier relative possessed all those favoring grunge.
And then came the 2000s… boy what an age that was… when low-rise jeans ruled the world, and skinny jeans appeared. Only to be replaced by the high-waist jeans that women simply adore even to this day (and rightfully so).
But what about 2019?
Aaahhh, here is where it gets tricky. The end of the decade brings forth a wide variety of styles, some old, some new (some borrowed, some blue).
And celebrities have never been more adventurous than now, it would appear.
However, is this true when it comes to denim?
It seems that the iconic denim look that Britney Spears and Justin Timberlake rocked in the early 2000s will never be repeated. It was bold, it was out there, it was simply supreme!
https://www.instagram.com/p/BASRCdbmwH8/?hl=en
While those times are passed, there are definitely some interesting developments in the denim department for the fall of 2019. Here are the best celebrity-approved denim trends for the fall.
Ah, those jeans…
While denim in general is a fairly popular material, the focus is usually on jeans and rightfully so. There is not a single person on this planet that has not owned a pair of jeans or two.
Everyone has their own favorite pair, worn until it's worn out.
They're versatile, can be worn in almost any weather and can be worn with any, any outfit.
Jeans are simply the bomb.
Here are some styles that are quite popular for this fall.
Cuffed Jeans
https://www.instagram.com/p/B3PYLETF557/?utm_source=ig_web_copy_link
I bet you did not see this coming.
Alas, but with the start of fall, it's important to have something for the in-between weather.
You know, when no one seems to know what everyone should wear, so you see people in shorts at the exact same time you see people in boots?
Well, for the in-between weather, use in-between jeans.
That's right, not only do cuffed jeans look cool, but they also reveal your ankle, providing your body with the (quite needed) temperature balance! You're ready for the sun, for the rain – for every weather possible!
Celebrities such as Jen Aniston, Hailey Bieber, Reese Witherspoon and Lucy Hale have rocked the look for quite some time, and it's time you do, too!
Flared Flair!
https://www.instagram.com/p/B2UF6HMFyWC/?utm_source=ig_web_copy_link
Flared jeans have been around for almost half a century, and they always find a way to return to their rightful place – at the top of the fashion game.
Now don't worry. You don't have to chuck all of your skinny jeans if you're a fan. Simply put them away for the foreseeable future.
The key to updating flared jeans is mixing the old and the new. Be bold, experiment with them. After all, that is what 2019 is all about.
Put a printed scarf on, oversized glasses and really go for that 1970s vibe. Farrah Fawcett would be proud of you.
Or you can go for a minimalist version, wearing a simple T-shirt or a tucked in shirt. Top that off with a trench coat and you got yourself a superb outfit.
Celebrities such as Sofia Vergara, Bella Hadid and Jessica Alba have been known to simply adore their flared jeans, so why shouldn't you?! Now's your time to shine!
Distressed/Ripped Jeans
https://www.instagram.com/p/B3v2y_lJriq/?utm_source=ig_web_copy_link
Now, while you won't be going to any formal events in distressed jeans, you will, however, look incredibly cool in them.
They're edgy and casual, and juuust on the right side of wrong.
Usually, people seem to like wearing them in the summer, on chillier nights, but it seems that this trend will be spilling into the fall.
You can pair them with all sorts of shoes and accessories. Simply imagine – they go well with heels, sneakers, boots. Wear leather jackets with them – perfect. Perhaps a woolen sweater? Why not? Everything goes.
And it's a good thing, because with the whacky weather, you never know what you should wear.
Celebrities like Jessica Biel, Kourtney Kardashian and Priyanka Chopra flaunt their distressed jeans like pros (which they are), while the male side is represented by the ever-trendsetter Kanye West and Adam Levine.
High-Waisted Jeans
https://www.instagram.com/p/B3md3lLAqGj/?utm_source=ig_web_copy_link
Weren't you glad when low-rise jeans went extinct?
Did you not celebrate when one of the staples of the 2000s simply – went away?
All of us who know the struggle that were the low-rise jeans know how to appreciate (and appreciate we certainly do) their other side of the coin.
How high can high-waist go? As high as need be.
If it can reach the neck, well, then, that's simply awesome.
But on a more serious note – high-waist jeans are a dream come true nowadays. They're easily paired with any accessory there is, they are comfortable, and, with the start of the colder weather, they are incredibly practical (well, your back will certainly be grateful for them).
And it seems that celebrities such as Dua Lipa, Gigi Hadid and Kendal Jenner might agree.
So, don't hesitate, get yourself high-waist jeans for this fall and you won't be disappointed.
Cigarette Jeans
https://www.instagram.com/p/B3l1cMYl5Cy/?utm_source=ig_web_copy_link
The more casual sister of the skinny jeans, cigarette jeans have been teetering on the verge of casual and elegant for as long as they've been around.
Pair them with a dress shirt – voila, you got yourself a nice dinner outfit. Put a grungy old, possibly much too long T-shirt – you can rock any rock concert you want. Experiment with your cigarette jeans, why not?
However, it's precisely with the rise of the skinny jeans that many forgot about its more practical cousin, a cousin that doesn't put your shins and ankles in a vice grip in an effort to smother them.
Cigarette jeans flatter your figure (and what more could you want?) while also providing you with sufficient room to breathe.
Really, what more could you want?
Reese Witherspoon, Miley Cyrus and Olivia Wilde are already wearing them, so why shouldn't you?
Double Denim
https://www.instagram.com/p/B1yLUdUAm6i/?utm_source=ig_web_copy_link
Double denim is the bone of contention for a lot of people, it seems.
Many a friendship have turned sour in the face of divided opinions on this precise issue.
But, truly, really and sincerely, can anyone answer the question – what is so wrong with double denim?
It's like everyone just decided one day not to like it and that was it. Well, this actually might have to do with the iconic Britney and Justin outfit, but that doesn't matter now. We should let bygones be bygones, let sleeping dogs lie and all that.
What matters now is that we are seeing the return of the trend.
Why, you may ask?
Well, it's simple. Brad Pitt's look in Once Upon a Time in Hollywood. And, as anyone who's seen the film can confirm, every scene with Brad Pitt looks like it's from a commercial.
So does the double-denim scene.
Tastefully done, double denim can be the epitome of a rugged style, or it can be as gentle as you want, if you choose a slightly lighter color.
Kate Hudson, Lady Gaga, Gigi Hadid and Jennifer Lopez are already rocking the look, together with Sean Combs (P Diddy, Diddy, Brother Love, or whatever he goes by these days) and, of course, Brad Pitt (or at least his film persona) representing the male side.
Double denim is in, and we can't be happier about it.
Overalls
https://www.instagram.com/p/B3MVTmcF7S6/?utm_source=ig_web_copy_link
Yes, we know, another blast from the past!
And when we say the past, we mean waaaay back. Basically, they were produced for work in the 18th century, and the first jeans Levi Strauss and Jacob Davis produced were actually overalls.
But how awesome are they? They've been quite popular throughout the year, and it seems that fall 2019 will not be any different.
Celebrities such as Margot Robbie, EmRata and Selena Gomez are making it, quite frankly, impossible to bypass overalls this fall.
Again, as many other denim choices, overalls are also convenient. They're loose, durable, and they keep you warm.
And, frankly, what more do you need?
Pair them with cool and out-of-this-world accessories and you've got yourself a chic outfit.
However, even though they were originally designed for men, nowadays, you will rarely see a man who is not a construction worker in overalls. It's perfectly acceptable for women to wear them, children are soooo cute in them, but, apparently, it's a big no-no for men.
And that, frankly, is such a shame.
But it seems that this might change soon, as men have slowly, but surely, hopped on the great overall train. And we couldn't be more thankful for that.
The trend was started by Ben Simmons last year (who, frankly, looks incredible in black denim overalls, something we wholeheartedly support), and it was continued this year by Diplo, the fashion deity.
So, if you're ever wondering whether overalls are a good choice of attire for dudes, as well as dudettes, we're here to answer – yes, of course they are!
Color Us Surprised
It would seem that, after a season of lighter-colored jeans (which are, of course, perfect for the summer), deep indigo hues and black denim are back in for fall.
It's not that we're nearing winter in weather, we're nearing it in hues, as well.
But, it's important to note that such colors are particularly rewarding, as they can be paired with bolder shades to create a truly out-of-this-world outfit, but they can also be paired with more serene ones, for a calm fall.
Also, for the more daring ones among you, denim in bolder colors is easier to find than ever. You're definitely on the mark with some red or purple denim this fall. Pair a bold color with the flared jeans and you, our good sir/madam, are a fashionista on the rise!
Since we're nearing the end of a decade, the best advice is to experiment with colors and with shapes. Blend the decade into one, mix it up and create your own style! But, ultimately, remember to have fun with your denim.
After all, that's what it's here for.