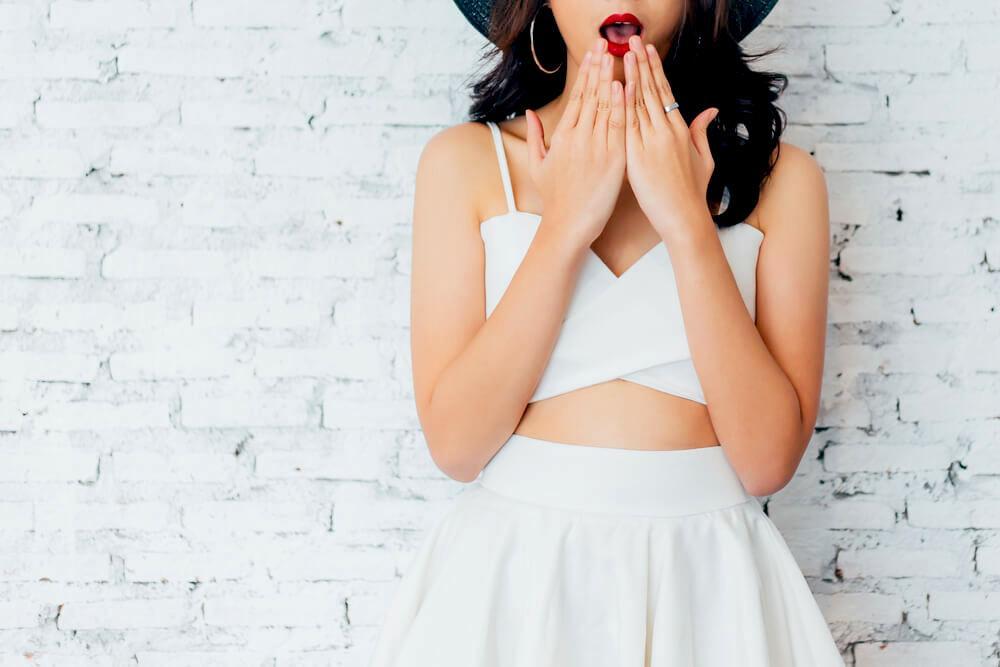 Fashion can sometimes seem quite strange, with the most unexpected of trends becoming an instant hit overnight. 
You may think that you've seen it all, but think again…
Here are a few fashion trends that will definitely have you saying: 
Are people actually wearing this?!
Upside Down Denim Shorts and Jeans
https://www.instagram.com/p/BkThby5lZQg/?hl=en
Jeans and denim shorts are items of clothing that never really go out of style, and also go through so many mini trends of their own. 
From oversized wide-legged jeans to skintight jeggings, there are always new styles being created in the denim world. 
So, what is it this time? 
The latest denim trend is quite an unusual one…
Thanks to CIE Denim, a vintage shop in New York, upside down denim shorts and jeans have become surprisingly popular. 
What are they? 
Well, instead of having the waistband, pockets and belt loops at the top of the jeans, they are featured at the hem of each leg. To replace all of this at the top is what should have been at the bottom – the raw hemline of the jeans.
The jeans and the shorts are both made from custom vintage denim, which helps to justify their high price tag. 
Are people actually wearing them? 
Yes! Even though responses to these upside down garments were mixed, the majority of people ended up intrigued and curious about them, enough to make them want their very own pair. 
Do you feel the same? 
You may have a hard time getting your hands on a pair now, as these garments sold out quite quickly. However, just like all of the other crazy trends that have appeared in the past, it will only be a matter of time before other brands start producing their own versions of these upside down jeans. 
Transparent Plastic Jeans
If upside down jeans weren't crazy enough, Topshop has decided to put their own input into unusual jeans…
Their Moto Clear Plastic Straight Leg Jeans are made from a transparent plastic material, leaving your legs visible from your waist all the way down to your ankles. 
As you can imagine, it didn't take long for these jeans to go viral. 
Those who were brave enough to don a pair stated that they ended up chafing and sweating an unusual amount, which is hardly surprising seeing as they were wearing plastic around their legs. 
What was Topshop thinking? 
Well, they realize that these aren't going to be an every day item of clothing, referring to the pants as a statement piece instead, or an item that would be ideal for a costume party. 
If you're tempted to purchase a pair of these futuristic jeans, rest assured that they are machine washable, making them relatively easy to care for. 
This wasn't the first time this year that Topshop made headlines for bizarre items of clothing…
Earlier on in the year, Topshop released their Clear Knee Mom Jeans. These high-waisted tapered and cropped jeans had cut-outs at the knees, which were covered over by clear plastic panels. 
Transparent Plastic Boots
Think the transparent plastic jeans sounded crazy? 
Well, transparent plastic seems to be having its moment, with clear plastic boots being another trend that people are actually wearing. 
This is one that you have likely seen on social media before, with a number of different influential celebs, such as Kylie Jenner, choosing to wear a pair. 
The plastic on these boots usually has small holes punched into it, to provide the feet with some ventilation. However, if you plan on wearing the boots for an extended period of time, keep in mind that these ventilation holes will likely not do their job properly, leaving your feet sitting in a pool of sweat. 
Many people who have given these boots a try also had trouble actually sliding their feet into them, due to the friction caused by the plastic. Lubrication is the answer here, and you will need to slather this all over your feet in order for them to be able to easily slip into the boots.
The Romphim
https://www.instagram.com/p/BocRRwLHARA/
The RompHim is a garment that had its start on Kickstarter, and quickly went viral, leading to men all over the world giving this trend a try. 
Wondering what a RompHim is? 
It's basically a romper that has been designed for men. The designers, known as Aced Design, decided that menswear was too basic and boring, and wanted to create a garment that not only had attitude, but was also fun enough for men to really embrace fashion. 
The brand promotes positive body images, and have created rompers that work for just about every shape and size, complete with buttoned waist tabs to highlight the masculine shape of their body.
Bathrobes As Outerwear
If you regularly wear bathrobes or dressing gowns, you have likely come across a few styles in the past that have made you think…
"These are far too nice to be relegated to the house!" 
Well, you don't necessarily have to keep them in hiding…
One unusual trend that has made an appearance recently has been wearing bathrobes as outerwear. It was first brought into the spotlight in 2017 at the Gucci and Balenciaga shows, with robes that looked as though they were a cross between a dressing gown and a kimono. 
The look has quite an eclectic boho feel to it, so those of you who already dress to this aesthetic may be tempted to give this trend a try. 
If you do, make sure that you get the styling right. Here are a few tips: 
Don't go for boho accessories, as this will only make your outfit appear costume-y
Pay attention to proportions, opting for straight-legged pants with the robe

 

If your robe is made from satin or features any lace details, it may be best saved for the home

 

Don't try this trend with a full-length robe

 
The Bra Bag
Have you ever had to tuck your money or any other loose items into your bra, because you didn't bring a bag with you? 
Well, fashion designer Helmut Lang has created a garment that is perfectly suited to the women who frequently do this. 
The leather bra bag looks like an oversized bra, but doubles as a bag. There are zip compartments over each cup, and the bra is designed to be worn over the top of your outfit, rather than hidden underneath. 
This may seem slightly strange, but the response to this has generally been quite positive, with many women choosing to give this trend a try. 
Want your own? 
You may have to wait a while, since the bra bag is sold out on the Helmut Lang website, proving just how popular this innovative item has been.
Bare Butt Jeans 
https://www.instagram.com/p/BSyHe2tlZW9/?utm_source=ig_embed
Revealing jeans are nothing new, but this style, which was originally conceived through the Vetements x Levi's collaboration, leaves the backside bare. 
Vetements is known for their cutting-edge designs, and this one is no exception. 
There are now other brands who have created their own versions, believing that this is a trend worth getting on board with. 
What has the public reaction to these jeans been? 
Well, you may have expected people to shun these jeans, but the response has been surprisingly positive. People seem to love this unusual way of showing some skin, and these jeans have been flying off shelves. 
The Sleeping Bag Jacket
Looking for a new jacket that is guaranteed to be warm and cozy? 
The sleeping bag jacket, which also comes in the form of a dress, definitely meets this criteria. 
Wondering what a sleeping bag jacket is? 
They basically look like a cross between a duvet and a sleeping bag, but designed in the style of a jacket. The garments come complete with zippers, snaps and drawstrings, all of which make it easier to actually put the jacket or dress on. 
There's no denying that the bulky silhouettes that these garments create are not very flattering, but the feeling of comfort you will be able to enjoy when wearing a sleeping bag out into the world will be unparalleled.
Are people actually wearing this? 
Yes. From the streets of London to New York, these sleeping bag garments have been making quite the appearance, with those who wear them having nothing but positive comments to say about them.  
Platform Crocs
When Crocs first made their appearance on the fashion scene, people tended to either love them or hate them. 
Now, this trend has taken a surprising turn, with platform Crocs becoming the next big thing in footwear. 
These bizarre shoes were dreamed up by Balenciaga, with the shoes being created exclusively for Barney's. Surprisingly, the shoes were a huge success, and were sold out before they were even able to make it onto the shop's shelves.
Featuring a 10 centimeter foam platform, these shoes will definitely give you some extra height, and will add a quirky element to any outfit. 
What color are these platform crocs? 
They come in plain black, but if you really want to make a statement, you can opt for a brighter pink pair that has been decorated with charms, spikes and other fun details. 
While many people wanted a pair, even before they sold out, the high price tag was quite off-putting, especially when standard Crocs cost so much less. 
However, the creative director of Balenciaga believes that they have found a way around this…
Since the shoes are all one-piece, rather than featuring different sections that need to be assembled together, the brand hopes to make use of 3D printing to print the shoes. This cost-effective production method means that the brand would be able to drop the price of their platform Crocs significantly, making them available to the masses.
Is this a good thing? 
Many people have their doubts, and are hoping that the shoes will go out of style before Balenciaga develops their 3D printing production methods. 
The Toilet Paper Purse
Looking for the latest it-bag? 
You don't have to look any further than your very own bathroom. 
Jeremy Scott, the designer for Moschino, decided to have a bit of fun when it came to the brand's collection last year. Scott is known for being able to turn trash into fashion, creating high quality versions of items that look as though they have been made from plastic or paper. 
However, this time he decided to just go ahead and use paper…
One of the bag's seen at the show consisted of a roll of white toilet paper with the brand's logo printed at the top. This was attached to a chain, which was worn around the model's shoulder. 
Think that sounds strange? 
People have been loving it, and while they might not have been splurging on the expensive Moschino version, DIY alternatives have become so popular. 
Moschino kept this fun bag trend going throughout their show, repeating this idea with a single sneaker tied to a chain and worn over the shoulder.
While you may not be able to store many of your belongings in these so-called bags, they definitely do make quite the statement! 
Thigh High UGG Boots
https://www.instagram.com/p/BeK7gang9rA/?utm_source=ig_embed&utm_campaign=embed_loading_state_control
Everyone remembers when Ugg boots first came into style, and, just like with Crocs, people either loved them or hated them. 
While many may have been relieved when Ugg boots finally left the fashion scene, it looks as though they may now be back. 
Of course, they have undergone a bit of a makeover, with the newest styles consisting of thigh high Ugg boots. These have been designed for both men and women, and people seem to be absolutely loving them. 
Although these boots were released in the summer, making them quite impractical, people have been saving their pairs to wear in the winter, so you will likely see these thigh high Uggs making an appearance on the streets pretty soon. 
The fashion world is constantly experiencing bizarre new trends, and some of the most unexpected of these often end up taking off, and it isn't long before they are seen all over the world. From transparent jeans and boots to jackets that look like a sleeping bag, these trends may seem quite strange, but they do show that people out there are having so much fun with fashion, which is exactly how fashion should be.