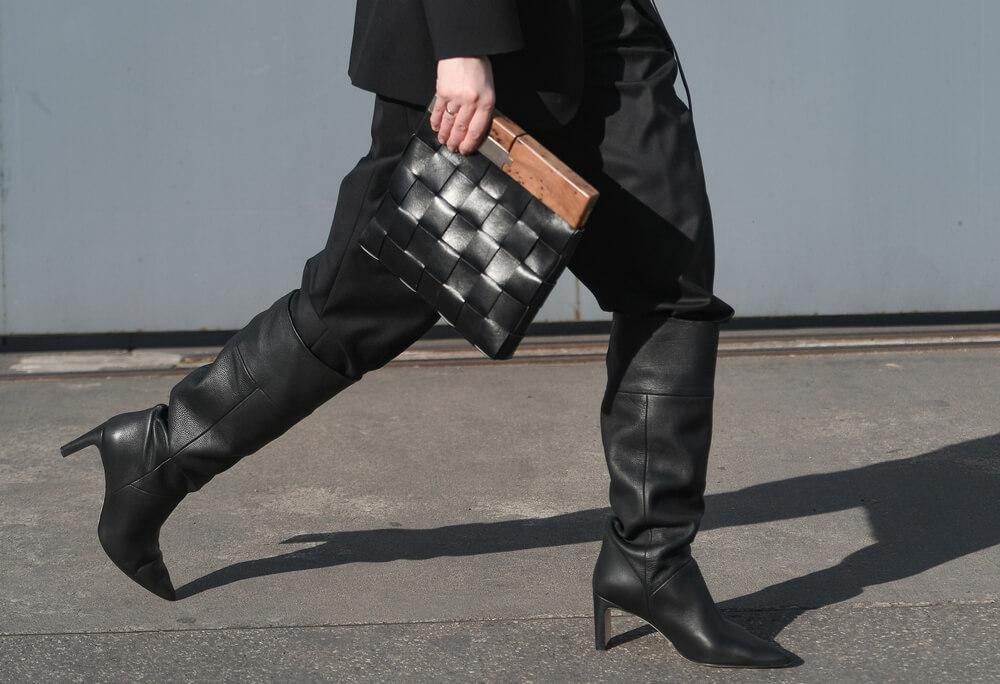 With wet and snowy weather comes the need (and the want!) for gorgeous winter boots to match our favorite cold-weather outfits. It's dreamy picking out which styles we love but that can quickly turn into a nightmare when we can't find pairs that fit our calves properly!
 In fact, it's become such a problem for so many of us, we decided to finally do something about it that'll make all our lives easier this winter. Keep reading and discover all the best brands out there for gorgeous, wide calf boots that really fit…
Asos Design
We all turn to Asos Design for so many other items in our closets, it's really no surprise we'd look there for wide calf boots too. As we expected, they didn't disappoint!
Every woman needs a great pair of black knee-high boots for autumn/winter. After all, you can dress them up or down, they go with pants and skirts, and let's face it, they're a classic!
So, what did Asos Design have to offer?
Let us show you!
The wide fit Cuba knee boots in black. have to be one of our favorites this year! They have a gorgeous matte black finish thanks to their faux-suede upper which looks incredibly chic with their high block heel.
Something else we absolutely love about this wide fit design? It offers a side zip fastening. That means no more of those annoying moments where you go to put on your shoes at the door and suddenly remember it's going to take you half an hour to pull them on!
Add these to your cart now and feel incredible for the entirety of the winter season. You can also find more of Asos's wide fit range here.
Jones Bootmaker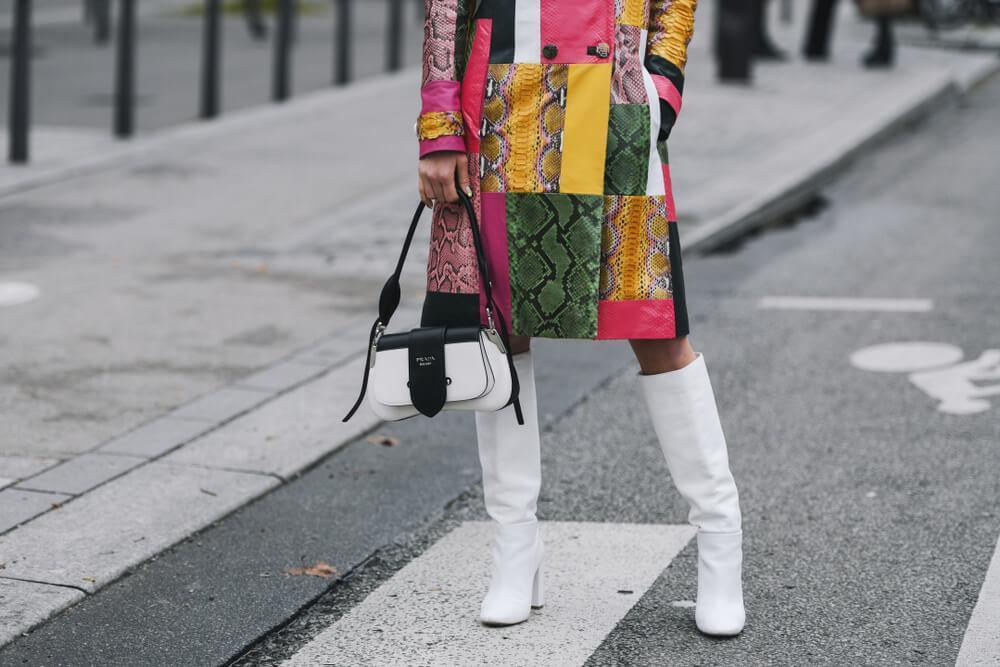 When it comes to finding brands you can trust, shopping those that have been around for a long time is always advisable. Why? Years of experience means they know their stuff and can be trusted to deliver what you need!
Enter, Jones Bootmaker. Established in 1857. Trust us when we say, this brand offers every classic boot style you've ever dreamed of. From ankle boots to over the knee designs, whatever style you're after, they'll have it.
What's more, their selection of wide calf styles is excellent. It's so comprehensive in fact, you can filter your search results on their website by six different calf widths. Those looking for a wider fit can choose between adjustable regular, wider, and extra wide.
More than this, you're also guaranteed an outstanding pair of leather boots no matter which style you choose. Winter footwear never looked so chic, or felt so simple to shop for!
Ariat
For those that just can't resist the wholesome charm of cowboy boots (so, everyone?) we highly recommend looking to Ariat.
Why Ariat?
They know just what you need!
In our humble opinion, half the charm and desired look of cowboy boots is their loose look fit around the calf. This gives them that quintessentially laid-back vibe, plus, it looks and feels super comfortable.
Therefore, when you pull on a pair that sit right up next to your calves, you lose the desired effect and have zero chance of wearing them over pants either!
Well, luckily for all of us searching out a roomier fit, Ariat responded to the needs of their customers and have produced just the thing. Wide Calf Cowgirl Boots!
The boots are available in three different colors, Russet Rebel, Distressed Brown, and Black Deertan. What's more, you can pick from two different overall shoe widths, medium or wide, plus your desired calf width.
Perfect for adding a western edge to your winter looks that's both stylish and well-fitting!
Hunter Boots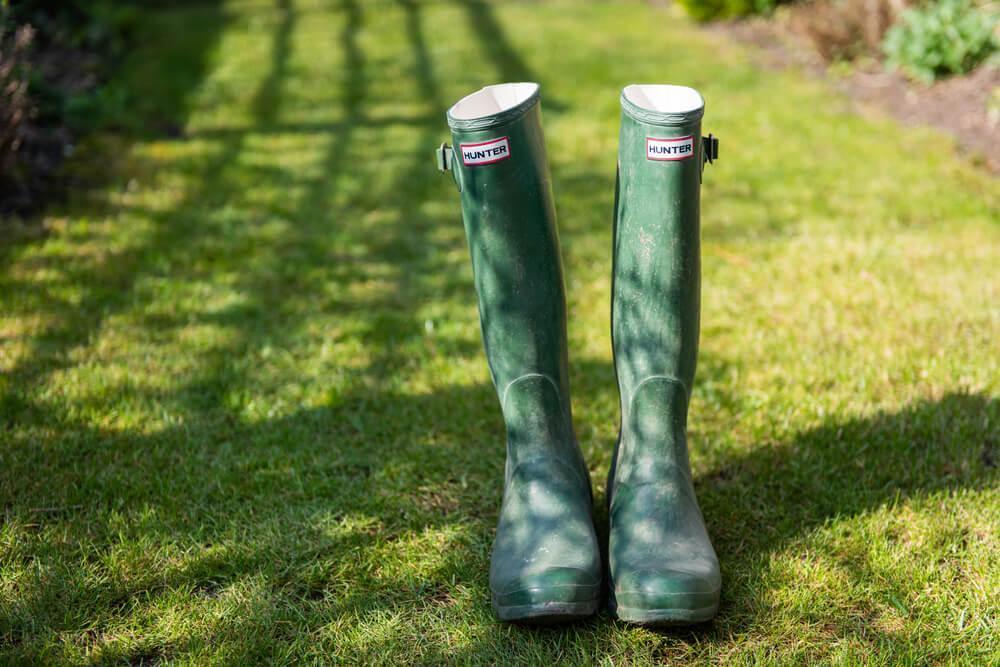 When the weather outside is frightful, pulling on skin-tight rubber rain boots is far from delightful. Mainly because they're usually so freaking tight!
Well, thanks to Hunter, the struggle is about to be over. That's right, wet weather will be with a smile (and an extra 15 minutes of getting ready time!) when you see just how easy their super stylish rubber rain boots are to put on!
How?
It's all thanks to an extra-wide fit on the calves!
If you thought it couldn't get better than waterproof shoes you can throw on and go, we have a welcome surprise for you. Hunter makes their wide calf rain boots in all different styles and colors. That's right, you can choose from a classic matte black to more traditional green. Or, to mix things up, they offer other exciting colors such as Bayou Purple, Firth Deep Green, Steall Light Grey, and more!
Every pair also offers an expandable gusset at the back that makes these beautiful boots even more of a perfect choice for those of us with wider calves.
Naturalizer
Any brand that has a specific section dedicated to wide calf boots is already a winner in our book! This means they understand the needs of their customer and have already found a solution to make shopping for your boots easier.
Naturalizer is one such company and, we have to say, their wide calf boot selection is simply stunning! Whether you're looking for heeled boots, flat boots, or something in between, they have you covered.
Additionally, they have a great selection of colors and finishes. Opt for classic black or brown leather boots or, why not opt for an on-trend croc style boot?!
As if all of this wasn't enough, Naturalizer has developed their very own Contour+ technology. This provides a cushioning system that intuitively sculpts to the contours of your feet for an incredibly comfortable fit all day long. Pair this with the fact that they're specifically designed to fit comfortably around wider calves and we're all in!
Free People
Just because it's winter doesn't mean only black, brown, or navy footwear is allowed. If anything, now is the time to experiment with your boots choices as come summer, it'll be back to sandals and sneakers!
If a striking pair of white knee-high boots take your fancy, there are plenty out there to choose from. That said, not many offer the wide fit we're looking for which, as we all know, can really ruin the look. Not to mention, it feels horrible wearing boots that are too tight!
Happily, we came across the stunning Stevie Boot by Free People whilst researching the best wide calf boot brands and we're so glad we did! These boots have been designed specifically in a wide style with adorable kitten heels and pointed toes.
Love these as much as we do?
You're in luck!
They come in 6 beautiful colors and fabrics as well as white. Choose from Garnet, Portabello Suede, Black, Khaki, and Brown Crocodile. Whichever you select, they're sure to elevate any winter outfit you pair them with!
Ugg
Though they may not exactly be advertised as such, many of Uggs classic boot lines are perfect for wider calves. For starters, many Uggs are made from flexible materials that allow for an extra roomy fit for the wearer.
We've also found that a fair few styles available from Ugg, such as the Bailey Bow Boots offer an adjustable feature at the back. This is in the form of a ribbon which allows for additional movement in the fit. Other styles we recommend with flexibility for wide calves include Ugg's Classic Cardy Knit boots which are available in both gray and black. Perfectly snuggly for this time of year!
Public Desire
As we said, if there's ever a time to show your sense of style through your boots choices, it's during the winter months. The array of designs available this time of year allow us to truly experiment with length, fit, color, and texture. None more so than a striking pair of snakeskin style boots!
That's right, we're talking about the Wide fit slow knee-high boots in brown snake by Public Desire. We can honestly say that very few styles out there are as gorgeous as these and as they're specifically made to offer a wide fit, they'll be incredibly comfortable.
Think it can't get better?
It can!
These must-have boots simply pull on with no fuss. They also have pointed toes which lengthen the look of your legs and on-trend block heels. They'll go with casual jeans and sweater looks as well as dressier pieces such as dresses and skirts.
Add these to your autumn/winter shoe rotation for an undeniably fierce style injection!
Michael Kors
As we all know, we can always rely on Michael Kors for the chicest, most on-trend pieces for any season. And, Autumn/Winter 2020 is no different!
The Bromley leather & stretch tall boots by Michael Kors are simply essential for the season ahead. Plus, they're perfect for wide calves!
Why?
When in doubt, opt for stretch fabrics!
These boots not only look incredible, they feel it too. That's all thanks to their sleek leather uppers combined with the stretch back panels for a truly flexible fit.
What we also adore about these boots is how they'll fit so seamlessly into any closet. Dress them up or dress them down. Wear them in the daytime, wear them in the evenings. They're certain to look flawless with every outfit from jeans, a sweater, and a trench coat, to winter floral dresses!
What's more, these gorgeous knee-high boots have only a hint of a heel making them comfortable for all day wear whilst maintaining an eternally flattering shape. Add them to your cart immediately, you won't regret it!
Marc Ficher
Looking to make a statement this winter?
Choose over the knee boots!
Few other styles are as eye-catching as over the knee boots are, plus, they'll keep you warm and toasty even as temperatures begin to drop below freezing. If you're looking for recommendations, we suggest opting for the Yahila over the knee boot by Marc Fisher.
Every element of these boots screams elegance from the on-trend, covered block heel to the matte suede finish. Pull these on over pants or wear them to give a sultry edge to a mini skirt or dress. They're super accomodating for wide calves meaning you can enjoy them comfortably all day (and night) long.
Like a couple of the other brands on our list, these boots aren't specifically advertised as being designed for those with wide calves. However, after researching customer reviews on the site itself and through other online review sites, customers agree that these boots are great for wide fit needs!
Not a fan of black boots? No problem. These stunners also come in an equally timeless tan shade. We even think this could add a boho touch to your outfits for the season ahead. Especially when you're opting for a long, winter floral dress!
Wide Widths
If you really want to explore all there is to explore in terms of wide calf boots widths, you won't find a more comprehensive choice than Wide Widths offers. Established in 1988, they have an amazing range of boots you can shop specifically by calf size.
These options range from Wide calf to extra wide calf, and from super wide calf to super plus wide calf. That means you have options for boots with a calf width measuring between 15 3/4 inches up to 19 3/4 inches.
Oh, and did we mention the boots are beautiful?! There's a huge array of colors and styles available to suit your style. Whether you're looking for an everyday boot you can throw on and head out into the cold in, or something a little more special for an event, you're sure to find what you need here!
Simply click on the width you need and you'll be instantly presented with every boot in that measurement. We're particularly in love with their deep green and ocean colored boots and sexy snake print ones! They'll make the perfect style addition to your winter shoe closet whilst keeping you comfortably warm and dry all winter long.