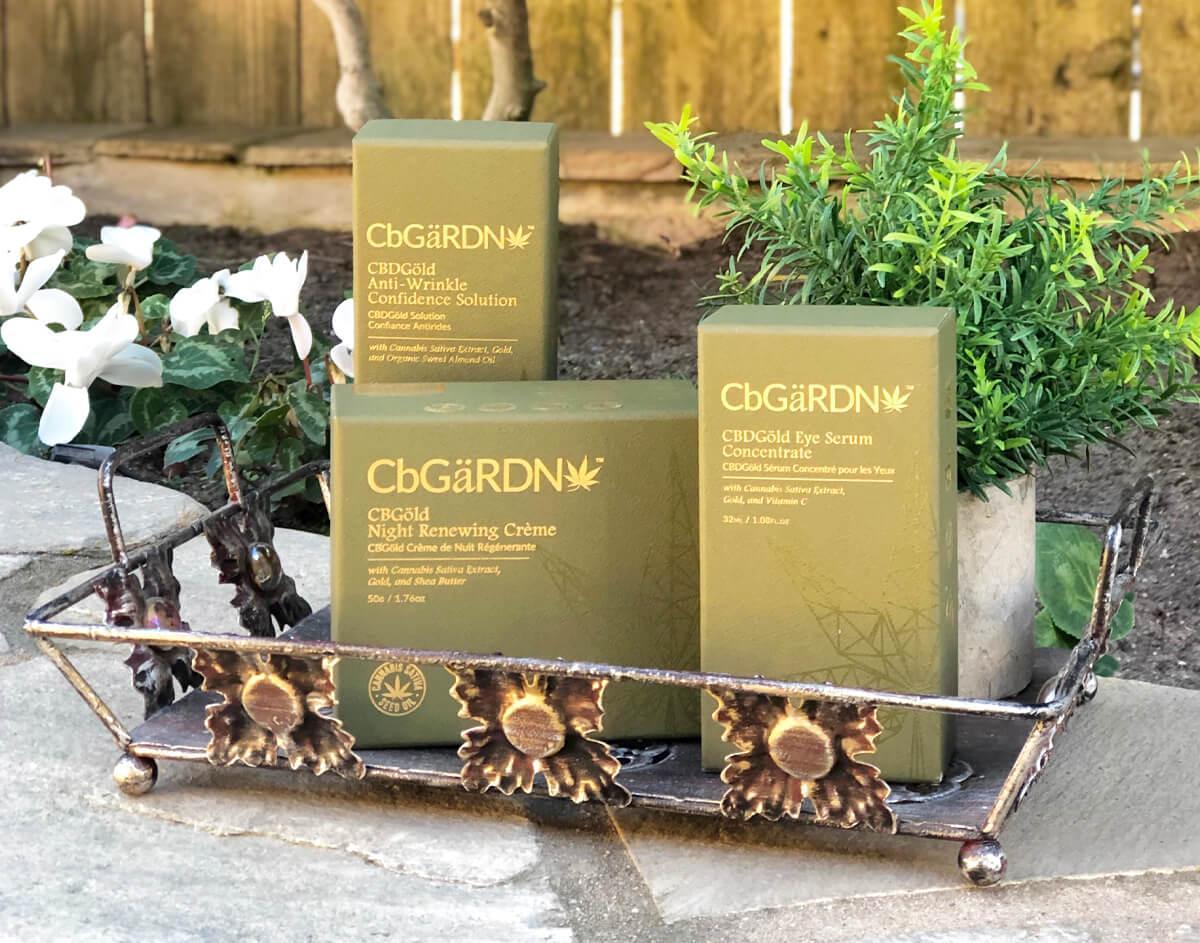 Review by Lorel Rodriguez
CbGäRDN is an innovative, luxury CBD skincare brand that incorporates unique ingredients to make powerful and long-lasting effects on the skin. An up-and-coming brand, this skincare line is inspired by the versatile and regenerative effects of cannabis sativa extract, hemp seed oil, Vitamin E, and gold. This brand is ideal for those in need of firming, anti-aging, or dry skin routines – or simply for those who love luxury!
As someone who struggles with dry and acne-prone skin, I was lucky enough to receive the CBGöld Basic Collection from CbGäRDN. After weeks of experimenting with their products, I'm excited to share my thoughts on their products.
Here is my review of the CBGöld Collection:
All About CBD
CBD-infused skincare has been trending in the skincare community for quite some time now, and for good reason! CBD has great healing potential as well as soothing, anti-aging, and anti-inflammatory properties that aid the skin.  CBD is extremely effective and has shown to improve the following skin problems: 
Dry, dull-looking skin
Eczema
Rosacea
Psoriasis
Inflammation
Signs of Aging
So, what is CBD exactly? CBD is the medical abbreviation for cannabidiol. It is the oil extracted from the flower, stalk, and various parts of the cannabis and hemp plants. It has extremely low and insignificant amounts of THC; which is the portion of the plant that gets you high. CBD that is absorbed through the skin does not reach the bloodstream. Instead, it is simply absorbed through the pores where it releases its benefitting effects.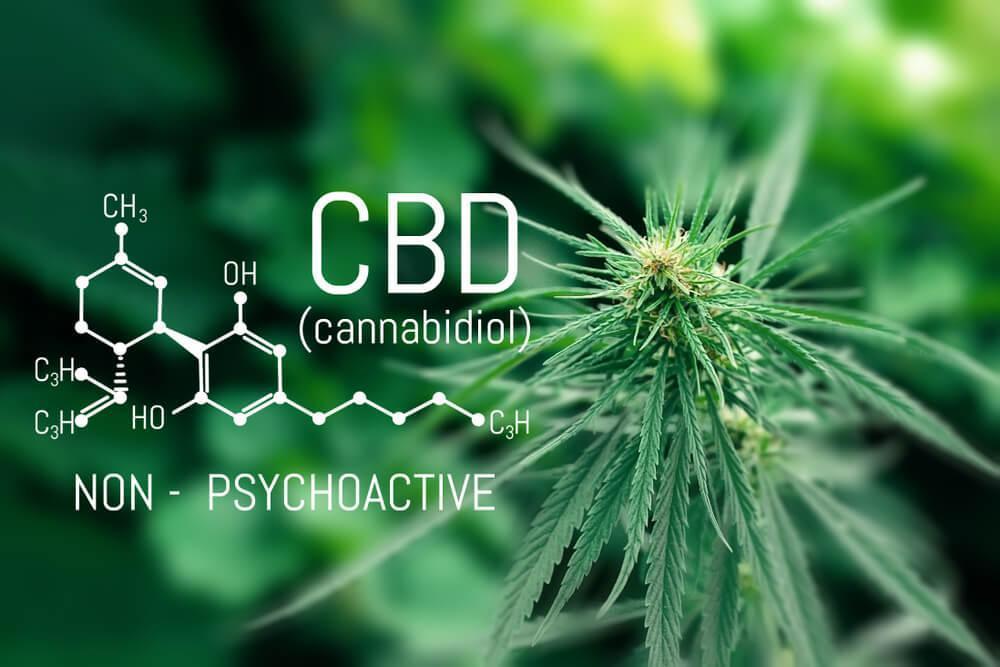 CBD is extensively researched and has been deemed completely safe by the World Health Organization. It is also important to mention that CBD does not get you high. You can find more information on CBD and its positive effects on the body here.
After performing my own research, I couldn't wait to start trying CbGäRDN's CBD-infused skincare. Read more about my first impression of the products below!
First Impressions of the CBGöld Basic Collection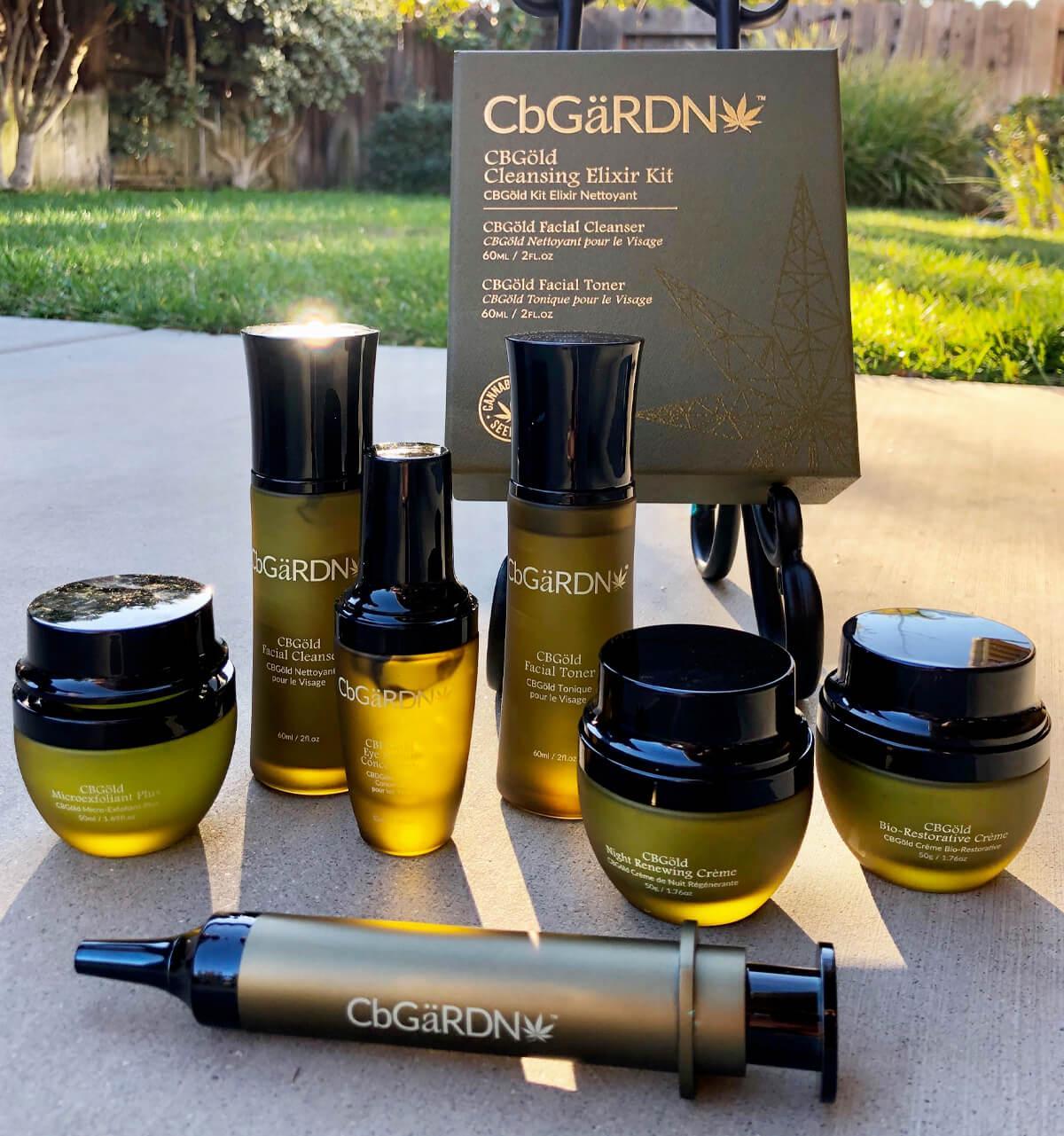 When I received my package in the mail, I immediately noticed how gorgeous the packaging was. From the elegant packaging to the wide variety of products, I was definitely impressed. 
CbGäRDN is known for their skincare lines called the "CBGöld Essentials Collection." This particular collection is aimed at restoring, hydrating, and illuminating the skin. Complete with products that exfoliate and nourish, this collection is perfect for daytime and nighttime routines. 
The CBGöld Basic Collection that I received includes seven luxurious skincare products that are all aimed to rejuvenate and restore your skin's hydration and overall health. The contents of the package include:
Cleansing Elixir Kit (includes cleanser and toner)
Microexfoliant Plus
Bio-Restorative Crème
Anti-Wrinkle Confidence Solution
Night Renewing Crème
Eye Serum Concentrate
I will go into more detail about the products, their ingredients, and how to use them below.  
Cleansing Elixir Kit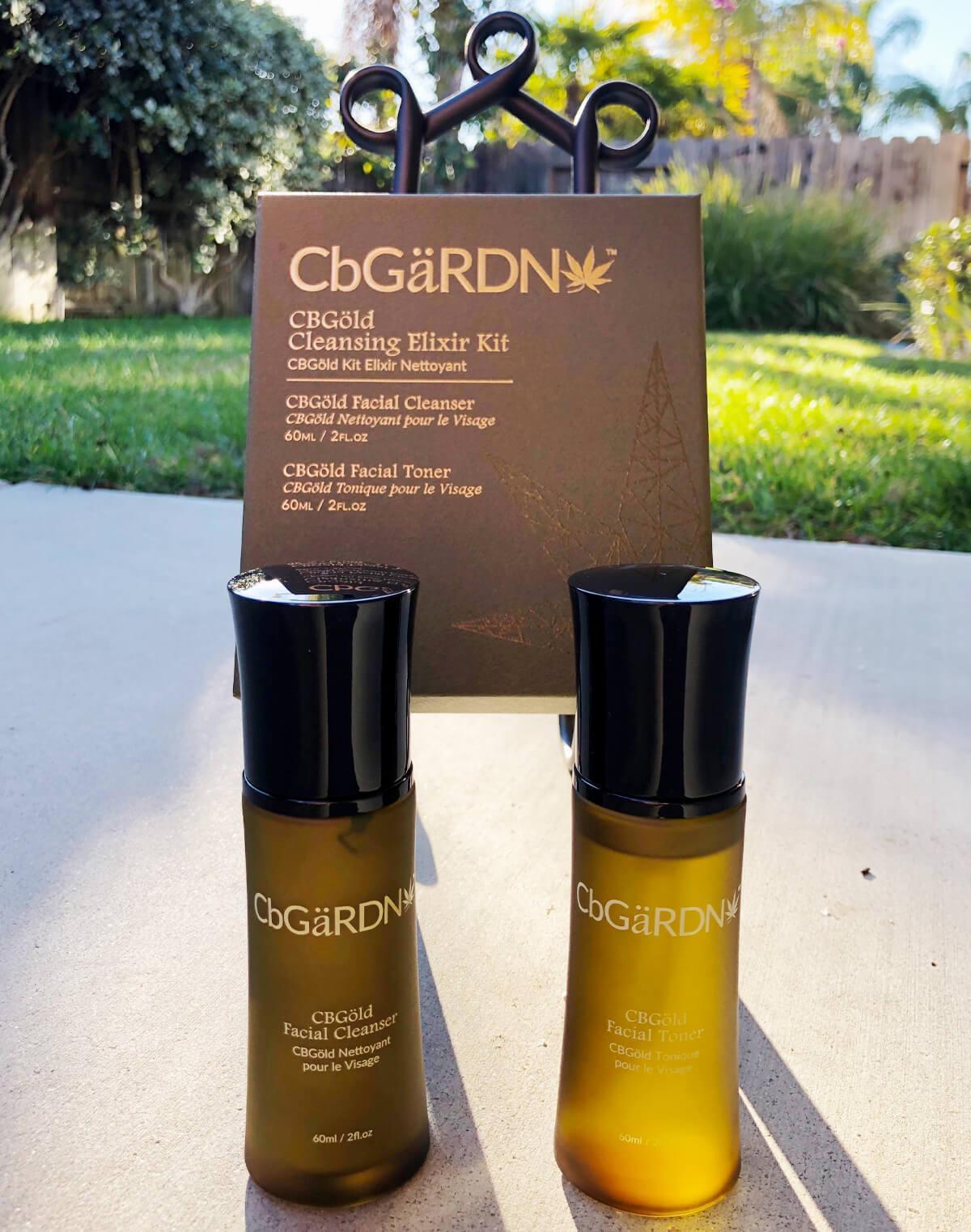 This advanced cleansing duo is an amazing combination of effective, natural ingredients that work together to bring out the best of your skin. The Cleansing Elixir Kit uses advanced nutrients to cleanse the skin, detoxify impurities, diminish fine lines and wrinkles, as well as moisturize and illuminate the complexion. Packed with Mineral Oil, Glycerin, and Castor Oil, this gorgeous kit hydrates the skin while delivering the ultimate consistent care that your skin deserves. 
The CbGäRDN Cleansing Elixir Kit comes with a Facial Cleanser (60 mL/2 Fl.Oz) and a Facial Toner (60 mL/2 Fl. Oz).
Some powerful and beneficial ingredients in this kit include: 
How to Use: 
Cleanse your face using the Elixir Facial Cleanser. Use a small drop of the cleanser and apply over moistened skin. It is important to start your skincare routine with a clean, blank canvas. Cleansing your face before using additional products allows your skin to absorb nutrients more effectively. 
Work into a lather. Use your hands to gently massage the product into your face.
Rinse thoroughly with warm water. After rinsing, be sure to pat dry. 
Apply toner to face. Use a cotton ball or pad to apply the toner to your face. Be sure to avoid sensitive areas, such as the eyes.
The Results:
After using these two products for a couple of weeks, I did notice some positive changes to my skin's texture. The cleanser is freshly-scented and feels silky to the touch. My face felt smooth and refreshed after one cleanse! The toner was similarly pleasant: it deep-cleaned my pores and controlled my oil levels. I did notice that my skin was less oily than usual throughout the day. Overall, I enjoyed this duo and would add it to my morning and/or nighttime skincare routine. 
Microexfoliant Plus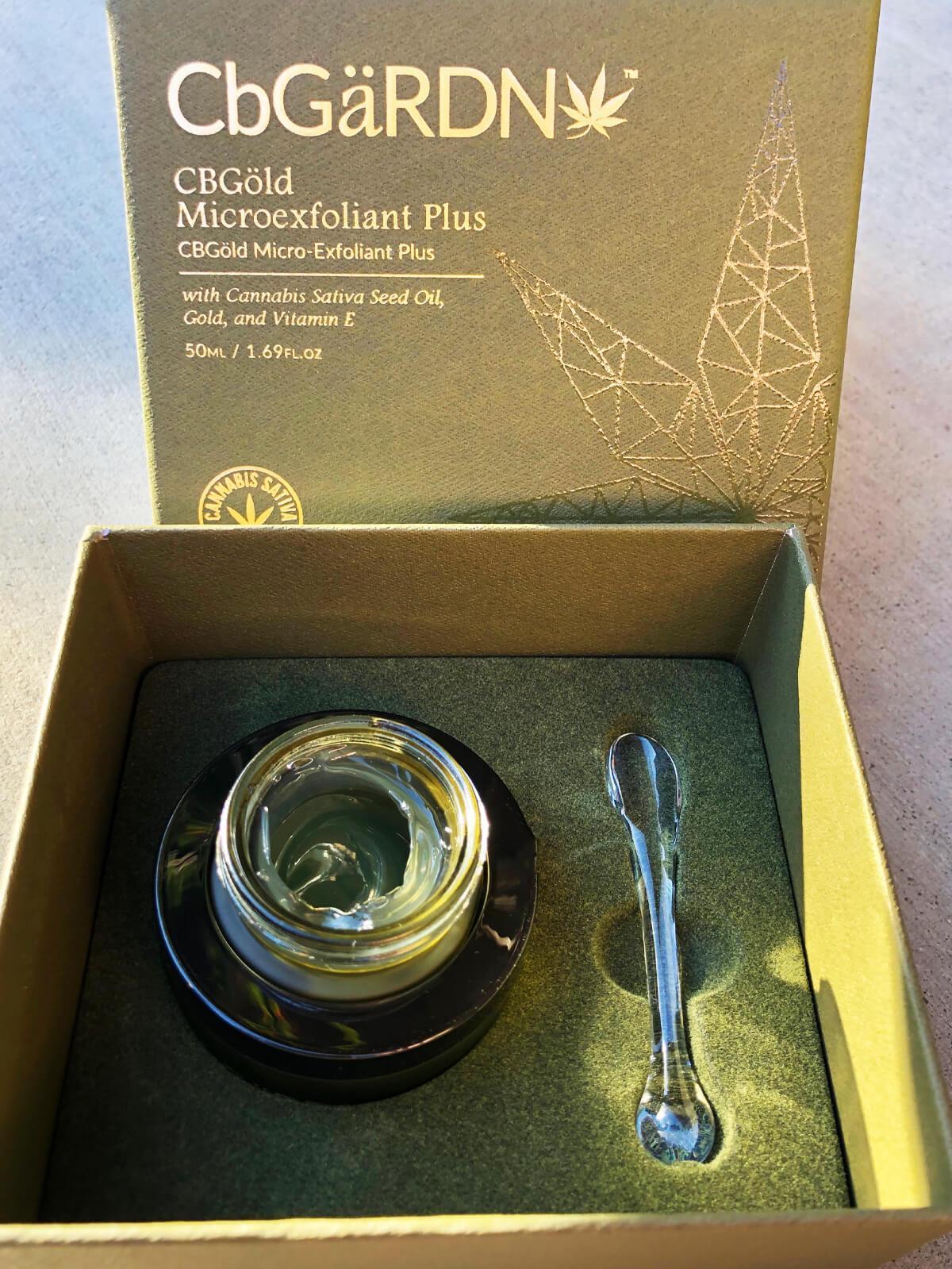 Packed with Vitamin E, Mineral Oil, and other beneficial ingredients, the Microexfoliant Plus gently detoxifies your skin and rids it of impurities and toxins. Though harsher than the other products in this collection (due to exfoliating ingredients), this product is generally gentle and will not irritate your skin. The Microexfoliant Plus is ideal for those with dry, dead, or scarred skin.   
Notable Ingredients: 
Mineral Oil – moisturizes the skin and aids in the retention of other natural ingredients.
Vitamin E – powerful antioxidant that works to protect and heal the skin, as well as calms redness and swelling, reduces scars and wrinkles, and protects your skin from sun damage.
How to Use: 
For best results, smooth cream over face and night each night.
The Results: 
Since exfoliants are harsher than other products, I only used this product three times a week. After using the Cleansing Elixir Kit, I applied the Microexfoliant Plus and was careful not to go out in the sun (sunlight is too harsh for recently-exfoliated skin). After just one use, my skin immediately felt softer. This exfoliant removed all the dead skin from my face, leaving my face brighter and more hydrated!
In general, exfoliants tend to be aggressive on the skin, especially for those with sensitive skin like me. I've used exfoliants before that have damaged and burned my skin. I was a little hesitant to try this product at first, but I was pleasantly surprised! This product gave me no problems whatsoever. It is so gentle and definitely not harsh. I did not notice any damage to my skin and felt completely comfortable using it. 10/10 would recommend!
Bio-Restorative Crème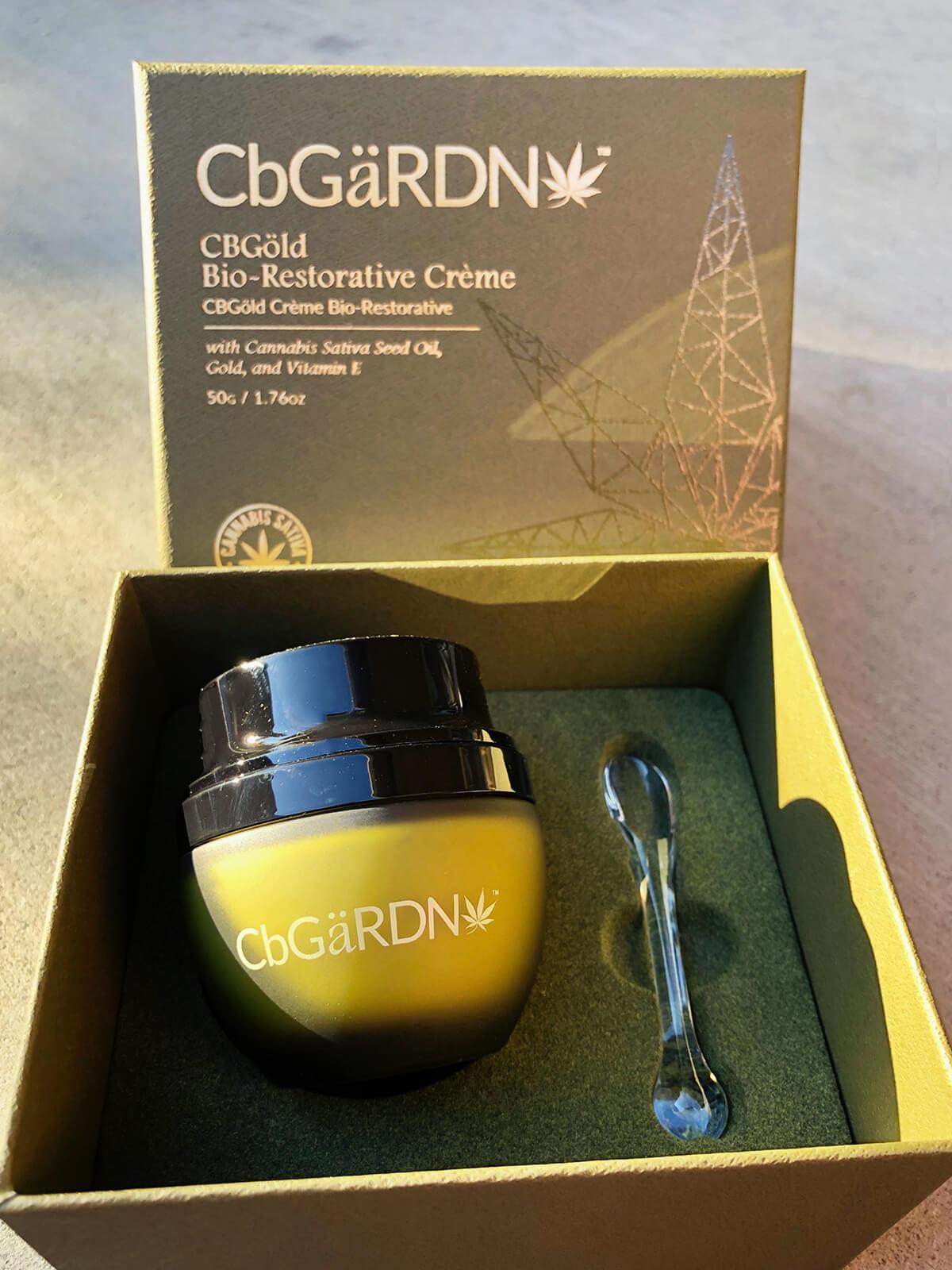 CbGäRDN's Bio-Restorative Crème is infused with nutrients and powerful ingredients that replenish moisture loss, stimulate skin cells, and rejuvenate tired skin. This luxurious cream nourishes the skin; leaving it soft, supple, and dewy all day.
Notable Ingredients: 
Shea Butter – anti-inflammatory and anti-aging that stimulates facial muscle fatigue as well as reduces wrinkles, dark spots, cellulite and stretch marks.
Sunflower Seed Oil – skin protectant that maintains the skin barrier and decreases water loss.
Hydrolized Oat Protein – softens and soothes the skin while improving skin irritation.
How to Use: 
Cleanse the skin before applying the cream.
Apply the cream in an upward motion all over the face and the neck.
The Results: 
The Bio-Restorative Crème is one of my absolute favorites from the collection. Not only does it smell amazing, but it feels so nice on my face. This cream is much thicker than the other products, but not overwhelmingly so. If you're looking for a thicker moisturizer with sun-protectant qualities, the Bio-Restorative is for you! 
Anti-Wrinkle Confidence Solution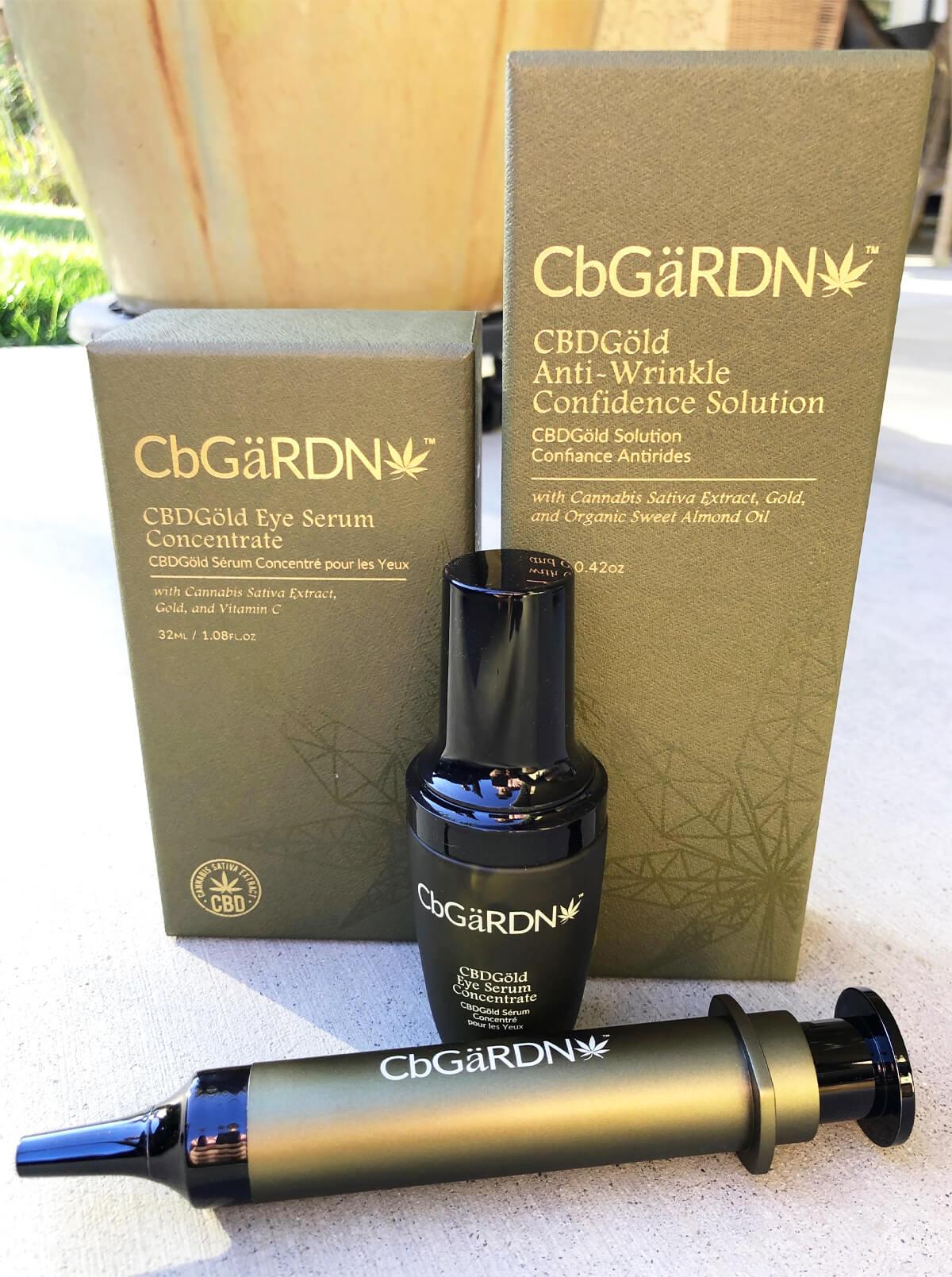 The Anti-Wrinkle Confidence Solution is wonderfully infused with fruit extract, cannabis sativa seed oil, and gold. This non-surgical solution is ideal for those with fine lines and wrinkles. From Retinyl Palmitate to Organic Grape and Avocado Seed Oil, this silky solution uses natural ingredients that work together to target stubborn lines and wrinkles on the face. 
Some organic and effective ingredients in the Anti-Wrinkle Confidence Solution include: 
Organic Sweet Almond Oil – this fatty acid helps the skin retain moisture, heals irritated and damaged skin (including acne), and protects the skin from UV radiation damage.
Vitamin E – powerful antioxidant that works to protect and heal the skin, as well as calms redness and swelling, reduces scars and wrinkles, and protects your skin from sun damage.
How to Use: 
Apply to clean, dry skin.
Press bottom of syringe firmly to apply formula directly to wrinkles and fine lines.
Tap formula into wrinkles if necessary.
The Results: 
This product is luxury in a syringe-like form! Not only does it smell wonderful, but it is extremely effective. The ingredients are fast-acting and resilient: my acne scars and forehead lines are less red and much less noticeable than they used to be. 
For best results, use the Microexfoliant Plus and the Anti-Wrinkle Confidence Solution together. The combined ingredients heal irritated and damaged skin as well as calm redness, scars, wrinkles, and swelling.
Night Renewing Crème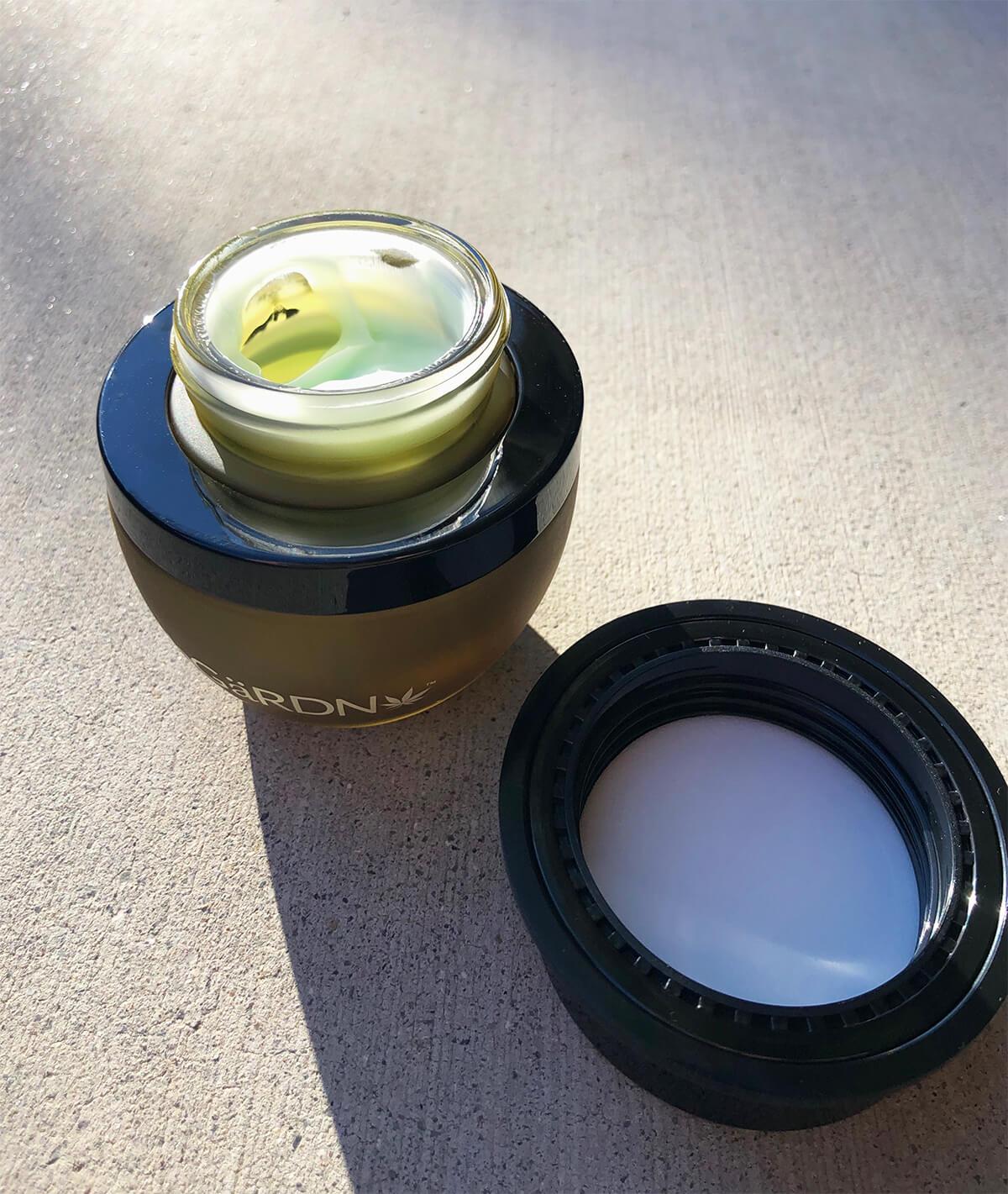 CbGäRDN's Night Renewing Crème works overnight to restore your skin's hydration, balance your complexion, and smooth the skin. With Shea Butter, Gold, and Cannabis Sativa Extract, this night cream is rich in antioxidants and beneficial ingredients. It heals and protects the skin – all while you sleep! 
Notable Ingredients: 
Glycerin – natural hydrator that smoothes, moisturizes, and protects the skin; leaving the skin feeling glowy and luminous.
Cetearyl Olivate – a fatty acid derived from olive oil that soothes and repairs skin barriers.
Hydrogenated Sunflower Seed Oil – skin protectant that maintains the skin barrier and decreases water loss.
How to Use: 
Cleanse your face before applying the cream.
Smooth cream over a clean face and neck each night.
The Results: 
I am very picky when it comes to moisturizers, especially with night creams. Most night creams are either too thick or way too oily for my skin, but this cream was amazing! The Glycerin and Shea Butter make the Night Renewing Crème soft, light, and perfectly moisturizing. I also enjoyed the incorporation of the CBD oil. Not only is it comforting and soothing for the skin, but it calms redness as well. I used this cream every night for a couple of weeks and thoroughly enjoyed the experience. A few weeks after using the cream, my redness and acne calmed down. 
If you're looking for an addition to your nighttime routine, be sure to check out this cream!  I recommend using the products in this order: Cleanser Elixir Kit, Microexfoliant, Night Renewing Crème.  
Eye Serum Concentrate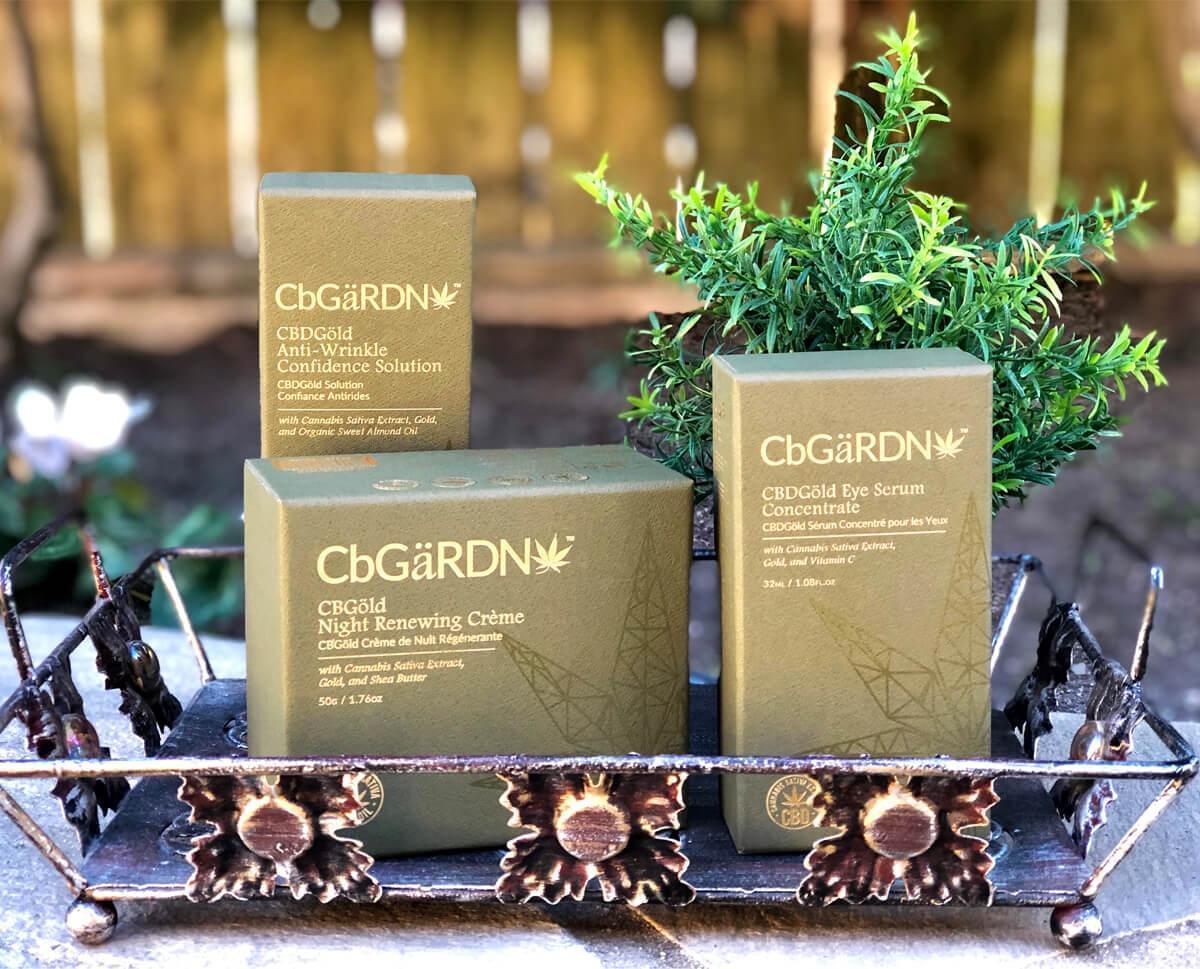 Youthfulness is all in the eyes! CbGäRDN's Eye Serum Concentrate is an anti-aging, brightening formula that is infused with calming ingredients like Propylene Glycol, Organic Camelia Leaf Extract, Organic Aloe, and Fruit Cell Extract. This serum is extremely versatile: it can help reduce signs of aging by diminishing puffy or swollen eyes, dark spots, wrinkles, and fine lines.  
Here are some of the calming and brightening ingredients: 
Camelia Leaf Extract – youth-enhancing botanical that reduces redness, calms inflammation, and promotes healing.
Organic Aloe Leaf Extract – antimicrobial and antioxidant that soothes and heals the skin.
How to Use: 
Apply to clean skin in the morning and evening.
Pump serum onto your finger, preferably the ring finger as it is most gentle.
Gently apply around the eyes in a clockwise motion.
The Results: 
Every morning, I wake up with extremely puffy eyes. No matter what I do, I can't seem to escape it! Whether I use warm compresses, calming eye patches, or face masks, nothing seems to work. Before using CbGäRDN's Eye Serum Concentrate, I had never tried an eye serum before, so I was super excited to finally try one! This product uses natural ingredients and Vitamin C to brighten and energize the eyes. The vitamins from the oil penetrated deep into my pores and I noticed that my eyes looked more luminous and youthful. It definitely soothed my puffy eyes. Personally, I loved using this eye serum and I will continue using it. 
For the ultimate anti-aging duo: CbGäRDN recommends using the Eye Serum Concentrate and the Anti-Wrinkle Concentrate for maximum effects. 
Overall Opinion: worth it!