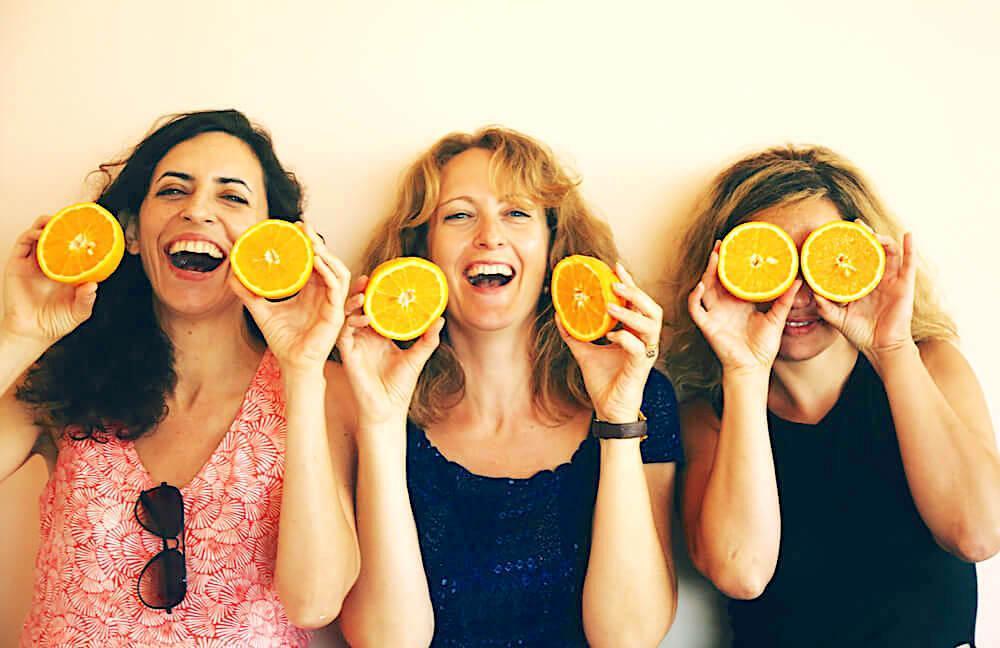 Have you heard of homemade protection against the scorching summer sun and heat? If you are into all natural lifestyle, then you probably have one or two home remedies ready to protect your skin. But not every skin care product has to be on your dressing table, you can actually eat your sunscreen. Yes, that's right; there are foods which contain natural ingredients that boost your skin's natural sun protection. The fact is, what you eat has an influence on how quickly and easily you will burn out in the sun.
Eating skin-loving foods with key ingredients will replenish your skin and dramatically decrease your chances of getting sunburns. You're probably wondering which magic formula these plants have. Most contain antioxidants which help to protect your skin from damage. It goes without saying that the more of these foods you include in your daytime diet, the better the skin protection you have because of more antioxidants.
As long as it is summer, you're going to be in a never-ending battle with harsh UV rays. So, on top of applying your sunscreen topically, we have listed and described these summer foods that are natural sunscreens.
Watermelons & Tomatoes
Lycopene is an ingredient found in watermelons and tomatoes that helps in absorbing both types of ultraviolet rays namely UVA and UVB.  In addition, it also helps your body to minimize its UV damage to inflammatory responses. Lycopene is what actually makes the inner parts of melon and tomatoes look red. Surprisingly, both use this carotenoid pigment for protecting themselves against the sun.
Watermelons are among the major sources of lycopene, they have 40% more lycopene content than tomatoes. But there's one small catch about watermelons, you need to have a daily intake of three cups (for a week) of this fruit for it to be an effective natural skin protector. Now you've got more reasons for making watermelons your staple summer fruit, haven't you?
Tomatoes are also rich in lycopene, making them a must-have in your summer diet. You can make them more bioavailable by cooking them, making tomato juice, paste or ketchup. In these forms, they will contain more lycopene. And the best thing about tomatoes, they are abundant in the summer.
Pomegranates
Want to get sun savvy and hunt for your vitamin D in the summer without sunburns? You have to love pomegranate extract. This fruit from ancient Egypt contains proanthocyanidins and flavonoids that provide antioxidant, anti-inflammatory, anti-microbial, as well as anti-aging benefits; that is a chock-full of benefits from a single source. You can take them in different forms like salads, juice or even with baked food.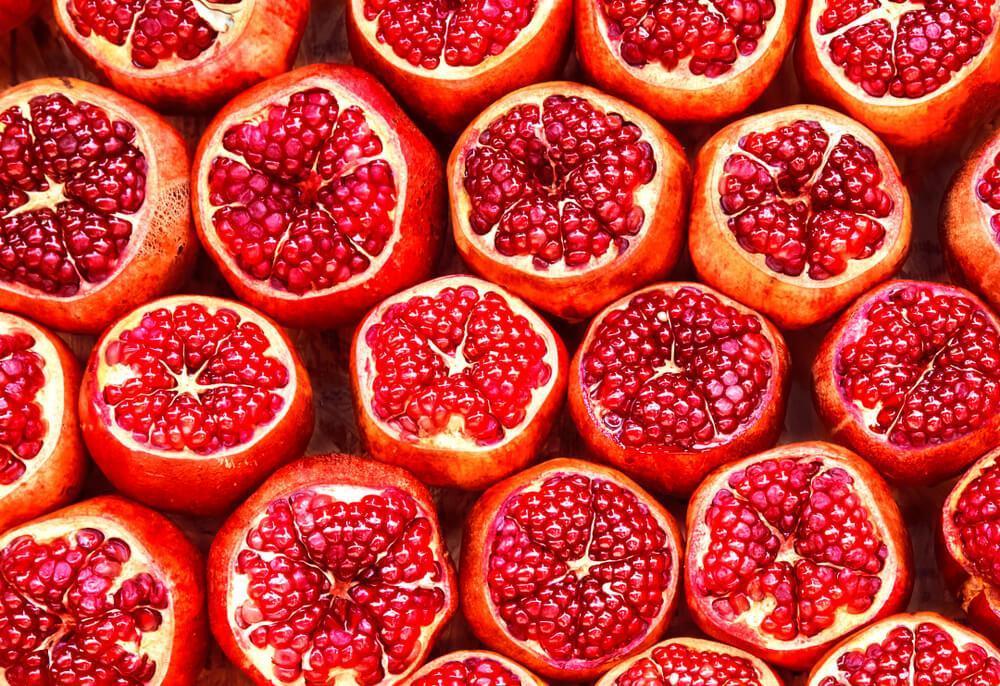 Pomegranates also contain ellagic acid which is also very beneficial for your skin. This ingredient protects your skin from cell damage that is caused by UVA and UVB rays.
Leafy Greens 
The leafy greens and vegetables you consume frequently can be a great source of antioxidants and carotenoids. Greens and vegetables such as kales, parsley, leeks, peas, romaine, spinach, zucchini, artichokes, broccoli, parsley, cilantro, and celery can supplement your topical sunscreen during the warmer months.
They contain lutein, quercetin, and zeaxanthin which are antioxidants that not only prevent sun damage but also help to repair your skin. But that's not all; they prevent one of the most harmful effects of harsh UV rays- skin cancer.
How are carotenoids important to your skin? Green leafy vegetables have xanthophylls; these are basically carotenoids which have oxygen-containing molecules. These ingredients can provide your skin with natural sun protection for a period extending 10 weeks if they were regular in your diets in high amounts. Your summer days should be your salad days; Arm yourself with plenty of vegetables and leafy green plants and you are good to go.
Green Tea
After applying your topical sunscreen in the morning, you need to make sure you sip some green tea as well to boost your skin protection. Green tea may not be the best-flavored tea, but I bet you it has the best sun protection ingredients.
Of all teas from black, green, and white, green tea contains the most powerful polyphenol called epigallocatechin–3–gallate (EGCG). EGCG prevents damage of your skin cells when exposed to UV light, protects it against sunburn inflammation and also prevents the decrease of collagen.
Another way it helps inhibits the decrease of collagen is by having an amino acid called L-theanine. This ingredient helps you avoid getting stressed meaning the stress hormone called cortisol that destroys collagen fibers won't be produced.
In addition to that, green tea also contains tannic acid which will calm down your sunburn pain. If green tea is not your cup of tea, you need to reconsider your stance when heading for those summer outdoor activities
Fish
Fish such as salmon, mackerel, herring, trout, and sardines are very rich sources of oils that contain omega 3 fatty acids. These oils guard your skin against sunburns as well as reduce your risk of skin cancer. 
Beyond those benefits, the polyunsaturated fatty acids in fish oils have powerful anti-inflammatory effects in the body and also help to maintain your skin integrity. Some fish also contain zinc, which promotes skin healing after excessive sun exposure. Eating more than two servings of fish in a week is a way is a good way to ensure that you get enough omega 3 fatty acids.
Astaxanthin, one of the most powerful antioxidant ever is contained in wild salmons. This antioxidant is over 500 times more powerful than Vitamin E, just imagine that!
Given the above point, you can now order that grilled salmon with fresh tomato knowing as much as it is tasty, it is also helping your skin.
Almonds
Almond seeds are a great source of Vitamin E, a natural antioxidant and sunscreen. The vitamin helps in protecting your skin from harsh sunlight exposure and also helps your skin to repair.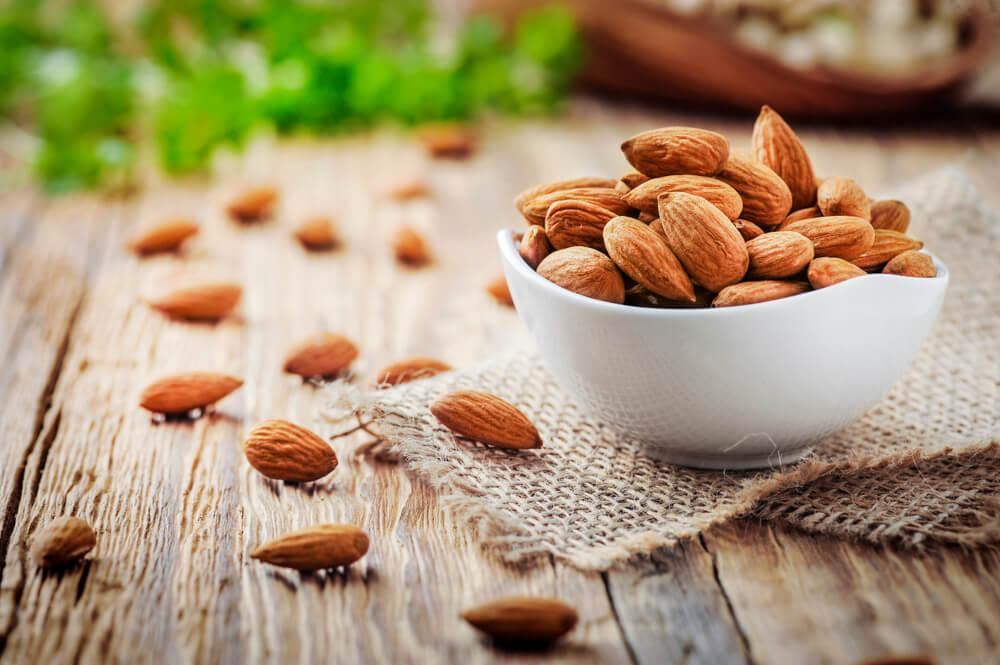 On top of that, almonds contain quercetin, a flavonoid that offers great protection against UV damage while also preventing the breakdown of collagen. Almonds also contain monounsaturated fats which can keep your skin less inflamed as well as reduce the appearance wrinkles and fine lines on your skin.
For maximum enhanced skin protection plain, raw almonds are the best. However, if you don't fancy almond seeds, you can consider tossing a handful of them in a salad or eating roasted or spiced up almonds.
Dark Chocolate
Why dark chocolate? The darker the chocolate, the better it is for skin health benefits and the stronger the antioxidants it has. This delicious treat is very rich in polyphenol antioxidants (flavanols) such as catechins, epicatechins, and procyanidins. In fact, it has four times the phenols and catechins found in tea. Eating high-quality dark chocolate – containing a high percentage of cacao – can offer your skin more protection against UV light.
The truth is, cocoa flavanols used to make dark chocolate are strong antioxidants and provide anti-inflammatory benefits to your skin. They also lessen the chances of your skin of getting cancer due to sun exposure.
However, don't assume milk chocolate has the same effect; it actually prevents the absorption of polyphenols. Two ounces of dark chocolate with low sugar is enough to offer you skin protection when going out.
Carrots
At this point, you may have realized there is a connection between how colorful a plant or fruit is and its ability to guard you against harsh sun rays. It no different for carrots, they are one of the best sources of lycopene and carotenoids. These antioxidants will help reduce the sunburn intensity on your skin as well as helping reverse the aging effects of the sun's rays.
You can take your carrots as smoothies in the hot sun or incorporate them in your meal. Since carotenoids can dissolve in oils, it is recommended you add several drops of vegetable oil in carrot juice to aid absorption.
Want to know the best part? Not only will carrots help in acting as a sunscreen, they have been proven to promote healthy eyesight and also help in the prevention of macular degeneration. All this means you are hitting more birds with a single stone. So, give carrots a go during warm summer outings.
Citrus Fruits
Citrus fruits include oranges, lemons, lime, strawberries, and grapefruits. They contain high levels of vitamin C. A long term intake of this ingredient can greatly help protect your skin from sunburns.
Citrus fruits are also rich in antioxidants which will protect your skin cells from free radical photon damage. Additionally, they can lower your chances of getting skin cancer because they have limonene. This is an ingredient associated with lowering cancer.
When it comes to fruits like strawberries, despite their size they offer multiple skin benefits. They offer both sunburn protection and sunburn treatment after skin damage. They are able to do this because they contain high levels of vitamin c and strong antioxidants.
Sweet Potatoes
You definitely know most sweet potatoes have a color, it could be yellow or purple depending on the region they come from. This is because they contain lycopene and beta-carotene (carotenoids) pigments that are found in fruits and vegetables. As stated above, these two ingredients help to protect your skin against sun damage.
Including sweet potatoes in your summer diet will be very beneficial for your skin. As a matter of fact, sweet potatoes contain one of the highest content of beta-carotene. The purple ones contain more cyanidins and peonidins which are very good antioxidant pigments.
Red and Purple Grapes
Red grapes are superior to green ones and can be very useful for sunscreen purposes. This is because they provide numerous benefits like preventing skin cancer and damage on skin caused by the harsh sun rays.
Polyphenols such as proanthocyanidins present in grapes seeds prevent skin cancer that results from UV rays. On top of that, they contain quercetin which reduces the oxidative DNA damage that results from UVB exposure
Another benefit of grapes comes from phytonutrients. These ingredients reduce the creation of destructive chemically reactive oxygen species (ROS). ROS can form excessively in skin cells when you expose your skin to extreme environmental conditions such as   UV or heat. ROS increases your skin's sun damage because an increase in their level damages the structure of your skin cells.
You can enjoy all the benefits mentioned above by adding grapes to your summer meals or salads.
Nuts and Seeds
Super seeds and nuts like flax seeds, walnuts, chia seeds, and hemp seeds are great natural sources of Omega 3 fatty acids. Remember these are nutrients which you have to ingest because your body cannot produce them. As mentioned earlier, they help to protect you from sunburns and promote skin healing too. Flax seeds contain fiber and lignans which contain strong antioxidants that will benefit your skin in the sun.
Avoid cooking these seeds and nuts because you will end up killing their ingredients. There are alternative ways in which you can enjoy these seeds and nuts. If you don't mind the taste you can sprinkle them on a thick drink like yogurt or include them in your meal. If you worry about the taste, there are numerous supplements that will serve the same purpose of protecting your skin.
The above is a healthy list of foods you can use for skin protection during the summer, use it to your advantage. Nevertheless, you should never fail to wear sunscreen in the hot sun because you are taking these foods. They are meant to supplement your topical sunscreen and offer more protection.
It is also important to also avoid counteracting your efforts by consuming large quantities of processed foods and sugars in the summer. Having said that, a little sunshine is good for your body too, don't be afraid of heading out.