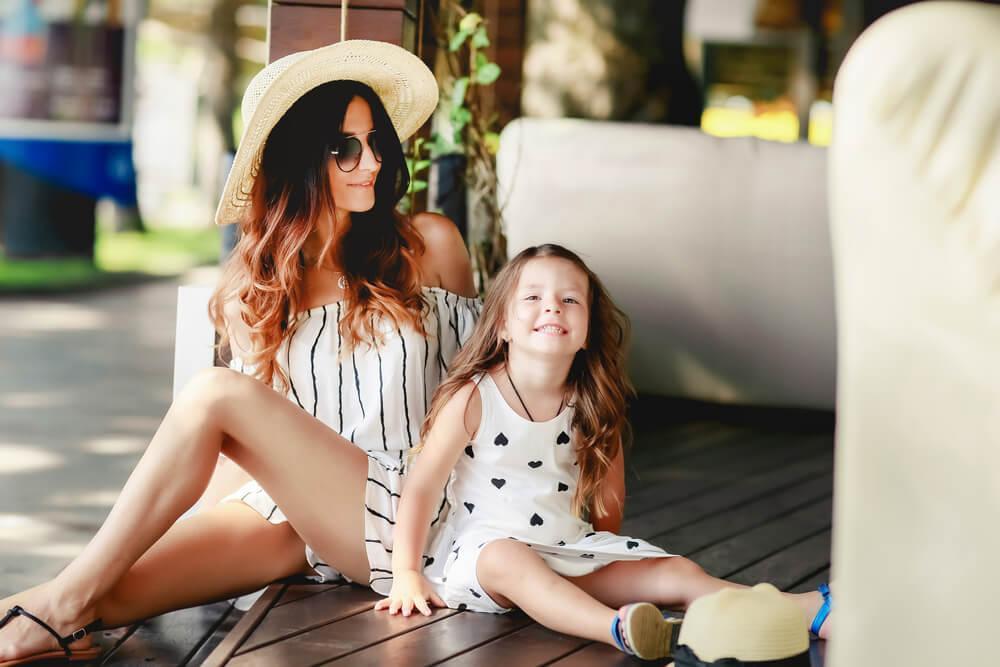 Have you ever heard that parenthood was a full-time job?
Well, if these women believe it, they sure don't let it stop them from! Besides making motherhood look so easy, these 23 women are making mommyhood look super fashionable. 
https://www.instagram.com/p/BiEVnn0j6ZE/
Courtney Adamo looks nothing close to a mother of five. She has managed to retain her chic style effortlessly with her bohemian dresses. Have you seen her children? They are all so fashionable and stylish. Apart from her signature dresses, Courtney's hair is always almost in a mess but she still manages to turn heads. Looks aside, she runs an online children's boutique and also doubles up as an author.
https://www.instagram.com/p/BnRB10FnImr/
Amber is not only a mom but also a blogger who runs a hair website. She has one of those manes that will make you go green with envy. Amber allows you into her world through the gorgeous photos of her babies, trendy feminine clothing as well as her unique hairstyles all of which she shares in both her blog and Instagram page. This super mom has been able to garner 1.3 million followers, and counting, all for the love of braids.
https://www.instagram.com/p/Bs3exdjHici/
Eva Chen can almost endorse any fashion even the kind that weird's you out, while still managing to look edgy and chic at the same time. Despite being a mother, Chen is always ahead on the fashion trends. Her fashion statements are a mix of vibrant personality; experimenting with the newest trends and styles without looking like she is trying too hard. Hers is the relaxed, effortless look. What's more, the mother of two has a children's best seller to her name!
https://www.instagram.com/p/BtJ2M7Ag9A2/
Most likely, you are thinking that to rank as a stylish mom on Instagram you need a load of sophisticated pieces. You are wrong. Christine Andrew is the best when it comes to subtle fashion; she makes sneakers paired with denim look so classy. Since she is always on the go, you may consider following her on Instagram for a relaxed, comfortable, easy-to-relate fashion. She is also a fan of Disney and everything hair related.
5) Nasiba Adilova

@naseebs
https://www.instagram.com/p/Bti4-ApnRWF/
It is often said that of the two sexes, boys are the difficult ones to raise. But is it true? Well not for Nasiba, she is not only a mother of two boys but also a UNICEF board member- and also sells kids wear online. Her two kids have inspired her to be fashionable. Nasiba's prowess in integrating current looks to her office looks is exquisite.
You should emulate a thing or two from her Instagram page were she loves to play dress-up. Her fashion style is easily attainable, and you can include it in your everyday wear.
https://www.instagram.com/p/BsRVIQ2lN79/
Unlike other stylish Instagram moms, Emily Jackson seems to have enough in her plate.  She juggles between excellent home décor services and preparation of routine tips which are easy to follow. Nevertheless, the mother of four including twins finds the time to stand out from the rest fashionwise. Not to mention, she is also a runner, a business lady and a blogger.
Emily is always sharing products she loves ranging from skin and beauty products as well as those that work best on her children.
https://www.instagram.com/p/BuExI0nHEN6/
Anh is the proud founder of 9to5chic.com blog. As the blog name suggests, Anh, the mother to a cute little princess, offers help to working mothers in the form of timeless chic styles. She inspires dressing styles to working moms all over through her blog and Instagram page.
Don't constrain the styles for the formal wear, because she offers chic, out-of-the-office styles too. You see those simple pieces lying in your closet; Anh will give you practical ideas on how to achieve the best look in them, whether you are a working or stay-at-home mom.
https://www.instagram.com/p/BqvHqmxA2VE/
Frederique is a mom to one handsome boy. Her iconic hair styles and trendy suits make her a fashionable mom. Her hair is so gorgeous that one look at it will make you want to rock an afro. This stylish mom loves colorful pieces and transforms a simple casual outfit into a charming, classy, and sophisticated style.
She updates her Instagram photos almost daily letting us in her world of flavored styles, which speak of her bold personality.
https://www.instagram.com/p/8dxMvwNafv/
Lucky for her, Rachel Parcell grew with an older stylish sister, Emily Jackson, whose sense of fashion inspired Rachel's. The mother of two has however created her signature style that is independent of her sibling's. She shares in the love for home décor styles which not only make the layouts of magazines but are also heavenly.
Rachel is actively involved in running her clothing line. Her pieces are a reflection of her effortless yet sophisticated style. She is also the epitome of what you can achieve with motherhood.
https://www.instagram.com/p/BJBmth3A8VQ/
Arielle's sense of fashion has won her multiple-major opportunities to represent iconic clothing lines at Nordstrom, the mega-retailer. Additionally, this super stylish mom runs a fashion blog which is inspired by her every day style. Arielle is a boss mom who stops at nothing less than setting and achieving lasting fashion goals.
https://www.instagram.com/p/BtMq5GpAzca/
Naturally endowed with a body to die for is Tanesha. She has been nicknamed 'Girl with Curves'. The mother of one boy has set herself apart by being a fashion icon and a hands-on business mogul too.
She has an effortless, comfortable and elegant sense of fashion which has seen her rate among the top stylish moms. From her trendy shoes to hairdos, every aspect of her style spells glam. Since 2011, Tenasha has been inspiring moms with outfits advice and tips on a wide range of real life scenarios.
https://www.instagram.com/p/BrypJ8RgJ7k/
How bold are you with your wardrobe? For Christina, if she loves it, she goes for it- boldly. This mom adorns bright and bold shades. It's worth mentioning that her lipstick is always on point no matter the shade. From her Instagram page, you can learn a few tricks on what works for a bold, beautiful and curvaceous body. She also offers advice on beauty and travel in her blog.
https://www.instagram.com/p/BtysHBJBTE0/
A look at Masha Theone's Instagram page will make you want to be a mother, if you are not already. Being a mother of two has not deterred her from being stylish. She gets classier with every additional piece in her wardrobe.
Masha is proof that looking fashionable is not a preserve just for the childless. From London, she is able to capture the aspirations of many moms in this digital age. Her blog and Instagram page tells the story of an unbound woman, one who can cook, travel and look fabulous in every step.
https://www.instagram.com/p/BlsAKkQHQcK/
Even when she is expectant, Aimee Winchester can easily turn heads with her killer style. At baby number four, she refuses to lose her signature fashion to not only the baby bump or but also pressures that come with motherhood. Are you lost on outfits to adopt?
Whether you want fashion tips for the great outdoors, beach or parties Aimee's Instagram has you covered. Apart from personal styles, her page is populated by lovely shots of her family which will surely warm your heart.
https://www.instagram.com/p/BrfqIS8A-fc/
There's no denying that Miko Bowen is a hot mama. With her slim body it's unimaginable that she has six kids. She has managed to remain in shape while maintaining a flawless sense of fashion. Her style is just an icing in this super mom's life; she offers shopping guide and also blogs on interior design, skin care and healthy living.
https://www.instagram.com/p/BtjYFSQhxhk/
Dikla is a mother of three from Israel whose style is worth mentioning. This stylish mom can rock anything from a sombrero and bikini to a long dress. Dikla Goren's style comes out as sexy, chic, unique and edgy. With over 100k followers, her Instagram account is full of inspiring photos of her family in different locations, with everyone looking glamorous. She is also the founder of girl plus two, a website focusing on fashion and kids. 
17) Christina Han Johnston

@properhunt
https://www.instagram.com/p/BtrqjGCAUqo/
Christina Han Johnston is a mom who can play around with items in her closet to make an outstanding outfit. The birth of her two young ones did not in any way give her heels rest. Check Christina's Instagram photos which display a great sense of fashion. Her style is effortlessly chic yet sophisticated. Her Instagram is an eye candy offering much pomp and color. If you can take a closer look, you can pick a lesson or two.
18) Shannon Peterson
https://www.instagram.com/p/BmpZXo8nF1O/
Who said dressing a baby bump has to be boring? Shannon is the perfect example of how to dress your growing belly. Though expecting the second baby, the mother of one is quite experimental with her outfits. She takes the road less traveled in fashion. For example; instead of the usual maternity dress, Shannon opts for cute and fashionable outfits. She is also well traveled and showcases her adventures with beautiful shots.
https://www.instagram.com/p/BrCAomThdos/
It will be unfair ending the list before mentioning this mom of two; Alison Faulkner of the podcast The Alison Show. Faulkner has an overwhelming sense of style which encompasses beautiful, classy, and somewhat unconventional outfits.
Her natural blonde hair adds to the beauty of her already brilliant fashionable style. She is a true trend-setter with a gift for inspiring thousands of people with her voice and life choices.
https://www.instagram.com/p/BqqpIsnAonw/
Who influences your style? Fear not if you haven't identified a fashionable mom to inspire you. Follow Nicole Gonzalez of the Lilies & Leon on Instagram and emulate her never-fading style. Her account is a beautiful take on New York City, motherhood and her number one passion; babies.
https://www.instagram.com/p/Bkx5Ia8huVC/
Nicole's motherhood did very little to change her passion for the bohemian- inspired fashion. Compared to other stylish moms, Fasolino stands out because her style is a delicate balance between sexy, rough and experimental.
She runs a private Instagram account and going by her impressive number of followers, 16.5k and counting, she is worth clicking the 'follow' button. Going by her profile at Au Rate, where she is the art director and stylist, Nicole has much to offer.
https://www.instagram.com/p/BsVzGP7AbFE/
Samantha Wannerstorm is a mom and a blogger prefers to keep her style effortless, subtle, super chic and simple. She invests in fashionable and contemporary pieces which she is happy to show off during her many travels. She also gives fashion advice through her blog where you can also buy her favorite pieces.
23) Sai De Silva
https://www.instagram.com/p/BtRQxTMh0HN/
Sai De Silva, a happy mother of two, is a vlogger and a fashionista. Her choice of clothes is a testament to the limitless styles there are for moms. The best part is that she blogs together with her gorgeous daughter who is also developing a great sense of fashion at a tender age. Don't you admire their bonding?
Sai has learned the art of spinning the NYC streetstyle to custom make a classier one. What's more, her natural curls are irresistible and ooze tons of confidence.
What challenges has motherhood brought you? Is it weight gain, sleepless nights, or shedding of the hairline? Don't throw your sense of fashion out of the window with the coming of your little one. Instead, borrow a few tips from the super stylish moms on Instagram, make an effort and ensure consistency in the style you've chosen until it becomes a part of you.
Finally, remaining on top of the fashion game doesn't require you to break the bank; you can always work with the best you can get within your budget!