Every fall, we're faced with a seriously spooky dilemma: what to wear for Halloween this year? Should it be a costume that's genuinely beautiful, bone-chillingly terrifying or completely out of the box?
If you still haven't made up your mind, perhaps this round-up of Halloween costume ideas will get you into gear. Between fantastic creatures, iconic horror characters and insanely creative makeup looks, here are some of the most eye-catching costume ideas ready to be rocked for every dress up party this Halloween.
Freaky Four-Eyes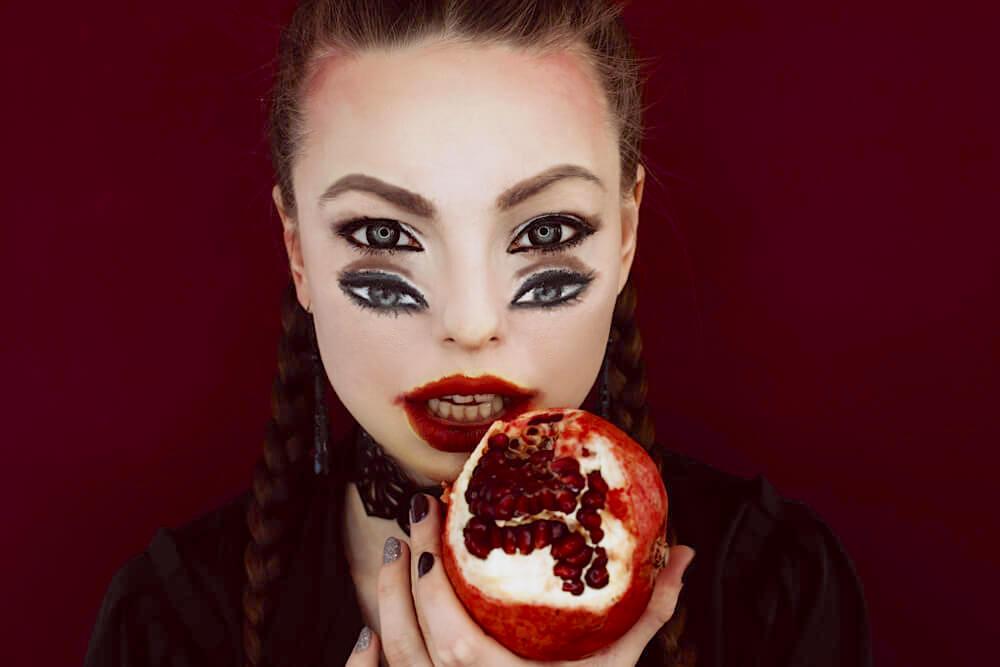 If you want to rock a truly unique look at this season's Halloween events, then you sound like a right candidate for trying one of the increasingly popular optical illusion face.
This one in particular will let you achieve the eerie four-eyes effect, which will be sure to turn heads wherever you go.
While this look does require some skill with makeup, as long as you're patient and have the right products at hand, you shouldn't have problems getting it just right.
Begin by priming your face to ensure longevity.
Then, apply your foundation, concealer and brows as you would normally. Avoid powdering your face just yet, as to not disrupt the rest of the look.
Now, for the challenging part: take a detail brush and a brow eyeshadow and start sketching out the fake eyes, closely following the contours of your natural shape.
Use the same color to pencil in the shape of your iris, as well.
Once you're happy with the initial outline, intensify the look using a fine brush and black eye shadow.
Use a darker brown shadow to define the new crease just above your fake eyes.
Feather out any harsh edges using a blending brush. Then, grab a shade that closest to your natural eye color and use it to fill in the iris.
Take white liner and carefully fill in the insides of the new eyes, but also to highlight the fake lid, just under the crease you have created.
Take a super fine brush and use liquid eye liner to draw on individual lashes for a more realistic effect.
Create the stained lip look by taking a deep red lipstick and smudging it ever-so-slightly outside your natural lips.
Go over the center of your lips with a richer shade of red to create a more three-dimensional look.
Spritz your entire face with setting spray and your illusion is complete! 
Ethereal Unicorn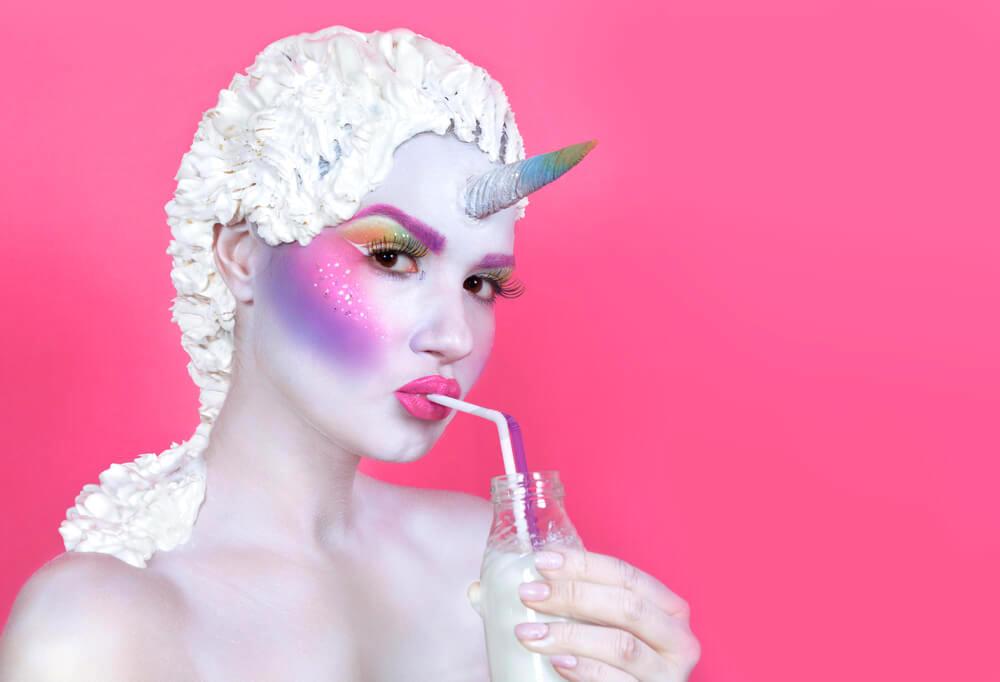 If you'd prefer to stay away from gore and go for a fantasy-fueled look this year, then this gorgeous unicorn-inspired makeup might be just up your alley.
It's also a great excuse to use all those loud ey shadows that you were too hesitant to sport on a day-to-day basis.
Start off by applying a layer of primer to your face and neck. This will make sure your intricate look stays put throughout the evening.
Then, apply a strobing cream to make sure you achieve that glow-from-within effect.
Next, take the palest shade of foundation or white face paint and begin applying a layer to your face, neck, shoulders or any other part of the skin you'll be showing that night.
If you need extra help concealing under-eye circles or any other blemishes, just add an extra layer of foundation on the areas with skin imperfections using a concealer brush.
Brush out your brows and apply white pencil over your hairs, then brush them again to distribute the product evenly.
Take a bright pink eyeshadow, then begin applying it along your brush using a dense, flat brush. If you prefer, you can also use a lip pencil in the same color for this purpose.
Contour your face using a cool-toned purple shadow and applying it liberally along your cheekbone.
Blend it out and highlight your cheekbones using a hot pink shade.
Start working on your eyes by applying lime green on the inner third of the lid. Then, take a bright orange shade and apply it to the outer corners of the eyes.
Marry the two shadows together by placing vibrant yellow in between.
Grab a white eyeliner and create a cat eye by tracing it along the upper lash line and flicking it out.
Apply a pair of dramatic false lashes to emphasize the look.
Add an extra dose of iridescence by applying holographic highlighter on the high points of your face – the cheeks, bridge and tip of the nose, as well as the cupid's bow. You can also add a touch of highlighter to your shoulders or collar bones if you plan on showing a little more skin.
Finally, coat your lips with hot pink lipstick and blast your face with setting spray to lock your makeup.
Now, for the horn: cut a triangle-shaped piece of fabric, fold in half, then sew down the entire length.
Trim the edges and stuff it with cotton wool or polyester fiberfill.
Cut a circular piece of fabric, then use it to sew the base of the horn.
Decorate with glittery and bright colors for the iridescent effect.
You can attach the horn onto a hair band or place it directly on your forehead with a help of skin wax used for FX makeup.
Neon Skull
Painting your face to look like a skull is always a safe choice for Halloween; however, this scary go-to might feel a little uninspiring, especially if you've done it countless times before.
Well, why not give the tested and true Halloween look a fresh twist by painting the face using fun, neon hues?
All you need is a nice selection of neon shades and a bit of creative drive.
Begin by priming your face to make sure your look doesn't budge throughout the night.
Apply your base makeup (foundation, concealer) as you would on any other day.
Then, begin working on the eyes by taking an electric blue shade and applying it liberally across your crease.
Take a bright purple hue and use it to blend the blue upwards; take this shade hallway up the forehead in an arched shape.
Use neon liquid liner to draw a cat-eye wing, then repeat the same process with a slightly thinner hot pink wing.
Add the same metallic blue shadow to the lower lid and make the inner corners of your eye pop with a glittery silver shadow.

 

Take a blush brush and apply neon yellow shade on the apples of the cheeks. Follow that up with a bright orange hue; use this shade to marry the yellow on the cheeks with the blues and purples on your temples.
Next, take a bight yellow eye or lip pencil and draw a skull-line outline on the tip of your nose and around your mouth. Draw an extra outline around it, then use a while kohl pencil to fill in the space between the two lines and blend everything so it's seamless.
Fill in the space on the nose and the mouth with the same purple shade you used above your eyes.
Grab holographic tape and cut it into two pieces shaped like exaggerated eyebrows. Stick the tape over your natural brows using lash glue; you can cut extra pieces for your forehead to give the look an emphasized 3D effect.
Finish off the look by gluing on rhinestones on your forehead, cheeks and across the top and bottom lip.
Modern-Day Marie Antoinette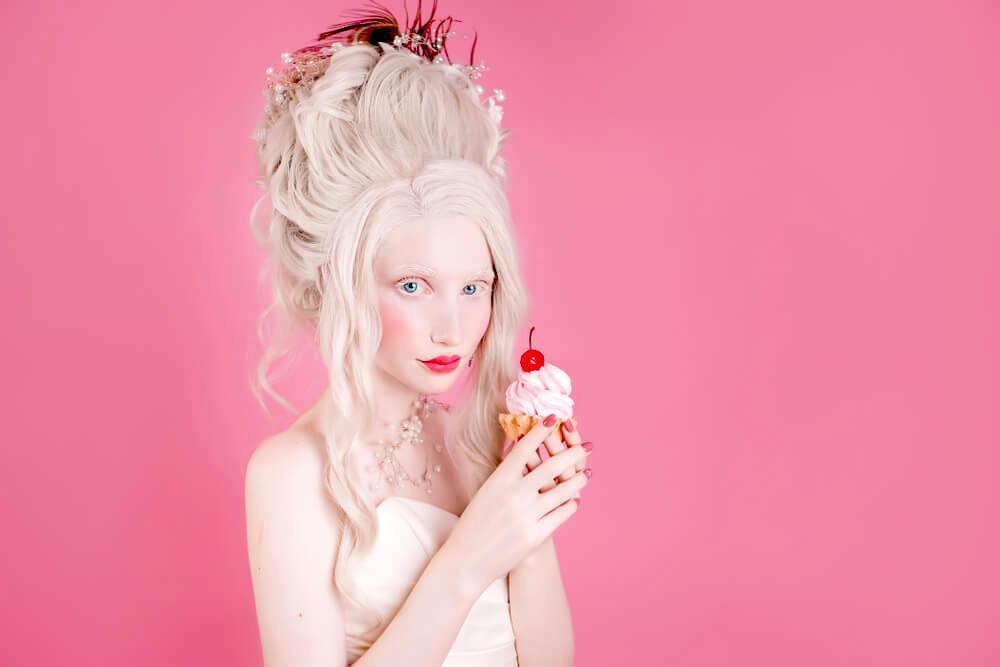 If you like your Halloween looks with a historical reference, then this fabulous costume that references 18th-century royalty might be the perfect fit for you.
Begin by priming your face, as this will ensure the longevity of your makeup.
Apply white pencil to the brows to neutralize them and match them to the base makeup.
Proceed to layer on the foundation in a shade that's a couple of hues lighter than your own.
Move on to concealer and correct any imperfections of the face, as this look requires the flawless finish of the skin.
Then, using a big, dense brush, pack on white powder foundation onto the face, making sure it's opaque.
Use a smaller brush if you need to apply extra product onto the eyelid and around the nose.
Dab a soft blending brush into the product you'll be using as your blush, tap off the excess and gently dust into onto the crease and just under your lower lash line – this will give a slightly modern edge to the porcelain look.
Blush is a very important part of this historical maquillage – so choose a high-pigment pink one and don't be shy with application. Make sure it's focused on the very highs of your cheekbones going outwards.
Lips are supposed to be rosy and plump, so apply your gloss or tint focusing on the center of your pout. You can even use a lip pencil in the matching color to correct your cupid's bow and make it more hearth-shaped.
Create the retro puffy hair using your own strands, or if you want to make it more dramatic, create your very own DIY powdered wig using paper or cotton balls.
Instead of going for an intricate costume, add a modern vibe to this look by choosing an understated white strapless dress.
Now all you need to do is simply – let them eat cake!
Dead Bride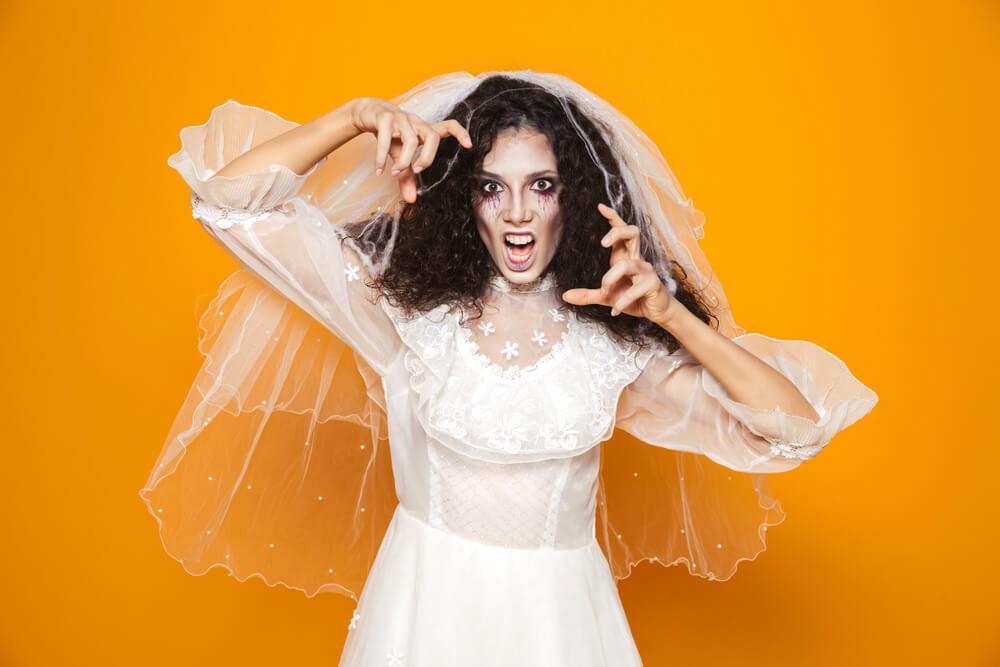 This zombified bridal look is a nightmare come true for those who like their gory with a side of girly.
It's ideal if you happen to have an old wedding dress lying around, but even if you don't, it's OK – any white dress will due.
You can make it matrimonial by adding a veil, which can easily be made just by cutting up a piece of tulle or chiffon and pinning it to your hair with bobby pins.
Now, for the make up: create the base look by applying a layer of extra pale foundation onto the face.
Set everything with white powder, then take a cool-toned contour shade to carve out the cheek bones and create the gaunt look.
Apply some of the same shade on the sides of your nose to create an even scarier look.
Place black eye shadow on the top and bottom lash line, then blend out the bottom one with plum-hued eye shadow for the extra undead effect.
Draw drops of fake blood running down your cheeks using a detail brush.
Take a conceal and dab it onto you lips for the extra dose of lifelessness.
Jigsaw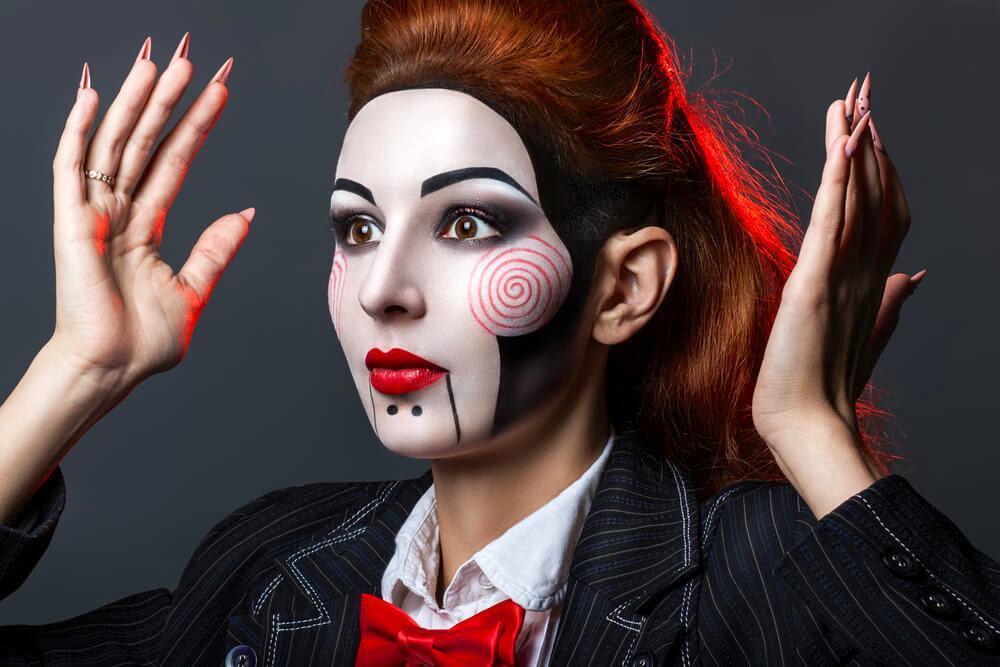 Dressing up as an iconic horror movie character is a foolproof choice for every Halloween.
This year, perhaps you can show up as Jigsaw, the terrifying villain from the popular horror franchise Saw.
First off, begin by applying a white paint or pale shade of foundation on your inner part on your face, including your cheekbones.
Powder the area to set the white part of the makeup.
Next, grab a black eyeliner and outline the black area on the outer areas of your face. Fill it in with black face paint or gel eyeliner.
Draw two parallel lines starting from the corners of your mouth to the sides of your chin for the puppet effect. Use the same eyeliner to also draw to dots under the bottom lip.
Take the eyeliner and line your eyebrows, so they look sharp and graphic.
Grab a black eye shadow and pack it onto your top lid and under the lower lash line. Take a blending brush and feather out the edges, creating a cat-eye shape.
Layer on the mascara, then take an opaque red lipstick and apply a couple of coats on your pout.
Now, to make the look truly worthy of Jigsaw – grab a red lip liner and draw a spiral on each cheek, starting from the corner of your eyes going inwards.
Complete the look with a fiery red wig with a pin-stripe suit and a mandatory red bow-tie.
Your transformation into Jigsaw is officially complete!
Now that you've found your inspiration, it's time to evoke your DIY powers and turn these amazing ideas into awesomely scary Halloween looks. Good luck!