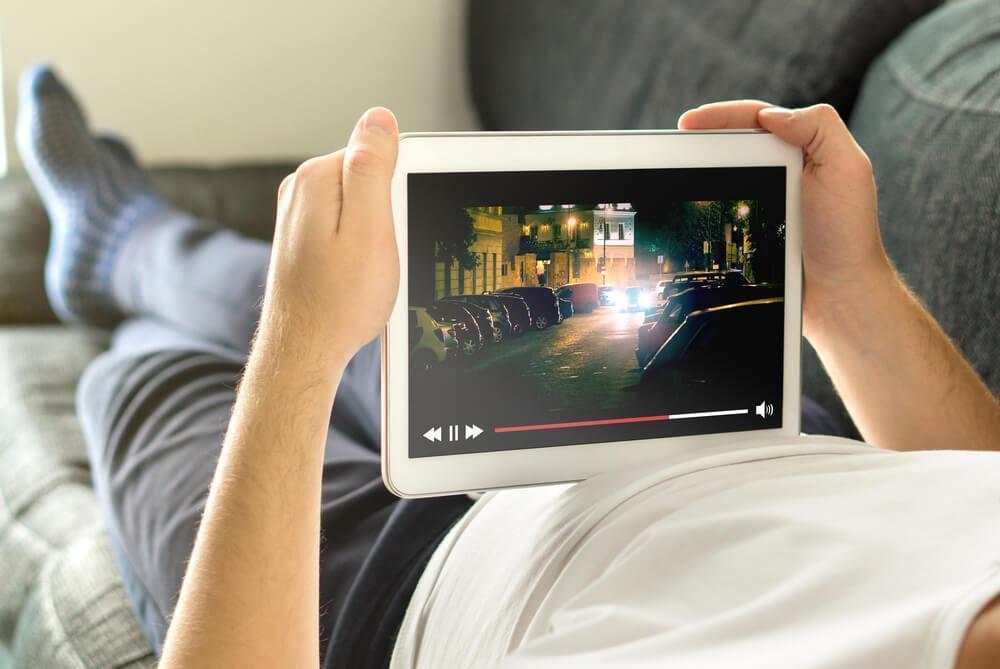 With movie theaters (and pretty much everything else) being closed this year, it's no surprise that the cinema lovers among us turned quickly to our streaming queues and top 100 movie lists for our theatrical fixes! Whether you're all about Netflix, can't resist those Disney Plus Classics, or HBO Max is your streaming site of choice, we've compiled all of the best movies of 2020 so far to keep you entertained for days on end…
Horror Movies
The Lodge
This tense psychological horror movie stars Riley Keogh (Mad Max, Logan Lucky, It Comes At Night) as Grace, a wife, and step-mother-to-be with a truly dark past.
During a vacation with her fiancée, Richard (Richard Armitage, The Hobbit, Captain America: The First Avenger) and almost-step children (Jaeden Martell, It, Defending Jacob, and newcomer, Lia McHugh (soon to appear in Marvel's, Eternals in 2021), Grace is left alone with the children as Richard is called away on business. When the power goes out and the three of them are snowed in together, Grace's malevolent past resurfaces in equally unimaginable and terrifying ways.
This clever little movie will have you on the edge of your seat whilst avoiding cheap jump scares and tired horror movies tropes. And, although the action isn't constant we'll admit, the payoff and unrelenting intensity is well worth the watch!
Come To Daddy
This equally excellent, dark-comedy-come-horror movie, stars Elija Wood (Lord Of The Rings, Eternal Sunshine Of The Spotless Mind) as Norval Greenwood, a recovering alcoholic DJ who lives with his mother in a Beverly Hills Mansion. How's that for a unique set-up?!
When Norval receives a letter from the father who abandoned at the age of five, he promptly makes the journey to his dad's eerily large and aging coastal cabin with little to no knowledge on the purpose of their reconnection.
Without getting into serious spoiler territory here, what ensues is an incredibly tense, violent, and ultimately, bloody turn of events that will keep you highly entertained, and probably guessing where exactly this is all headed, from start to (almost) finish! Wood, is excellent in this movie and even if it's not exactly your genre of choice, it's worth it for his performance alone!
Action/Thriller Movies
The Gentlemen
If you loved Guy Ritchies earlier masterpieces such as Snatch, and Lock, Stock & Two Smoking Barrels, it's more than likely you're going to be a fan of The Gentlemen.
This movie has a killer cast from Matthew McConaughey (Interstellar, Dallas Buyers Club), Hugh Grant (About A Boy, Love Actually) and Colin Farrell (In Bruges, The Killing Of A Sacred Deer), to Charlie Hunnam (Sons Of Anarchy, Children Of Men), and Michelle Dockery (Downton Abbey, Defending Jacob), the quality of the performances is undeniable!
Meanwhile, this newest Guy Richie offering shows up with a typically quippy and (brilliantly) wordy script, and all the injections of savagely well-choreographed violence and heist style reveals we've come to know and love from him as a director.
The Hunt
The hunt is most certainly one of the more violent offerings on our list but for those with a high tolerance for fighting and gore, it's definitely one to check out!
Once again, this movie has incredible performances from the leading cast members and has a plot unlike many other thrillers out there that we've seen!
It may not have the highest ratings out there but in terms of its unique twists and turns and performances, Betty Gilpin (GLOW, Ghost Town) in particular, this one's definitely one of the best horror films of 2020!
Sci-Fi
The Vast Of Night
Lovers of Science Fiction, we urge you to see this movie immediately! Set in the 1950s, it immediately grabs you with its distinct period style, seemingly impossibly crafted long shots and captivating performances.
After a strange audio frequency is detected in a small town, secrets are revealed, discoveries are made and the lives of the residents in this sleepy New Mexico town are changed forever!
We adored this movie not only for its stylistic feat, incredible script and brilliant performances by its young cast but also for its unique and truly charming take on the UFO movie genre.
Romance Movies
The Half Of It
As coming-of-age stories go, this one is not only a favorite of the year but of all time. With its super-smart script, touchingly honest conversations, and unique take on a love story, The Half Of It should be very high on your watch list!
Why? It not only explores issues of race and sexuality, it does so in a tender and sophisticated way that speaks to and respects the generation of people that it also stars.
What's it about? Well, when Ellie (Leah Lewis) is hired by a fellow high school student, Paul (Daniel Diemer) to win over the girl he likes by writing love letters in his name, complications ensue as Ellie realizes she has feelings for the exact same girl.
Make this movie one of your LGBTQ must-watch ideas for 2020, you most certainly won't be disappointed!
Emma
Though it's hardly the first time we've been offered an adaptation of Jane Austin's classic tale, Emma, we have to say, this one took us by surprise and did nothing but delight!
Fans of the 1996 adaptations, (one starring Gwenyth Paltrow and the other, Kate Beckinsale) or even its 90s smash hit re-imagining, Clueless, will still adore this movie. That said, they'll undoubtedly notice a seemingly faster pace and, at times, quipper performances from the all-star cast. This includes amazing performances from Anya Taylor-Joy (Split, The Witch) as the titular character, Bill Nighy (Pirates Of The Caribbean: Dead Man's Chest, Love Actually) as Mr. Woodhouse, Johnny Flynn (Beast, Stardust) as Mr. Knightley, and Mia Goth (Suspiria, A Cure For Wellness) as Harriet Smith, plus many more!
Meddling in other people's love lives has never looked so beautifully striking or made us laugh quite this much. Plus, this joyful new adaptation will open the story up to a whole new audience and generation of Austin super-fans!
Animation & Anime
Onward
It may only be July, but we're mentally adding this one to our cozy weekend and Christmas movie lists for future watches!
Starring Tom Holland (Spiderman, Avengers: Endgame) and Chris Pratt (Guardians Of The Galaxy, The Lego Movie), both of Marvel Cinematic Universe fame, this heart wrenching, yet uplifting tale follows two brothers, Ian and Barley Lightfoot on a quest to bring back their father for one more day.
This is most certainly one for all the family to enjoy and will, in true Disney/Pixar fashion appeal to children of ages.
Weathering With You
Whether you've already seen and loved director Makoto Shinkai's 2017 movie, Your Name, or it's on your to-watch list, his latest project, Weathering With You should be added to your 2020 must-movies immediately!
It's actually the director's sixth feature-length animation, though his earlier ones may not be on your radar yet! That said if you only manage to catch one or two, this one is well worth your time!
Expect all of the breathtaking vistas, whirlwind weather changes, and impeccable storytelling you got from Your Name and let yourself get lost in Shinkai's stunning world for 111 minutes this summer!
Drama Movies
Da 5 Bloods
From Malcolm X to Blackkklansman, and now, Da 5 Bloods, Spike Lee has undoubtedly unveiled yet another masterpiece with this latest offering. It's a fictional script, rooted in reality that delivers a multitude of powerful messages and unforgettable performances. Not to mention Lee's unmistakable and unique artistic stamp is well and truly felt throughout the 156 minutes run time.
Da 5 Bloods tell the story of four African-American war veterans who venture back to Vietnam to find and recover the remains of their squad leader, and the secret fortune they buried there together. The movie also features a cast of incredible actors including Chadwick Boseman (Black Panther), Clarke Peters (The Wire, Three Billboards Outside Ebbing, Missouri), Jonathan Majors (The Last Black Man In San Francisco), Norm Lewis (Scandal), Isiah Whitlock Jr (Blackkklansman), and Delroy Lindo (Malcom X).
Sorry We Missed You
When Ken Loach's newest drama, Sorry We Missed You, premiered at the Cannes film festival, it was met with a standing ovation and rapturous applause for minutes on end. After watching the movie for yourself. that's a fact you'll hardly find surprising!
With a cast of mostly first-time actors, this hard-hitting, gritty drama tells the story of a working-class family from Newcastle, North England, and their daily struggle to overcome crippling financial debt. Though this powerful film will by no means lift your spirits or have you craving a Ken Loach movie marathon, it will paint an important picture of real working-class family hardship, not just in the UK but all over the world.
Comedy Movies
Palm Springs
It's hardly surprising that a feature length film starring funny man, Andy Samberg (Brooklyn Nine-Nine, Saturday Night Live) has made it onto our top comedy recommendations for 2020! That said, this movie not only made us laugh, it also has real heart, a great story, and irresistible performances from Samberg and his Co-Star Cristin Milioti (How I Met Your Mother, The Wolf Of Wall Street).
Based at a beautiful wedding in Palm Springs, Milioti plays Sarah, a reluctant maid of honor, whilst Samberg plays, Nyles, the jovial boyfriend of one of the bridesmaids. Ultimately, both become stuck in a time loop which won't allow them to escape the wedding day, the venue, or each other's company.
Their quest to get out and the adventures they take along the way make for a hilarious, heart-warming adventure that any fan of the sci-fi or romantic comedy genre will love instantly!
Eurovision Song Contest: The Story Of Fire Saga
Thanks to critics, this one might only be rocking an overall score of 63% on Rotten Tomatoes, however, with an audience rating of 80%, it's clearly a movie that the majority of us are loving!
For those unfamiliar with the wild and wacky world of Eurovision, this movie is a great introduction to the competition which has been running for over 60 years and pulled in a whopping 182 million viewers last year alone!
It stars Rachel McAdams,(Spotlight, The Notebook) and Will Ferrell (Anchor Man, Step Brothers,Elf) as Sigrid and Lars. Best friends and members of the Icelandic musical duo, Fire Saga, whose dream is to one day win the Eurovision song contest.
Thanks to the performances, stunning Scottish and Icelandic scenery, and hilarious script, this one's a winner in our book and certainly one to put on when you're in need of a pick me up!
Similarly, the soundtrack from the film, particularly the climactic ballad, Husavik, has racked up millions of views on YouTube and even entered the top 10 on the UK and Australian iTunes chart! It's little wonder, however, as the soundtrack was produced by one other than Savan Kotecha, known for his work with stars such as Ariana Grande, Katy Perry, Maroon 5, and more!