The Importance of the LBD
|
It's that staple that every woman needs; it's the all-important Little Black Dress. When you're in a time crunch and just can't find that perfect outfit for your day, your LBD has got your back. When you're just not feeling a certain event but your friend/mom/boyfriend is forcing you to go, your LBD will be there for you. Without this item in your closet, your wardrobe will never be complete. Every woman needs a Little Black Dress.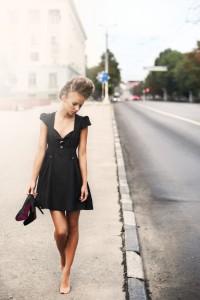 It's up there in the list of things that a girl can't live without: her favorite lipstick, her best hair straightener, that perfect foundation. With trends always changing and colors going in and out style, your little black dress is a timeless essential that's perfect for any occasion. The brilliant Karl Lagerfeld put it best when he said: "One is never over-dressed or under-dressed with a Little Black Dress."
When Coco Chanel first designed a simple black dress back in 1926, Vogue declared that this would be "Chanel's Ford," and that the LBD would become "a sort of uniform for all women of taste." Truer words were never spoken. Whether you're dressing it up, or wearing it casually to work, the LBD is the essential building block of any wardrobe.
For most of us it's more than just an article of clothing—it's that one item in your closet that you can always rely on, the one thing you know you look great in and that will never go out of style. There is literally no place you can go where you won't shine in a LBD. It's the one item that has never left the fashion world, having been around for nearly 100 years without its popularity ever fading. So if you haven't found your perfect LBD, get on out there and find one…or two…or five for good measure—really, you can never have enough!