Winter comes with foggy, gusty and cold weather. Fortunately, you can definitely turn that winter gloom into glamor by working on your look. Your nails play a great role in this. Whether it's by complementing your dress choice, shoes or even jewelry, you cannot underestimate the power of well-done nails.
If you are looking for inspiration, you can get it from the grey weather, frozen walkways, flaky snow and of course, the festive season. Despite this, you might just need a little help in choosing a design that appeals to you. Here is where we come in; we have scoured the internet, social platforms and beauty publications to find out what nail-designs are trending. 
 From the tons of trends out there, here are our favorite winter nail designs. 
Sequins and Kami Fubuki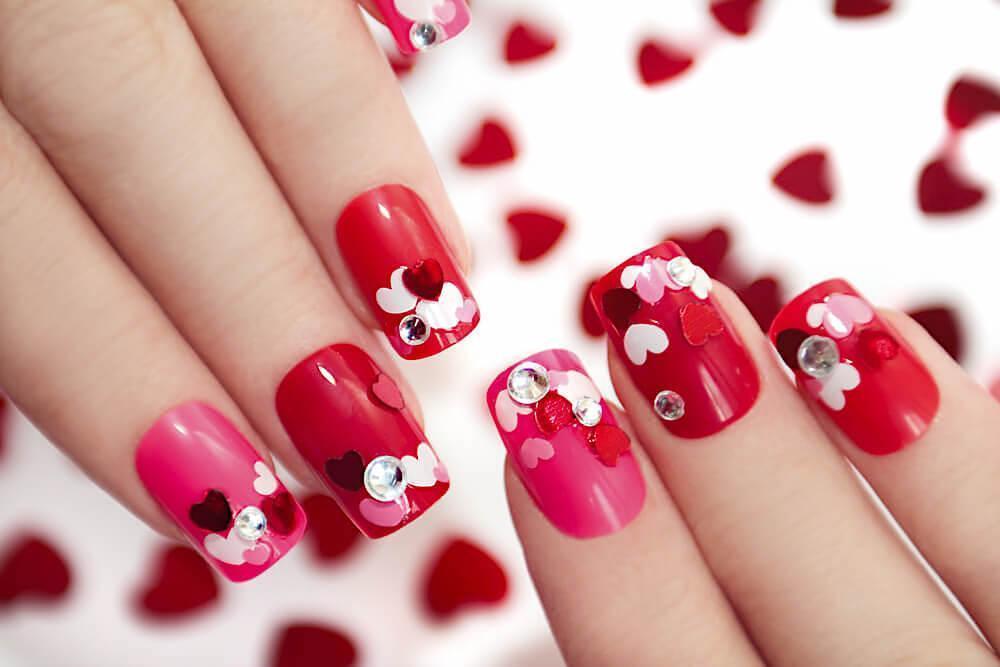 Sequins have been used for decorative purposes over the ages. You will find them on your shoes, jewelry, bags and now on the nails. They come in different shapes and sizes which gives you enough choices to go with any nail length or width.
The idea here is to use the pieces in moderation. A single piece placed on the mid-section or along the 'smile' will be compelling for the whole nail. Another approach would be to add several small pieces on the tips or splattered across the whole nail. 
Kami fabuki are paper arts similar to sequins that were traditionally used in Japanese magic shows. These pieces are now growing in popularity as nail art add-ons. They come in both solid and multi colors hence they are perfect for creating as many patterns as your nails can accommodate.
Fall Leaves
Winter comes with remnants of fall leaves which are in various colors. From these leaves you can get inspiration shades for your nail paint. You can go with various shades of red, pink, magenta and orange. Mix things up by using two or more of these colors in different fingers. Painting each nail with several colors can also bring out the desired effect.
Winter Leaves Silhouettes
Set your eyes on the shape of winter leaves for elegant art. The shapes, together with glitter stripes give your nails a unique design. For this look start with glitter polish and then paint the silhouettes. This will leave the illusion of falling leaves in the backdrop of sparkly winter weather. 
A more subtle effect can be achieved by painting 2 or 3 fingers with black polish; apart from adding more color to your fingers, the leaves-painted nails will stand out more.
Foil and Mica
These designs allow you to maintain elegance while adding a little sparkle and shine to your look. Holographic cellophane against bold pigments will give a 'broken glass' effect which will make your nail work of art. 
Foil cut into different geometrical shapes can also be used to draw attention to different parts of the nails; crescents for the tips, circles for the mid-sections and dots for the whole length (night sky look). Well placed triangles or vertical line can give the illusion of longer nails while adding to the elegance.
Foil and mica also give a wider berth on the art that you choose to project. Silver and blue foil will give the illusion of broken ice. Fireworks or champagne splashes can be created with warm-colored foils; for this you can go with red or sparkling orange foils against other warm colors for a full festive look. 
Stiletto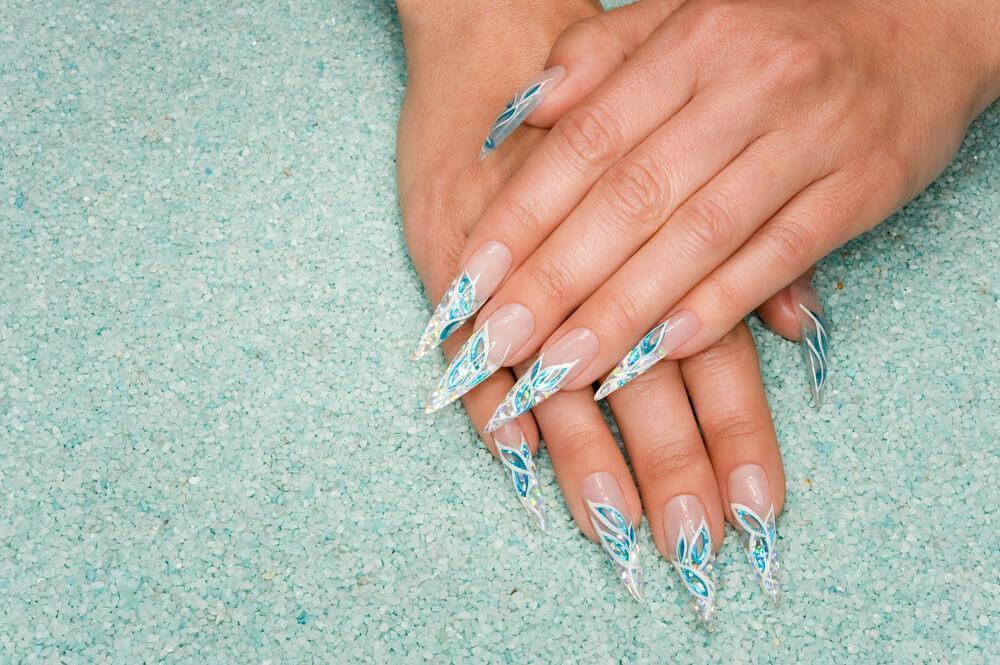 Stiletto designs have been the 'in thing' of late. The pointy edge gives the illusion of longer nails while giving a menacing look at the same time. This will highlight your dinner wear especially if stiletto shoes and matching cloth colors with your nail paint is your thing.
Once you have gotten the shape down, concentrate on your desired colors. Pretty mauve will go well with alternating dull colors. A mix of glitter and dull colors will also do for an elegant and more casual full.
Short and Practical
Wearable fashion calls for a clothes and accessories that are practical in most situations; why not add practical nail design to that look? Short nails can be handy for your daily routine including doing dishes, typing, even shaking hands and so on. 
Practical doesn't mean dull, so try to make your short nails lively by using clear polish for a shiny natural look. You can also use lighter or warm colors to achieve a more holiday feel and look; red, orange and yellow are firefly colors that will bring an advanced look to your look while making your short nails more pronounced.
Waterfall
The design is exceptional against a background of a dark shade of grey. To pull off the look, you will need between 3-6 colors but for a winter look, you can go with white, mica and silver. 
The idea is to create strips that run from the cuticles and thin out towards the tips, creating an illusion of an ice streaked waterfall. Creating the water fall nail design doesn't need superb artistic abilities, it is actually one of those things that you can easily DIY. 
Minimalist Manicure
Not everybody is crazed by sophisticated designs or patterns; simple manicures can also bring out a beautiful winter look. 
Painting just the tips is one way to go about a minimalist manicure. This will let you maintain most of your natural nail color, which is definitely beautiful, while giving you a chance to play around with other colors. You can add glitter, a single shape or do a little painting at the base too.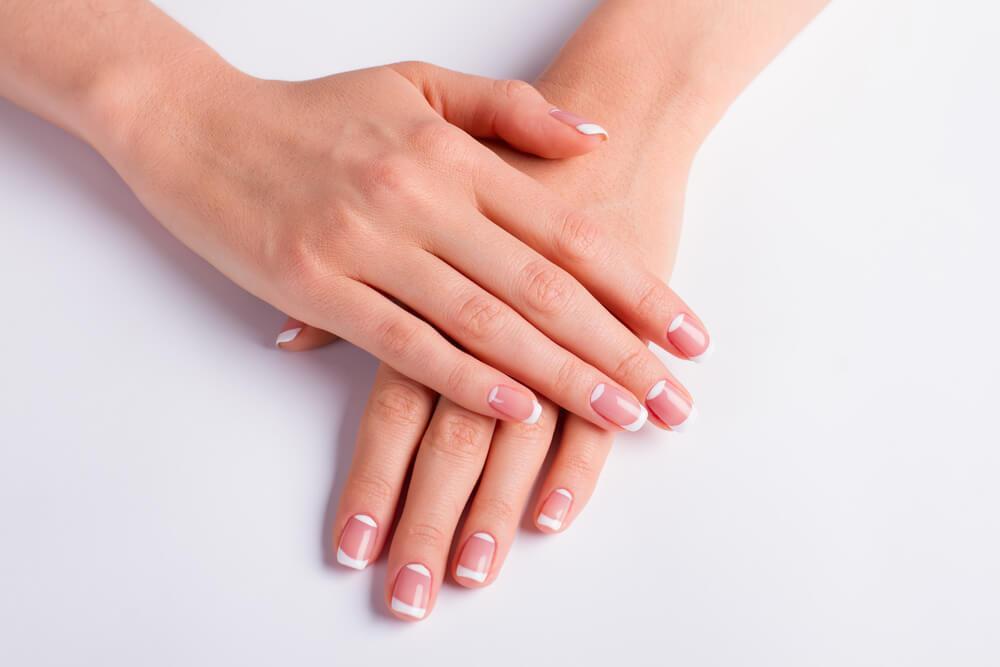 Makeup-nail match is another simple manicure to pull off. For this you can choose whichever color goes well with your eyes. You can also go with colors that will match your lipstick, mascara, eyeshadow or other forms of makeup.
Colors that match your favorite winter jewelry can also help you narrow down your choices. Nude colors that match your body pigmentation are also fashionable and simple to pull off.
Winter and Christmas
Winter and colors go together. Once you overlook the white snow, there are colors everywhere and the white backdrop just makes them pop. You can tap into this intricate natural design by matching your nails to the different colors. 
Blue and gray shades can bring the winter feel to your fingers. The same goes for any color within the pastel range. Here you can choose mauve, minty magic, lavender or periwinkle. These are considered neutral, milky or soft hues and are perfect winter colors.
Arguably the biggest holiday during winter, Christmas designs can really define your festive look. You may not wear that Christmas sweater every day but you can tap into the cheer with green, red and classic yellow manicure. The colors can be applied separately to different fingers, or mixed into colorful stripes on each nail. 
Plain black and gold manicure also brings out the winter look, especially when used with complimentary dinner wear. A combination of silver and black colors will also do. 
Practical Ovals
Excessively long and sharp nails are not so practical in most season activities; unless you are on the runway. On the other hand, moderate length and an oval edge nail style will be practical and elegant at the same time. You can accentuate the style by painting half-moon on the edges; with the smooth oval edges, the moons are sure to pop. 
Play around with color to make the crescents more pronounced. Bright colors for the edges and dull colors for the base will do for a winter look. You can further enhance the look by painting two moons, one on the base and the other on the tips, with a different color or shade to separate the two. 
Mirror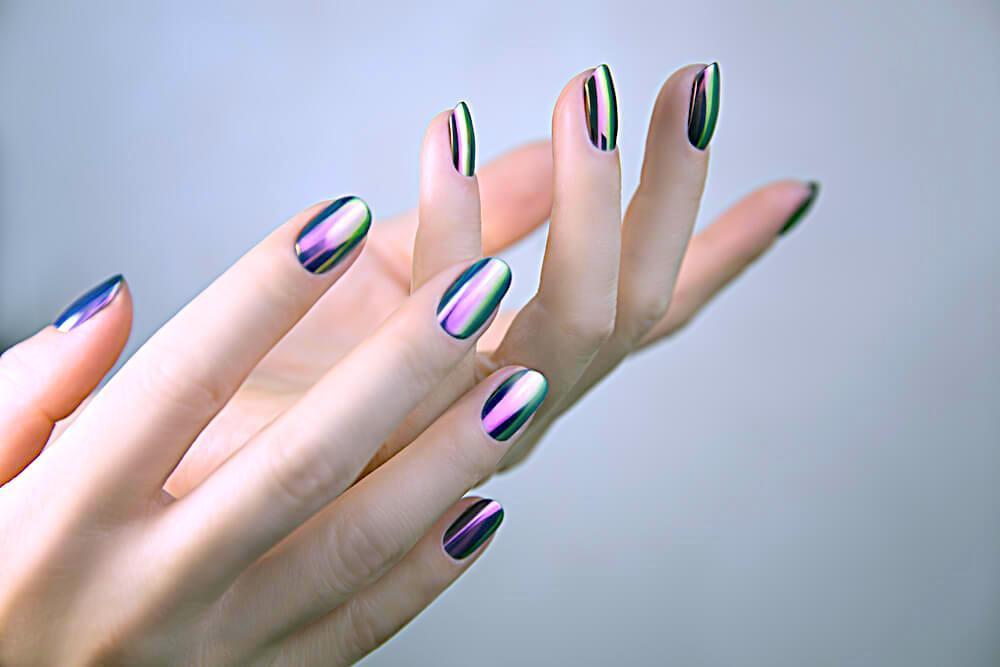 Mirror designs are perfect for any winter look. Depending on how light falls on your hands, your nails will give the illusion of color change; this can leave you with red nails for dinner and pinkish ones for an outing without the need to spend long hours repainting.
To get the mirror illusion right, polyether powder is used as an undercoat before a clear gel is applied on top. The extent of the mirror-effect can be improved by choosing the right pigments for the top layer. These can be colors that contrast with the powder for a more shimmering look.
French Mirror: The style combines French manicure with mirror powder. For best effect, go with matte nails painted with chromed mirror surface. Eye popping colors like green hues will also have the right effect when combined with more playful mirror designs; try contrasting the colors with mirror 'smiles, eyes, lines, angular shapes, etc'
Ombre
These design allows you to get the best of your favorite winter color. Ombre designs are created by blending one color hue to another, usually moving from lighter to darker shades.
You can do this with shades of the same color or try out different ones. Think of blue for example, you can start with white at the tips, a light blue at the middle towards dark or navy blue at the cuticles.
To give a little oomph to your look, you can add glitters at the tip, do some checkered stripes or add some rhinestones at the cuticles among other things. Be sure to finish it off with a clear coat to preserve it. 
Soft Square Tips
Soft squares are a way of maintaining elegance and a bit of practicality at the same time. The style can work with both long and short nails. This give a wider leeway on the art that can be printed for a more graphic effect.
In your choice of colors you can go with metallic which will accentuate the soft square edges; black will make you look bolder and give off a clean classy feel. You can also concentrate on prints of winter fruits or decorations to make the square tips more visible.
Snowflakes
A snowflakes nail art is a great way of embracing winter! What is a better symbol of winter? To make the snowflake design stand out, do it in glossy white against a nude or clear background. Whether you do it on one nail or all is up to you.
Since not two snowflakes are alike, you can put your artistic ability to work and get creative. On the other hand, if you don't trust yourself to do it right, you can use a few stickers or a delicate stamp and rhinestones. Another simple way to do it would be to use a sponge at the tip of your nails to create a snowy effect.
Thematic Patterns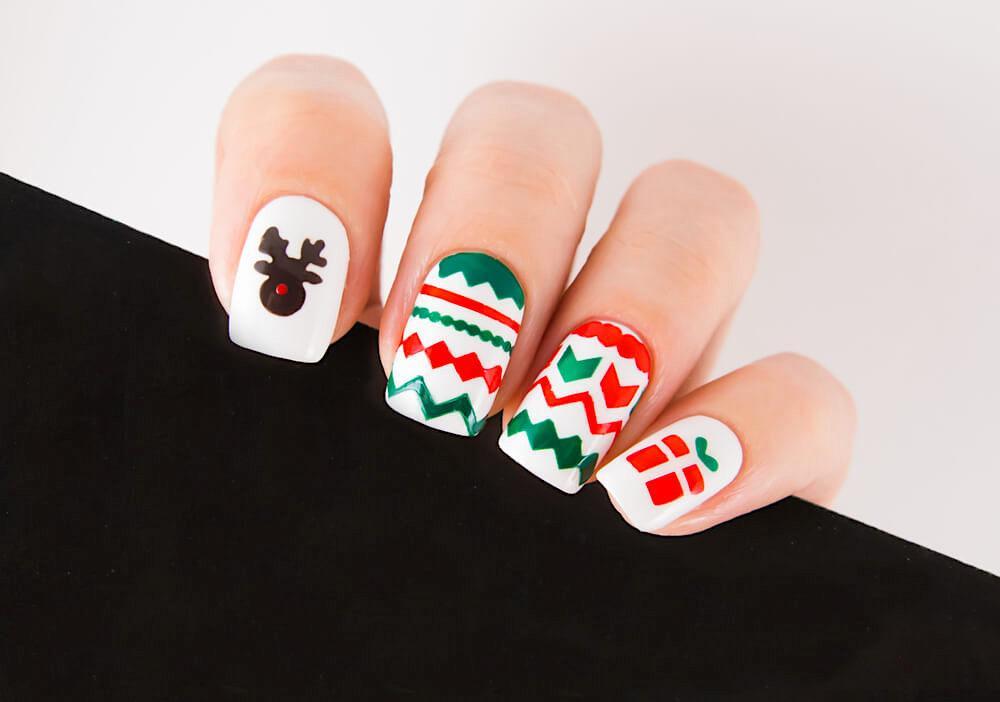 There are other thematic patterns that can transform your look just as effectively as leaves silhouettes. Other winter motifs include snow globes, tinsels, Santa, crackers and Christmas tree decorations. You can achieve these prints by painting delicately or using templates stamps. 
Snake Skin
Shedding is common in most animals especially near the end of winter. This can be in form of molting whereby the outer skin peels off or by shedding off fur. For your nail art, imitating a snake's skin does come out more beautifully than other forms of 'renewal'. 
The texture can be achieved by hand painting or using templates. Another inspiration for the same winter look would be a game of checkers; you can go with a simple black and white board look.
Sparkling Icicles
Sparkling icicles are a great way of instantly transforming the simplest shade into an impressive set. Think of it as a way of adding some festive sparkle to a somehow gloomy winter look. This works well especially in accentuating a light blue base. 
To get an even better look, play with grey, glittery silver and white in a repeat pattern. There's no limit to how many different looks you can create with these at your disposal.
Winter is gloomy, but it also comes with the excitement of the festive season. When you are planning on ways to add some glam to your look, don't leave your nails behind; they need a treat too. With this list of our favorite winter nail designs, there is no limit to the amazing things you can do to them. Go ahead and try as many as you want; winter doesn't last forever after all!