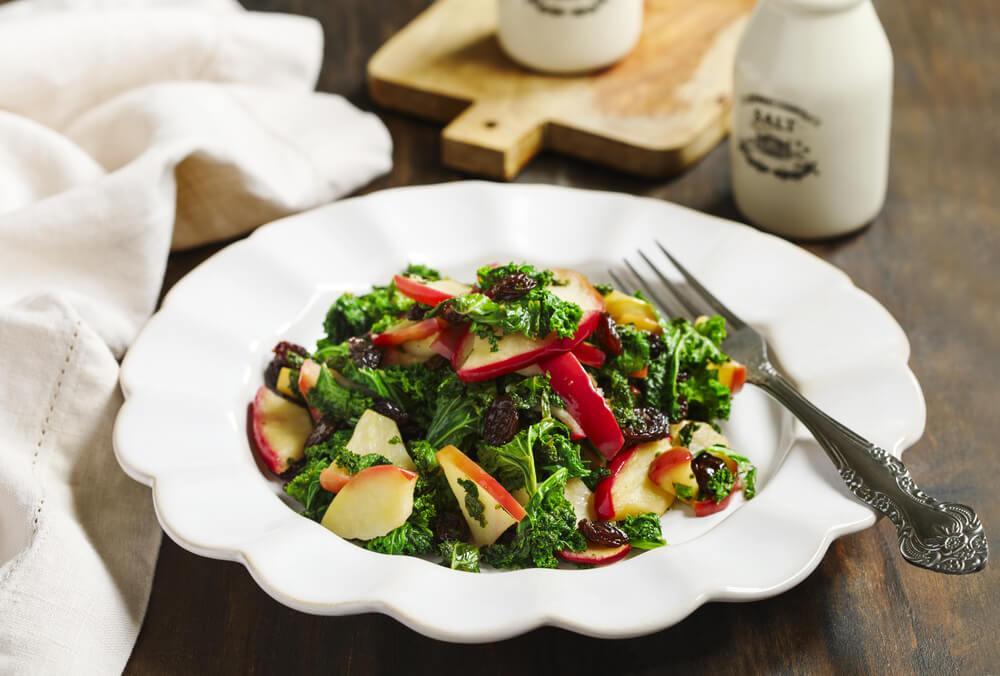 Salads usually have their moment in the summer, with many turning to the more traditional seasonal dishes come fall. However, while casseroles, pies, and soups may be your usual fall favorites, let us change your mind with these seasonal and incredibly satisfying fall salads. 
Roasted Sweet Potato Salad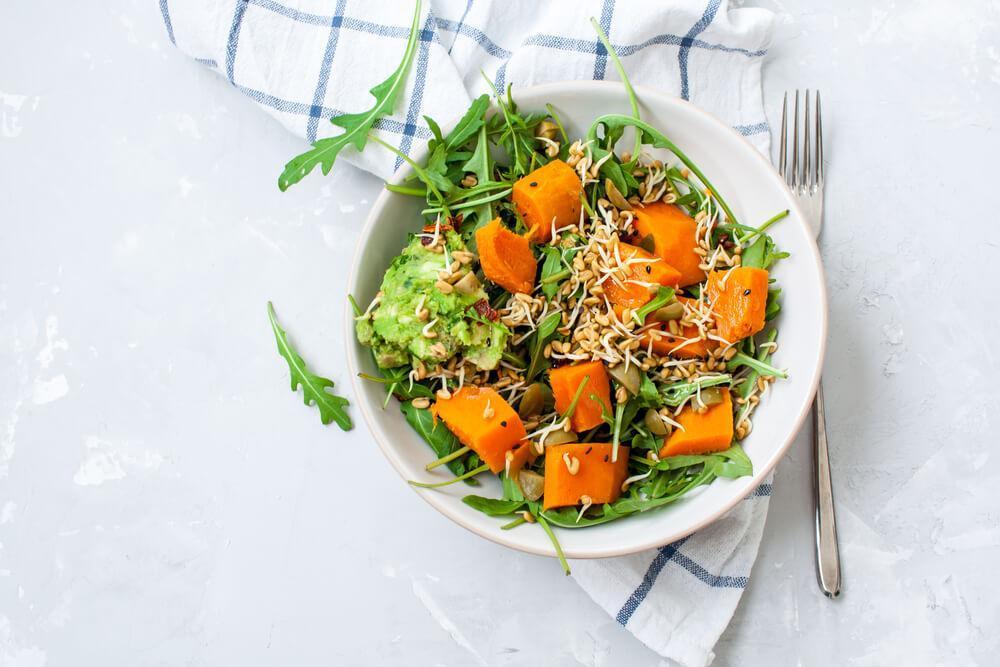 Love filling up on sweet potatoes each fall?
These delicious tubers are a popular warming addition to meals once the colder weather starts to roll in, making it the perfect star ingredient of a fall salad.
Sweet potatoes also happen to have a large number of different health benefits:
A good source of vitamins, minerals and fiber
They promote gut health
They support the eyes
They increase brain function
They strengthen the immune system
They can potentially help to fight cancer in the body
How to Use Sweet Potato in a Fall Salad
When using sweet potato in a salad, the best option is to roast them. Not only does this give you a beautifully crunchy bite, but inside each chunk or slice lies soft, fluffy flavor.
Try combining your roasted sweet potato with some of the following for a tasty yet healthy fall salad:
Olives
Dried cranberries
Cherry tomatoes
Carrots
Guacamole
Feta cheese
Arugula
Spinach
Red onion
Kale and Apple Salad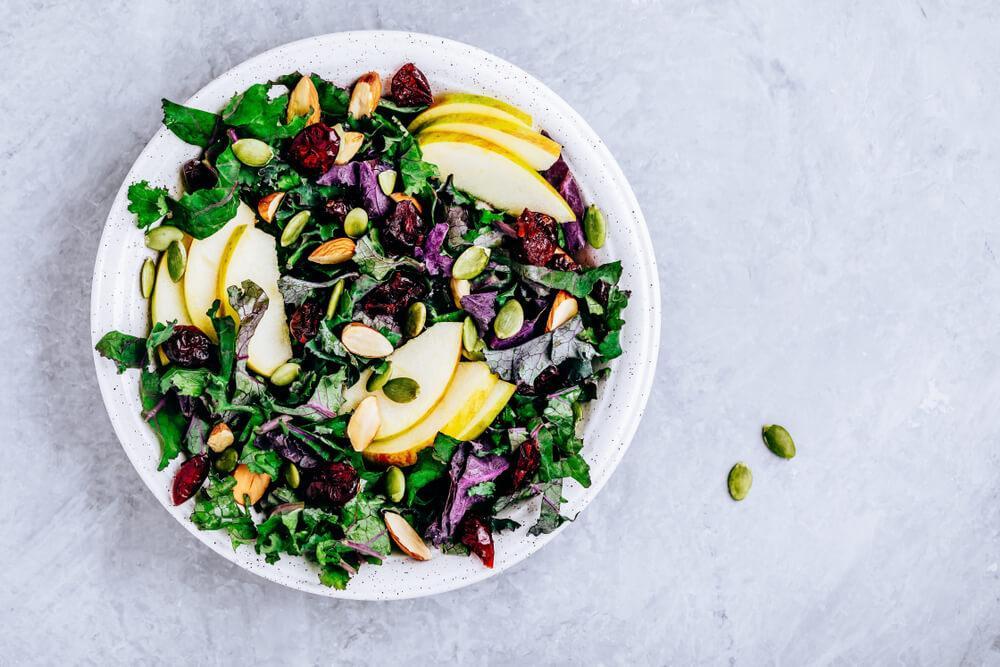 You probably already know that kale is considered to be a superfood, mainly because kale is one of the most nutrient-dense foods on the planet.
When it comes to apples, there's definitely some truth to the old saying "an apple a day keeps the doctor away".
What do you get when you combine the two?
A richly flavorful and satisfying salad that's also packed with so many different health benefits. Both kale and apples are in season come fall, and the two really couldn't work better together when it comes to fall salads.
How to Use Kale and Apple in a Fall Salad
You need to be careful when selecting kale for a raw salad – if you don't do things right, it will end up being tough to chew. Fortunately, you have a few options:
Use young and tender kale leaves
Go for curly kale or Russian kale, as these are naturally more tender than black kale
Either chop or slice the kale leaves very finely
Leave the kale leaves to sit in a mixture of lemon juice, olive oil and salt for about 10 minutes – this will help to break down its fibers and tenderize it
Dressing is key when it comes to a kale and apple salad – if you really want to enhance the apple flavor, whisk together some apple cider vinegar and olive oil. You could also add in some garlic and mustard for an extra punch.
When it comes to other ingredients to include in this fall salad, some good options are:
Raisins
Dates
Walnuts or almonds
Pecorino cheese
Dried cranberries
Pumpkin seeds
Red Cabbage and Carrot Salad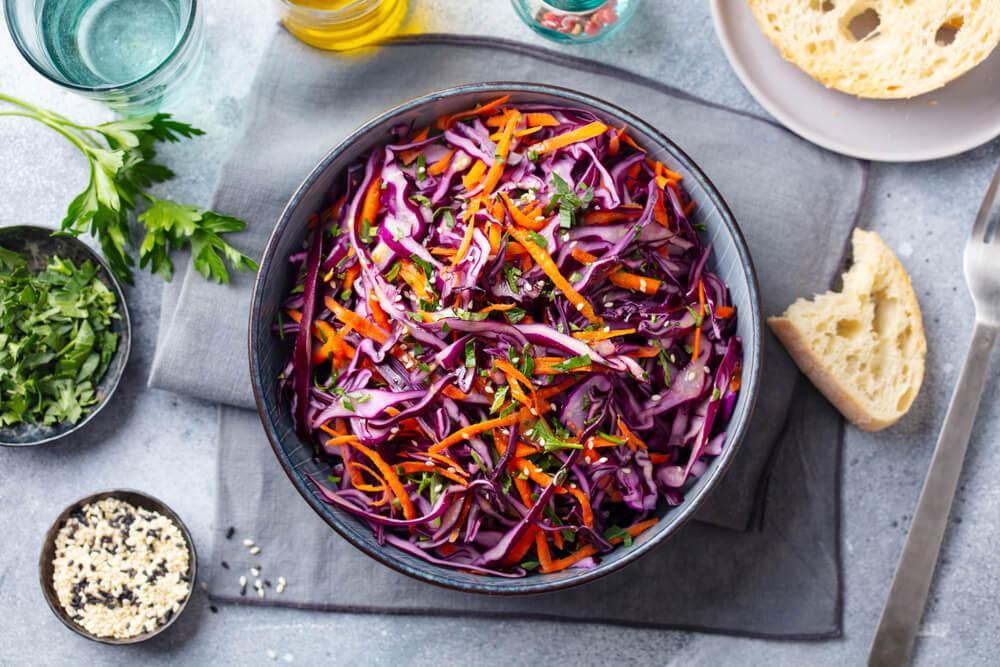 Carrots are a fantastic source of all of the nutrients your body needs in the fall – everything that will help it to thrive over the colder season. You may think that carrots are a year-round vegetable, but they actually have two different seasons; late spring and fall. Most fall carrots go into storage for the winter, but those that are sold in store have a delicious tenderness to them that you won't find at other times of the year.
Red cabbage, another seasonal fall ingredient, is a great immune-booster that's packed with so many antioxidants. In fact, red cabbage contains 30% more antioxidants than green cabbage, which is why you will often find that this is the cabbage of choice when it comes to the many salad recipes out there.
How to Use Red Cabbage and Carrot in a Fall Salad
One of the most classic carrot salad recipes is the French grated carrot salad, which consists of grated carrot that's been smothered in a dressing of honey, lemon juice, olive oil, and dijon mustard.
However, combining grated carrots with red cabbage creates a slaw-like salad that is crunchy, refreshing, and adaptable to most cuisines. Of course, you'll need to soften your shredded cabbage first, but this is easily done by soaking it overnight in a mixture of oil, sugar, and vinegar.
If you want to get a little more creative, try going with an apple cider vinaigrette and incorporating some of the following ingredients into your salad:
Apple
Lentils
Scallions or shallots
Fresh parsley, mint, or chives
Cumin
Cashews or peanuts
Chicory
Pear and Cheese Salad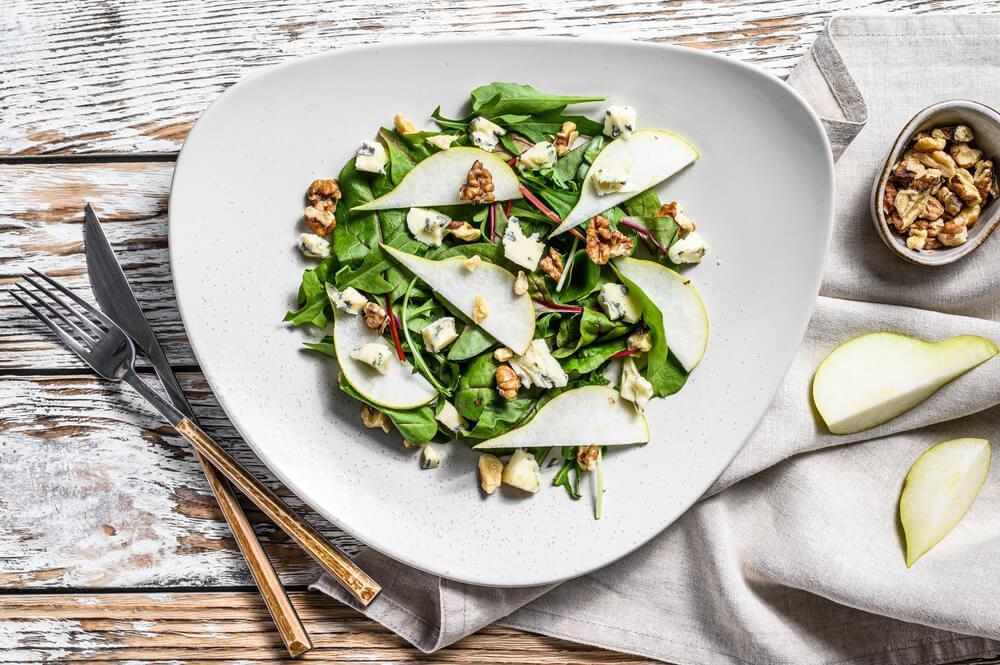 Pears and cheese are a classic combination that many don't know about. The two go together hand-in-hand – just about any type of pear works well with just about any type of cheese, meaning that you can't go wrong when creating a salad with the two.
Pears come into season in the fall, and they contain a number of important nutrients in a high amount that other foods aren't able to compete with.
When it comes to cheese, this isn't something that agrees with everybody. However, there's no denying that cheese, especially those made from grass-fed animal milk, is impressively high in a wide range of nutrients.
How to Use Pear and Cheese in a Fall Salad
As mentioned above, you could simply pick your favorite type of pear and pair this with your favorite cheese, and you would likely have an amazing dish.
However, just like when it comes to other food pairings, there are certain combinations that really hit the spot:
Try pairing the sweet flavor and buttery texture of the Bartlett pear with either feta, marscapone, Parmesan, or Pecorino
Combine the citrus flavors of the D'Anjou pear with brie, aged gouda or a mild cheddar
The succulent silkiness of the Comice pear works well with Manchego, Brie, and stilton
Crisp and dense, the Bosc pear complements Roquefort, aged cheddar, and Manchego
Other ingredients worth including are:
Walnuts or pecans
Arugula
Dates
Chicory
Persimmon Salad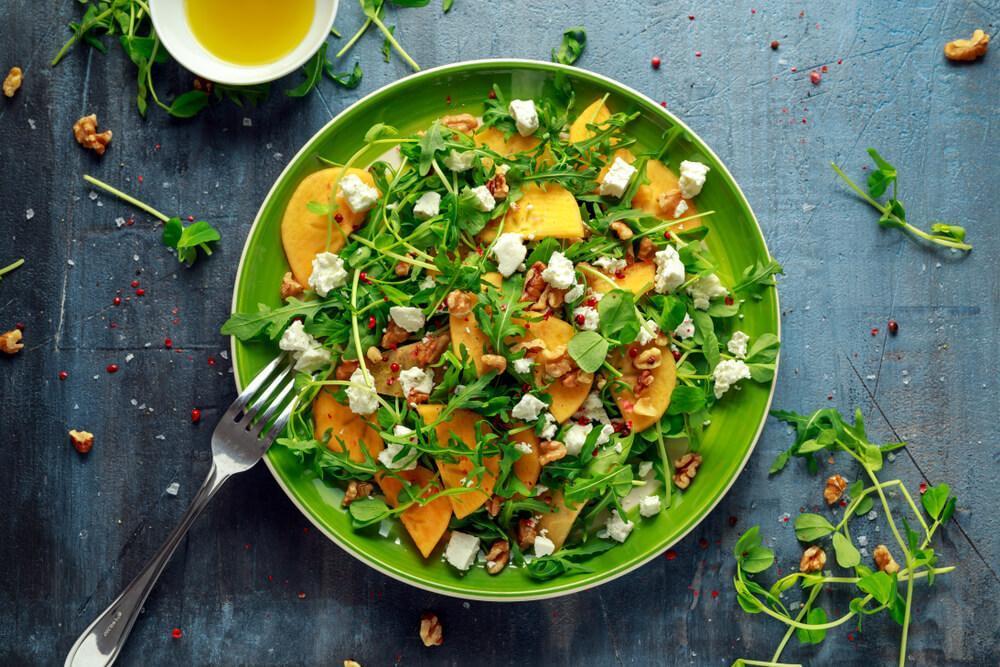 Persimmons come into season in the late fall, with this lasting through the winter. Whether you enjoy the fruit fresh or not, using it in a salad brings out exciting new flavors that are always a crowd-pleaser.
Just like many other fall foods, persimmons are high in beta carotene and potassium, along with a number of other vitamins and minerals. They also have such a unique flavor, being tangy but sweet at the same time, and a silky texture that lends itself extremely well to a salad.
How to Use Persimmon in a Fall Salad
Persimmons are an easy salad ingredient – simply slice them up, as thin or chunky as you want, and then mix them with some of the following:
Arugula
Onion
Avocado
Kale
Pecans
Goat cheese
Fig Salad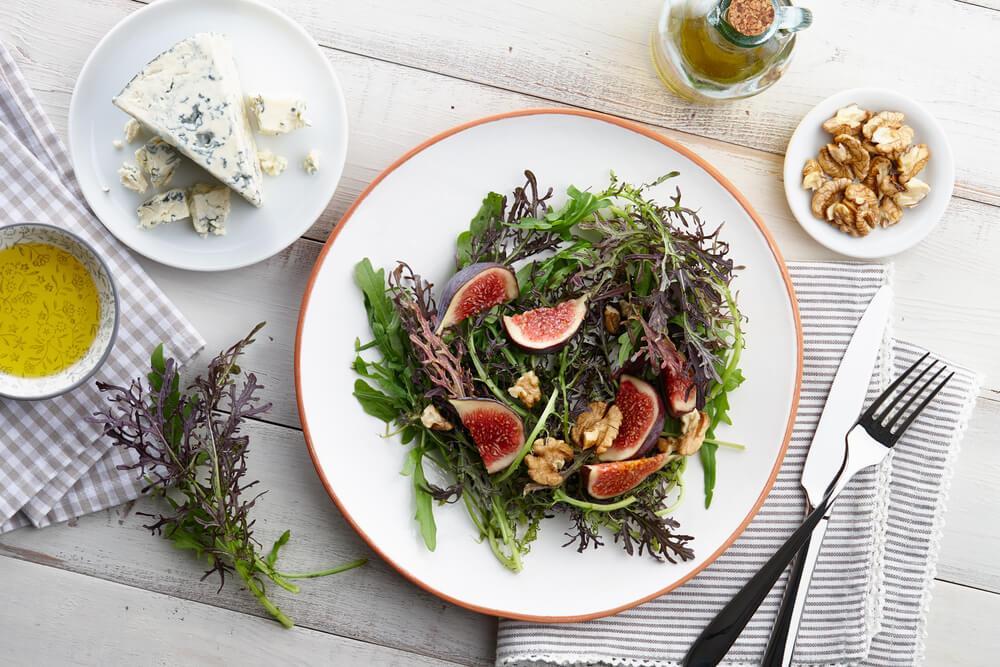 The main season for figs is in the fall, and the intense, honey-like sweetness that this fruit boasts makes it the perfect salad addition. When figs are perfectly-ripe, they taste almost syrupy, and can easily be used for both sweet and savory dishes.
Figs also happen to be extremely healthy – they help with digestion, maintain blood sugar levels, and even destroy cancer cells, all while bursting with vitamins and minerals.
How to Use Fig in a Fall Salad
You need to use the right figs when putting together a fig salad – it should look as though it is literally about to burst. When you give it a gentle squeeze, it should give a little, rather than springing back.
Figs are best used raw in a salad – you really don't need to do anything to them to enhance their flavor.
Wondering what else to add to your fig salad?
A few tasty options include:
Watercress
Red onion
Toasted hazelnuts or walnuts
Arugula
Goat cheese
Fresh basil
A simple vinegar and olive oil dressing is all you need to complement this salad, as this leaves the flavors of the figs to really shine through. However, if you want to enhance the warming flavors of this salad even more, use a walnut oil.
Beet Salad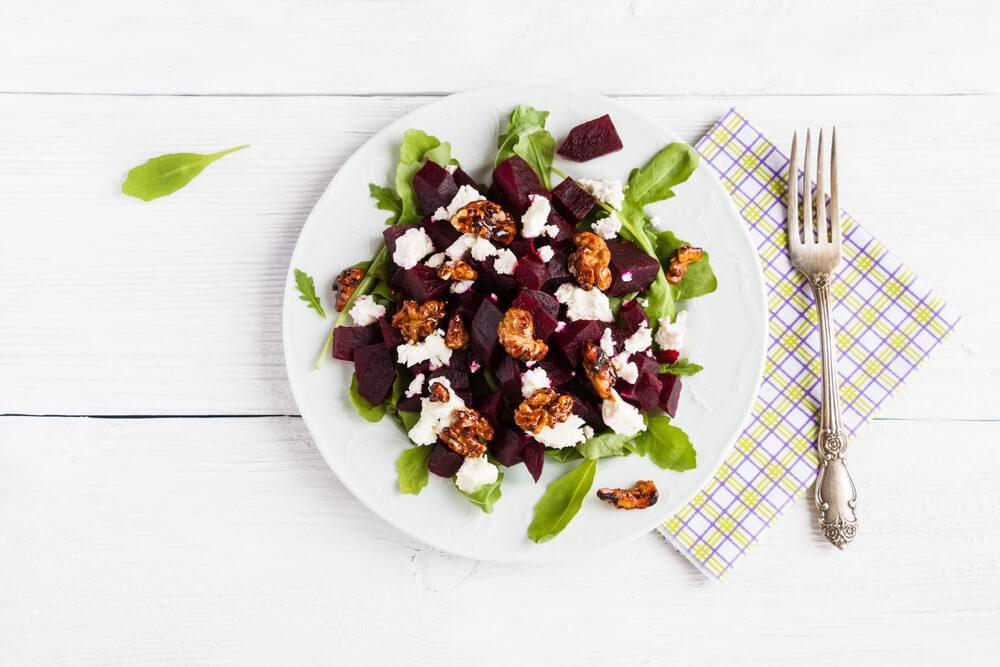 You've probably seen beet salad on the menus of multiple restaurants, and this is because beets lend a salad the perfect amount of sweetness and bite.
They are also extremely nutrient-dense, with many considering beets to be a superfood due to its nutritional profile. This is exactly why beets have become such a popular ingredient in health drinks recently.
Studies have shown that beets have quite a few other benefits too:
They can significantly lower blood pressure
They encourage better digestion
They improve athletic performance
How to Use Beet in a Fall Salad
Let's start with the obvious – beet and feta; the perfect combination of sweet and salty. This classic favorite is also extremely healthy, and a simple lemon or balsamic vinaigrette is all you need to really bring these ingredients alive.
Wondering if you need to cook the beets first?
If you're going to peel and grate them, then you can use them raw. However, if you want to go for larger slices or chunks, then try roasting them first. You can roast them whole with their skins on, wrapped up in some foil, before easily sliding the skins off once cooked. Then, slice or chop as needed.
If you're bored of the beet and feta combination, and, let's face it, this tends to be served up just about everywhere, then go with something a little more imaginative instead:
Red cabbage
Carrot
Orange
Spring onions or shallots
Avocado
Walnuts
Pumpkin Salad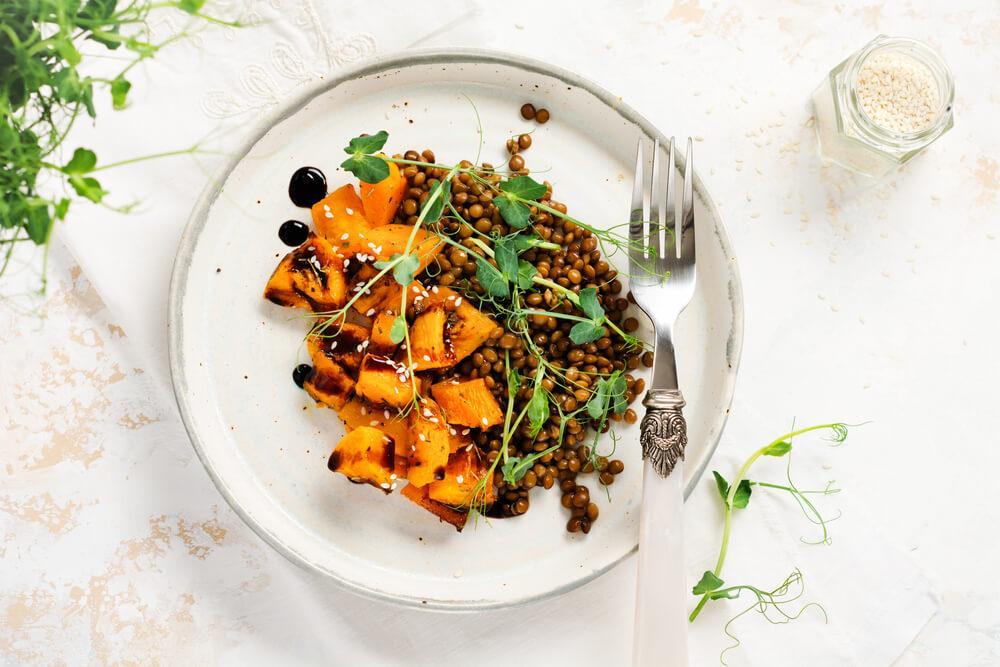 Pumpkins are a classic fall food, and after you're done carving yours for Halloween, save the trimmings for a hearty fall salad.
As you probably know, pumpkins are packed with antioxidants. They are good for your immune system, your skin, your eyes, your heart, and so much more. While this may be the case, so many eat pumpkin in an unhealthy way during the colder months, compromising all of the health benefits that the ingredient would otherwise bring.
A salad is the perfect way to really showcase the pumpkin, while eating it in a way that enhances your overall health.
How to Use Pumpkin in a Fall Salad
The best way to use pumpkin in a fall salad is by roasting it first. This really brings out the deep and sweet flavors of the vegetable, which is exactly what makes a pumpkin salad so warming and comforting.
Both slices and chunks work well – experiment with both to see which you prefer!
Pumpkins work well with so many different ingredients, but if you want your salad to really make a statement, try combining some of the following:
Chickpeas
Arugula or spinach
Kale
Lentils
Pomegranate
A balsamic vinaigrette works so well with the sweetness of the pumpkin.
Feeling hungry yet?
There are so many delicious fall salads that you could put together, and with the majority of the ingredients being seasonal, these are usually easier to come by, not to mention so much more flavorful. Whether you go for a warm pumpkin salad or a refreshing apple salad, these dishes can easily be served up as a main course, rather than being relegated to the side.