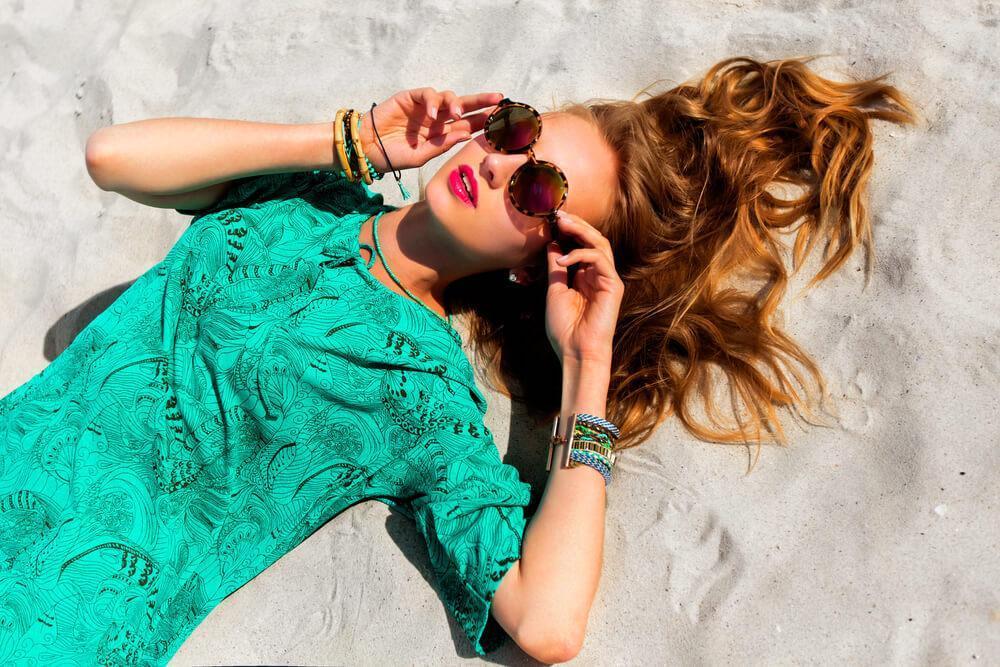 Barbie dolls have been taking a lot of heat lately for setting "unrealistic expectations" in girls, but body image is only the half of it.
Not only do Barbie dolls set an unattainable ideal for girls when it comes to ideas about beauty, but they also set a pretty unrealistic ideal when it comes to shopping.
Take Beach Barbie, for example. When it's time to hit the beach, she just gets a little and cardboard placard full of the most adorable sunglasses, beach towels, suits, sandals, and tote bags, and she's set for the season. No need for returns of exchanges. Everything fits perfectly, everything looks perfect. What sort of message is that to send to the future generation?
Shopping for beachwear and accessories is far from easy. It's not a one and done thing. No one gets a set of perfectly sized fabulous bathing suits and sunglasses delivered to them just as they want it, unless she has a personal shopper, and even then, there's no guarantee. Shopping for the best beach style takes careful planning and research, not to mention a few bucks.
We don't want the girls of this world to grow up with have unrealistic expectations about shopping for the beach, or their bodies. This is the real deal on beach style and some of the things you can really expect.
Iconic Bathing Suits That Still Look Great Today
Here are some of the most iconic suits of yesterday that no girl's beach wardrobe should be without today.
Bikinis
The Marilyn (Bandeaukini with High Waisted bottoms)
If you're looking for some style to steal, look no further then Marilyn Monroe circa 1953, in her white bandeaukini and high waisted bottoms. This suit worked then at it can work now, right down to the clear strappy heels and gold hoop earrings.
Gidget (The Ruffled Bikini)
If Gidget was able to do all that surfing without her bouffant becoming unruffled, it's no wonder that her bikini didn't either. Who better than the original All-American teenage surfer girl to show off a ruffled bikini?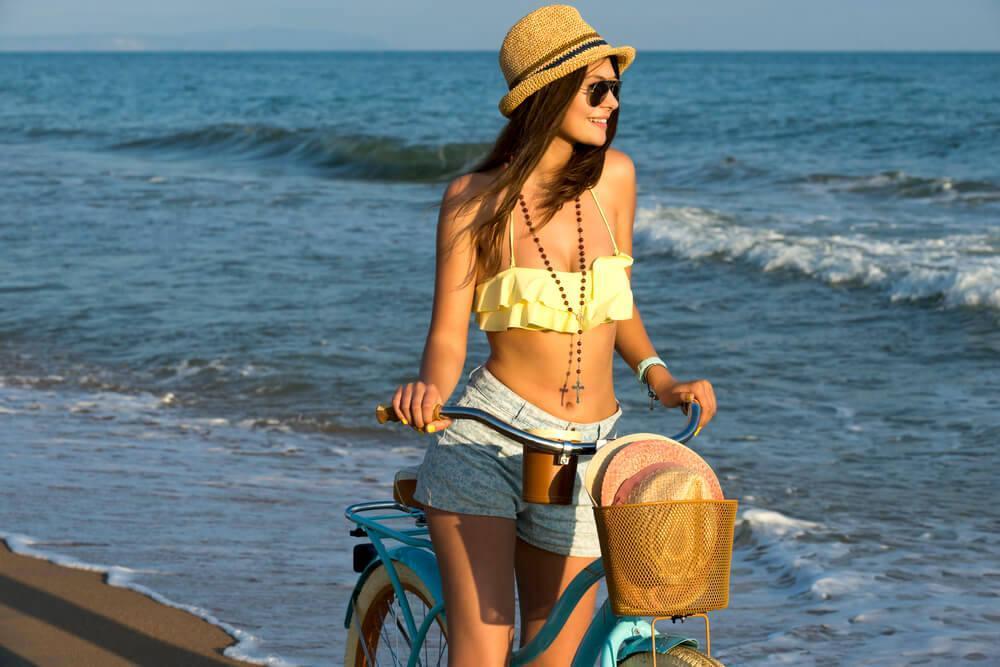 Ruffled bikinis are iconic for their little girl gone sexpot look, and really, what girl doesn't love ruffles? See Taylor Swift for inspo on modern ways to rock your ruffles.
Bond and Beyond (The Belted Bikini)
James Bond fans know that Mr. 007 is always concealing weapons in his clothing and accessories, but it can be safe to say that his bikini bottoms were not one of them. Not so for his female counterparts. When Ursula Andress starred in her role as Honey Rider in 1962's "Doctor Know "concealment didn't seem a major concern. The knife hooked on the blkini belt just seemed to enhance the effect.
Weapon aside, what makes this suit is really iconic is its wide belt. Since its debut, the belted bikini has become one of the most copied and desired swimsuits. And if you need any further proof, check out Halle Berry when she clocked in as Ms. Bond in 2002's "Die Another Day."
Catch Berry paying homage to the original in her orange red version (knife included), to see how she wore it, and make sure to pick up your own for some cool beach fashion.
One-Pieces
Bo Derek (The Nude)
When Bo Derek starred in the 1979, movie "10," ithe world was introduced to two fashion- staples: one was cornrows and the other the one-piece nude maillot.
When Bo emerged from the shore dripping wet in that suit that left just enough to the imagination, the sales of the one piece hit the roof, and so did a few overprotective Dads.
Babewatch (The Sky High One Piece)
Sometimes the more you show, the more flattering it is to the curves. The leg openings on one-pieces can cut the line of your body in unflattering places. A woman's body looks best when her curves are continuous. But then again, no one had to tell Pamela Anderson that.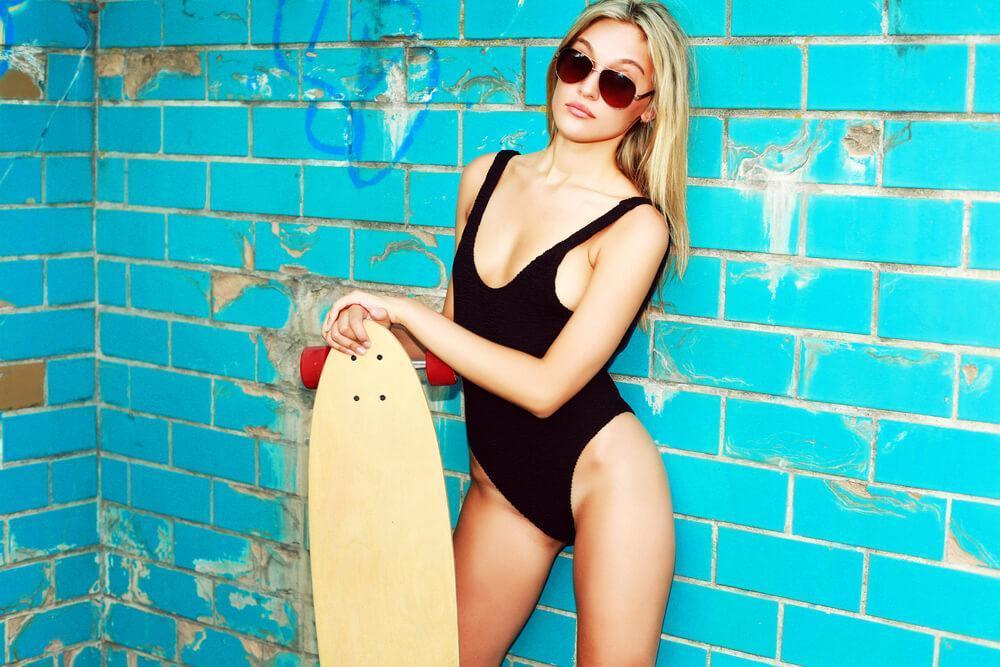 If you remember the original Babewatch Babe, you'll remember Pam in her legs to the sky red number that stretched in all the right places. Shall we say, Beyonce is keeping the faith?  The Sky High One Piece is still one of the sexiest choicest for the sexiest bodies.
Esther Williams (The Vintage One Piece)
If there's anything more "retro" than the "aquamusicals," of the 1940's and 1950's it's probably the bathing suits the swimmers wore for them.
When Esther Williams starred in such aquatic epics as "Bathing Beauty" and "Neptune's Daughter," she became known for her signature white boy cut one piece that now more or less defines the vintage bathing suit.
And if you want to borrow, you might as well borrow from the original. Although Esther passed away in 2013, her legacy lives on in the Esther Williams Swimwear line, featuring one and two- piece vintage styles fit for a mermaid.
Sunglasses
Now that you've dressed your body in the latest summer chic, it's time for your face. When your choosing the perfect frames to frame your face, you've got a lot to consider.
White Round Glasses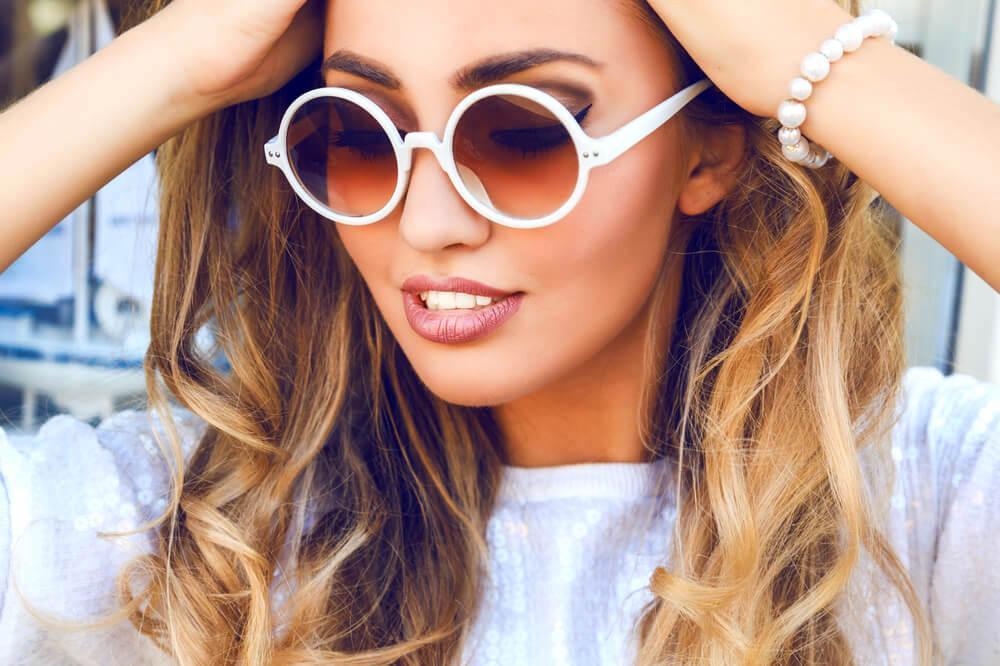 White round sunglasses may be a dime a dozen, but the right white sunglasses are priceless. Make sure yours are chunky and funky, with super dark lenses. Think the boys from Oasis for inspo.
Getting Catty
Anything Audrey Hepburn wore got an instant elevation to high fashion. It was no different for the cat-eye frames she wore as the alluring Holly Golightly in "Breakfast at Tiffany's" in 1961. Every girl should have a pair of cat eyes to maintain her high society glamour, even when she's kickin' around on a beach blanket.
From the Heart
There have been star-shaped sunglasses, sunglasses shaped like cocktail glasses, sunglasses with the year on them, but nothing seems have replace heart shaped glasses in the hearts of girls. Heart shaped sunglasses made their debut on the cover of the Nabokov novel "Lolita". The image of the adolescent nymphette peering out seductively from behind the frames while sucking on a lollipop was the perfect balance of innocence and sexuality to make a lasting impact on pop culture and haute couture.
Jackie O's
These days, when ladies haven't slept well, applied their makeup or just flat out couldn't be bothered, a pair of Jackie O glasses are a savior. Jackie O was daring enough to hide in broad view, and who in today's world couldn't a little bit of shelter?
Bringing on the Bling
Sunglasses may seem like an impractical place for bling, but then again, so are fingernails.  If you don't feel dressed without something shiny on, jeweled sunglasses can take beach style to high style.
Hats
When it comes to fighting UV rays, the bigger the brim the better. In fact, we've seen sunhats on the catwalk, with brims bigger than the model's backsides. As long as seeing where you're going isn't a priority, go big or go home.
In general, a brim is always better than no brim, and a girl needs to have choices, so here are a few options for the summer beach hat to keep the sun off and add a little mystique to the boardwalk.
The Derby
There are two reasons to buy a derby. One is because it blocks the sun from so many angles and the other is that it's so darn flattering.  Everyone looks slightly more Brigit Bardo- ish in a big floppy derby, but if you want to skip the theatrics, a 3" brim should suffice.
FYI: The most protective derbies are the ones with a nonuniform shaped brim to stop the rays from hitting your face. Straw of light cotton are the best choices for keeping cool.
The Bucket
Everyone should bring a bucket to the beach, why not a bring a bucket hat? Bucket hats took a long time to make it to haute couteur. After all, the endorsement form Gilligan didn't do anything to improve its reputation.
It took until 2005, when a peacock feather and rhinestone version walked down the runway on the head of a model at the Miucci Prada show to bring the bucket to the world of high fashion.
These days bucket hats are the signature rap star and pop star accessory. Run DMC were never without a bucket of fedora.
Did anyone catch Rhi-Rhi wearing her bucket hat at the Melissa Forde Launch? Mike drop.
The Visor
Although you wouldn't know it from V Stibiano's escapades, the sun visor is actually a very practical hat for the beach.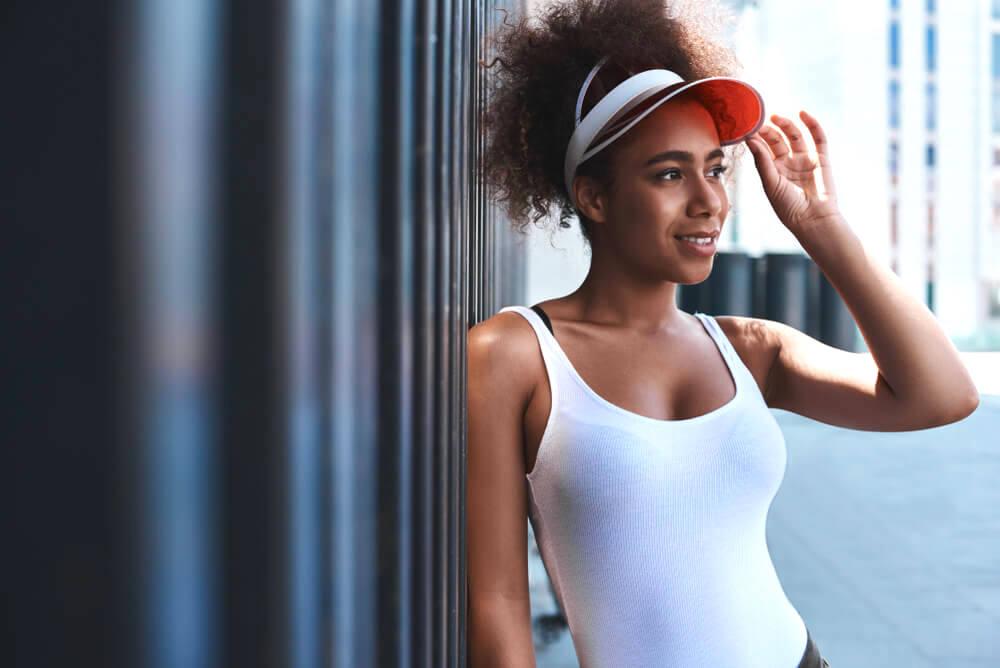 It has a wide brim, and no top, which means it can keep you cool as well as UV protected, and it's great for ponytails and tennis, rollerblading optional.
Footwear
Of course, your beach style won't be complete until you've tackled the footwear! After all, it's what will get you through hot and sometimes rough sand, and if you want to make it back to civilization without blistered or calloused feet, you'd best be protecting your feet. In style, naturally.
Flip Flops
For such a non-fashionable shoe, flip flops have become all the rage lately. What started out as the go-to shoe for a beach walk is now raising some eyebrows on the catwalk. The water-resistant toe-exposing shoes are the new way to get that effortlessly cool, "I always wear my Dior skirt when I walk the dog" look.
No matter what your opinion of flip flops as high fashion items, they can never do wrong on the beach. Water and sand resistant, and a perfect way to show off your pedicure.
Jellies
What could be cooler than shoes made of PVC jelly except for shoes made of PVC jelly infused with glitter?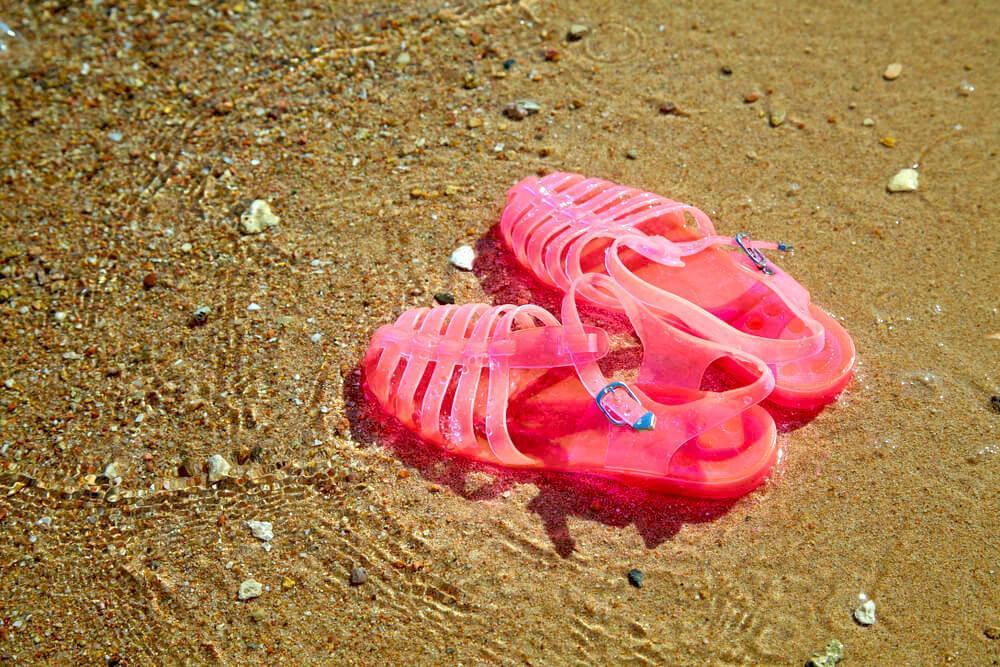 Jellies are the ultimate form or dress-up for the grown woman. They can stand in for heels in a pinch, and you can still come home and take out the garbage in them.  And for about fifteen bucks a pair, you can get jellies to match every one of your swimsuits.
Crocs
Crocs are the summer Uggs. Remember those much-derided sheepskin boots that wouldn't leave the catwalk? Crocs are the beach version. Crocs fell out of favor a decade ago for their relative ugliness, and then came back glammier than ever. Crocs They've been covered in glitter, embellished with trinkets and emblazoned with super-heros, and even reinvented by Balenciaga.  (see the embellished pink foam statement platform Balenciaga crocs for $850,) but still the most original remain the traditional clogs.
I guess there's something to be said for staying ugly. We still like the Balenciaga's thought, but use caution before walking on the beach in them.
Covering Up
So now that the sun is going down, and your beach party is over, the nighttime is just beginning. How do you make the transition from beachside to fireside?
There are a lot of choices that will take you from barely dressed to dressed up in no time. A bohemian caftan is an effortless way to cover the bikini while maintaining that cool "Anita Pallenburg and the Rolling Stones hanging out in a mansion" look and if you want to keep the boho a little less close to the skin, knitted crocheted shorts and shirts can be slipped over bathing suit bottom, without even waiting for it to dry.
A loose slinky slip dress always goes well from day to night, and a midi dress can be perfect for a luau, or a walk on the boardwalk, and even a T can be knotted in a variety of creative ways to show off your best assets.
Which iconic look will you be bringing, or bringing back to the beach this year? How retro will you go, or how modern will you stay, and is there much of a difference? Let us know how you're staying current and nostalgic this season.