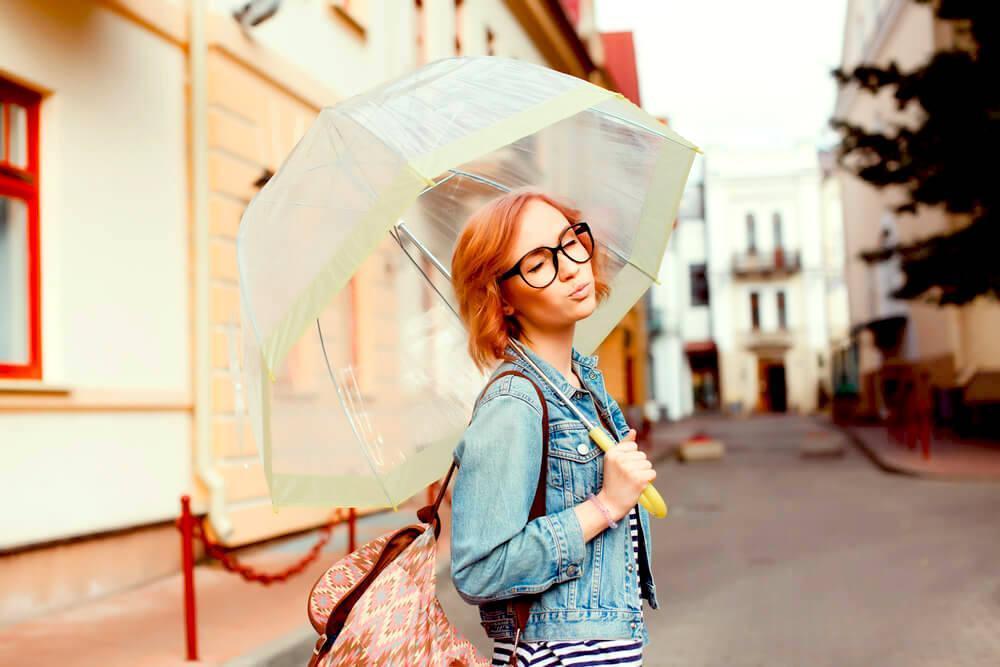 You open your eyes and the first thing you hear is raindrops pattering against the window. 
Suddenly, you lose all inspiration to plan out a cute outfit. After all, the only goal of dressing for crappy weather should be staying warm and dry, right?
Well, not quite.
Perhaps you can benefit from taking a different approach to styling your attire on those less-than-ideal days.
When you think about, rainy season can be an ideal opportunity to try out different styles and play with colors and patterns you wouldn't usually incorporate in your outfits.
Moreover, unpredictable weather can be a great opportunity to experiment with layering, which is not only practical, but can make your ensembles infinitely more interesting.
All you need to do is prepare in advance and supply your wardrobe with all those rainy weather essentials that will help keep your looks exciting even on the dreariest of days.
Here are a few tips on how to do just that!
Find Your Ideal Trench Coat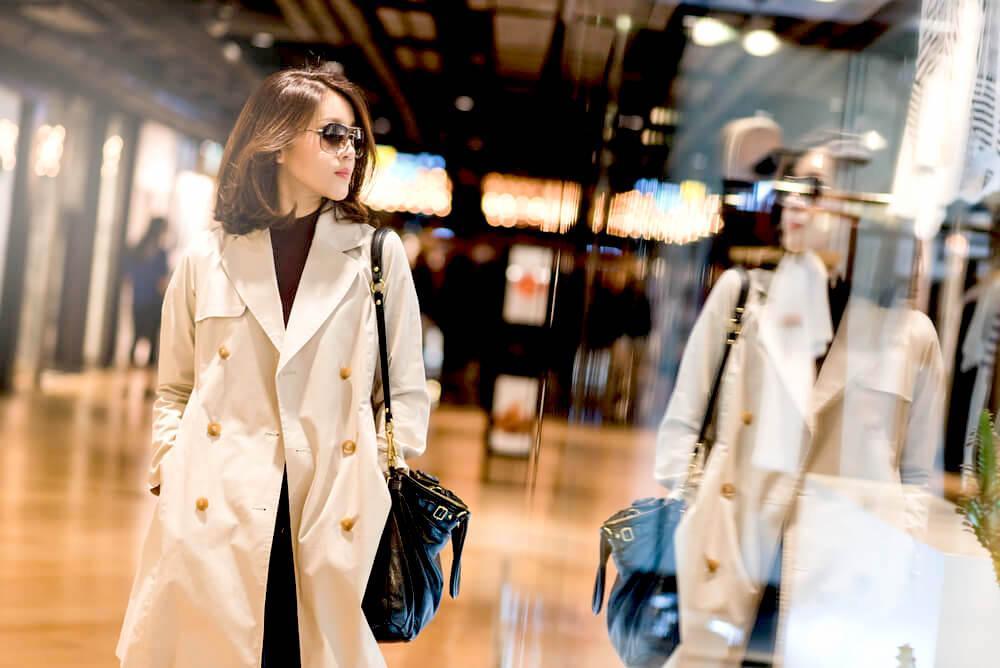 When the weather gets wet, there is one item you simply cannot go without: a stylish trench coat.
This timeless wardrobe staple has been worn since World War I, while these days, it's almost unimaginable to go through rainy days without owning one.
Since this evergreen outerwear item will be your trustiest ally during the rainy days, you should make sure to pick one that will fit your perfectly.
The most iconic reiteration of the trench coat was designed by the Burberry, UK-based luxury clothing manufacturer who claims to have invented this autumnal staple.
At its most classic, trench coats are beige, featuring a double-breasted buttoning, checkered lining and length that stops just below the knees.
And if you want your wardrobe to store this kind of trench coat, then go for the traditional design that is bound to play wonderfully with any outfit.
However, you can also switch things up a little bit.
These days, you won't have trouble finding trench coats in black, navy or even more vibrant colors.
As far as length goes, you can also opt for something shorter and more playful (above-the-knee cut can look especially flattering on petite girls) or go for a long, extravagant piece that will provide a touch of drama to all your ensembles.
Jazz It Up with Bold Color and Patterns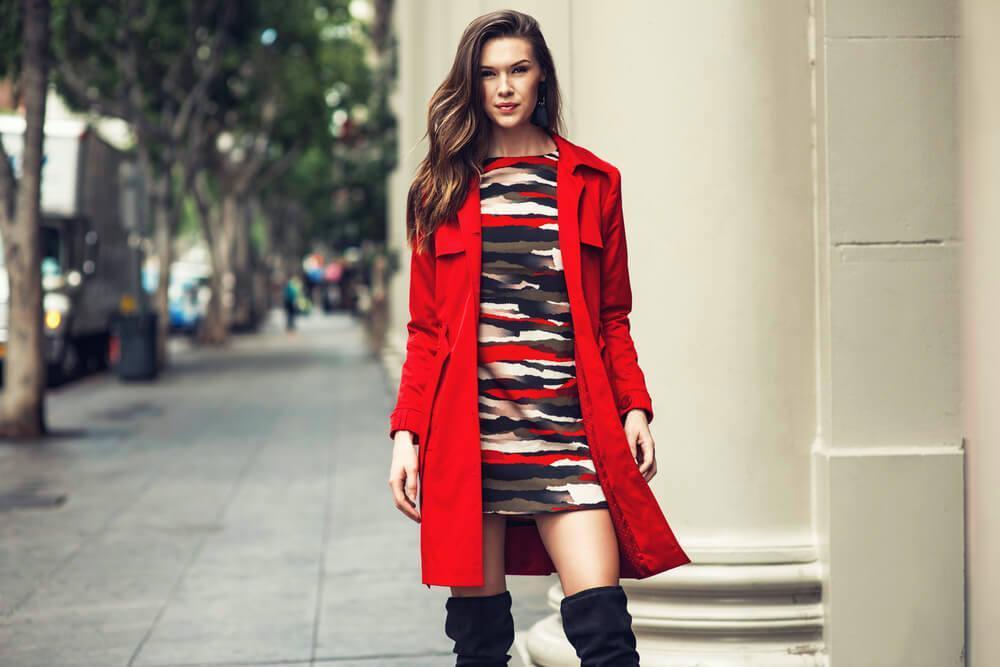 Cloudy weather can quickly suck out all the fun in planning outfits.
However, if you're fully prepared for the rainy season, this doesn't have to be the case at all.
On the contrary – when the weather gets gloomy, you can use this as an opportunity to go all out with different hues and patterns to liven up the dreary days.
For example, you can swap your standard khaki trench coat for something a little more playful, such as rain-proof jacket in bright primary colors like red or yellow.
If you've never experimented with solid shades, perhaps you will find it helpful to be guided by your skin tone.
Here are a couple of pointers to help you out:
If your complexion has cool undertones, go for lilac, sapphire or dusty pink
People who have warm skin tones will look the best in orange hues, as well as olive green and magenta
Those whose complexion is neutral can go for peachy hues, jade green or sky blue
Alternatively, to figure out how to pair up two or more colors in your outfit, you can refer to the color wheel. The general rule is that you can mix any two colors that are opposite of each other on the wheel (for example, red and green or yellow and purple).
You can also apply the color blocking method, by pairing up analogous shades (ones located next to each other on the color wheel).
Moreover, you can break up the monochromatic look by adding eye-catching patterns, like stripes, camo or the back-en-vogue polka dots.
If you're truly looking to defy stormy weather, embellish your look with floral prints, so you can show everyone you won't let rain dampen your sunny disposition.
And if your sense of aesthetic calls for more order and symmetry, go for the currently popular geometric designs that will make your outfits feel even more sleek and polished.
Invest in a Good Pair of Boots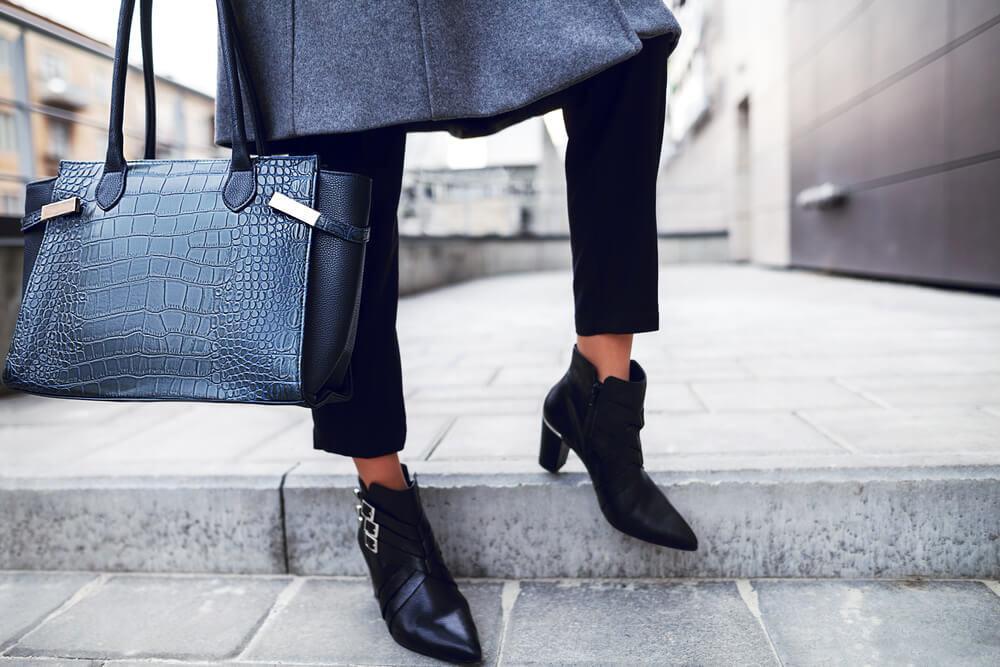 Outfit planning for fickle weather does not stop with outerwear.
One of the biggest challenges of dressing for rain-filled days is how to keep your ensembles cute without getting your feet wet.
This is why, other than a trench coat, you should always be equipped with a pair of quality, water-resistant boots.
If you want to go down the quick and easy route, get yourself a pair of rainy day quintessential – Wellington boots!
And if you're still skeptical on whether you can turn Wellies into something couture-esque, just turn to British fashionistas and their music festival ensembles for inspiration.
For something more on trend, go for the shoe that has been all the rage on the runways in recent seasons: ankle boots.
The current iteration of this stylish shoe comes with a squared or pointed toe, ankle-hugging sock-like part at the top and a chunky heel, reminiscent of the '60s go-go boot style.
What's more, ankle boots that we've been spotting on celebrities, models and other fashionistas often include wacky designs and graphic prints, which are just ideal for brightening up bleak, rain-filled days.
However, if you're not too bothered about fashion du jour, you can always protect your feet with a something a little more classic.
Riding boots are a great choice for those who prefer flat shoes and inconspicuous designs that are still elegant and flattering.
Plus, riding boots work like a charm with trench coats and other rainy weather essentials. Not only you won't have to worry about getting your socks wet, you'll also look positively preppy and chic.
Layer Up and Then Some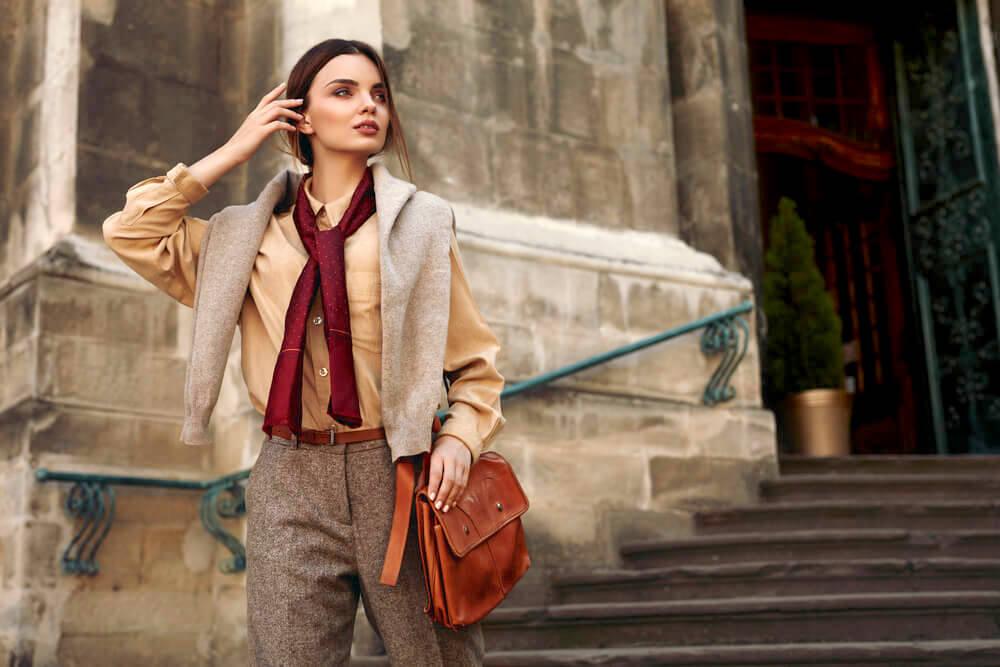 When the weather is unpredictable, planning an outfit that will be both chic and practical might prove to be a tall order.
In order to avoid completely missing the mark when it comes to weather conditions, you can apply one simple method: layering.
And sure, while you might think that nothing beats leaving your house in your favorite jeans and T-shirt, sometimes it's more fun (and weather-appropriate) to form your outfit by stacking different pieces.
And if you're feeling particularly adventurous in terms of your personal style, you can go for the ultimate form of layering: mixing different fabrics and prints.
Even though this might seem like a recipe for disaster at first, you can avoid looking too dramatic by paring up your statement pattern with a less conspicuous design, or perhaps by breaking up the louder fabrics with more neutral pieces.
Get Yourself a Pair of Trusty Kicks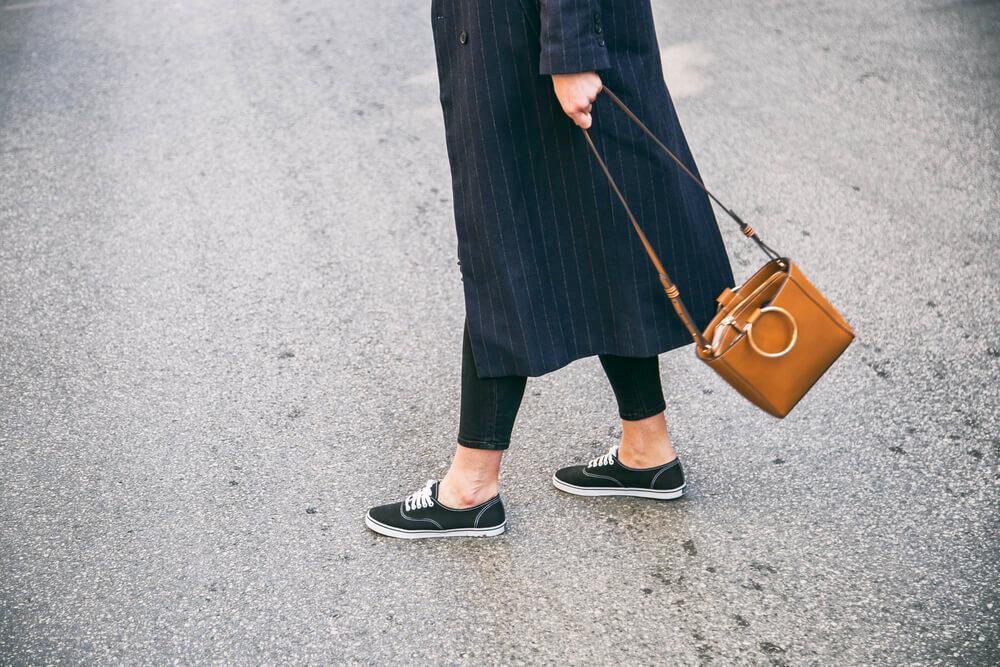 Perhaps all this talk of elegance in the rain isn't something up your alley.
You are looking to keep it cool and casual, but still have a precipitation-proof outfit.
And the key item that can help you style a laid-back, but unmistakably fashionable rain-ready look are sneakers.
Wearing sneakers to elevate your style shouldn't sound strange to anyone who has been following the rise of the athleisure aesthetic in fashion circles.
What's more, this chic-meets-sporty approach is the perfect option when you have to step out into a drizzle or a storm.
We've all noticed that crisp white sneakers have been a fashion must-have in recent years, and if you feel like you can rise to the challenge of wearing them in the messy weather, go ahead!
However, if you want avoid having muddy splotches all over your kicks, go for a more wearable color like black or dark grey.
If you've been toying with the idea of making sneakers more glam, but are too addicted to the confidence that comes from wearing heels, you can always go for platform tennis shoes that will give your silhouette those couple of extra inches.
Accessorize with Waterproof Pieces
If you're still struggling to make your outfits head-turning and proofed for rain, take a well-known styling shortcut and jazz them up with a couple of nifty accessories.
However, to make sure your precious hats and handbags don't end up getting soaked, perhaps you might want to look into materials that were designed to withstand wet weather conditions.
Since current fashion tendencies are all about the '90s revival, you shouldn't be surprised by the amounts of vinyl you've been seeing on the runways and in shop windows.
Fashion in plastic can truly be fantastic (and waterproof, to boot!) so you shouldn't hesitate to snatch a few PVC pieces to keep you dry during deluges.
For example, a chic vinyl newsboy cap will not only give a dose of edge to your outfits, it will also keep your hair protected and intact.
PVC bags and backpacks, one of the most eye-catching trends of the season, will make your ensemble a little more playful, but also keep all of your personal belongings shielded from the rain.
If you're not afraid of this avant-garde style direction, then you can go all out and clad yourself in a chic PVC trench coat, clear plastic boots or even faux leather pants for an extra punky vibe.
Don't Forget Your Umbrella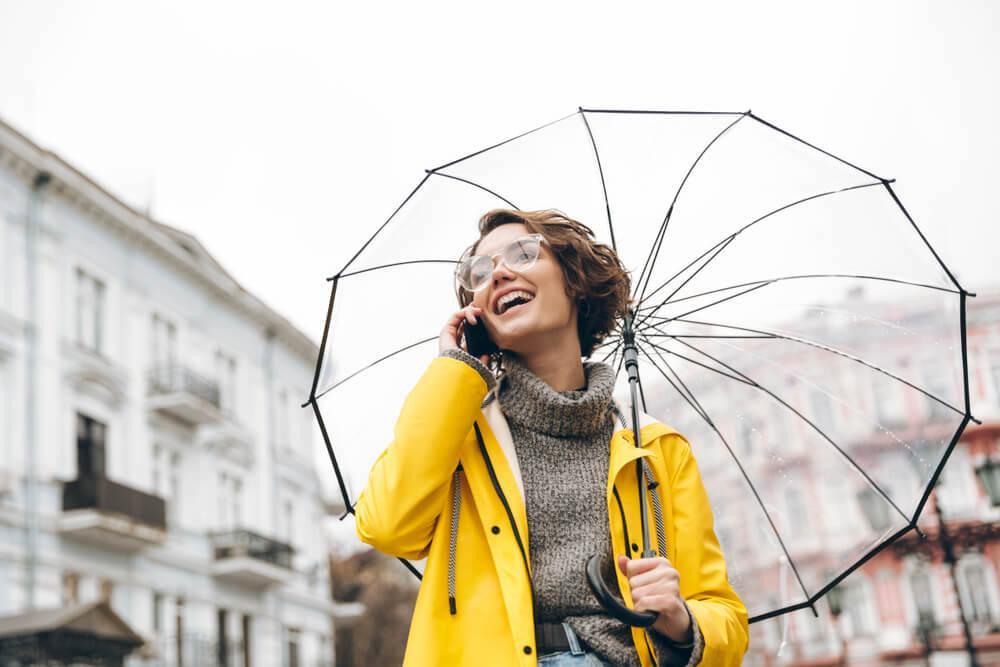 Let's face it – no matter what your outfit is, it's the umbrella that's going to be the real MVP of every rainy day.
So, if you want to keep your outfit trendy and interesting from head to toe, then you might have to forget about the array of raggedy umbrellas that you've been on-and-off buying and losing.
Even though the purpose of this accessory is to shield you from the rain, it can also be an amazing extension of your outfit, whether you want it to keep everything in tune of give your ensemble an added dose of extravagance.
In case of the latter, you should go big and bold with your umbrella. An oversized rain accessory will not only make you feel diva-like, you can also shield a friend or two from the rain.
Alternatively, you can take it up a notch by stepping out with a boldly colored umbrella. It can be monochromatic or literally in all the colors of the rainbow.
For a more youthful, funkier vibe, make sure to get a see-through PVC umbrella.
Not only will your look be on point, this kind of umbrella will also be able to dry more quickly.
Keep Your Hair Low Maintenance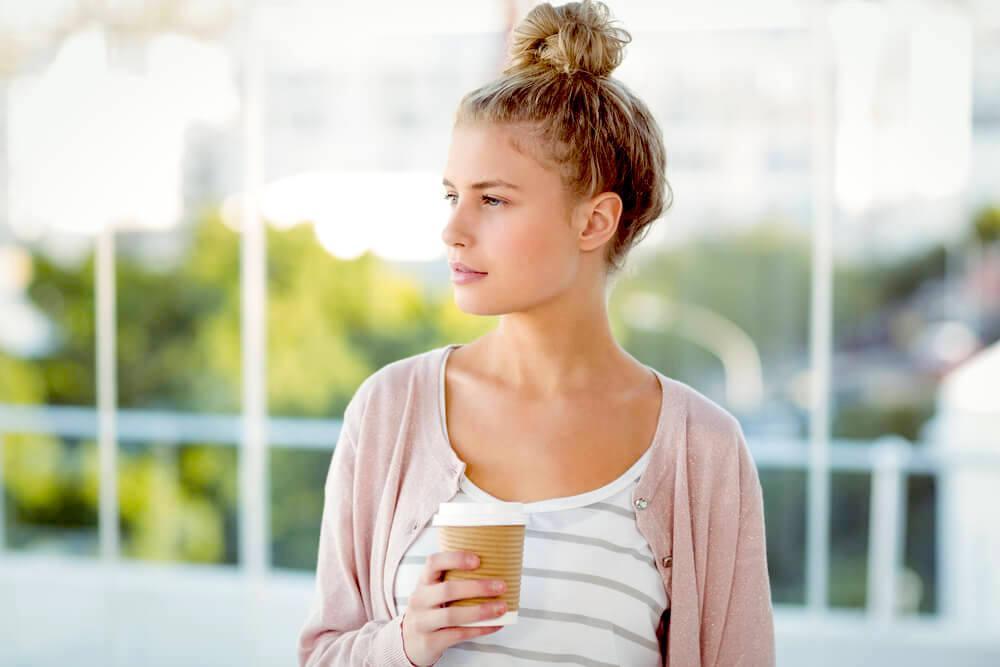 Now that your outfits are all planned out and ready to meet the rain, there's one more thing to take care of.
That's right, your hair – since we all know that keeping it neat and stylish when it is pouring it down outside can be nigh on impossible.
The trick to keep your locks in place and frizz at bay is to go for simple, toned down hairstyles.
For example, if your hair is notably fine and straight, you should forego curling irons and wands, since your strands will quickly lose the curl once in contact with water.
Instead, swoop up your hair into the beloved messy bun or style it into a romantic French braid.
If your hair is on the curlier side, you might be worried about your mane swelling up to be twice its size by the time you step out of the office.
To avoid this happening to you, tie your hair into a chic top-knot or tame it using head bands or other hair accessories.
And when all else fails and you simply have to accept the fact that the weather won't allow you to have a fabulous hair day, simply stick a stylish hat on and no one will be able to guess what is hiding underneath.
And with this, we're rounding up out list of tips on how to stay dry and dapper in the face of bad weather. Next time the clouds decide to surprise you with an unexpected shower, you will be able to stay at the top of your game and look as stylish as ever.