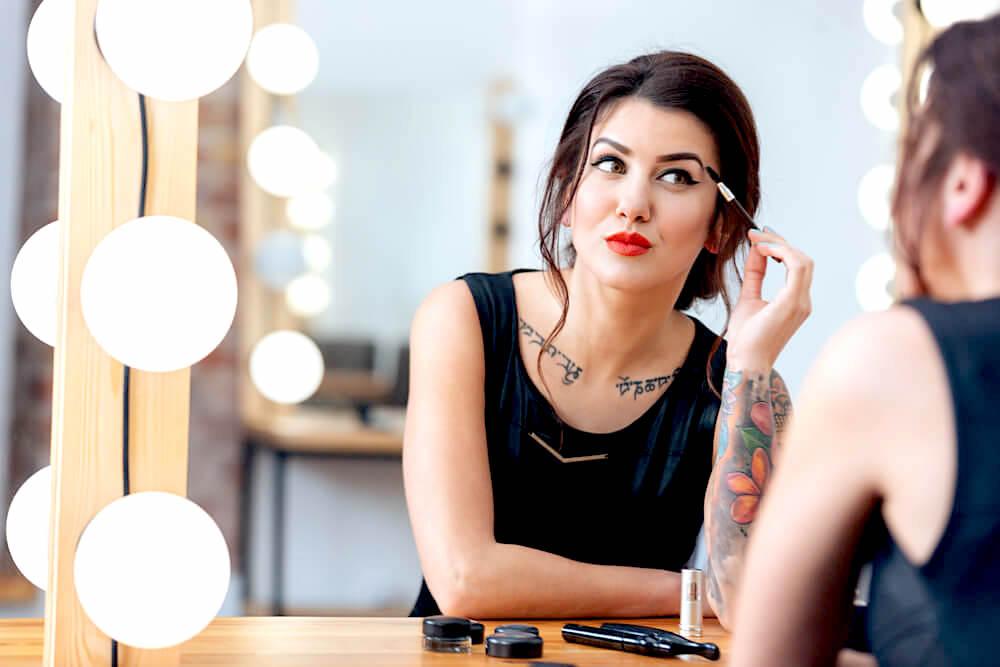 Whichever adventures you find yourself in this summer, you want your makeup to remain as chic and flattering as any other time of the year.
And since the sunny season comes with its own set of challenges – i.e. securing longevity, avoiding cakey textures, etc. – you might need to introduce a couple of tweaks into your everyday routine, so you can successfully avoid these problems.
But where do you start, exactly?
Don't worry, we got you! Before you is a list detailing all the tips you need for revamping your summer makeup and locking a gorgeous, glowing beat for the sunny days ahead.
Let's find out what they are!
Keep Your Base Light
Just because it's summer doesn't mean that all those tiny imperfections on our face suddenly disappear.
Which is why you might be tempted to reach for your favorite blemish-eliminating foundation, even when you know the sticky weather won't exactly agree with it.
However, you can still keep your complexion even and healthy-looking without resorting to heavy, pore-clogging formulas.
Products such as tinted moisturizers and BB creams are formulated to blend seamlessly into your skin, without emphasizing any rough patches or leaving a layer of cakey residue on top of your face.
Some of them even come with SPF, so not only will your skin be perfected, it will also be shielded from damaging UV rays.
To give your base product a diffused and natural finish, skip makeup brushes and apply tinted moisturizer or BB cream using a damp beauty sponge, which will help thin out the product and give it a more skin-like finish.
The same philosophy should be applied to concealers. Avoid heavy textures that will cause buildup and creasing in your under-eye area by opting for a more hydrating formula with light-reflective properties. This way, you will be able to brighten up your eye circles without adding too much product on the area where your skin is the thinnest.
Make it Long-Lasting
The second temperatures hit a certain degree, keeping the makeup from not slipping from your face becomes a daily struggle.
Making your beat sweat-proof might seem a little challenging, but all you need is a couple tweaks and tricks and you can rest assured it won't budge throughout the day.
Before anything else, make sure to prime your skin prior to applying your base products.
Picking the right kind of primer will largely depend on your skin type and the issues you want to address.
For example, if your skin is on the oilier side, you might want to go for a formula that will help blur out the imperfections and matify your skin, so the base products stay locked in for longer.
If you're suffering from dry skin, go for something more hydrating. A good moisturizing primer will help plump up your skin for makeup and reduce the prominence of flaky and rough areas.
Those who have combination skin might want to try combining two types of primers depending on the oily and dry areas on their face.
Of course, no matter how much you prep and prime your skin, if the weather is especially hot and humid, you won't be able to avoid the occasional shine coming through.
This can be easily fixed, too!
You can do this by always carrying around some blotting paper, which can instantly remove grease and matify your skin.
Prime Your Lids
People whose eyelids tend to get oily are probably well aware of how tricky it is to keep your shadows looking sharp and pigmented as the day progresses.
Now, imagine going through the same struggles, only in sweltering heat.
Seems impossible to keep your eye look in check, doesn't it?
Not quite, since there is one product that can greatly assist you in preserving all those pigments and glitters on your lids, and that's eyeshadow primer.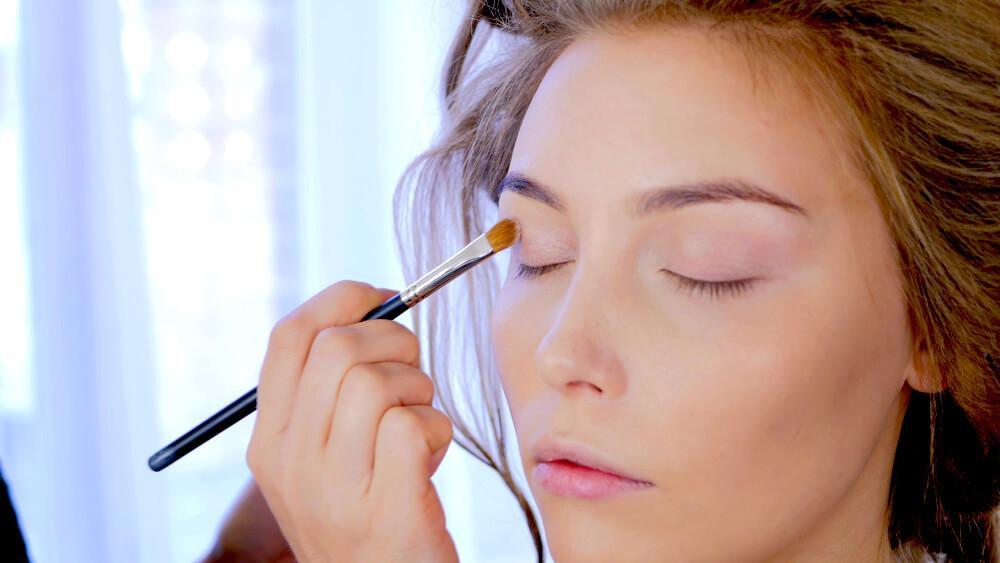 These lid-prepping formulas were designed to make any eye product more-long lasting, but also to provide you with a clean canvas for all the shadows, liners and pencils that you're about to apply.
By priming your eyelids before moving onto makeup, you will ensure intensified saturation of the eyeshadows, but also their longevity.
Using an eyelid primer is a good tip to know regardless of the season, but might come in super handy when you want to make your makeup extra sweat-proof.
Use Liquid Formulas
Unfortunately, no matter how much you enjoy rocking a full beat, heavy makeup and intense heat don't really get along.
That's why, if you want to create a flattering look that will last a whole day and won't emphasize flaws, it's best to go for lightweight formulas.
And to that end, liquid textures can be of immense help for creating sheer, natural-looking makeup.
As mentioned before, BB creams, CC creams or tinted moisturizers can replace your favorite full coverage foundation. If you feel like you still need a bit more coverage, you can correct these flaws through precise pin-point concealing technique.
This way, you will effectively conceal acne and other blemishes, while allowing the clear areas on your skin to breathe and shine through.
Creamy and liquid blushes can also be an excellent addition to summer makeup. They are perfect for giving your cheeks a bit of flush in a seamless, understated way.
Switch to Waterproof Products
Summer means spending more time outdoors, as well as higher chances of your skin coming into contact with various sources of water, whether that's the sea, air humidity or even your own sweat.
That's why, during the balmy summer days, waterproof products are king.
Obviously, the first place you want to make sure your makeup doesn't run is your eyes – so a decent waterproof mascara should definitely be one of your principal summer investments.
And if you want to avoid weighing down your lashes and achieving that wispy, natural look, go for brown mascara instead of black.
Same goes for liners – if you can't imagine going for weeks without rocking your staple winged eye look, then make sure to adorn your lash line with a waterproof formula to ensure the perfect, crisp look of your flick.
And since emphasized brows have become an integral part of every modern-day makeup look, you might want to secure their longevity by defining them using a waterproof brow pencil or mascara.
Use Powders Strategically
Knowing that you'll have to run around in sizzling heat for hours, you might feel prompted to powder your face into oblivion; however, this can leave some less than desired effects on your overall look.
Packing on a ton of powder over your makeup the quickest way to achieve that unflattering, mask-like effect that may end up looking worse than having your products melt away in the heat.
And this especially applies to people whose skin is on the drier side, since too much powdery products can lead to emphasized texture and flakiness – regardless of the season.
However, leaving the house without setting your beat sounds like a recipe for disaster, so some powder can still come in handy, as long as you know how to be moderate with it.
For one, try to zone in on the areas where you know your skin tends to get greasy – for most people, this is forehead, area around the nose and chin.
Leave less oil-prone areas, such as your cheeks or your brow, to shine through. Keeping these areas free of powder will give your skin that natural, healthy glow.
A good summertime alternative for powders is setting spray, which can help your makeup stay in place without giving your complexion that stiff, cakey look.
Warm Up your Skin
We all love a sun-kissed look, but not all of us have the time or the patience to lie around in the sun before getting that beautiful, bronzed goddess aesthetic.
Luckily, you can easily cheat this effect and give your skin a healthy tan without exposing yourself to the not-so-great UV rays.
With makeup, this can be achieved through several methods.
One of them are tanning and bronzing gels, beauty tools formulated to make your skin look like you've spent a day in the sun in a matter of seconds.
Even though these are designed to give your skin a sun-bathed look, be mindful not to go deeper than one or two shades above your natural tone, lest you want to avoid looking too orange. It is also recommended to apply a thin layer all over your face and neck, then sheer it out using a brush or sponge for a more natural finish.
A more user-friendly option is a bronzer, which can be used to warm up the outer areas of your face. For a more natural appearance, try to pick a shade that's not too orange or too ashy looking. Moreover, avoid anything with too much sheen, as it will look too artificial, especially at daytime.
To achieve that gorgeous, diffused bronzed look, apply your product with a wide brush, lightly dusting the bronzer on the outer edges of the forehead, on the temples and along your cheekbones.
And to avoid having that dreaded contrast between your neck and your face, make sure to take down your bronzer along your jawline and neck, as well.
Make It Glow
In case you haven't noticed, recent makeup trends have been all about that radiance.
And while highlighter can look a little unnatural during the dreary winter months, summer is the ideal season to crank up the glow factor.
And, thanks to the immense offer put forward by the beauty industry, these days you can achieve the illuminated effect through a variety of different products.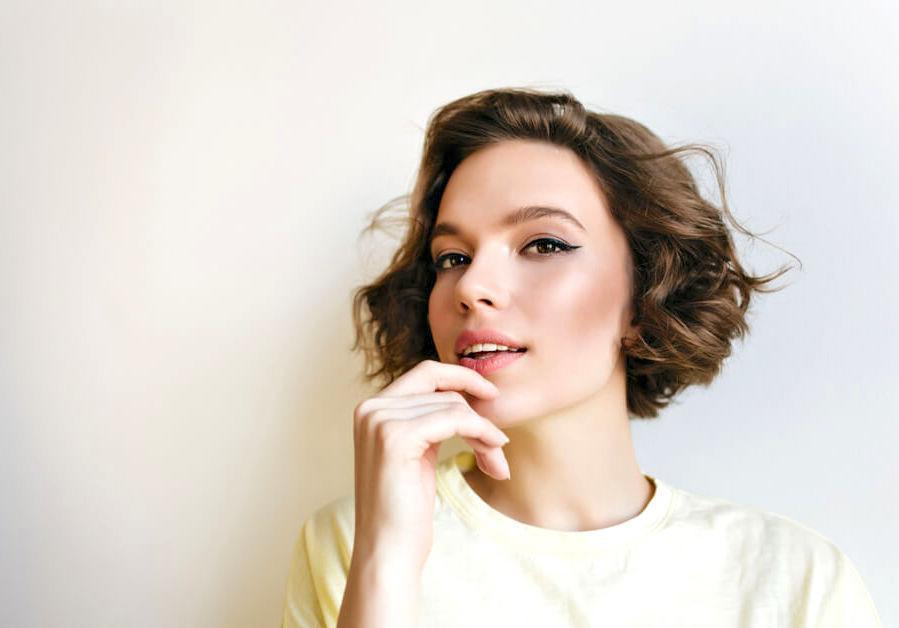 For example, if you are striving for a natural, day-time appropriate look, go for a liquid highlighter that you can apply with your fingers to the high points of your face. To make it blend in flawlessly with your skin, mix it up with a couple of drops of foundation or other product you've used for your base.
If you don't want anyone to miss the fact that you're glowing to the gods, definitely go for powdery formulas. To pack in more kilowatts in your highlighter, spritz a bit of setting spray on your brush before you load the product. 
One thing to keep in mind when picking your go-to highlighting product for the summer is, of course, your skin tone.
People with cool undertones should go for pearly, pink-hued highlighters, as these won't clash with your skin's natural pigment.
Medium and warmer skin tones will look best in beige and golden highlighters, as they will mimic the natural glow of the skin.
Skip Matte Lip Products
We all love the crispiness and bold look of matte lips. And while, yes, they can look exceptionally fierce, summer is a season that unmistakably calls for supple juicy lips.
A plump pout will go together perfectly with a bronzed, glowing look.
Now, shine-packed lips can be done in a number of ways.
If you're a fan of the classic, ever-flattering nude look, you can simply coat your lips in a gorgeous neutral gloss that will compliment your complexion.
If your lips are naturally quite pigmented, then you're one of the lucky ones! Simply coat your lips in a clear gloss and you're good to go.
If you want to try out something different for this season, maybe you're the right candidate for the currently popular popsicle lip look, which is perfect for the lazy summer days.
This sensual effect can be achieved by layering your preferred lip product (lipstick, tint or lacquer) to create a gradient, concentrating the product at the center of your lips.
For extra shine, add a layer of gloss to top off your popsicle look and create a moisture-drenched texture.
And if you're in need of a more elegant, evening-appropriate lip look, go for creamy, opaque lipsticks that still pack a good dose of shine and hydration.
Corals, oranges and brick reds are always a foolproof summer choice that will provide your pout with a rich and pigmented appearance.
Now that you have learned all these helpful tips and tricks, you will be fully prepared to have your day in the sun while rocking a gorgeous, summer ready-beat. Good luck!