Since they pretty much live in the spotlight, celebrities always strive to look their very best, not only when it comes to fashion and makeup, but also their hair.
Of course, the only way to really get glossy and healthy locks is to make sure that you are caring for your hair in the best way possible. For those who could use a bit of help, here are 10 celebrity hair care secrets worth trying out.
SPF Protection
In the same way that you protect your skin from the sun, your hair needs to be protected too. The sun's UV rays can damage your hair just as much as they can damage your skin.
How?
By burning the layers within your hair follicles, which makes them look and feel brittle and dry. This is basically the equivalent of a sunburn on your skin, which is why SPF protection is so essential.
This is something that celebrity hair stylists pay close attention to. Ric Pipino, who styles the hair for celebs such as Petra Nemcova and Elizabeth Banks, recommends that SPF protection is always used on the hair, even when you do not think that the sun is strong enough to call for it.
Wondering how you can protect your hair from the sun?
There are many products out there to choose from.
If you aren't sure where to start, give a scalp sunscreen a try. This should be applied to the scalp while your hair is damp, and then re-applied throughout the day.
Want to use regular sunscreen instead?
You can, but this will quickly make your hair greasy and lank.
There are also many waterproof hair sunscreen formulas out there that you could try, as well as those designed specifically for people with colored hair.
Make Use of Hair Masks
Your hair deserves some extra attention on a regular basis, and hair masks are the perfect way to give your hair this TLC.
While celebrities usually need their hair looking great immediately, they do have days off too, and this is when they make use of products such as hair and face masks.
Hair masks can do everything from repair heat damage to protect your hair from pollution, and you will immediately notice your hair looking and feeling so much softer and smoother, even after just one mask. When used on a weekly basis, this effect is magnified, and your hair will enjoy nourishment from a much deeper level.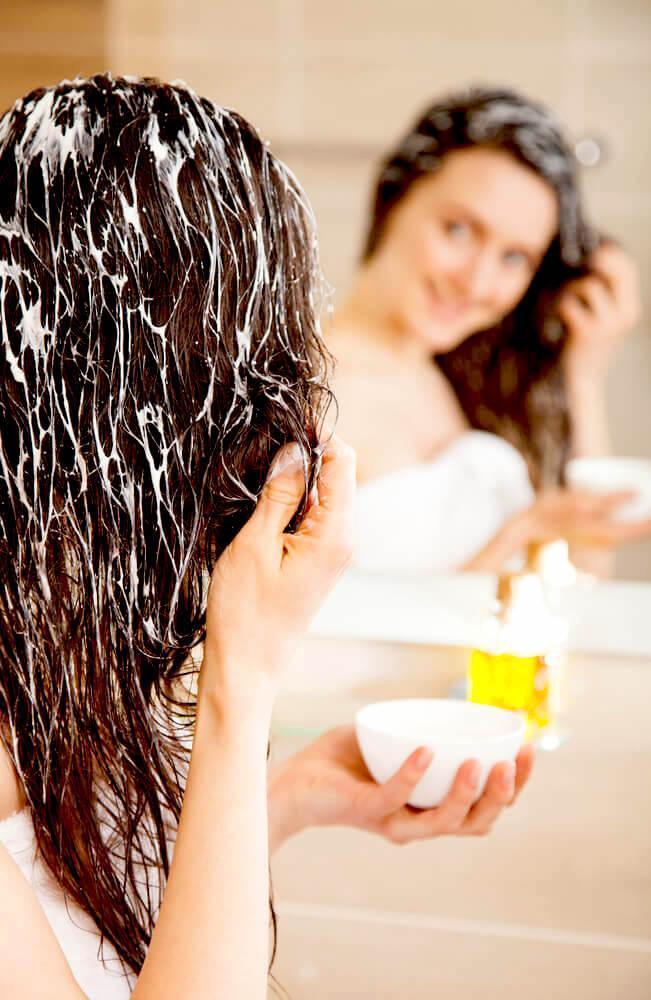 But which ingredients are best when it comes to hair masks?
Here are a few to look out for:
Argan Oil –

packed with vitamins, minerals and fatty acids, argan oil softens, moisturizes and protects the hair
Shea Butter –

full of fatty acids that moisturize the hair
Honey –

high in hair-boosting antioxidants, honey also helps to minimize breakages and split ends
Green Tea –

packed with a wide range of nutrients, green tea works best when used alongside shea butter
Coconut Water and Coconut Oil –

both of these contain medium chain fatty acids that easily penetrate the hair and increase its fat, mineral and vitamin content 
Want your hair masks to work even better?
Do what actress Nina Dobrev does, and try keeping them on your hair for as long as possible, wearing a shower cap to ensure that none of the beneficial ingredients end up evaporating or rubbing off.
Wash Hair with Mineral Water
While this may seem like quite a costly habit, washing your hair with mineral water can make a huge difference to the health of your hair.
This is a trick used by numerous celebrity stylists, such as Sam Mcknight, who styles hair for several A-list celebrities, including Madonna and Kate Moss.
Don't worry, you can still use your normal shower water too…
The key here is to use mineral water for the final rinse, after you have shampooed and conditioned your hair.
Wondering why?
Because standard shower water is usually hard water, which contains higher levels of magnesium and calcium. These minerals end up bonding to your strands of hair, preventing your locks from properly absorbing other products and ingredients.
By using mineral water for a final rinse, you will be washing out all of the hard water from your hair, while also helping to re-balance your scalp's pH levels. 
Use High-Quality Heated Styling Tools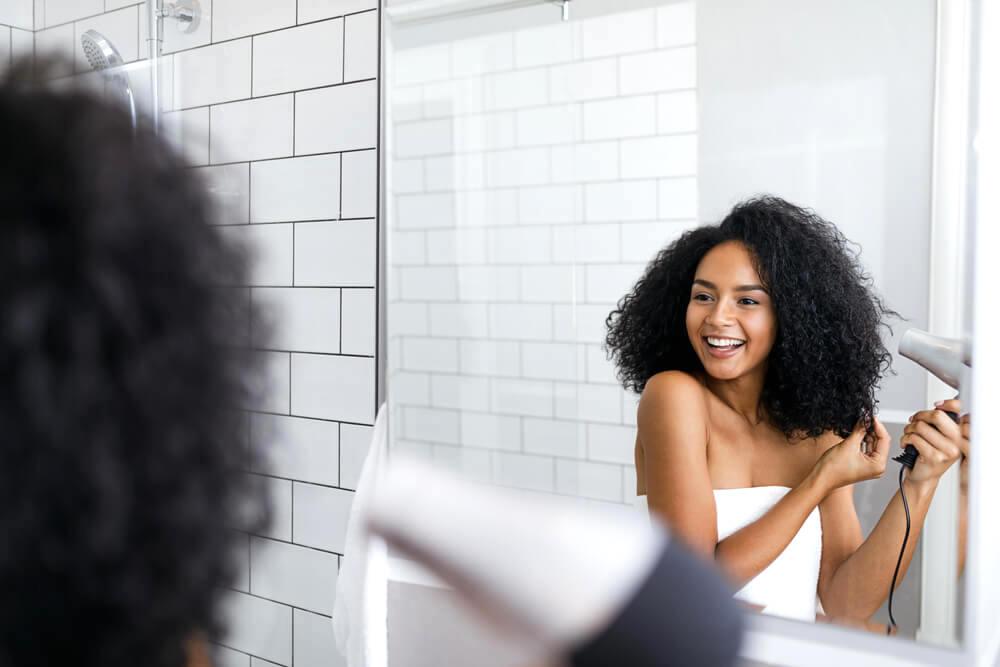 When it comes to heated styling tools, quality is something that makes a huge difference.
Celebrities tend to only use the best of heated styling tools, and this is why their hair is able to cope with the frequency at which these tools are used.
Let's begin with your blow dryer…
A low-quality blow dryer will not offer proper heat distribution and air flow, meaning that you could easily end up burning your hair. Look for something that has heat and speed adjustments, so that you are fully aware of how much heat you are applying to your strands.
The same applies to straighteners…
Make sure that you opt for products that have ceramic plates and temperature controls, as these will protect your hair from the high amount of heat being applied.
Heat Protection
Celebrities are always experimenting with new hair styles and colors, but how do they manage to keep their hair looking so healthy with all of these changes?
One way is through the use of heat protection products.
Don't believe that these actually make a difference?
If you use heated styling tools on your hair, then they definitely will.
They work by adding moisture to your hair, while also forming a protective coating to ensure that moisture is not lost when heat is applied to the hair.
This means that your hair will then be so much more moisturized and conditioned when it comes to styling it, and will also be so much easier to manage.
Not sure where to start when it comes to choosing from the array of heat protectants out there?
Just like with any product, there are certain ingredients that you should try to avoid, as well as ingredients that you should look out for.
While alcohol is one of the most common bases of heat protectant products, these can have quite a drying effect. Silicone is also popular, but this tends to leave a greasy residue behind on the hair.
So, which ingredients are actually good?
Hydrolyzed wheat protein is fantastic, as is quaternary 70, which tends to be found in higher-end products.
In terms of natural ingredients, grape seed oil, avocado oil and coconut oil all work well. 
Never used a heat protectant on your hair before?
It will be most effective if you apply it to wet hair, as this allows your hair to really soak it up.
Do you have colored hair?
If so, then a heat protectant is even more important for you, as this will help to maintain the vibrancy of your hair color, which the heat would have otherwise faded.
Extra Care for Long or Curly Hair to Prevent Tangles
Is your hair long or curly?
If your answer is yes, then you do need to take a bit of extra care to ensure that it stays healthy.
Wondering what these extras involve?
One secret that Cesar Ramirez, who is the hair stylist for celebrities such as Rita Ora, Ciara and Kim Kardashian, recommends is sleeping with hair loosely tied into one or two braids, as this helps to prevent tangles forming at night.
A silk or satin pillowcase can also make a big difference, as can a scarf tied around your hair.
Use the Right Brush
There are so many different types of hairbrushes out there, and the one you use can really have quite a big impact on the health of your hair.
Hairbrushes are something that celebrity stylists pick with so much thought and care, ensuring that the brush type they have chosen is the best one possible for their clients' hair type.
Here are a few tips to keep in mind when choosing a hairbrush:
For fine hair –

boar bristle brushes are so gentle, and will easily glide through fine hair without pulling or snagging it. Just make sure that you submerge the bristles in hot water for 20 minutes after purchasing a new brush, as this will help to soften the boar bristles, which are naturally quite stiff
For curly hair –

a mix of nylon and boar bristles will give you enough tension, but still enhance your hair's natural volume and curls
For medium-thick hair –

a nylon brush tends to be best, as these are quite flexible
Even if you choose the best brush for your hair type, remember that you should always be extra careful when dealing with wet hair, and try to avoid brushing it until it has dried a bit.
Why?
Because wet hair is naturally more fragile, and tugging at it with a brush will result in breakages.
The Dry Shampoo Dotting Technique
Dry shampoo is often a go-to product for many, including celebrities.
However, many tend to find that these products end up weighing their hair down, making it harder, rather than easier, to style.
How can you avoid this?
By making use of the dotting technique.
This is something that many celebrity stylists do, including Rod Ortega, Blake Lively's stylist. He explains that using the dotting technique enables him to "control the amount of product" that he applies to hair.
So, what exactly is this dotting technique?
It's actually quite simple…
Rather than spraying the dry shampoo all over your head, apply it in dots to the layers of hair that frame your face, before working your way to the back of your hair.
This will help to give your hair some volume and texture, without weighing it down.
Faking It
From Kim Kardashian to Lady Gaga to Rihanna, celebrities love drastic changes when it comes to their hair, but often do not want to have to deal with the damage that usually comes along with this.
So, what do they do?
They invest in some quality wigs.
These allow you to really mix up your style as often as you want, without having to worry about damaging your hair in the process.
Oral Hair Supplements
In addition to caring for their hair topically, many celebrities, such as Jennifer Aniston and Katy Perry, swear by hair supplements. This trend is on the rise, to the extent where many celebrity stylists are now coming out with their own hair supplement lines.
It is definitely true that nourishing your hair from within can make a huge difference to how your hair looks and feels, and there are certain vitamins and minerals out there that have been proven to really boost hair health.
Wondering what these are?
Here are a few of the most effective hair care supplements out there:
Vitamin A –

every cell in the body needs vitamin A for growth, including your hair
B Vitamins –

one of the most important B vitamins for hair health is

biotin

, while those who follow a plant-based diet will also need vitamin B12 supplements
Iron –

prevents hair loss and boosts growth
Of course, the best way to obtain all of these nutrients is naturally through your diet, but if you know that your diet is not properly balanced, then it could be worthwhile looking into some supplements.
If your hair is unhealthy, you will find it so difficult to style, which is why it is so important to pay attention to your hair care techniques. From using quality styling tools and products to taking hair care supplements, these celebrity hair secrets will no doubt dramatically improve the health of your hair.