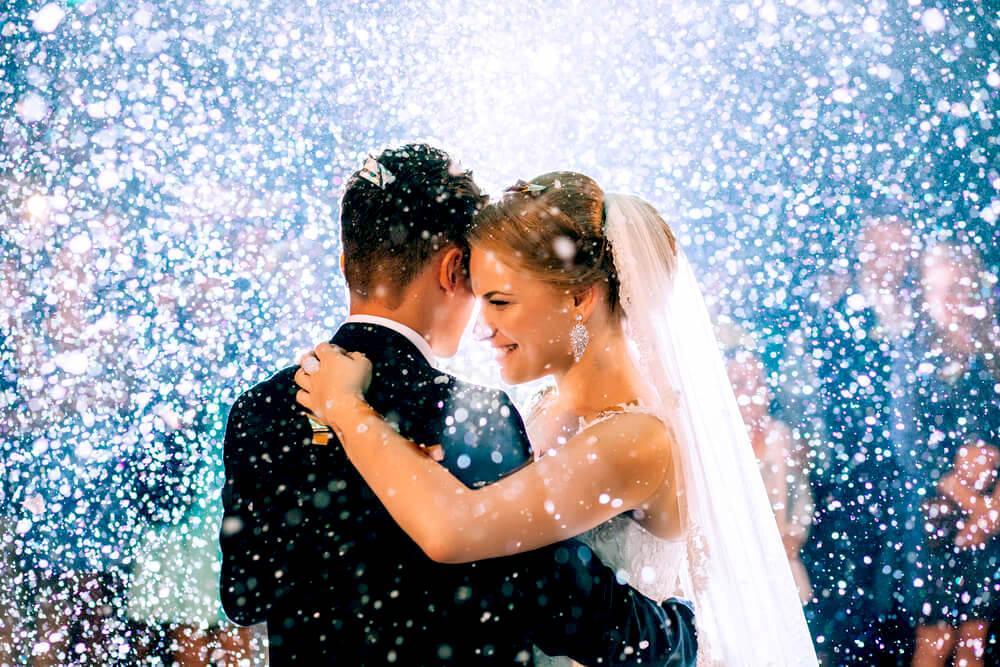 So, you've just gotten married. It's one of the defining moments of your lives. Now you have to pick a song to define it.
What song will you pick? Will it be an uplifting, fun and groovy number? Or will it be more sentimental? Will it take you back or will it be modern? Will it be something everyone is familiar with, or something no one has heard before? Will it please the crowd, or will it just please you?
Picking the song for your wedding takes careful research. You need to find out which songs are considered wedding appropriate and which songs you actually like and find meaning in. Sometimes propriety and likeability are two completely different things. Here are some songs we suggest that may just meet both criteria.
1.
 

Michael Jackson – "The Way You Make Me Feel"

 

There's something about every Michael Jackson song that makes you want to get up and do some hip shaking. "The Way You Make Me Feel" by Michael Jackson is no exception.

This is a good one if you want to get everyone in party mode doing their best MJ imitations on the dance floor. You may that lose the slow-dance-look-into-one-another's-eyes romantic element, but it's sexy as hell, so why not? 
2. Ella Fitzgerald – "Our Love Is Here to Stay"
Cue the violins, it may not be the most original choice, but oh- what a voice. That perfect rasp, that sultry, crooning, those perfect words, that retro feel. Just sink into your partner's arms and let Lady Ella sing the blues like it was meant to be sung. You can do no wrong with this one.
3. Adele – "One and Only"
And who better to follow up Lady Ella than Lady Adele? This girl cut her teeth on the blues and it's there in every gut-wrenching note. How could you not mouth the words, when she's laying it down:
"I dare you to let me be your one and only, promise I'm worthy to hold in your arms, so c'mon." (She's baring her soul here) Give me the chance to prove that I'm the one who can walk that mile until the end starts. (You go, girl! What woman couldn't identify?)
4. Elton John – "Your Song"
If anyone remembers Elton John for anything other than his Madonna feud and glasses collection, you'll know he wrote some of the most beautiful songs in the world and there's a whole bunch that would make wonderful wedding songs, but "Your Song" probably tops the list.
After all, who wouldn't want someone to write a song about them, and there's no one like Elton to do it right. Just see if this doesn't bring a tear to a few eyes: "My gift is my song and, this one's for you…"
5. John Legend – "All of Me"
John Legend may have a little something on all of us. He's married to Chrissy Teigen, who just happens to be one of the most beautiful women in the world, and one of the most popular. That means when he writes a song for his wife, he's writing for one of the most beautiful women in the world, and so when he sings it for us, we're the most beautiful woman in the world.
When John sings about Chrissie's as his muse, his worst distraction, his rhythm and blues, he's singing that to us, and that's one of the most romantic sentiments a woman can hear. 
6. Ray Charles – "It Had to Be You"
This is one of those rare gems that can appeal to everybody. If your friends haven't heard it yet, they're going to get a chance to hear where today's artists cut their teeth, and if they have heard it, they're going to appreciate it for its authenticity and romantic message. As soon as Ray starts tickling those ivories, it's going to tickle everyone's fancy.
7. Frankie Valli – "You're Just Too Good to Be True"
"You'd be like heaven to touch, I want to hold you so much." If that didn't get every girl in the 70's creaming in her pedal pushers, nothing could.
When it comes to songs for weddings. "You're Just Too Good to Be True" hits all the right buttons. It has the romantic beginning for the lovers, the uplifting, "Oh, pretty baby" chorus for the party-ers, and the retro feel that brings it all together. You won't find a butt in the seat or a dry eye in the house during this one.
8. Lionel Richie and Diana Ross – "Endless Love"
With "Endless Love' we have a romantic duet, and you can't miss with a good romantic duet at a wedding. You have the boy part and the girl part, who can't relate to that?
However, with "Endless Love," you get the extra edge, because here the boy is Lionel Richie and the girl is Diana "Miss" Ross, and those are two voices that defined a generation. With a whole lot of hair and two powerful vocal ranges between them, it was a combination destined for success, and what a perfect pairing it was. How could it mean anything but a perfect pairing for you?
9. Journey – "Don't Stop Believing"
Classic rock has sort of gotten a bad rap lately. "Classic rock stations' are the new 'easy listening' stations. They're stations for the unhip, for the people stuck in their own generations.
When you hear "Don't Stop Believin'" by Journey, three things are clear. It is classic, it is rock, and there's nothing unhip about it. 
Those piano notes kick in, and you know what's next. "Just a small town girl, living in a lonely world… (the guitar noodling begins) "Just a city boy, born and raised in South Detroit….." South Detroit in the house!) The first drum beat, it goes on and on and on and on….. 
10. Coldplay – "Sky Full of Stars"
Is there anyone out there who can actually hear a Coldplay song without thinking of Gwyneth Paltrow? 
There's something about Chris Martin and Coldplay that conjures the image of wide-eyed boy meets girl out-of-his-league and lucks out.
Gwyneth or no, there's no denying that "Skyful of Stars" is a heartful of raw emotion.
"You're a sky full of stars, I'm gonna give you my heart." Gwyneth, take him back! 
11. Elvis – "I Can't Help Falling in Love With You"
Elvis has always been synonymous with weddings. If you don't want to go the Las Vegas route and go to him, you can always bring him to you.
They don't call him the King for nothing. With that deep operatic voice, those swinging hips, and those bedroom eyes, Elvis didn't just own a generation, he put a ring on it. He also put a pretty big ring on Priscilla, but that's another story. 
 The King may be dead but romance is alive and kicking. "Wise men say only fools rush in…." You can't help falling in love with, or to, this one.
12. Rhianna and Calvin Harris – "We Found Love in a Hopeless Place"
She's stealing, he's dealing, what better formula for a romance? 
There is something sexy about life on the edge. Robbing liquor stores together and peeling out in cars, wearing not much more than your underwear. If you and your partner are also partners in crime, "We Found Love in A Hopeless Place," has that perfect "me and you against the world" message, that Rhianna and Calvin do oh, so well. 
13. The Beatles – "I Will"
If there were ever a more perfect version of the wedding vows, it would be "I Will" by the Beatles. 
No wedding song list would be complete without at least one Beatles song. They wrote the book on love, and "I Will" might literally be the loveliest.
"Love you forever and forever, Love you with all my heart.
Love you whenever we're together, Love you when we're apart."
Sort of makes you kind of rethink, "With this ring…." doesn't it?
14. Billy Joel – "Don't Go Changing"
Billy Joel's just the way you are is more than a song, it is a musical love letter. It tells women exactly what they need to here, you may not be perfect, but you're perfect for me. 
Joel actually wrote the song for his wife/manager at the time, Elizabeth Weber. They got divorced years later, but at least they got a good song out of it, and so should you. 
"I took the good times, I'll take the bad times, I'll take you just the way you are." Sound sort of like "In sickness and in health, 'til death do us part?" What a perfect song to start a marriage! 
15. Cyndi Lauper – "Time after Time"
It wouldn't be surprising to find that when most of think of the words "wedding singer," the image of Cyndi Lauper would not be the first to come to mind.
Cyndi Lauper was the "Girl Who Just Wanted to Have Fun," what did she know about marriage?
Quite a lot apparently.
"If you're lost you can look and you will find me, Time after time, if you fall I will catch you, I'll be waiting, Time after time."
Now we knew Cyndi wasn't just a fair-weather friend, she would be there for the long haul, and isn't that the essence of marriage? 
16. Paul McCartney – "Maybe I'm Amazed"
Maybe the most amazing thing about this song is the way Paul manages to hit all those high notes at the end. If anyone is doing some soul-baring, its Paul McCartney in "Maybe I'm Amazed."
Sometimes, the greatest and most hopeful songs come from deep despair. After the Beatles breakup, Paul's life had hit a new low and Paul began hitting the bottle. That was when he met Linda. 
 "Maybe I'm Amazed" is not just a love song to her, it's a triumph over pain and a man's acceptance of his own humanity.
"Maybe I'm a man and maybe you're the only woman who could ever help me, Baby won't you help me understand?" 
Of course, you will.
17. AC/DC – "You Shook Me All Night Long"
It would be safe to say that this is not the song that Al and Tipper Gore played at their wedding, but metalheads do get married, and when they do, they probably want to play metal at their wedding.
Ok, so this song has some pretty explicit lyrics, but it did come out in 1980, which means we had the last 35 years to get over it, and compared to some of today's rap lyrics, it may even seem downright tame.
Sure, you could pick a rock ballad, like Metallica's "Nothing Else Matters," but how depressing do you want to get on your wedding? 
Everyone knows that hard rock bands are the best when they're at their hardest, why not throw down with this one?
"She told me to come but I was already there."
This song is sure to make it a wedding to remember. 
18. Edward Sharpe and the Magnetic Zeros – "Home"
So, we had one for the rockers, now how about this one for the alt-rockers?
Don't let the name fool you. In terms of indie bands, Edward Sharpe and the Magnetic Zeros are actually one of the more commercial. Sure, they're heavy on the psychedelia, but they're also heavy on the acoustic guitars and melodies. 
"Home" is a folky, little, uplifting number with a sweet message and infectious beat that will get your wedding guests out of their seats after the first chorus. 
"Well hot and heavy, pumpkin pie, Chocolate candy, Jesus Christ, Ain't nothing please me more than you."
Sounds like a ho-down if there ever was one.
Well, we hope that has given you a few ideas, why don't you give us some of yours? What song did you, or will you dance to on your wedding? We'll be waiting to hear your ideas!