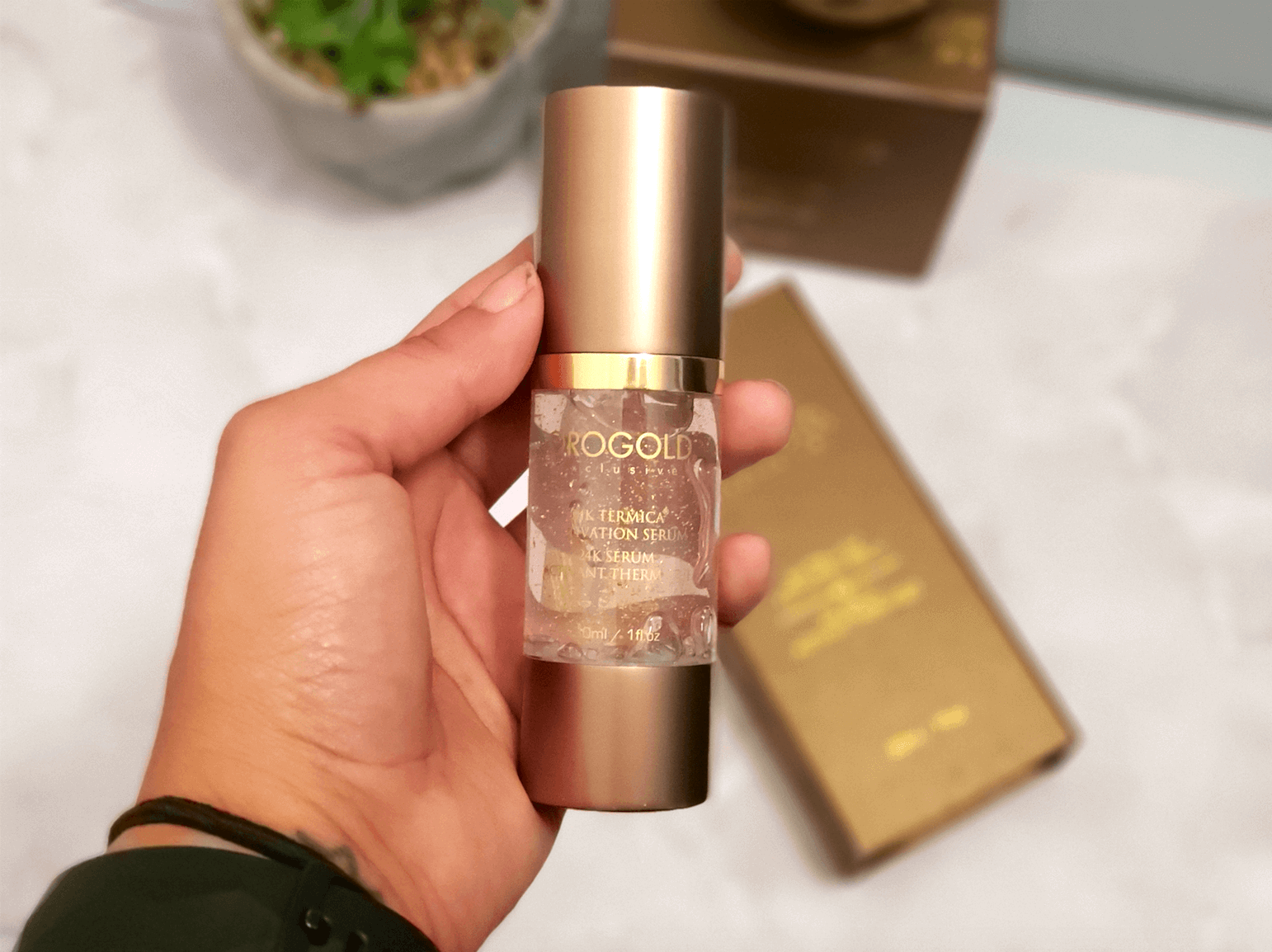 I've been getting really into skin care as of lately. It might be because I'm getting closer to that 30th year we all fear, or maybe because recently I've noticed a lot of changes to my skin.
I try to maintain a daily skin care routine complete with a weekly mask and while that has worked all through my early twenties, I'm starting to notice the same routine not be as effective now that I'm a few years older.
So like anyone else wanting to achieve their best skin, I started to research skin care types, ingredients, companies that matched my values as much as they matched my needs, etc. 
While conducting my extensive research I happened to stumble across a brand that I've seen many people I follow on Instagram talk about and promote and they seem to really love the products. I have also seen a few stores while in visiting San Francisco and Sacramento but being intimidated by the luxury of it all, I never went in. That brand is Orogold Cosmetics.
Orogold Cosmetics
According to the companies site, Orogold was founded in 2008 and since then has become a world-wide recognized luxury skincare brand known for their gold-infused products and high-quality ingredients. 
Orogold provides users with products that help treat anything from fine lines and wrinkles to discoloration and eye care products that help with dark circles and under eye puffiness which aside from the collection I just purchases, I can't wait to try. 
The Price
If you're anything like me, price is a major factor when it comes to trying a product so I figured it was worth an entire section.
Yes, Orogold is a little more on the higher-end of the skincare spectrum and like anything else, there are mixed reviews about what people are willing to pay for a single skin care item.
While I consider myself to be more on the frugal side, I also know when to splurge and I like to conscientiously select which brands I splurge on. 
After carefully researching the Orogold brand, I found that they met my needs and aligned with my personal preferences enough that I would give the brand a try. When all is said and done, I decided to take the plunge and invest in Orogold because the brand: 
Meets my needs
Uses quality, scientifically proven to work ingredients

 

Paraben-free
Products are not tested on animals

 
Now, I want to make something clear, I'm a working-class girl so every penny I spend needs to be accounted for. My budget for this collection may have been a little higher than I would have liked it to be but I really wanted to get an in-depth, first-hand experience with the brand.
Plus, how often do you get to say that your skin care line has actual gold flakes in it? I just had to try it!
The 24K Tèrmica® Collection
One thing I really liked about Orogold were the options! They have a collection for literally ANYTHING you want/ needs to perfect including a neck care line which to be honest, I had never really thought about neck care until I saw it on their site. 
Their products are also suitable for all skin types which is a major plus because my skin can shift with the seasons and there's nothing more annoying than having to repurchase an entirely new skin care system because my skin is too dry during winter or combination during the spring/summer months. 
So there I was, on the Orogold site faced with the greatest question, what to buy? Ingredients were researched, reviews were read and after a few hours went by I decided to purchase the 24K Tèrmica® collection.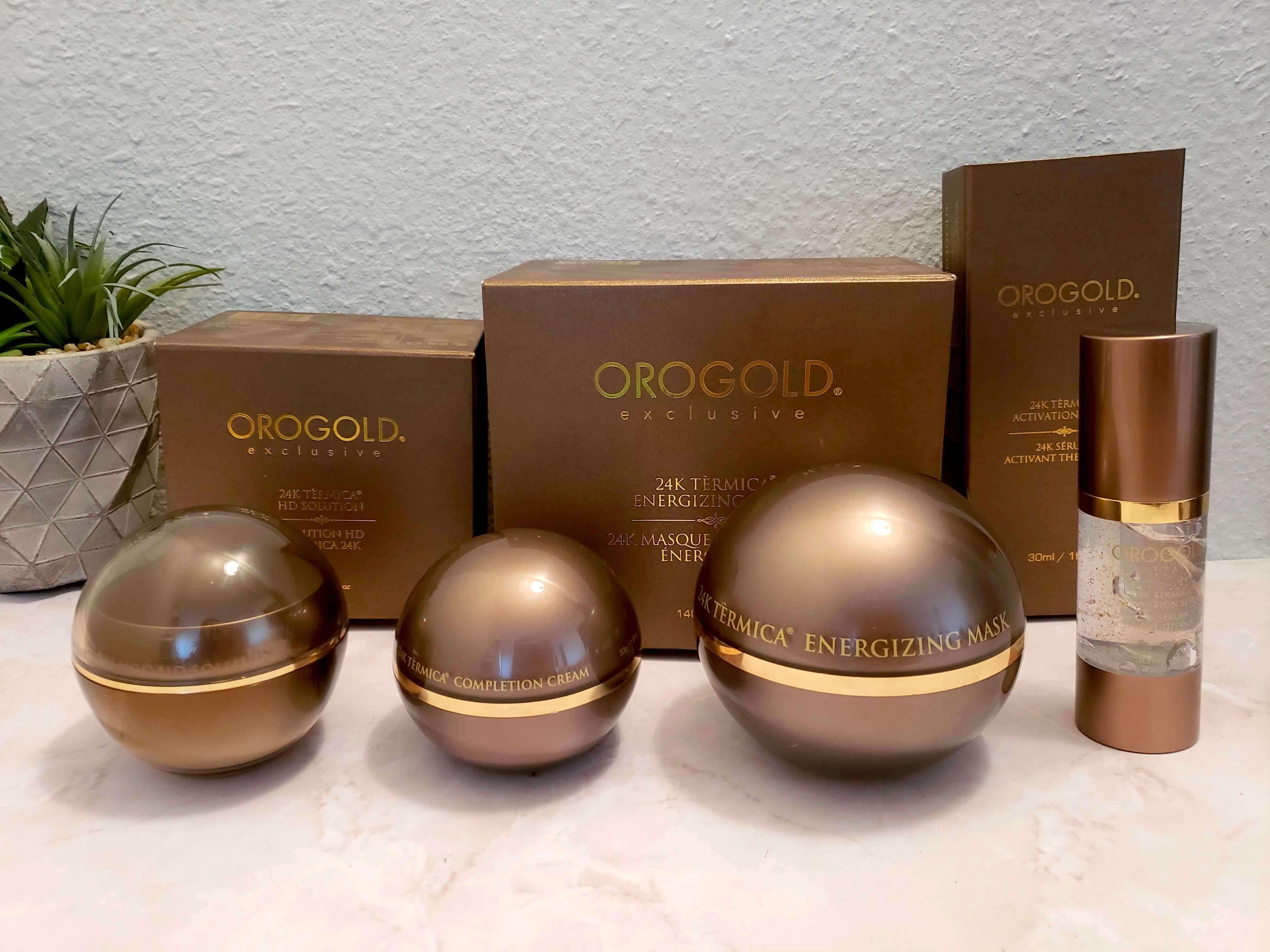 I specifically chose this collection because it carries ingredients like Acetyl Hexapeptide-8 and Palmitoyl Oligopeptide, which help with fine lines and wrinkles and vitamins A (Retinyl Palmitate), C (Ascorbic Acid) and E (Tocopheryl Acetate) which are all great in general for a more balanced, radiant look. 
One thing I also liked about the Termica collection is that it only carries four products so there's no crazy amount of steps to follow and it makes it easy to travel with. 
So what did I think of the $2,000 collection? 
Let's start with the shipping. I made the purchase online on a Monday night and received the package within 3 days. Right away I liked the speediness of their operation so they won major brownie points for that. 
The Packaging
While doing reviews I rarely talk about product packaging. Why? Well, I just never saw a need to since to me companies tend to put products in a box, maybe it has a nice design and there's your product. However, one thing I learned about Orogold is that everything with the brand is an experience. From the speedy shipment to the very first product you open. 
The astonishing packaging deserves to be mentioned. The boxes the products come in are so sturdy and scream luxury. Each product comes with a gold card authentication certificate and on the inside the product is carefully and neatly placed on satin-like fabric. Every aspect of this order was just oozing luxury and I could not be more geeked to try it. 
Like I mentioned before, I purchased the entire 24K Tèrmica collection. This collection came with the 24K Tèrmica® Completion Cream, 24K Tèrmica® Activation Serum, 24K Tèrmica® HD Solution and the 24K Tèrmica® Energizing Mask. Everything I needed to help restore the radiance I've lost and help minimize the fine lines that I am so desperately trying to avoid. 
The Products
Once I got everything out and opened, I sat everything in my bathroom and got to reading. What to try first? Unfortunately, I received the package in the evening so I would have to wait until the next day to try the creams and serum, or so I thought. 
While my first impressions of the brand are very pleasing. I do have one very minor con, the directions are either not on the package or very small and hard to read so I had to go back on the Orogold website to figure out the order in which to apply everything. 
So there I was again, on the Orogold site trying to not buy anything else. I searched the collection and got the steps in which I needed to use the products and began to wash my face with my cleanser. Since it was close to my bedtime, I chose to wind down with the 24K Tèrmica® Energizing Mask and go from there.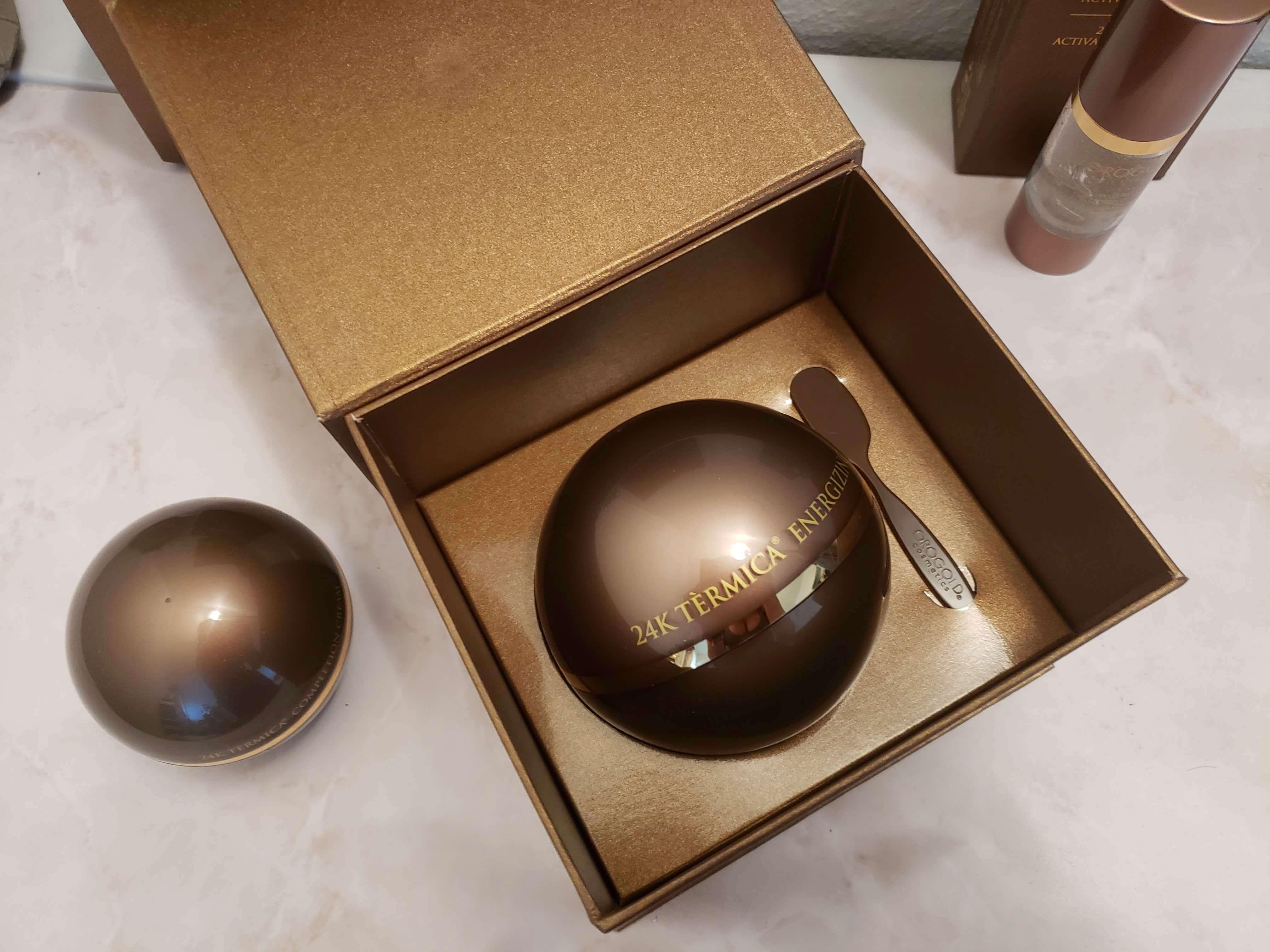 This is by far one of my favorite products in the Termica collection. Per the website, you can add a bit of the serum to the mask to intensify the thermic heat and let me tell you, you can definitely feel a warming sensation.
It's more purifying than uncomfortable but I definitely did not expect it to work that well. Once I rinsed it off I immediately felt a huge difference in my skin which got me excited to try the rest of the collection. 
Benefits:
Exfoliating clays and heating effect help to loosen impurities and toxins
Leaves skin fresh and re-energized and smooth
Noteworthy Ingredients:
Kaolin: Draws excess oils from skin and regulates oil production. Ideal for oily skin types.
Coffee Arabica See Extract: Provides a high concentration of essential fatty acids, vitamins and antioxidants, leading to increased moisture retention.
Use:
It is recommended that this mask is used 1-2 times per week for the first month and then once a month from there. Needless to say, this product has the ability to last awhile if you use it properly and sparingly. After all, we are trying to make the most out of the pretty penny we spent.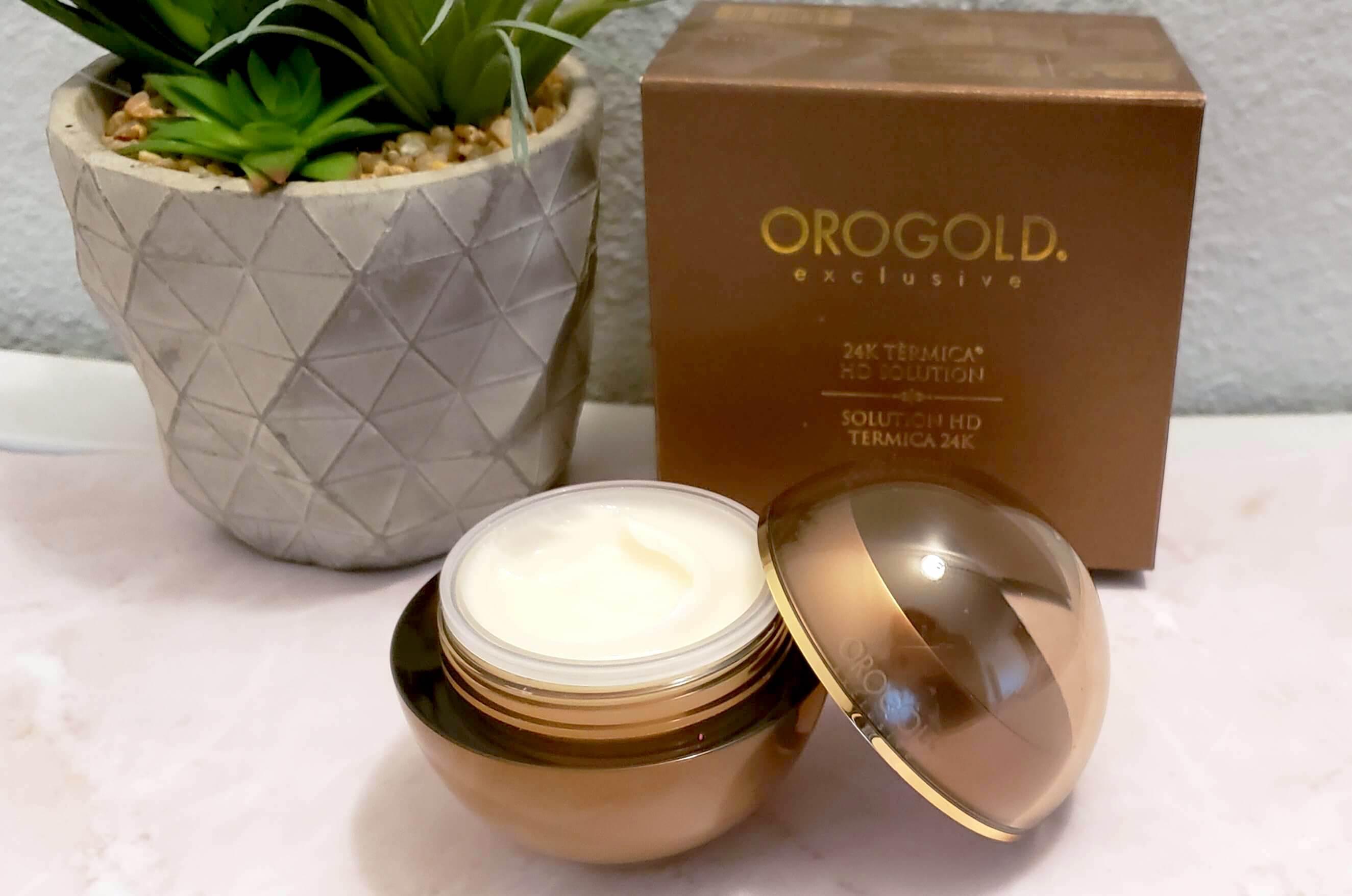 Next up was the 24K Tèrmica® Completion Cream. Following the online "how to use" section of the site, it was recommended to apply the completion cream after the mask and serum combo to seal in all the benefits the products have.
After drying off my face I reached for the Completion Cream and began to apply on to my skin. Aside from loving the fact that you can see the gold flakes in the cream, I immediately loved the way this cream felt on my face. It wasn't heavy for a night cream and it wasn't too light either. I personally don't like thick creams and this one was just perfect for me. 
Benefits:
Reduces the appearance of deep facial expression lines

 

Gives skin a smoother look and feel
Key Ingredients:
Licorice Extract: Regulates oil production and soothes acne-prone skin.
Acetyl Hexapeptide-8: Has water-binding properties to help restore moisture to the skin.
Use:
Unlike the mask, this cream is suggested to be used nightly as part of your skin care routine. It's important to note that with all these products, a little goes a very long way so that's a huge bonus when it comes to price and usage.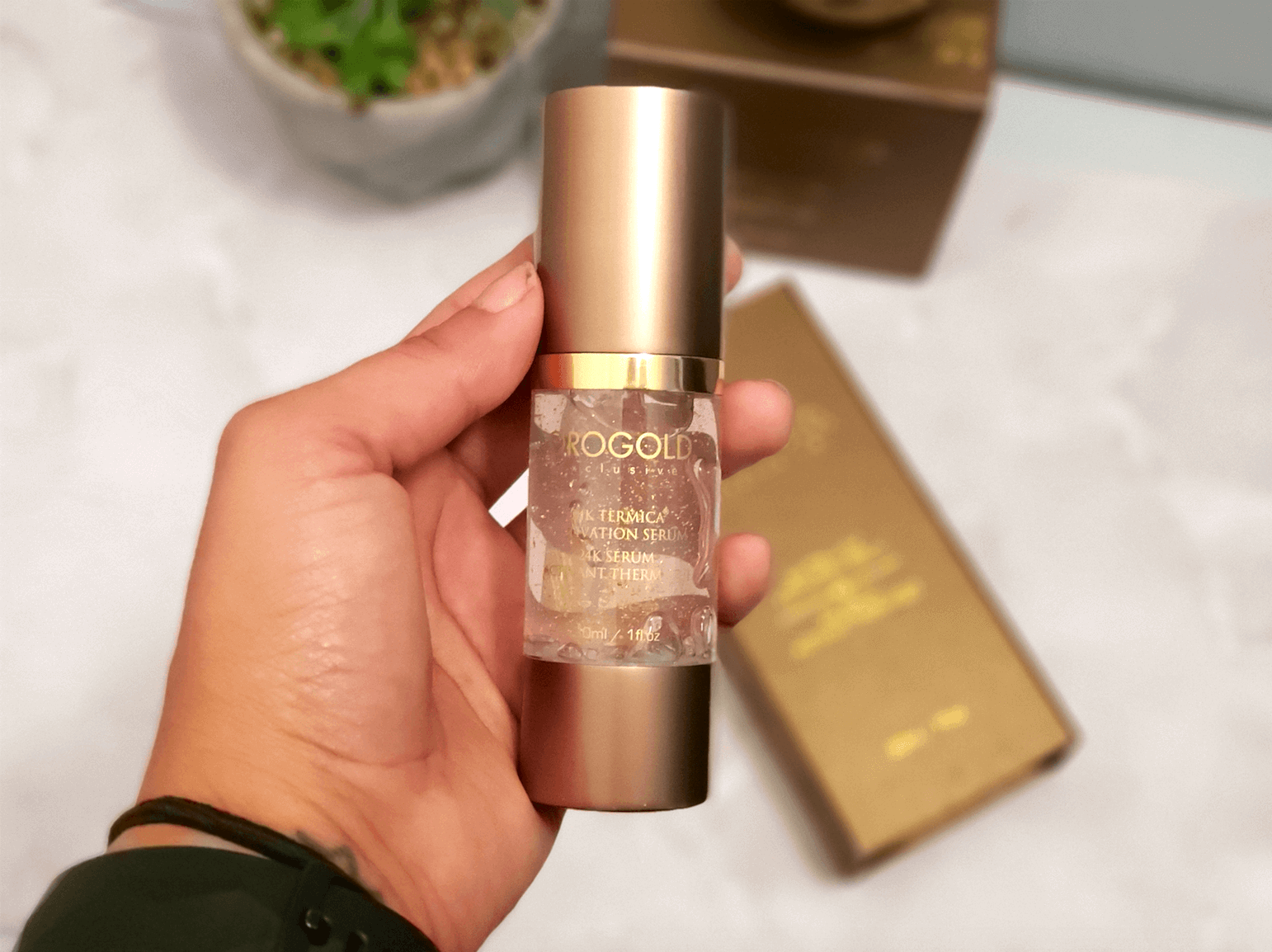 This product is just as unique as the Energizing Mask. It can be used alone one to two times per day to help brighten and rejuvenate skin and it can help intensify the heating effect of the Energizing mask.
However you decide to use it, the serum has great skin benefits as its formulated with natural ingredients like witch hazel, green tea and seaweed that all help 
Benefits:
Intensifies the heating sensation of the 24K Tèrmica® Energizing Mask
Targets wrinkles and signs of aging
Can be used alone for a brighter rejuvenated look

 
Noteworthy Ingredients:
Palmitoyl Oligopeptide-7: Skin-restoring ingredient with anti-aging benefits.
Witch Hazel: Natural astringent with anti-inflammatory and antibacterial properties.
Use:
This serum can be used daily one to two times per day or can be used solely to activate the Energizing Mask.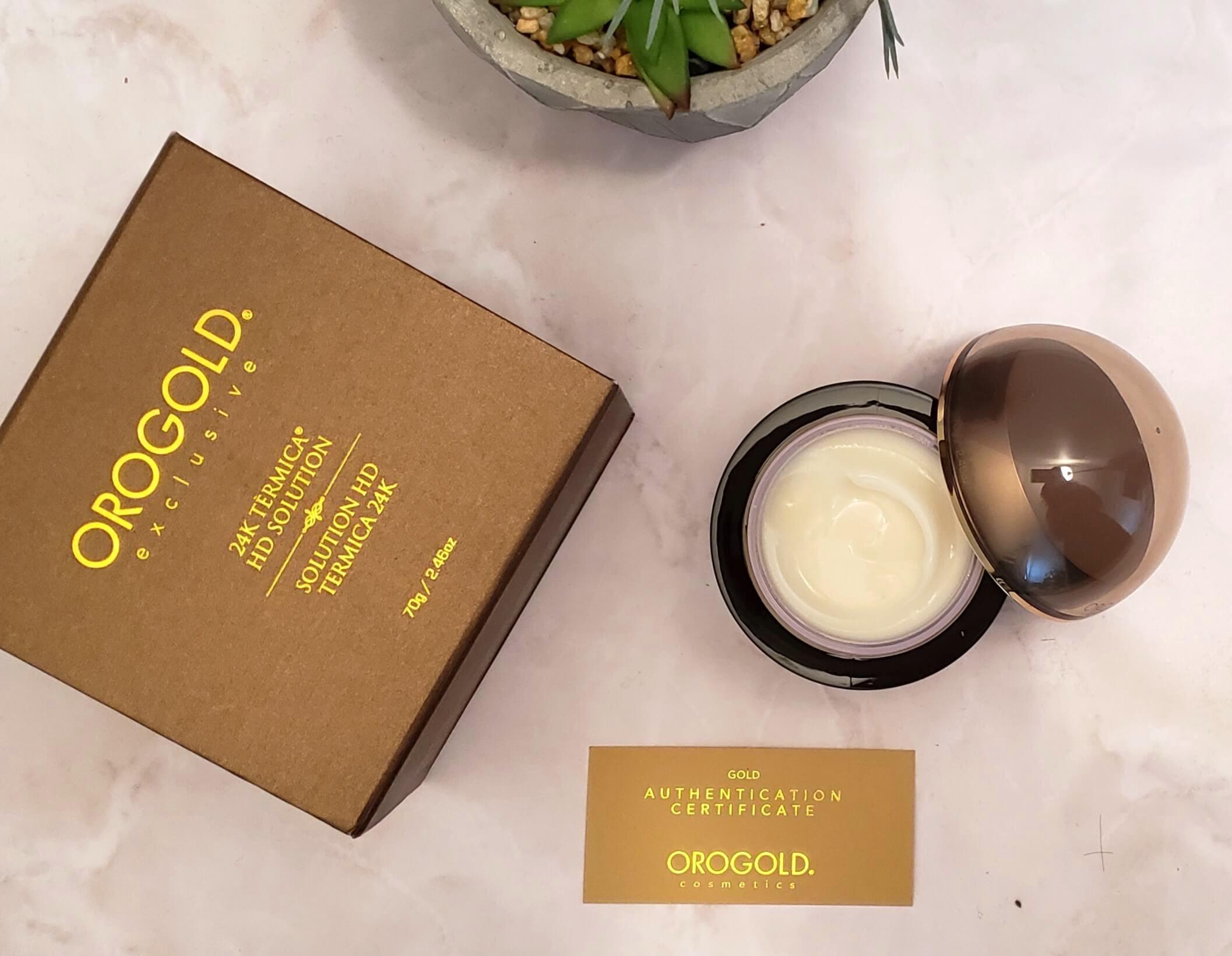 This product is definitely my second favorite from this collection. The 24K Termica HD Solution provides almost like a blurring effect on the skin that diminishes the appearance of pores and fine lines while providing a matte finish.
I personally like to use this product as a primer before I apply my makeup. It leaves my skin with a satin-like finish that's perfect for gliding on foundation, concealer and contour.
It is worth noting that this product works better when you tap it into your skin rather than smear it across like any other cream. Since it has a matte, blurring effect, tapping it into the pores helps absorption and getting that perfect overall matte look. 
Benefits:
Provides a layer of moisture to the skin
Gives skin a matte finish
Key Ingredients:
Corallina officinalis: Skin-conditioning agent with high levels of antioxidants to protect skin from free radical damage.
Resveratrol: Delivers powerful antioxidant properties to tighten skin and reduce the signs of premature skin aging.
Use:
This product can be used daily on cleansed skin. It is primarily ideal for day time use as it provides the matte effect as opposed to the 24K Termica Completion Cream which is better for nightly use. 
Final Thoughts
Overall, the products have been simply amazing! I'm in my second month of using everything and have barely made a dent in the products which I like considering the price.
I think it's important to note that I really have seen a difference in my skin's overall radiance since using these products. I love that I developed a natural glow over this period of solely using Orogold and I am truly impressed with the brands ability to deliver such amazing results in such a short amount of time. 
Do I recommend this brand? Absolutely YES!
While I went ahead and splurged on one of their exclusive collections, Orogold does have more affordable options like the 24K White Gold Collection, DMAE or Collagen Collection. It all depends on your budget and your skin care needs. You can even start by purchasing one product alone and slowly acquire the rest. 
Whatever you decide to do, remember to do your research! Maybe even visit a local Orogold store to get insight from their employees and ask questions as they do have a no refunds policy.