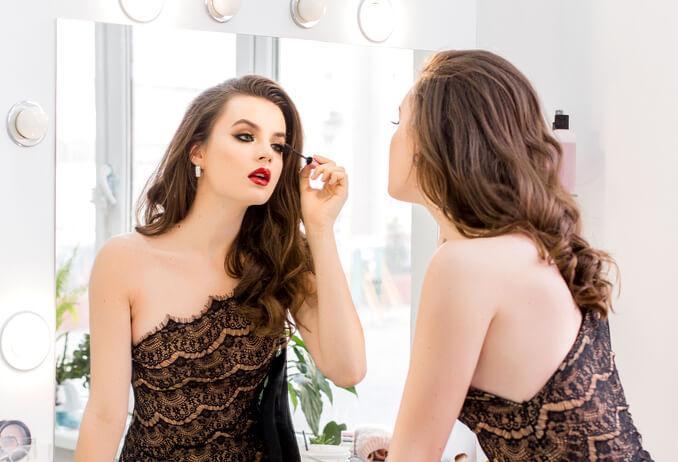 Between Christmas, New Year's Eve, Valentine's Day and probably a plethora of birthdays, winter always seems to be packed with celebrations that call for all sorts of party-ready, creative makeup looks.
That's also what makes this time of year the ideal season to play around with emerging makeup trends, as well as the fool-proof winter classics such as metallics, shimmers, or bold lip colors.
Whether you are looking to go all out with a sparkle-laden face for the New Year's Eve or are more in the mood for something soft and romantic for a winter wonderland date with your bae, our round-up of chicest makeup ideas for the season are here to save you.
Pick your favorite looks and your face will stay ready for any winter festivity.
Dripping in Gold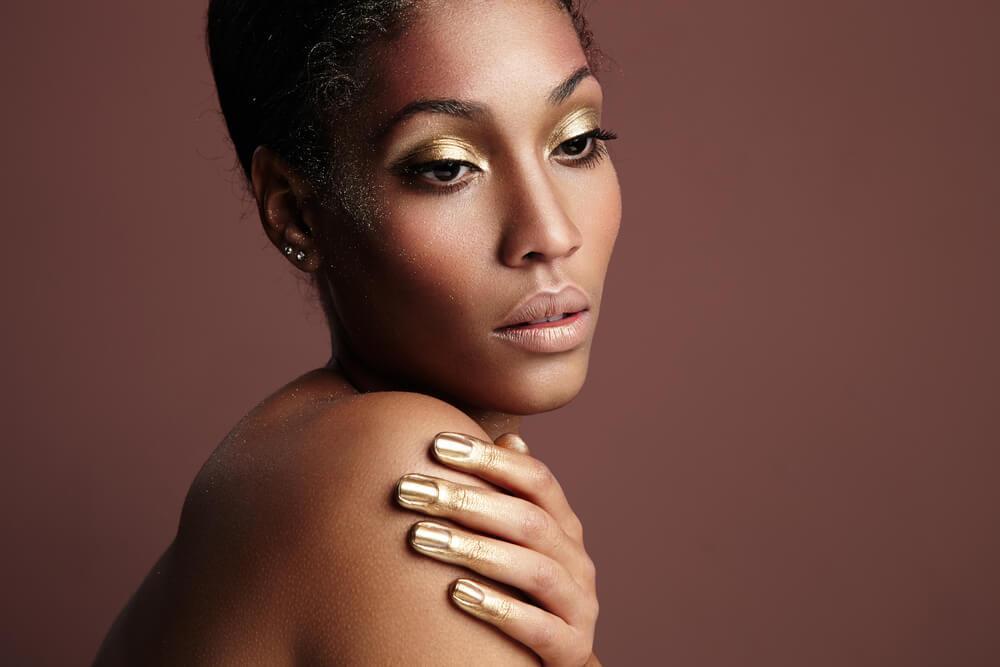 This simple, yet stunning makeup look is ideal for all those winter party occasions when you want to shine like a goddess.
The trick to nailing this look is to keep everything other than eyes relatively natural, which is why it's ideal to use a lighter formula (such as tinted moisturizer or CC cream) for your base.
Once you're finished with the foundation, warm up your face by applying a bronzing product around the edges of your face in sweeping motions for a more diffused look.
Add a touch of glow on the cupid's bow and the tops of your cheeks.
Clean up your brows and lightly fill in any gaps. Since eyes are the main focus of this look, keep the lips neutral by applying a nude lipstick or gloss. If you want something that will be able to hold throughout the evening, you can also fill in your lips with your favorite nude liner and apply a clear balm on top of it.
Now for the star of the show: take a golden liquid eye shadow and apply it across your lid, following the natural shape of your eye.
Blend the edges ever so slightly with a complementing copper shade. You can gently swipe the same color on the bottom lash line for a more defined look.
Add a touch of shimmery champagne eye shadow in the corner of your eyes.
To create a contrast, curl your lashes and generously coat top and bottom set in rich, black mascara. For that subtle '60s, Twiggy-esque vibe, brush through your lashes – this will make your eyes pop and give you a more alert appearance.
Set your face with loose powder and your golden girl look is complete!
Metallic Blues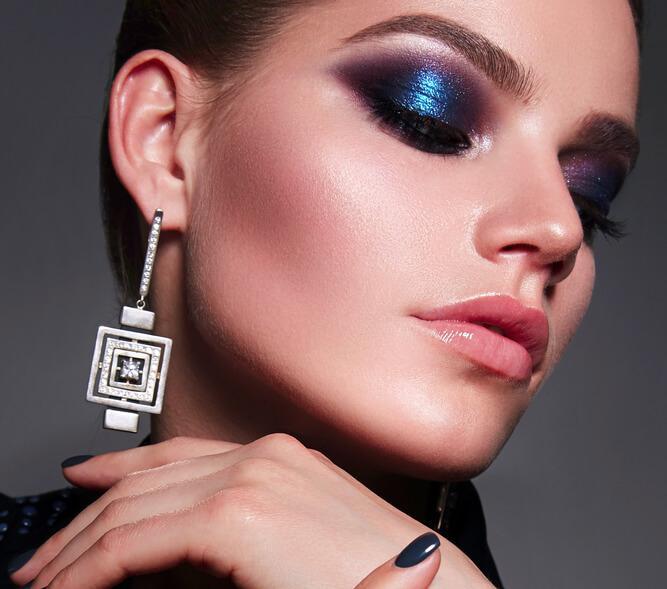 This smoldering, steely look is all about the eyes.
Start off by buffing out a pump of long-wearing foundation all over your face.
Correct dark circles and cover up any blemishes with a creamy concealer.
For a more structured look, lightly contour your face, especially in the hollows of your cheeks.
Apply a dark, dusty pink blush along the cheek bone. Blend it out well, so it seamlessly transitions into your contour color.
Give your face a dash of glow by applying a shimmery highlight on the pronounced points of your face: bridge of the nose, top of the cheeks and chin.
Dust the entire face with translucent powder to set your base.
Start off your fierce eye look by applying eyelid primer, which will ensure all those pigment-packed products stay in place. For the ultra-glittery effect, apply a liquid eye shadow in electric blue on the central part of the lid. Since these shadows have a tendency to set quickly, blend the edges out quickly with a small, buffing brush.
Diffuse the blue further by applying a matte, purplish shade along the edges and feathering it out. Finally, pack a light, silver shade on the bone of the brow and in the inner corners of your eyes.
Since this is a pretty eye-heavy look, keep the lips natural by coating them with a flesh-colored gloss.
Set the entire look with a fixing spray and you're done!
Highlights and Corals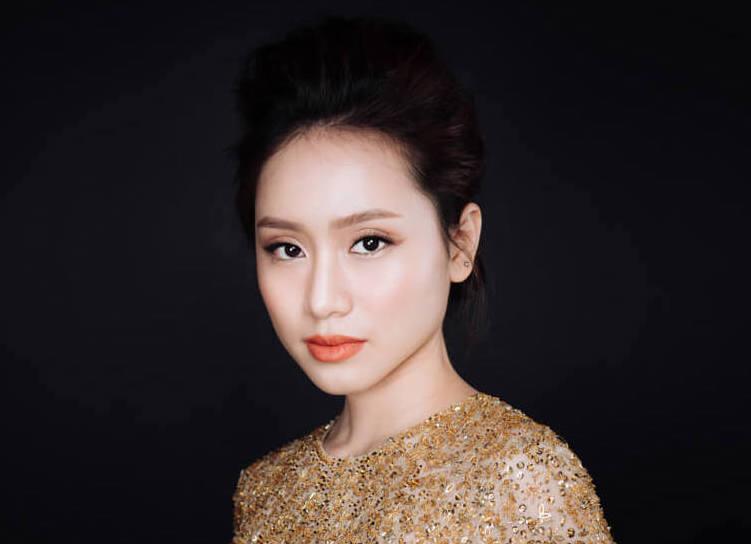 Not every evening look has to be extravagant and saturated with dark hues.
In fact, you can achieve a lot with just a flawless, glowing complexion and a subtly tinted lip.
The first step is to apply a moisture-enriched base product, like BB cream or cushion foundation.
Keep the concealer concentrated only on the highly problematic areas, like acne or blemishes.
Next, bring out the radiance by applying creamy or stick highlight on the areas of your face you want to emphasize, such as:
Highs of the cheeks
Bridge or tip of the nose
Cupid's bow
Center of the forehead
Keep everything in sync by adding a dab of liquid blush in peachy or coral shade and blending it out using the warmth of your fingers.
Keeping with the radiant, moisture-rich theme, coat your lips with a creamy lipstick in matching pinkish or orange-toned shade.
Warm up the eyelids with an earthy color that's a couple of shades darker than your natural skin tone. To intensify the look, dip a small, angled brush into setting spray or contact lens solution. Then, go back into your shadow and use the product-packed brush to draw a line along your lashes. Elongate your eyes by winging out the line as you reach the outer corners of your eyes.
Dust a tiny amount of powder only on the areas around your nose and on your forehead in order to preserve the dewy, radiant effect of this look.
You're all set!
Smokey Eyes and Deep Red Lips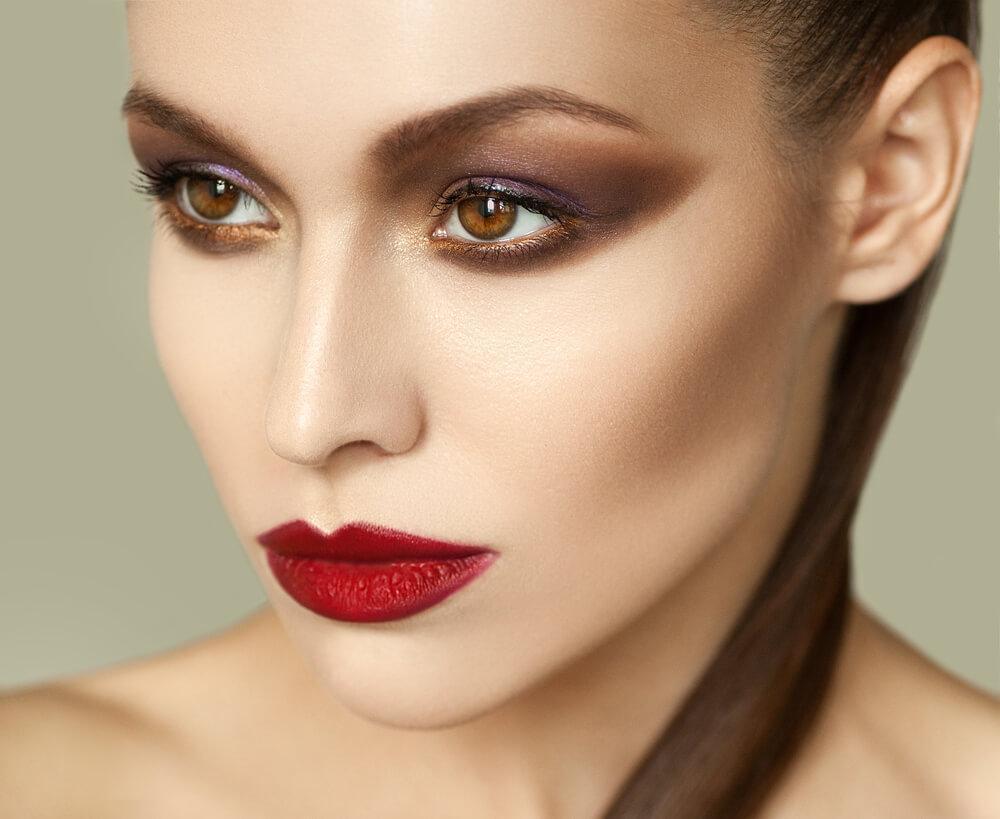 Some people say makeup should focus on either eyes or lips.
We say: why not both?
The combination of sultry, smoked-out eyes and glitter-packed lips is definitely going to be a head-turner at any party you might find yourself this winter.
Want to know how to achieve the look?
Start by prepping your skin with a long wear primer that will smooth out your complexion and give you a nice, clean canvas to work on.
Follow up the primer with a medium to full coverage foundation that you can apply with a foundation brush or makeup sponge.
Cover your under-eye circles with salmon-colored concealer. Also, make sure to correct any smaller imperfections using pin-point concealing method.
Give your bone structure more definition by carving out your cheekbones using a natural contour color. If you're not sure what shade will compliment your skin tone, remember that natural contour hue is supposed to mimic the shadow falling on less pronounced parts of your face.
Balance out the shadows with a shimmery highlight that you can apply liberally on the upper part of your cheek bones, bridge and tip of the nose, as well as the center of your forehead.
Follow it up with a bronzy blush that you can apply on the apples on your cheeks and along the cheek bone for a more blended look.
Start building your smokey eyes by packing on shimmery, deep grey or black shade all over the lid. You can do this with powder shadow and even an eye pencil.
There's no need to be super-precise – all of this will be blended out with a more neutral, taupe-brown color that you can apply with a blending brush to smudge the edges. For an extra defined look, bring the blending color all the way to your nose and use it as light contour.
To brighten up the look, use a pearl-colored eye shadow just below the brow and in the inner corners of your eyes.
Line the lips with a well-sharpened liner and fill them out with a deep red lipstick. Blot it out and add an extra coat of lipstick. Then, take a shimmery red eye shadow or loose glitter and pack it onto your lips, making sure to stay within the edges.
Stay Matte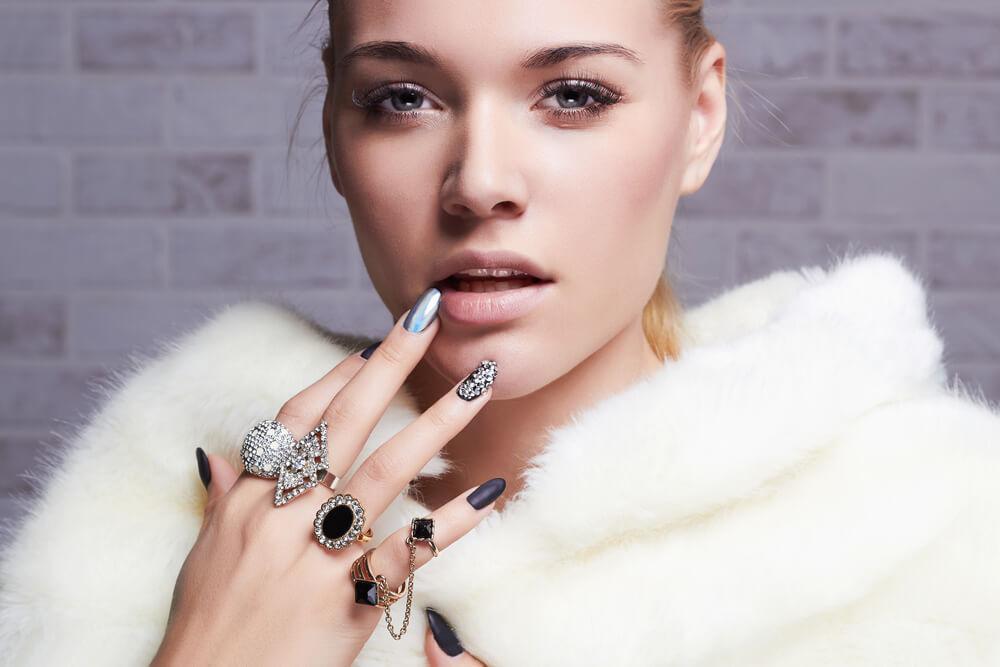 Perhaps you're not a fan of all this razzle and dazzle. Perhaps you're the kind of gal who likes to stick to her trusty mattes and nudes.
Don't worry – we've got just the winter look for you.
The first thing you need is a few dabs of foundation – if you want to keep this look sheen-free, opt for a formula that will give you a semi-matte to matte finish.
Brighten up the area under the eyes with a tiny amount of concealer.
Contour your cheeks and brighten your skin tone with a dusty rose blush.
Brush out your eyebrows and coat them with a brow gel – this way they will stay on the casual side, but still have some definition.
Apply a frosty base eye shadow all over the lid to cancel out any pigmentation. Brighten up the corners of your eyes with a touch of pearly-white eye shadow.
Give your self a more awake look by applying a couple of individual lashes along your lash line. This will give a more natural effect than full-on falsies.
Finally, tie together the entire look by applying your favorite shade of nude matte lipstick all over your lips.
Luminous Skin and Red Lips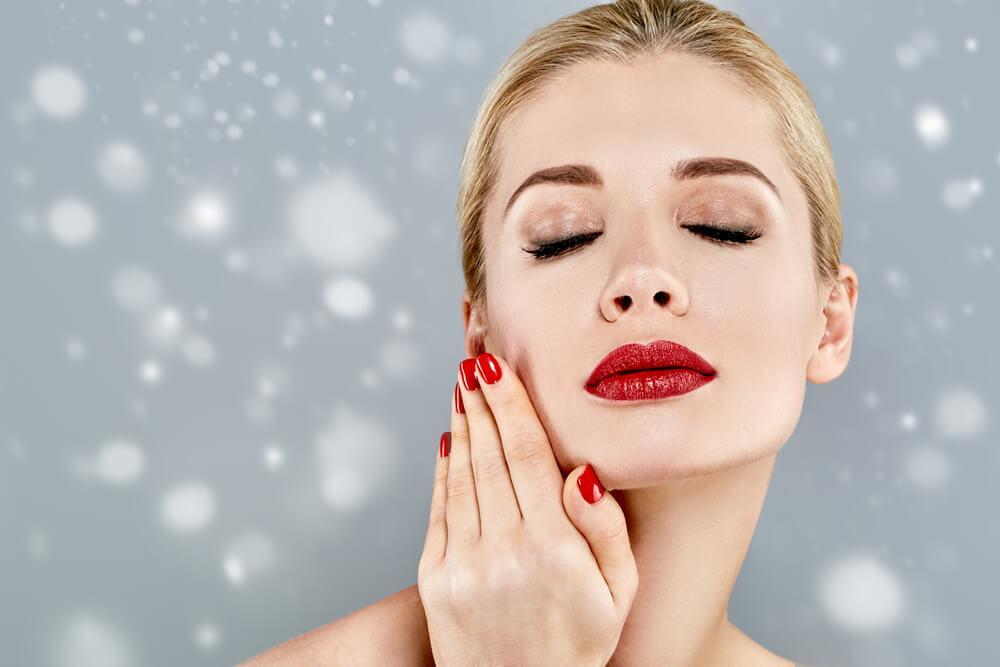 Winter doesn't have to be all about mattes, metallics and silvers – you can still achieve that warm, radiant effect that's en vogue while still looking like a bona fide winterland princess.
To begin with, prep your skin with an illuminating primer, focusing on the highs of your cheeks.
Follow it up with a hydrating foundation with a satin finish. For a more natural effect, apply it with a kabuki brush or beauty blender.
Warm up your skin with by applying bronzer in wide strokes on the outer edges of your face. For a more sculpted look, grab a smaller brush and intensify the bronzer in the hollows of your cheeks.
Apply a dab of pearly, liquid sheen on the cheekbones, tip of your nose and below your brow bone.
Add a bit of color to your face with a soft, bronzy blush.
Keep your eyebrows natural by brushing them out and filling them in only where you have gaps in the hairs.
Take a soft, shimmery eye shadow a shade or two darker than you skin tone and lightly brush it all across your eyelid.
Achieve the feathery lash look by applying a pair of length-boosting falsies. Keep the look natural by adhering them with lash glue that dries transparent.
Line the lips with bright red liner to make sure your lipstick doesn't wear off quickly. Coat the lips with moisturizing lipstick or lip gloss and – voila – your radiant winter look is finished!
Bold Black Lips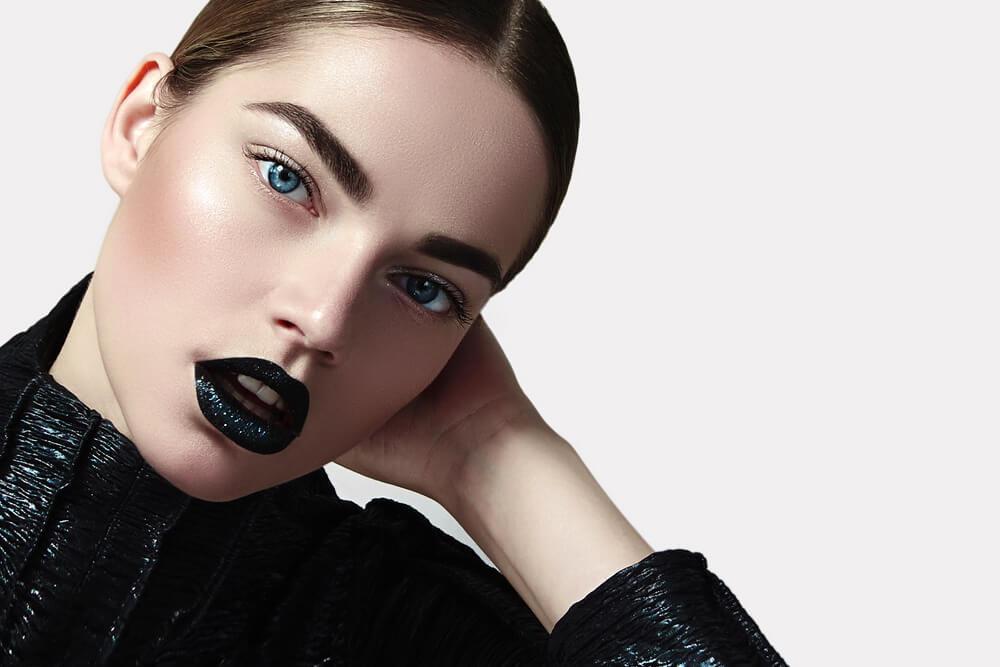 This sleek, editorial look is perfect for girls who like their high glam with a gothic, cyberpunk edge.
Start off by applying a foundation that provides good coverage. Any time you wear a dark lip, you need to make sure to block out any redness or hyperpigmentation, as highly saturated lip and eye products will only emphasize the imperfections.
Chisel out your cheek bones with cool-toned, shimmer-free bronzer and apply a pearl-colored highlight on the tops of your cheeks, cupid's bow, as well as the bridge and tip of your nose.
Dust a touch of translucent powers on your T-zone and other areas that tend to get oily during the day.
Make sure the eyebrows keeping up with the overstated lips by defining them and giving them fullness with a grey-brown pencil or shadow.
The neutral eye look can be achieved applying a wash of cool-toned shimmery eye shadow.
Next, coat top lashes with a layer of lengthening mascara.
Now, for the pièce de résistance: line the lips with a black pencil as precisely as you can, so that lipstick wouldn't smudge or bleed. This will also help the product stay put for the length of the day.
Coat your lips generously with a satin black lipstick or lip gloss. For the extra va-va-voom, pack loose iridescent glitter on your lips, making sure you don't go outside the edges.
The perfect winter vampy look is complete!
Now that you are armed with all these fabulous makeup looks, we are sure you will turn heads at any party you choose to attend this winter.