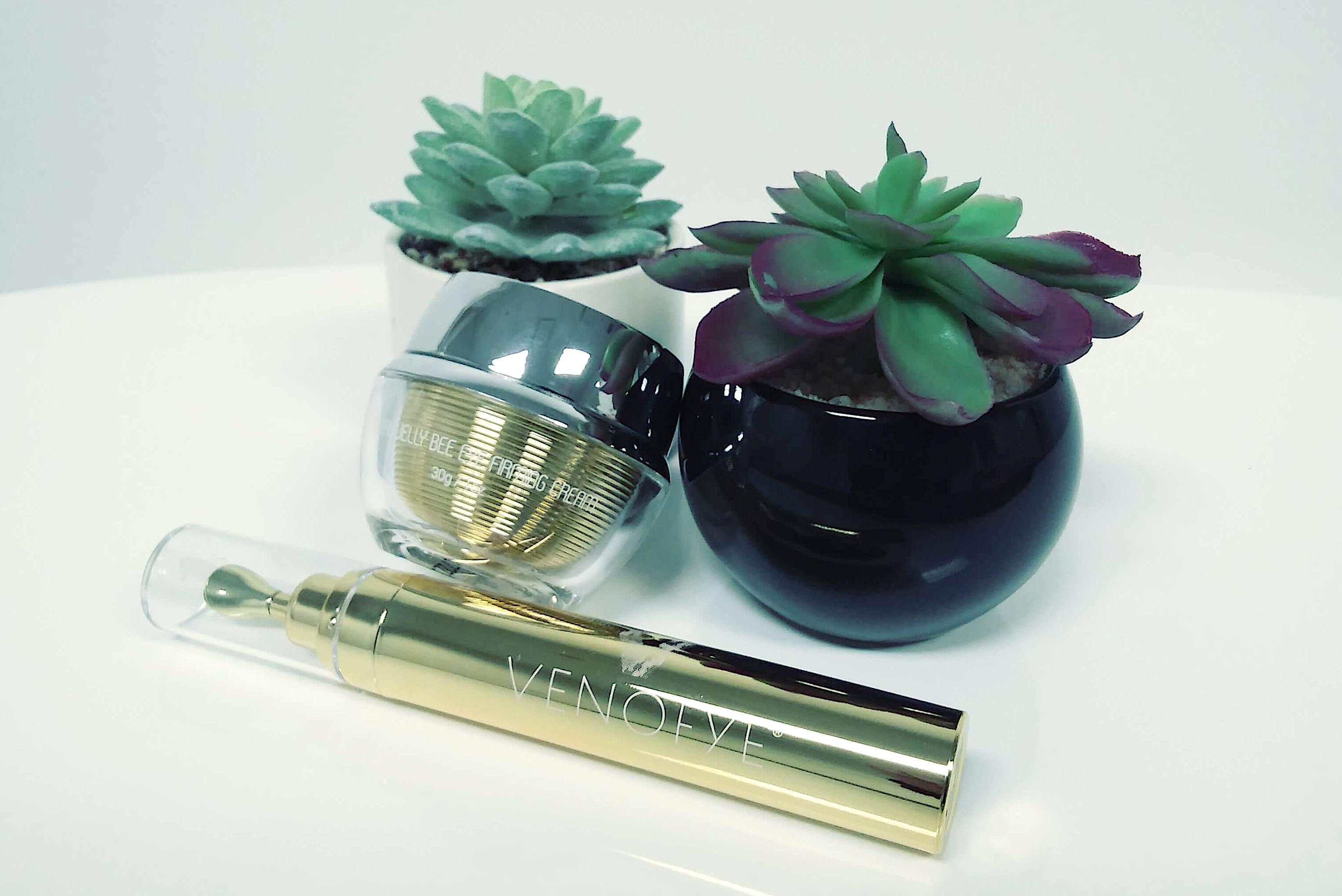 Royal Jelly for the skin around my eyes? Fancy.
Venofye, is known for using bee venom as their main ingredient in their skin care products, and they have a few products designed specifically to take care of the skin around the eyes.
How does the bee venom work?
Bee venom is comprised of 21 natural components, including amino acids, peptides, and enzymes. The skin reacts as if its been stung, increasing the production of collagen and elastin in the skin, making it look and feel plumper.
So, here's another thing we have to thank the bees for, beauty treatments. Because they also provide us with honey (yum), but most importantly they pollinize. When bees do their little dance from one flower to another, they also spread the pollen and seeds of the flowers, allowing different plants to be fertilized and grow. Cross-pollination facilitates, at minimum, 30% of the world's crops and 90% of our wild plants to thrive. Which means they also help produce other food: Apples, oranges, lemons, lime, broccoli, onions, berries, cucumbers, cantaloupes, carrots, avocados and almonds. Important. Gotta love the bees.
Now, if your allergic to bees check with your dermatologist and if they say it's ok then go for it. Even though the amount of bee venom is not enough to induce any severe reaction, I always recommend people try all products out on a small patch of skin before going all the way.
But it's not only bee venom that's at work here, it's a whole lot of other great ingredients collaborating and balancing it all to gives us the best results.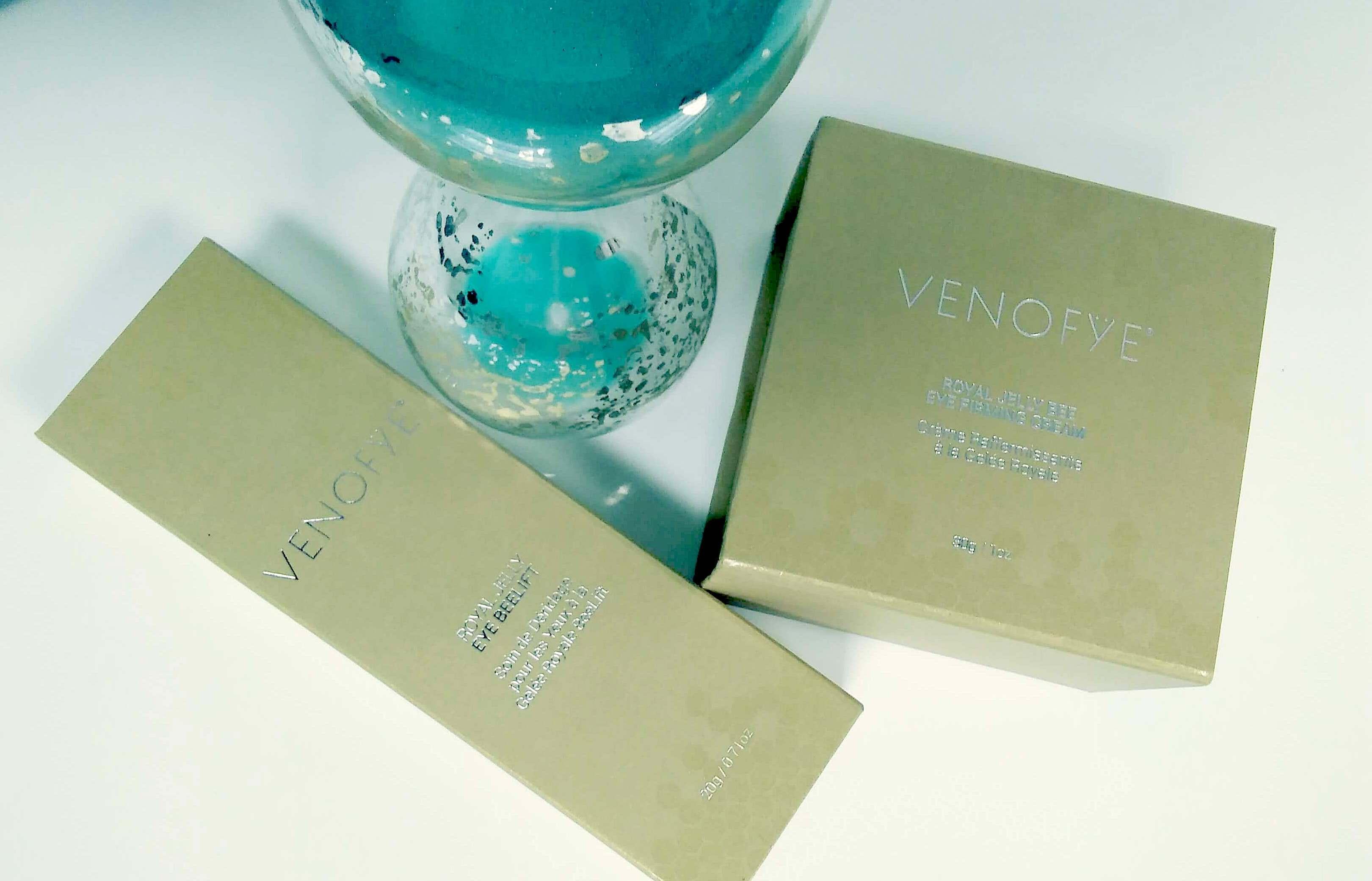 Because the skin around the eyes is considerably thinner (five to ten times) than the skin on the rest of the face, it is more delicate and prone to show earlier signs of fatigue. However, with the right skin care we can restore the natural health and appearance of the skin around our beautiful peepers.
We would all love to have bright, woke eyes forever, but, let's be real, at some point everybody will experience one or more of these:
Dark circles under the eyes

Puffiness

Lines and wrinkles

Loss of skin elasticity

Dehydration
Also, some people (especially those with sensitive skin) suffer from skin discoloration when they're exposed to the sun for extended periods of time without protection.
For me it's loss of elasticity, when I was in my 20's everybody loved to do my eye makeup because my eyes were "so perfect to play around with colors and lines". Now? I need clothes pins to keep my eyelids from falling down to my nose (that's an exaggeration, but you get the picture).
Why does this happen?!
DNA (hereditary factors)

Lack of sleep

Stress

Excessive alcohol consumption

Excessive salt consumption

Water retention or dehydration

Allergies
Life
Some people say the eyes are the windows to the soul, that's quite poetic. I agree that the eyes are the focal point of our faces, and they are the main attraction in our facial expressions.
*The online survey "A Look at Eye Language" revealed that 53% of respondents say that the eyes are the first thing they notice about a person.
They can say so much more than words and other types of body language. If you're like me, we can have a whole conversation without saying a word. That may be why I have a few more fine lines on my face.
*Research says that, from a person's eyes, we're able to understand not just the six basic emotions of anger, fear, joy, sadness, disgust, and surprise,  but also more than 50 other different mental states, including boredom, dislike, tiredness, curiosity, nervousness, and dislike.
How do our eyes communicate? For example:
Making and maintaining eye contact when someone is talking makes them feel respected and understood but staring (some people do it all the time) might make others feel uncomfortable (it's creepy).
Winking (I do it quite frequently, with people I know of course), it could be funny or flirty (or both).
Eye rolls (all the time, I mean, sometimes I can't even control it)- Liz Lemon style.
So, in order for me to continue eye rolling my way through life and look good doing it, I like to take special care of the skin around the eyes.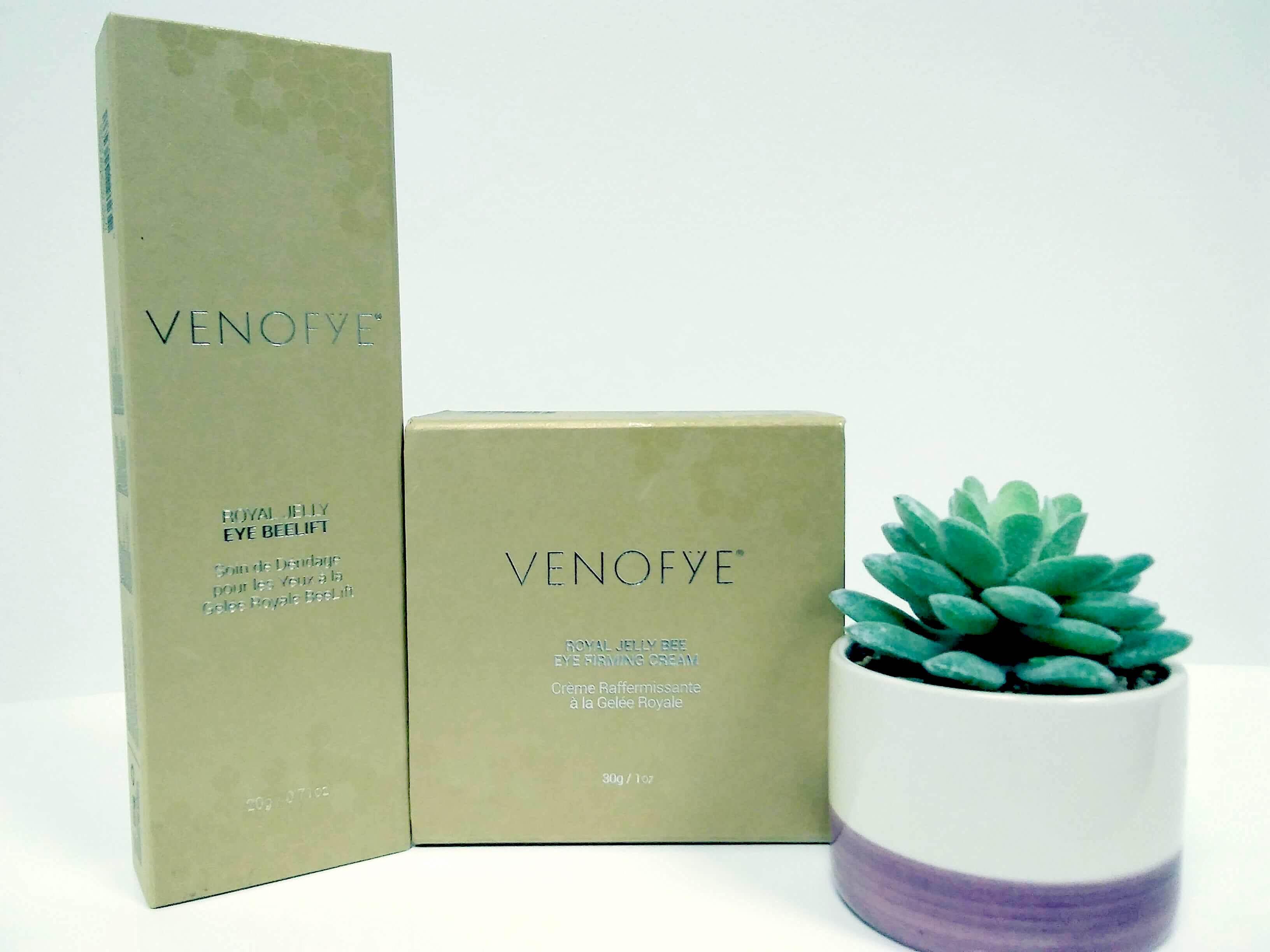 I always like (try) to:
Be careful and

gentle

when putting on primer, concealer, eye shadow and/or eye liner. Don't pull and tug like the skin is an elastic band.

Remove make up gently (not rubbing like I'm exfoliating my feet), and I do it with hypoallergenic cotton pads or oil-based makeup removers when its long wear makeup.

Give my skin time to

breathe

, make up is nice but not an everyday necessity.

Take breaks when using my computer, cell phone or when watching tv so I don't squint because I need to hydrate my eyes (dry eye can happen you spend too much time on-screen).

Wear

sunglasses

to protect my skin around the eyes, where Its recommended not to wear sunscreen. If it's really sunny I wear a hat too.

Drink water

to hydrate, try not to overdo it with coffee and alcohol, which can dehydrate (I know that coffee and prosecco are life, and it can be hard, but nothing is impossible).

Go easy on the salty food (I try not to empty a bag of sea salt-vinegar chips by myself, for example). When the amount of sodium in your blood becomes imbalanced, it can lead to swelling (eye puffiness).

Say no to eyebrow waxing. Waxing can damage the top layer of skin and stretching the area might result in droopiness down the line. (plus, it hurts)

Have some travel size moisturizing eye drops for when I'm traveling or in an air-conditioned room too long, to prevent rubbing my eyes.

Sleep

, from 7-8 hours (I have been known to occasionally go all out and sleep 9 hours whenever possible). *Also: Women need more sleep than men. (According to researchers at the Loughborough University U.K.-based Sleep Research Center, women do use their brains more than men, so much more that, yes, we do require more sleep).
The Products: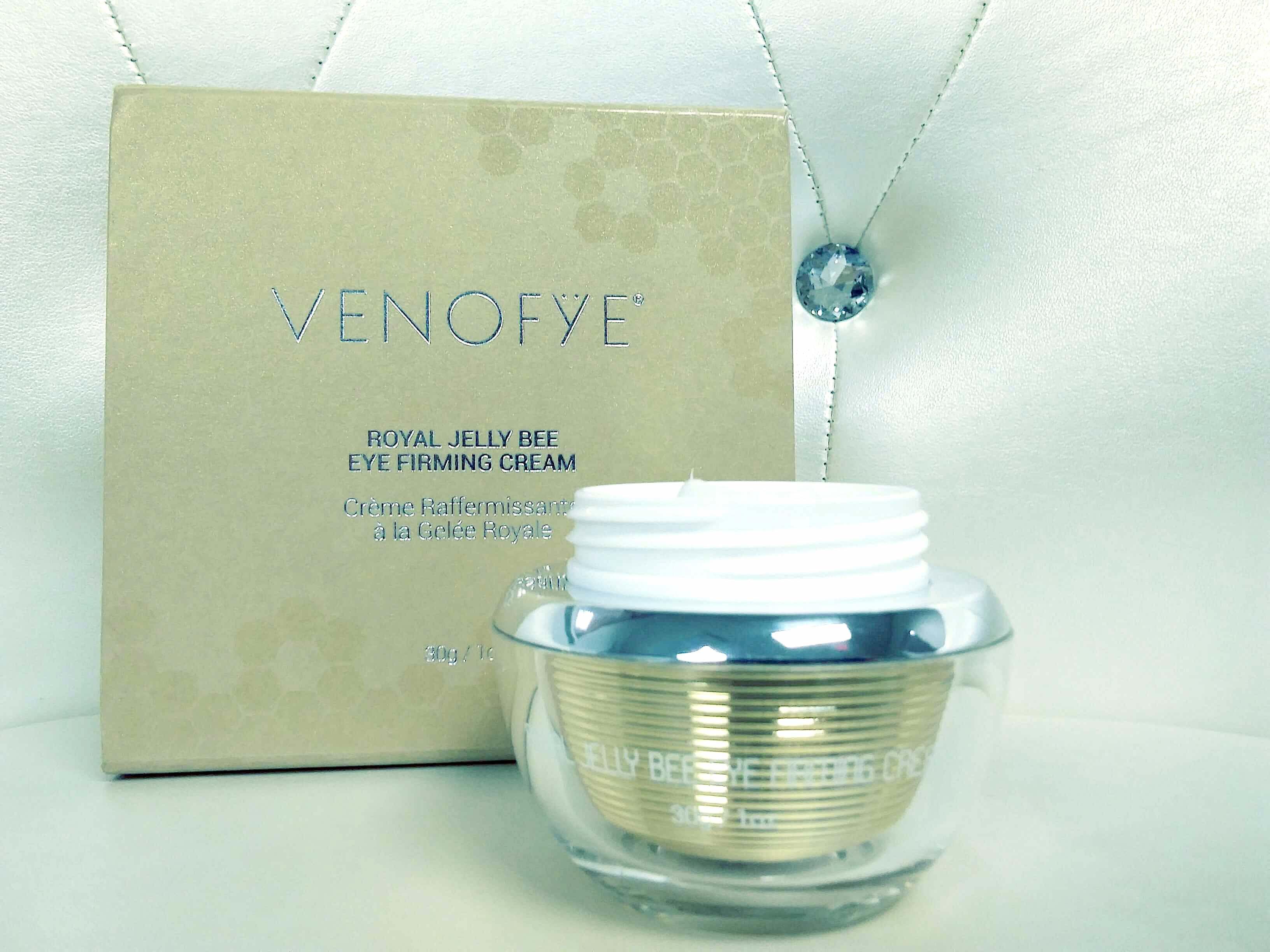 Formulated with:
(My fave ingredients)
Caffeine

– A white crystalline alkaloid, a stimulant found in varying amounts in coffee seeds, tea plant leaves and kola nuts. It's filled with antioxidants that fight free radicals (which cause wrinkles, fine lines and loss of elasticity),

soothes inflammation

(puffiness) and redness.

Shea butter

– A seed fat that comes from the shea tree found in East and West tropical Africa. It's a rich emollient that softens skin and can reduce swelling.

Vitamin E (Tocopheryl acetate)- A fat-soluble antioxidant that has anti-inflammatory benefits and prevents damage induced by free-radicals.

Green tea

– From the camellia sinensis plant, it's

potent antioxidant

properties are key to its skin protecting qualities. It's [polyphenols are catechins, antioxidants that function as anti-inflammatory agents.

Bee venom- It temporarily relaxes your muscles, breaks down cell membranes and improves circulation. It's collagen boosting properties gives you a natural

plump and firms

your complexion.
(Plus, these skin-loving ingredients)
Panthenol- The provitamin of B5 that is sued as an emollient and moisturizer because of its ability to penetrate the skin. It

improves hydration

, reduces itching and inflammation, accelerates and improves the healing of epidermal wounds.

Soybean oil- A vegetable oil extracted form the soybean seed. It's rich in vitamin E and helps keep the cell membrane intact.

Soluble collagen- Functions as a

skin conditioner

and humectant.

Aloe Vera- A cactus plant of the Liliaceae family, that has soothing and hydrating properties.

Vitamin A

– A fat-soluble antioxidant that has anti-inflammatory benefits and prevents damage induced by free-radicals. It is necessary for wound healing and

skin re-generation

, it promotes collagen production and fights acne.

Allantoin- Comes from an extract from the root of the comfrey plant.

Softens and protects

the skin, and also stimulates cell regeneration.

Bisabolol

– It's the primary component of the oil extracted from

chamomile

(aka levomenol). It works as a skin conditioner, and because of its high content of Panthenol it can

stimulate

and promote the skin's healing process.

Stearic acid- An amino acid derived from natural sources that helps water and oil mix.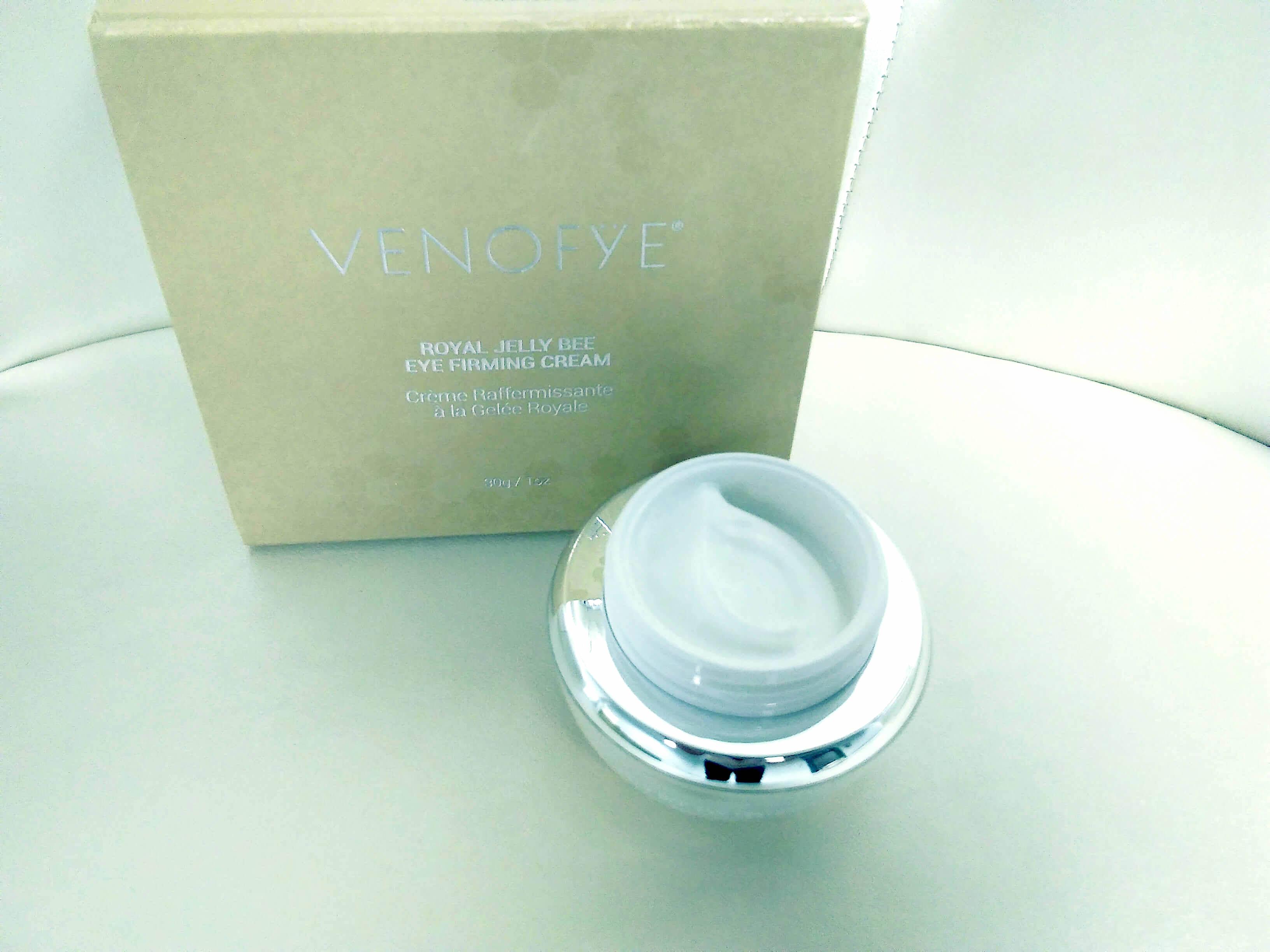 The Royal Packaging:
Everything screams honey, the golden box with beehive-like hexagons and the golden jar. At 1ounce it fits perfectly for travel.
The Royal Experience:
I regularly use skin care products designed for the skin around the eyes and I like to try out new products every so often. I used the Royal Jelly Bee Eye Firming Cream in the morning and evening before going to bed. Of course, I cleansed my face before and got some cream with the tip of my finger and gently pat it down under my eyes from the inner to the outer corner, and at night I put some on my eyelids.
I found it glided very easily on my skin and felt great. It works really well with normal, dry or combination skin. The texture is creamy but not super thick, so it goes on easy and ahs a silky finish.
Formulated with:
Bee venom

– It temporarily relaxes your muscles, breaks down cell membranes and improves circulation. It's collagen boosting properties gives you a natural plump and firms your complexion.

Sodium hyaluronate- The sodium salt of hyaluronic acid. A

non-irritating

, safe and effective moisturizer that can penetrate the skin and hold on to water because of its small size, it doesn't leave a greasy feeling and

helps replace hyaluronic acid

lost when aging.

Sodium Silicate- An inorganic salt used to control

pH

.

Magnesium Aluminum Silicate- A naturally occurring mineral from refined and purified clay.

Ethylhexylglycerin- Used as a skin conditioning agent.

Acetyl Hexapeptide-8- A synthetically derived peptide with water-binding properties and

skin-restoring abilities

.
The Royal Packaging:
It's bigger than I expected, the tall, golden applicator glides perfectly over the skin. At 0.71 ounces it'll last quite some time, since you use it once a week.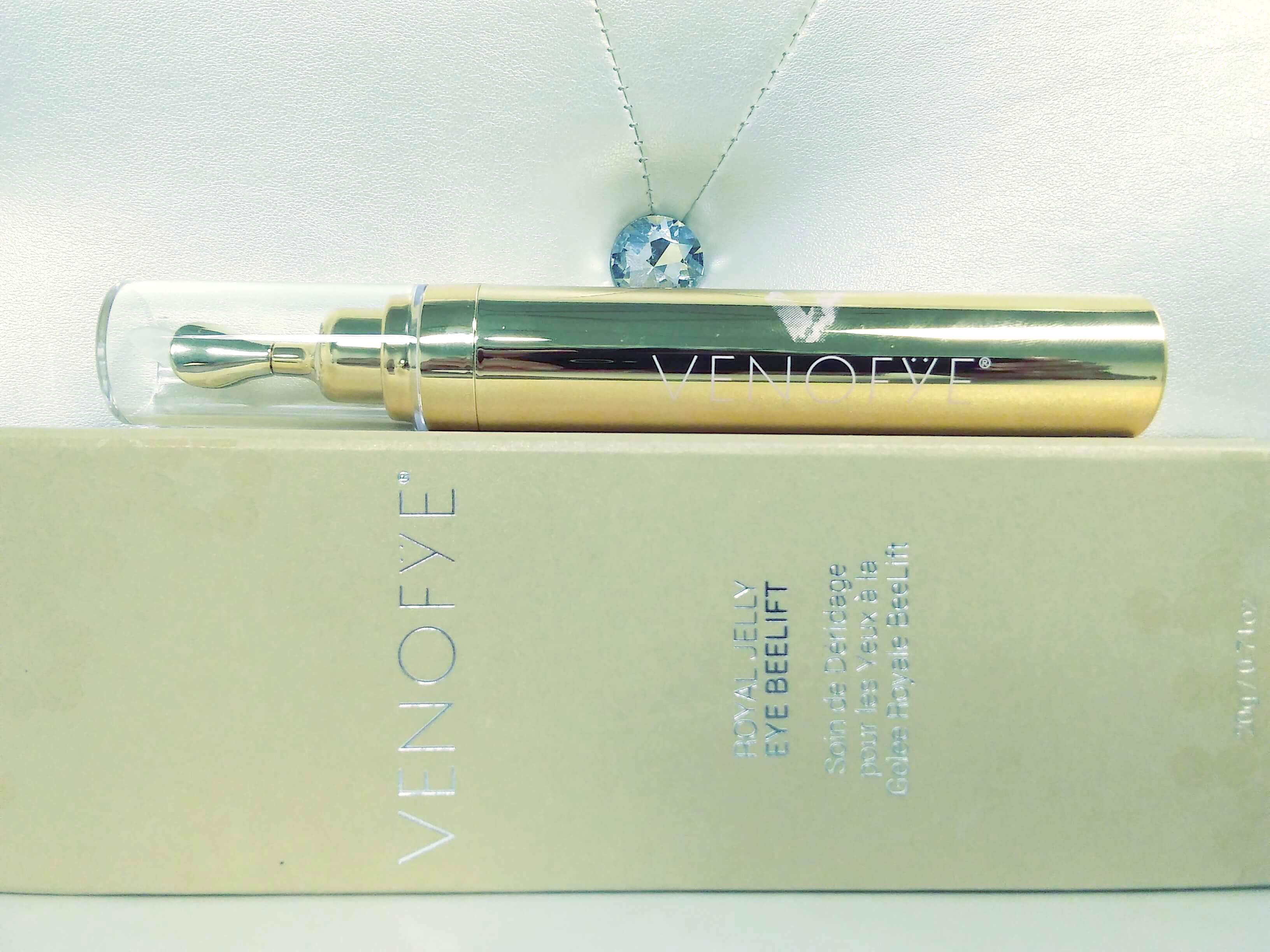 The Royal Lift:
Now this is something I had never used before or even heard of, a Royal Jelly Eye "bee lift". I thought this would be perfect for my Saturday mornings, because my Friday nights can go later than expected (but I can't wake up at noon like when I was 17).
So, I wake up Saturday, stretch and wash my face. Take out a little plastic leaf that is inserted on the tip. Press on the top until just a bit of the product comes out and use the tip of the applicator to glide it softly on the skin under my eyes and on my eyelids.
The texture is like a creamier serum. I continued with my day face lotion and by the time I was putting on my coconut body oil my skin felt tighter and I could see the difference especially on my eye lids. It doesn't feel greasy, so it's perfect for oily skin too. Before putting it in my drawer I remembered to clean the tip of the applicator and put the plastic leaf back in.
Then I went out into world ready for my close up and feeling like I had given my eyes a shot of caffeine.
Animal friendly disclaimer: No bees were harmed here, no one lost their stinger. Collecting bee venom is not stressful or harmful for the bees. Bee venom is usually collected using a glass sheet which encourages the bees to pump out a small amount of venom into the glass. The sheet is removed from the beehive and the venom is sent for purification. The bees move on with their lives.
Ps. US beekeepers lost 28.1% of their honey bee colonies over the 2015-16 winter. What can we do to help? Plant bee-friendly flowers (wild lilac, echinacea, witch hazel), reduce the use of herbicides and pesticides and buy local honey. Support the bees and your local beekeeper!