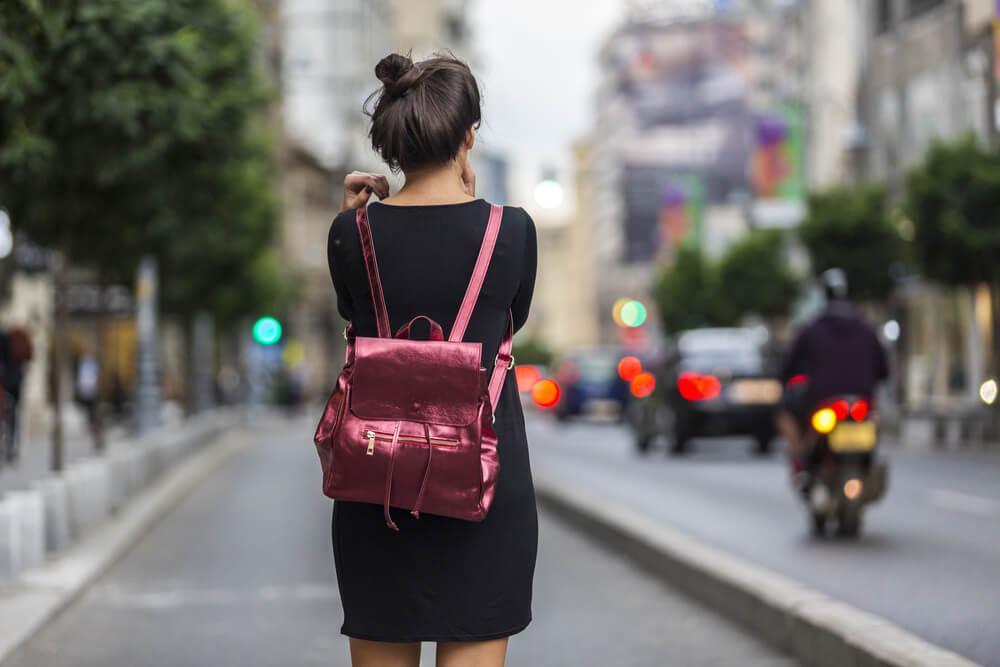 Though we can't quite believe it, fall will be upon us in a matter of weeks! And, although we're not ready to bid our sundresses farewell just yet, we couldn't help seeking out the most amazing fall trends for 2020. That's right, we've scoured the net to find every trend you'll want to know about and invest in for the new season. From fabulous fringe pieces to preppy plaid looks, read on and be inspired to create your most stylish fall closet to date! 
Statement Coats & Jackets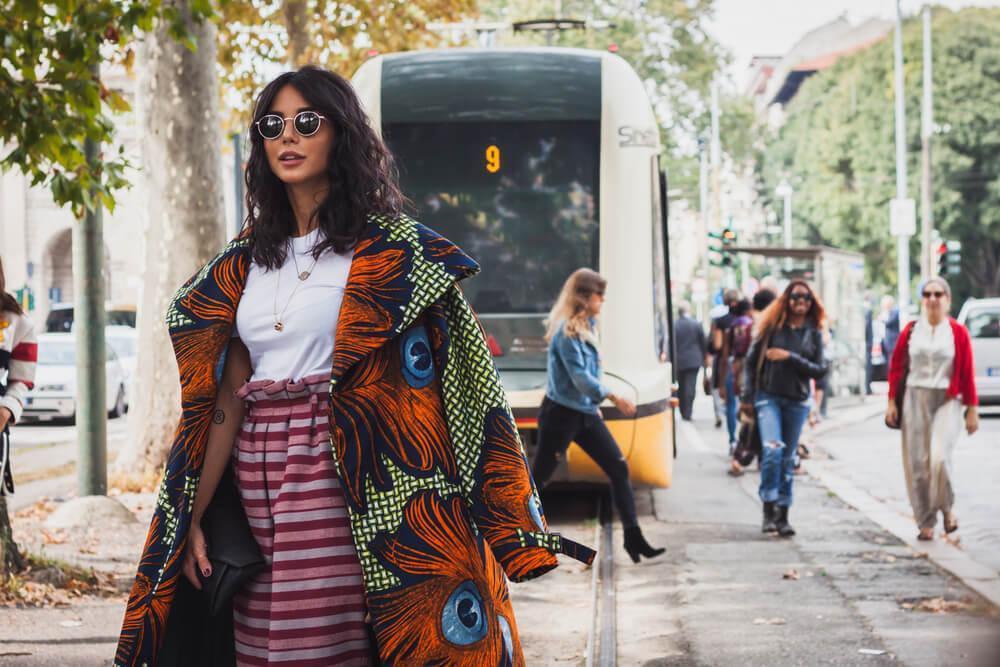 If you're looking to make an unforgettable fashion statement this fall, do it with your jacket! From pretty patchwork designs to color blocking and quilting, dramatic coats will be everywhere this year.
We adore how you can add a statement jacket to even the simplest outfit and instantly look like you've made all the effort in the world. Try styling yours with a simple pair of blue or black jeans, a classic white t-shirt, and leather boots. Trust us, you're going to love how easy this look is to throw together just as much as how easy it is to wear from morning until night!
We plan on wearing the Quilted zip-front jacket by Urban Outfitters from the moment summer ends, right through until spring.
Long Skirts & Dresses With Boots
This look has been around for a while now but fall/winter 2020 will really see it come into prominence. What's great is how you can make it work for you in whatever way feels most comfortable. If you love long dresses, simply add your boots, maybe a waist belt, and you're done! A dress like the gorgeous maxi tea dress with a ditsy floral print by Asos Design is absolutely perfect,
However, if midi/maxi skirts and slogan t-shirts are more your style, it'll work perfectly with these looks too. It's also an amazing way to re-purpose and get the most use out of all those floaty dresses and skirts you've been wearing all summer long.
If you've yet to invest in the trend, we recommend the khaki button front cotton skirt by H&M. It's cool enough to wear with cami's and t-shirts right now, but will also go great with a sweater and boots for fall and even winter.
So, no need to clear out your summer closet just yet. Simply add your long leather boots and a layer or two on top of your favorite peasant dress, and you're all set for a fall day!
Shades Of Amber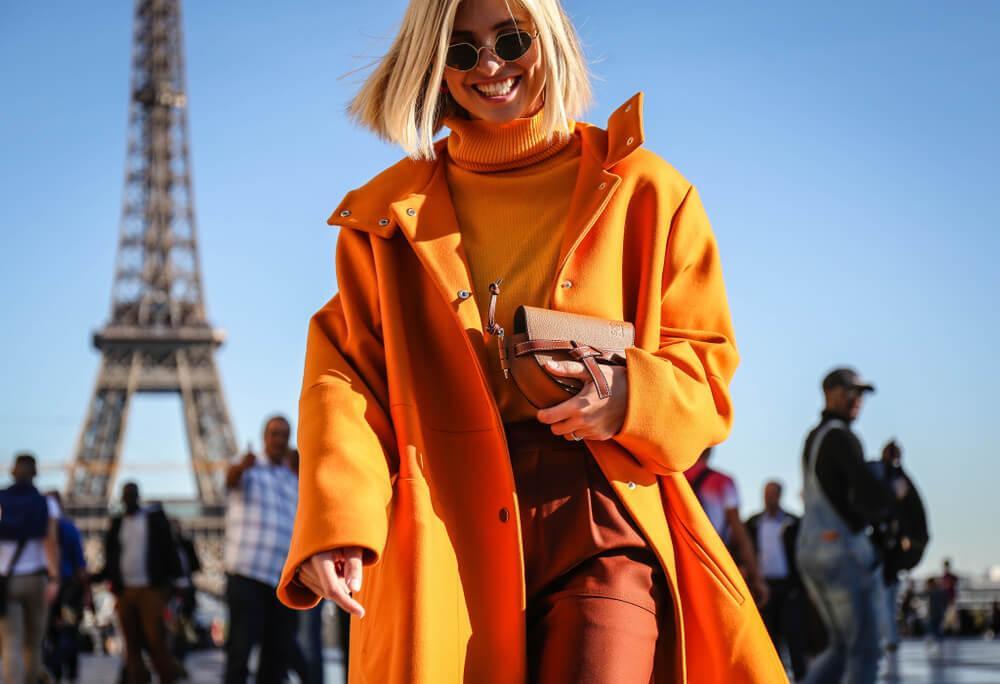 Of all the colors you can expect to see on repeat this fall, this bold and beautiful shade of amber is most definitely a favorite of ours! Not only is it beautifully vibrant, but it also feels incredibly unique.
It's not often we find a truly bright shade like this that suits almost everybody whilst also matching so well with the items (in various colors) that we already own. For example, this particular amber shade will work beautifully with one or two other equally bright colors, but it'll also complement staple pieces in more neutral tones. Try the chic Square Air Shirt by Everlane tucked into your favorite jeans or a skirt for example.
Once you've introduced this seemingly daring shade into your fall wardrobe, you can believe us, you won't look back. We just hope you're okay being the center of attention wherever you go!
Shades Of Samba Red
We adore this romantic shade of samba red just as much as amber. We also appreciate how it can bring a vibrant streak to your closet whilst remaining timeless and chic!
As with any vibrant shade or print, it's always best to decide how it works best for you. Do you want to go full for it and dress in it head to toe making an unforgettable statement? Or, would you prefer to keep things a little more neutral? If it's the latter, simply use it as an accent color to add lift and personality to a timeless outfit. Such as jeans and a sweater or a smart black dress. We recommend the red clutch bag by H&M to do this simply and effortlessly!
Personally, we love the head to toe samba red ensemble but also can't get enough of those statement red accessories. We're even rocking those samba red lips. This is certainly one for those with blue eyes too, it'll make them sparkle and accentuate the blue tones within from a mile away!
Plaid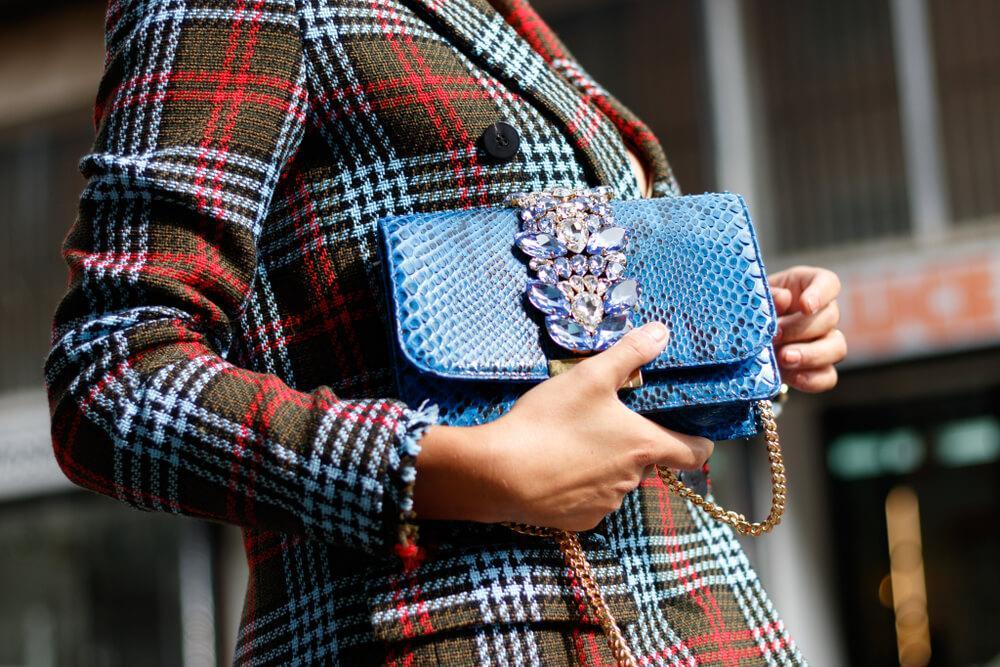 Lovers of all things checked will adore this trend. That's right, once again, plaid is back and we can't wait to introduce it into our fall 2020 closets!
The great thing about plaid is, it can be so easily added to your outfit whether casual or dressy. A simple, staple jacket such as the Business Babe check relaxed blazer by Nasty Gal, will add an instant element of class and style to any look.
You also may want to go for a full two-piece suit look entirely plaid printed, or perhaps you'll prefer an accessory such as a headband or purse. However you decide to incorporate this on-trend, super classic print, it's certain to give your outfit a touch of preppy chic!
Sequins
If you hadn't already guessed, according to the runways, sequins are back and we couldn't be happier about it! We understand this one may not be for everyone. That said, we just couldn't resist including in our round up with all of those stunning sparkles.
Now, we're not talking about the tacky stick-on or reversible kind of sequins you'd see on Christmas jumper, no way! 2020's iteration of sequins is much sleeker and more stylish thank goodness.
If you're wondering how you can adopt this sparkling style without resembling a disco ball or festive decoration, we can help. Simply make sure the item/s you choose have a sleeker, almost fluid-like finish. Basically, anything reversible or poorly sewn on is best avoided.
Instead, opt for a chic pullover like the Lipsy slouch sequin sweater in black. This will add a subtle touch of sparkle to your look without overpowering your entire outfit.
Fringe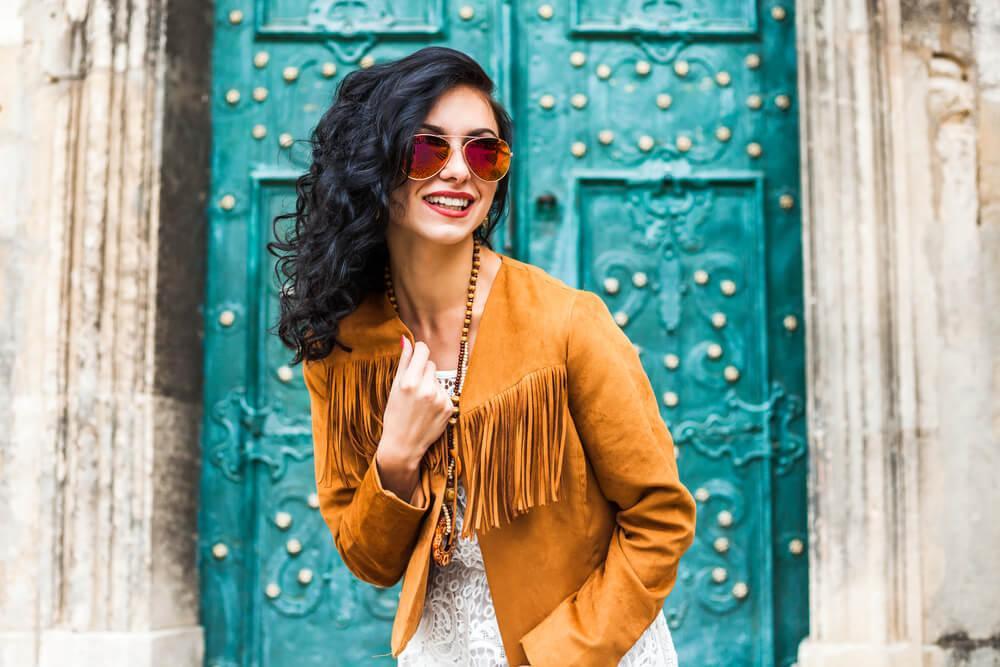 Fringe is one of those trends that seems to come and go every few years. We're so glad that it's making a comeback for fall 2020! Now, most of us will think immediately of leather jackets when it comes to fringe but there are definitely other ways you can work it into your look. Especially if that doesn't work, or is a little too full-on for you!
If you love the idea of fringe but feel uncomfortable in a jacket, shirt, skirt, etc, opt for a purse with fringing instead. There are so many gorgeous styles and colors out there you'll be truly spoiled for choice! Take the black fringe crossbody messenger purse by River Island for example. This gorgeous bag will celebrate the trend and add a unique twist to your outfit in a chic and subtle way. We're hoping that this time, fringe is here to stay!
Metallics
If you've previously shied away from trying metallics in your closet, now is the time to be bold. Why not give it go for fall 2020! With all of the luscious, chunky knitwear we're going to be wearing alongside our jeans and sweater dresses, metallics are the absolute best way to highlight those matte tones. Treat yourself and give your outfit a lift in the chicest way.
Opt for bronze or gold for something warmer, or choose brushed silvery accessories to glam up a casual look. We have our hearts set on the Oversized roll-top clutch in metallic silver by Asos Design. This beautiful purse can be dressed up or down and will see us through fall and into the winter months too.
If you're feeling even more adventurous or you're simply used to a bit more color and vibrancy in your outfit, choose a colored metallic look instead. A skirt, boots, or even a purse is the ideal way to try metallics if you're just starting with them. Or, if you're simply looking to add to your shimmery and shiny collection from years past!
Puffed Sleeves
Have you fallen deeply in love with the voluminous beauty of puffed sleeves this past summer? If so, you'll be so used to the drama and style they bring that you won't want to part with them just because the weather's cooling down. Well, we can all breathe a sigh of relief, puffed sleeves are going nowhere this fall!
That's right, those theatrical sleeves have stolen our hearts with the instant style statement they award to whatever you wear them with. Long dresses are made entirely cuter whilst puffed sleeves top make for a much more interesting take on your classic off-duty looks.
This fall, we'll be looking to add some long, puffed sleeve dresses and puffed sleeves sweaters into our everyday rotations to keep things fresh and frankly, a little warmer!
If this sounds like a dream to you, take a look at the black Voluminous Puff Sleeve Midi Dress by & Other Stories. This chic staple dress will go with every pair of shoes that you own. What's more, it can be worn on its own with sandals before temperatures start to drop, or worn with layers and boots once things cool down.
Long-Sleeved Relaxed Fit Dresses
When it comes to the ultimate day off look, you can't go wrong with a long-sleeved loose fit dress on a fall afternoon. The style you're looking for will most likely incorporate some form of ruffle detailing, as well as a loose fit on the sleeves and/or cuffs. An incredibly affordable option comes in the form of the A New Day dress by Target. Style it with your leather boots and some gold jewelry and expect all eyes on you!
These dresses are ideal for styling with leather boots whether you choose an ankle style or something close to/over the knee. We love how you can simply throw them on in a matter of seconds yet look like you spent a good couple of hours getting ready for the day. Not to mention, these dresses are incredibly comfortable for whatever your plans may be!
OTT Ruffles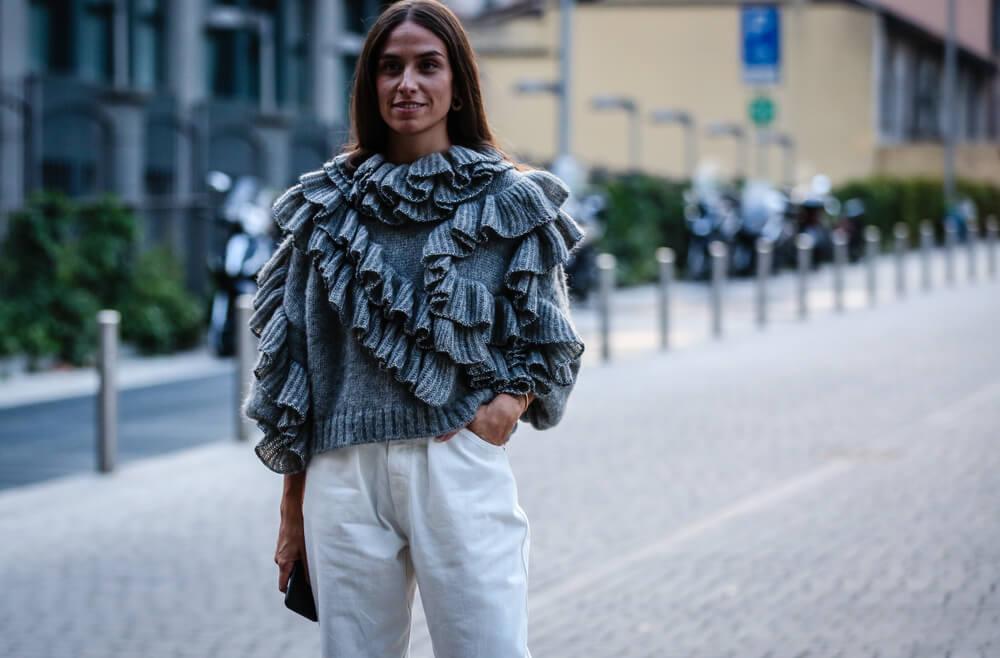 We've all been rather obsessed with ruffles these past few months and luckily, it seems all of our favorite designers have been too! This fall, OTT ruffles are going to be big and when we say big, we mean in both popularity, and size!
So, if sweaters are your go-to fall/winter staple, why not opt for a style that embraces this super-sweet and playful trend? Choose a sweater that has ruffle detailing all over it, or simply go for one that focuses its ruffle additions to the shoulders. This will instantly add shape and definition to your silhouette. On the other hand, if dresses are more your thing, you'll find plenty of options for this trend there too.
Whether it's on the sleeves, the hem, the waistline, or even all three, this super-cute trend will certainly add some personality to whatever you choose to step out in this fall. Feeling bold? Opt for the red ruffled mini dress by Zara. This irresistible piece also incorporates that samba red we talked about earlier meaning it's the ultimate fall 2020 look. Let the voluminous shoulder ruffles take you out of your comfort zone and make a statement wherever you go!