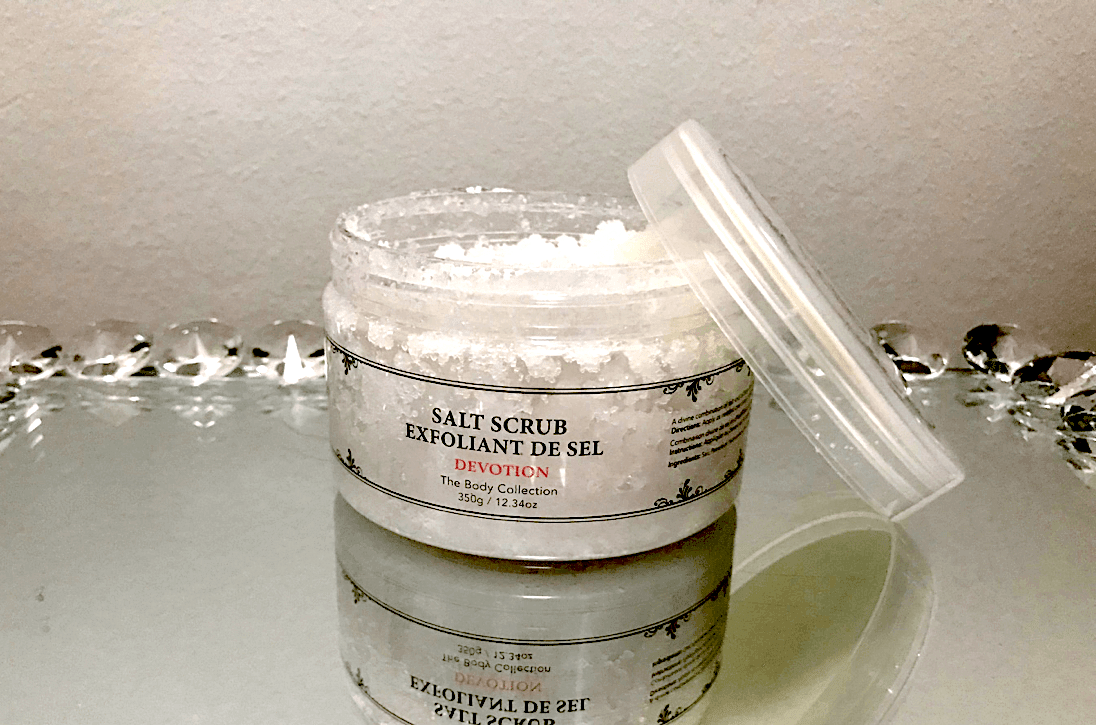 The older I get, the more determined I am to get that super soft skin I had when I was younger. We all want soft, smooth skin but it's something that comes less naturally as we age. Ugh…the harsh reality of getting older! I'm the first to admit I haven't always been an avid lotion and body treatment user. If I'm being completely transparent, which I am, up until the past few years I thought of body care products more like an added bonus rather than a necessity. I know…not a great mindset OR habit! But as I've gotten older, I like to believe I've also become a bit wiser, and I decided to make a promise to myself to take better care of all of my skin (not just my face!). Better late than never…right? I like to think so! 
In an effort to take better care of my skin I've spent a lot of time researching and experimenting different body care products. As a result I've found myself on a constant mission to find an effective yet gentle exfoliating product. Lotions and body balms are great but I haven't found an exfoliating product I really swear by. While loofas and exfoliating mitts help a bit, they aren't enough to get that deep exfoliation that makes a positive difference to the texture of my skin. I've noticed such an incredible difference in my skin after applying an exfoliating mask to my face, and have been on the hunt to find something that gives me similar results to the rest of my skin. 
After trying countless scrubs and wondering how many more I was going to need to try to find "the one", I finally discovered and have officially become obsessed with the Vivo Per Lei Salt Scrub Devotion. It's specifically made to exfoliate skin and leave you with a softer, smoother result and to put it simply… it's the BOMB. 
Vivo Per Lei Salt Scrub Devotion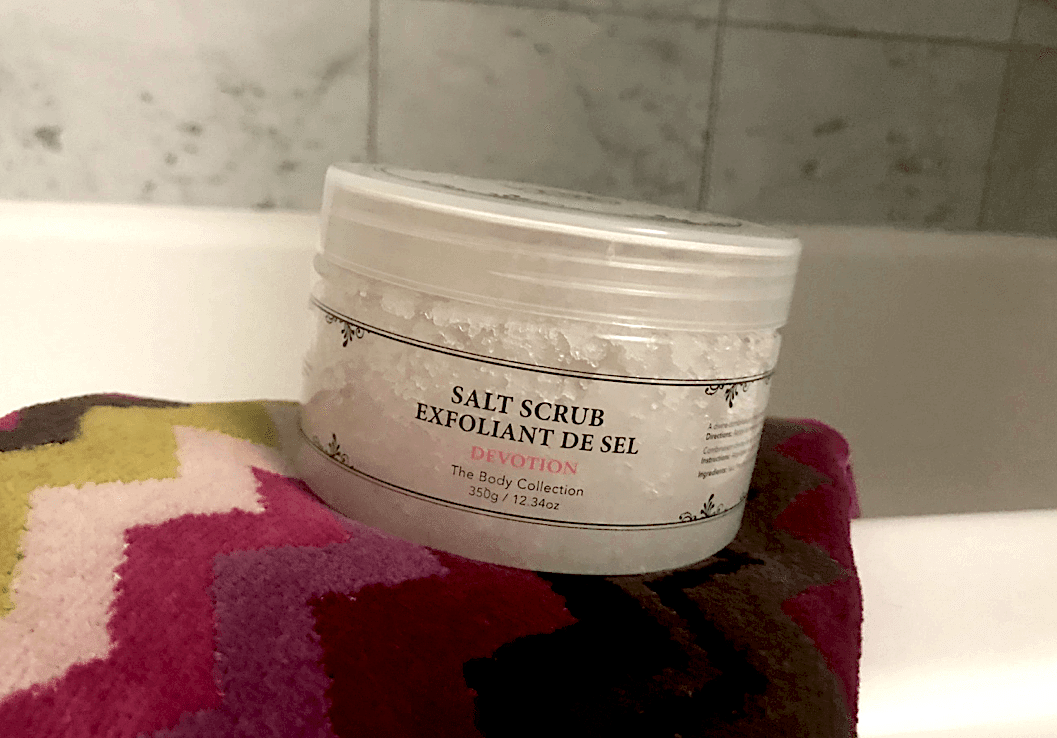 As I said before, I didn't always see the value in using exfoliating products on my body but after starting to use them in my routine I realized how much I was missing out. After every use I find myself questioning why I waited so long to make this a priority. The biggest factor I've faced with body scrubs in particular is they tend to feel a little too harsh on my skin. I know exfoliating products are formulated to remove dead skin, dirt and oil on the surface of the skin but something about quite a few I've tried left my skin feeling more irritated than soothed. That being said, the thing I'm most obsessed with in regards to the Vivo per lei scrub is it's incredibly soothing to the skin. While it is still a scrub and functions just as a scrub should, it didn't leave my skin feeling irritated in the way that I've experienced in the past. Instead, after use my skin genuinely feels refreshed and INSANELY soft. 
The Salt Scrub Devotion provides a combination of salt and oil from the Dead Sea. My ears immediately perked up when I found out the ingredients came from the Dead Sea because…hello! We've all heard so many great things about the Dead Sea, especially in relation to the benefits it's said to provide to the skin. Personally, I've been fascinated by products and treatments that use ingredients from the Dead Sea. Not to mention, the scrub doesn't have a huge list of ingredients. Something I've noticed about skin care, especially body care products, is that fewer ingredients tend to make my skin much happier. I know it seems funny because we think more is, well…more but in this case I think keeping things simple with powerful, effective ingredients is the key to success. 
My Results, and How to Use
I've been using the salt scrub for a couple of weeks now, I wanted to use it for a while before giving my true personal experience with it. In addition to this scrub feeling much more soothing after application than I have experienced, I've made a few more observations about it that are worth sharing more about with you. For starters, I feel like the scrub is much finer than I generally anticipate from a scrub. My assumption is this is what is playing a big part in it feeling much gentler on the skin when applied. In addition to the scrub being a finer scrub, I've noticed I do not need to use a lot of the actual scrub to exfoliate my skin. I don't know about you but those both are major positives in my mind. 
Because I have noticed actual results after use, I've personally found using the scrub 1-2 times a week (max) is all I need. More often than not I've stuck to using the scrub just one day a week, except for one week when the weather was all over the place and causing my skin to look and feel much drier than normal. Most skin care experts stress that no one should be exfoliating more than twice a week anyways, so that's something to keep in mind when using it yourself. I think it's best to start using the scrub one day a week and adding another day if you feel like you need it, or when you need it, after you use it a few times. 
In addition to how often you should be using this body scrub (and really any body scrub for that matter), the way you're applying it does make a difference in the effectiveness of the product. After using this scrub and trying a few different application methods, I found the best results by first getting your entire skin wet. When your skin is wet it tends to be softer which makes it easier to exfoliate the scrub onto. Once the skin is wet I find it's best to begin by applying the scrub to the feet, massaging the product in a clockwise motion working your way up the legs.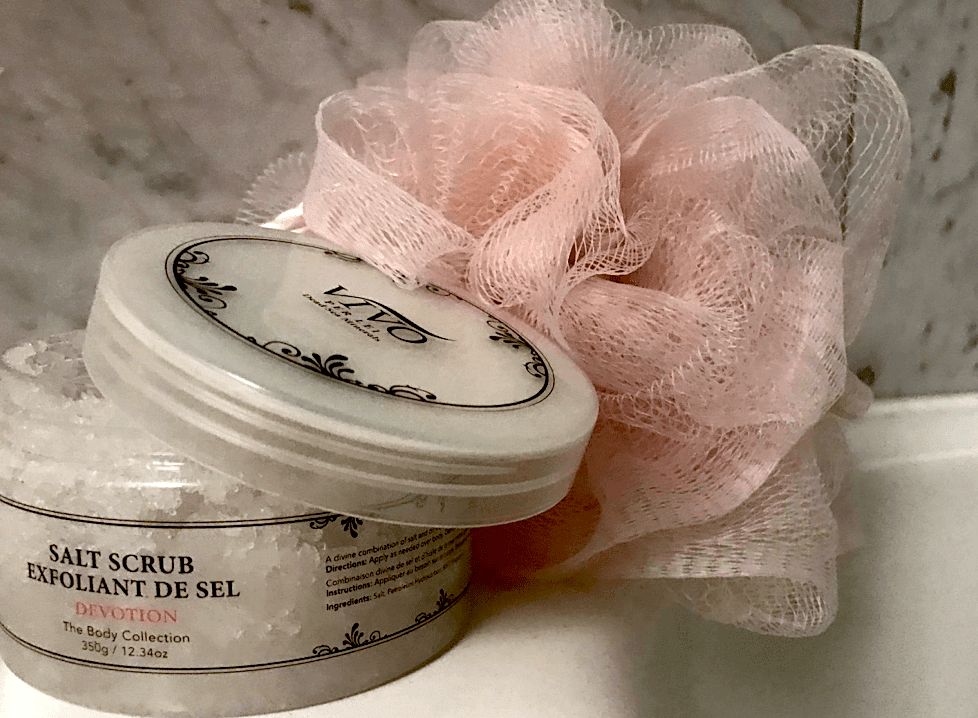 I personally do the same thing with my arms, starting at my hands and wrists and working my way up. Not only does this method make application a bit more seamless but it's also really great for blood flow. It's important to keep in mind that while you're massaging the scrub onto your skin you want to have some pressure, but not too much. The scrub is formulated to remove dead skin cells, toxins, dirt and oil on the surface of your skin so some pressure is needed to get all the "stuff" off loose from the surface of your skin. But if you're anything like me I sometimes catch myself applying too much pressure with exfoliating products because when I think of exfoliating I don't necessarily think of gentle, although it can and should be gentle! Just be aware of how much pressure you're applying and let the scrub do its job while you massage it. Last but certainly not least, I found applying a quality body balm or lotion to your skin right after rinsing the scrub off really locks in the moisture and adds even MORE softness to the skin. PS – don't be surprised if you notice the lotion absorbs into your skin quicker than normal after exfoliating. Since you're removing all of the toxins and dead skin cells your skin actually absorbs any products you apply after much more efficiently. 
After you've massaged the scrub to your entire body (skipping the face), rinse the scrub off with warm water. I made the mistake the first time using this product to rinse off with cold water (I wasn't paying attention to the setting on my shower) and it wasn't "bad" but my skin felt much softer and relaxed when I rinsed off with warmer water. I would suggest starting with a small amount of the salt scrub at first. The first time I used it I definitely used a lot more than I needed so start small and add more as needed while you're applying it to your body. 
The good news is this scrub is really easy to use, apply it like you would any body scrub (if you've used them before that is!). I found keeping the scrub in my shower at all times helps me to remember to apply it consistently – something I would definitely suggest to do if you have a hard time remembering to use products like a scrub on a regular basis. If I don't see it, I just don't use it! Since I've started using the salt scrub on a weekly basis I've noticed such a huge difference in my skin's overall texture and appearance. I live in a climate that tends to experience a lot of weather change (I'm talking about multiple seasons in one week!) my skin becomes quite dry with the constant fluctuations. In addition to dryness, I do tend to be prone to breakouts. Both are areas I've struggled with quite a bit for most of my adult life and I'm happy to report both struggles have significantly decreased since I've started using the scrub consistently. Overall I feel like my skin is more consistent, which is music to my ears. And as an added bonus since I've noticed my arms and legs have more of a natural glow to them because of the gentle exfoliating from the scrub – Jlo watch out!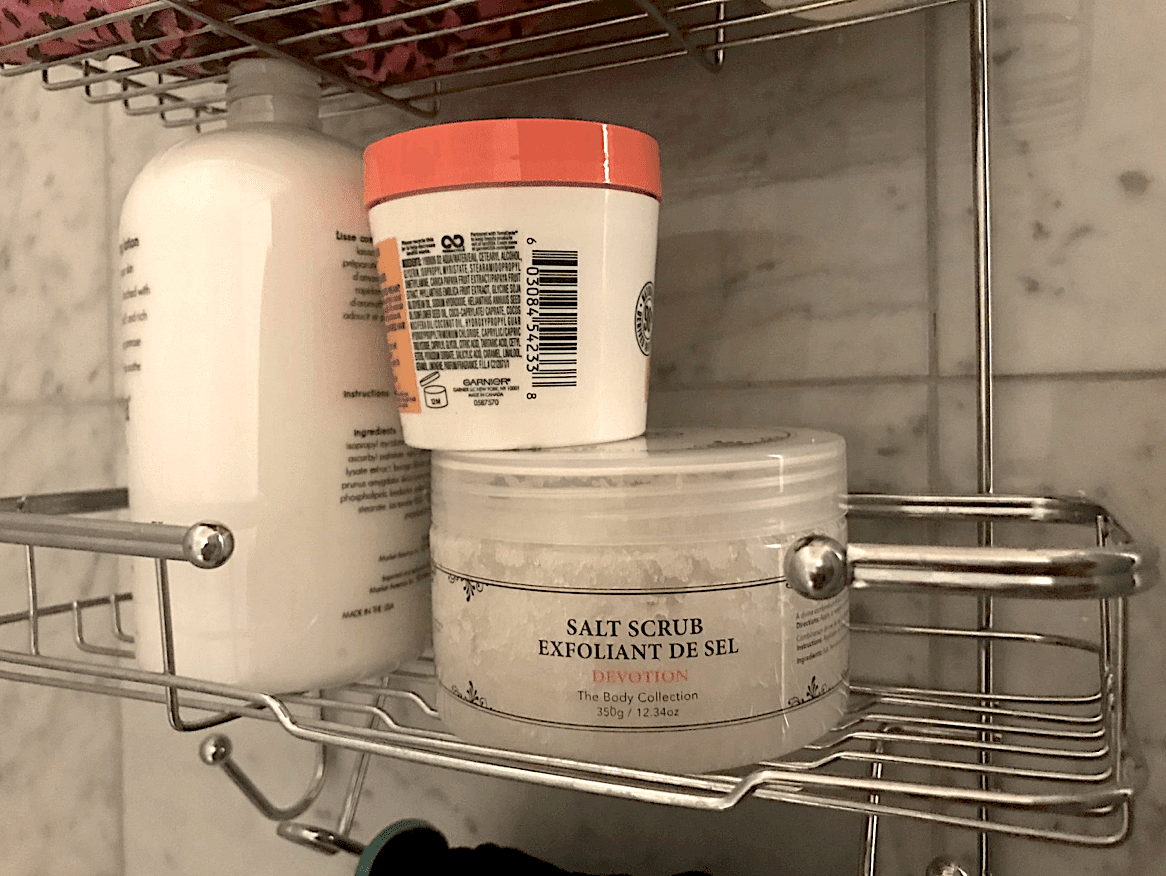 If you're hesitant about the oil used in the scrub, no need to worry. I don't know about you but I'm sometimes cautious when I hear about oils being used in skin care products, especially because I'm prone to breakouts fairly often. Some scrubs that use oil in the ingredients can leave your skin feeling a little greasy after application but this scrub doesn't FEEL oily when applied to the skin and definitely doesn't leave that feeling after you've rinsed it off. It's not a product that leaves you feeling like you have to take a whole other shower after using it, just the quick rinse. The oil, salt and other ingredients have been formulated to leave your skin effectively exfoliated which, in turn gives you incredibly soft skin.
Do you feel like your skin's texture isn't as soft as you would like? Are you trying to focus more on anti-aging care in your routine for your body? The salt scrub by Vivo per lei is a must try. For the record, I don't say this lightly! Exfoliating your skin is essential to healthy, youthful looking skin but you need something that's also going to be gentle on your skin. I can't deny the fact that this particular scrub checks off all the boxes I've been on the hunt for in a body scrub. I'm not exaggerating when I say my skin feels baby soft…seriously! I didn't think my skin could feel this soft again. Not that my skin was incredibly rough, but it's been a while since I've had that ultra-soft skin we all remember from our childhood.
It's safe to say the Vivo Per Lei Salt Scrub Devotion is not going to be leaving my shower anytime soon. I'm thinking of having a second container on hand so I don't have to worry about running out anytime soon. Yes, I'm that obsessed with this scrub! I've really fallen in love with the scrub and the way my skin has felt since using it. Even as a high quality skin care product, the scrub isn't a huge financial investment so you can still feel good about investing in some of your other favorite skin care products. 
Does it all sound too good to be true? Put simply, it's not. Try it out for yourself! Your skin will thank you and I have a feeling you will be thanking me when your skin feels so soft! After you give it a try, let me know what you think.