After testing the products in both the Cosmic Firming Collection and the Jade Spectra Collection, I found the Jade Spectra Night Capsules to be my absolute favorite product. This innovative and unique skincare took me completely by surprise upon initial use and then continued to wow me again and again each and every time I used it. The immediate effects of these capsules on my skin coupled with the experience of using the product have truly taken my breath away and changed my perspective on skincare products.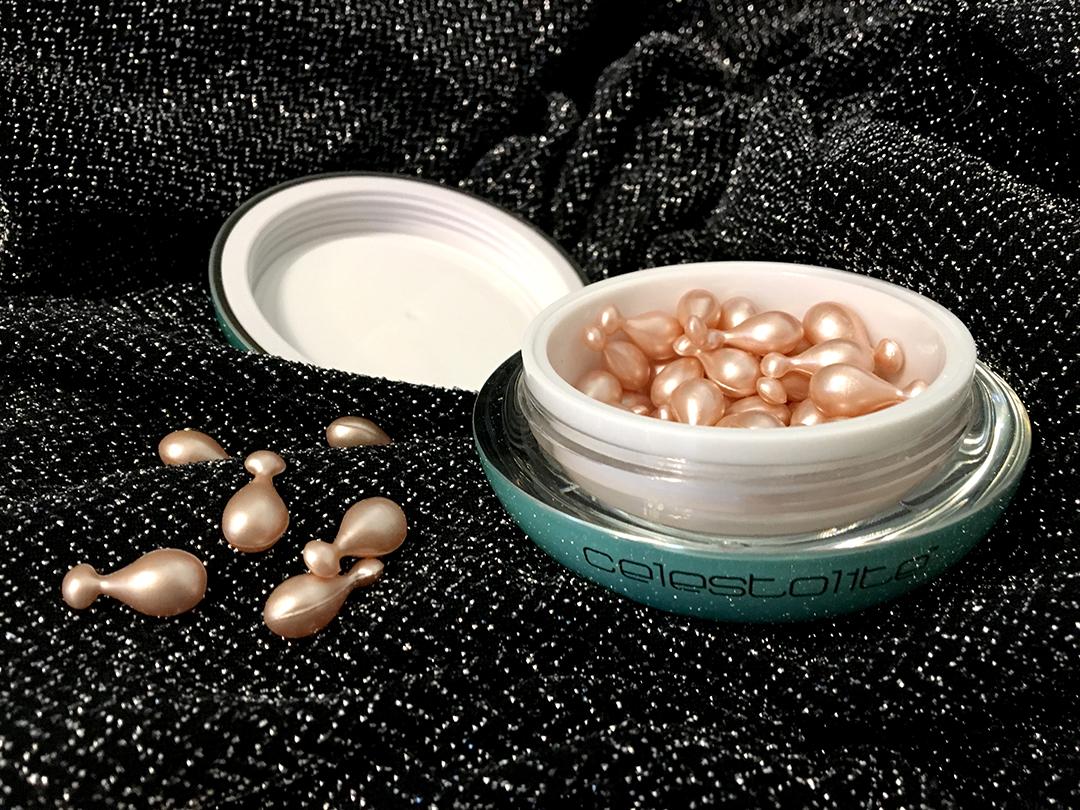 Upon first impression, I found this product to be absolutely gorgeous. The packaging screamed luxury and drew me immediately into the allure of the product, with a bright jade green container accented by white and silver. The capsules themselves were very surprising to me – I had expected a pill-like product, but found a shimmering golden oval-shaped capsule instead. The size is incredibly small, and made me very doubtful that it housed enough of the product to apply to the entirety of my face. Upon breaking open the capsule and squeezing out the product, I was amazed at the sheer amount that was contained within each. The product itself was a thick gel with a subtle golden shimmer to it. Upon applying it to my skin, I soon found that the capsule had more than enough of the product and a cooling effect accompanied by an elegant green tea aroma that was delicate but still discernable. After applying the product, I saw an immediate change in my skin. The redness all but disappeared, and my complexion looked absolutely radiant. I could still smell the green tea aroma, but it was very soothing and calming in nature and not the last bit overwhelming. My skin felt hydrated and smooth, but wasn't oily or greasy.
After using the product for some time, I have found that my skin has actually improved overnight. I used to wake up with puffy red skin in the mornings, especially under my eyes, but this effect has all but disappeared. All in all, this product has opened my eyes to new innovative skincare products and made me rethink my tried and true skincare routine. In all honesty, I will likely be using the Jade Spectra Night Capsules for many years to come!