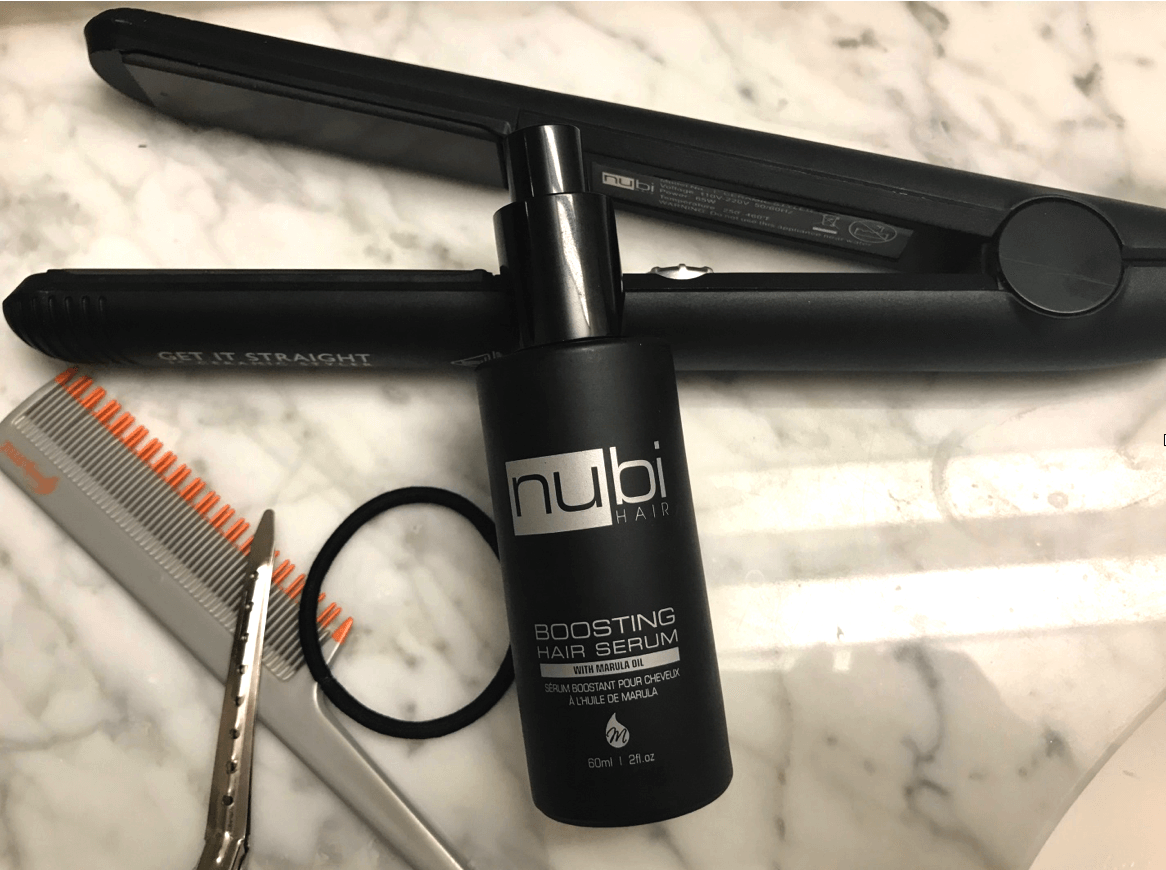 New season = new hair!? Well, yes! This time of year I tend to notice my hair needs a little extra boost, as it tends to be quite dry. Admittedly, I'm cautious about trying different hair care products but with my hair feeling extra dry I've needed to switch things up. Let me be honest with you, one of the reasons I'm generally fairly cautious about trying new hair care products (especially serums) is because I've always found my hair looks and feels really greasy. Who wants that?! I sure don't. 
My Styling History
I tend to style my hair with heat on a fairly regular basis, which doesn't exactly help the dryness. That being said, I've been on the hunt for a new hair serum to add to my routine. Naturally, I was excited to try the Nubi Boosting Hair Serum for a much-needed change. Since my hair has been so dry I was excited to see how this serum would help with the damage and frizz I've been experiencing. Even though I sometimes have hesitations about serums I was in desperate need of something to keep my long locks in check and was pleasantly surprised after using Nubi's serum. 
I'll admit that I tend to be a stickler for learning more about the benefits and ingredients prior to using any new products. So just like with any product I use, I did a little research on the serum before I started using it. The boosting hair serum is formulated with ingredients like marula oil, aloe vera extract and vitamin E. I was particularly excited about the marula oil because I've heard so many great things about this particular oil and how great it is for hair. It probably says it all in the name but the serum is specifically designed to give hair a boost (obvi, right?) to give you softer, shinier and more manageable hair. Additionally, the company shares the formula has been created to avoid that greasy residue we've all experienced a time or two previously. Between the marula oil and non-greasy formula I was SO ready to give this serum a try. 
Trying Out the Nubi Boosting Hair Serum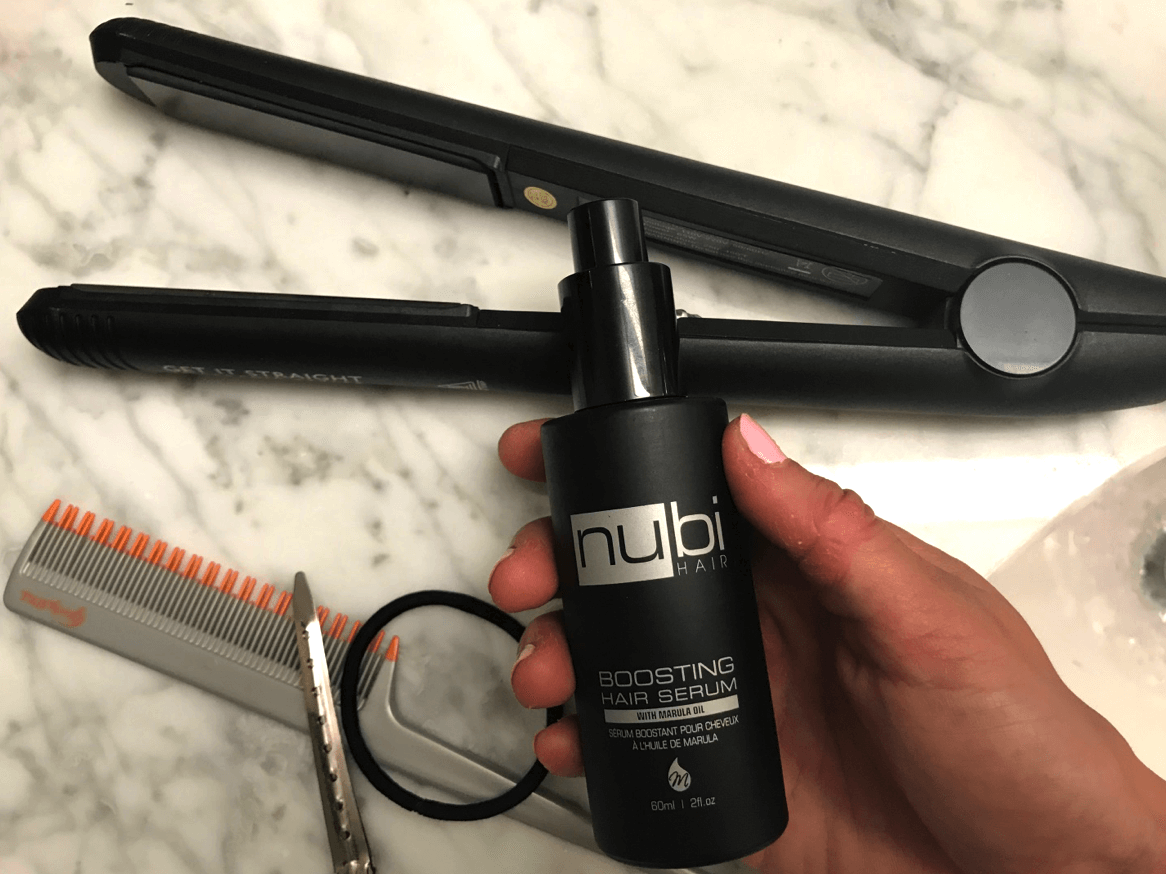 Seriously though, I'm officially hooked on this serum! Because I have long, very thick hair I typically need to use more product than the average person to see any sort of difference in my hair but that wasn't the case with the Nubi serum. Just to preface, my hair is mid-low back in length and I have to get my hair 'thinned' out when I get a cut because it's INSANELY thick. So discovering that I don't need to use more product than what's recommended was a huge shocker to me. Just two pumps of product massaged into my hair gave me a noticeable difference instantly.
Like I mentioned before, I've always struggled with serums giving me that greasy look and I think it's usually due to the fact that I have to apply a bit more product to my hair. Since I didn't have to apply a lot of product with Nubi's serum I'm thrilled to say there was absolutely NO greasy residue. If you've used serums in the past you know how big of a deal this is. After applying the serum to my hair it went from dry to incredibly soft and shiny, and like I said this is something I've really struggled with in recent months. Ever since I've started using this serum so many people have asked me what I'm doing differently with my hair because it's been so shiny and looked SO healthy. I don't know about you, but I'd call that a win. 
The directions state that you're able to apply the product to wet or dry hair so I tried it both ways. Personally, I like applying the product to dry hair because I find it's easier for me to manage how much product I'm applying and where the product is getting distributed while massaging the product into my hair. But that's just me! I would suggest trying both ways to find the method that's best for you and your hair. The 'how to use' directions are definitely spot on with this product, which isn't something that's always the case from my experience. 
Pro Tip
I would really suggest that you focus on massaging the product into your hair. Since very little product is needed you may feel like you need to add more but resist the urge and just massage all of your hair with the product you've applied to your palms. Seriously though, you don't need a lot of product, 1-2 pumps is all you need to get the benefits from it. I think because the ingredients used in the product are high quality and more concentrated than you may find with others, it leads to not needing to use as much to achieve the results. The great news is that because you don't need to use a lot of product the bottle should last you for a while. Not to mention, using a small amount of product means your hair won't feel heavy after application. If you've ever used a serum before you know exactly what I'm talking about here – no one wants to feel like their hair is weighed down from products. 
If you've been struggling with dry or damaged hair and prefer ingredients that are truly high quality I would definitely suggest giving this serum a try, I think you will be as pleasantly surprised as I was! As much as we all love using heated hair styling tools to achieve different hair styles, we all need to keep our hair well protected from said heat. If you tend to use a lot of heat when styling your hair, this serum is a must. 
Styling It Up the Nubi 'Get It Straight' Ceramic Styler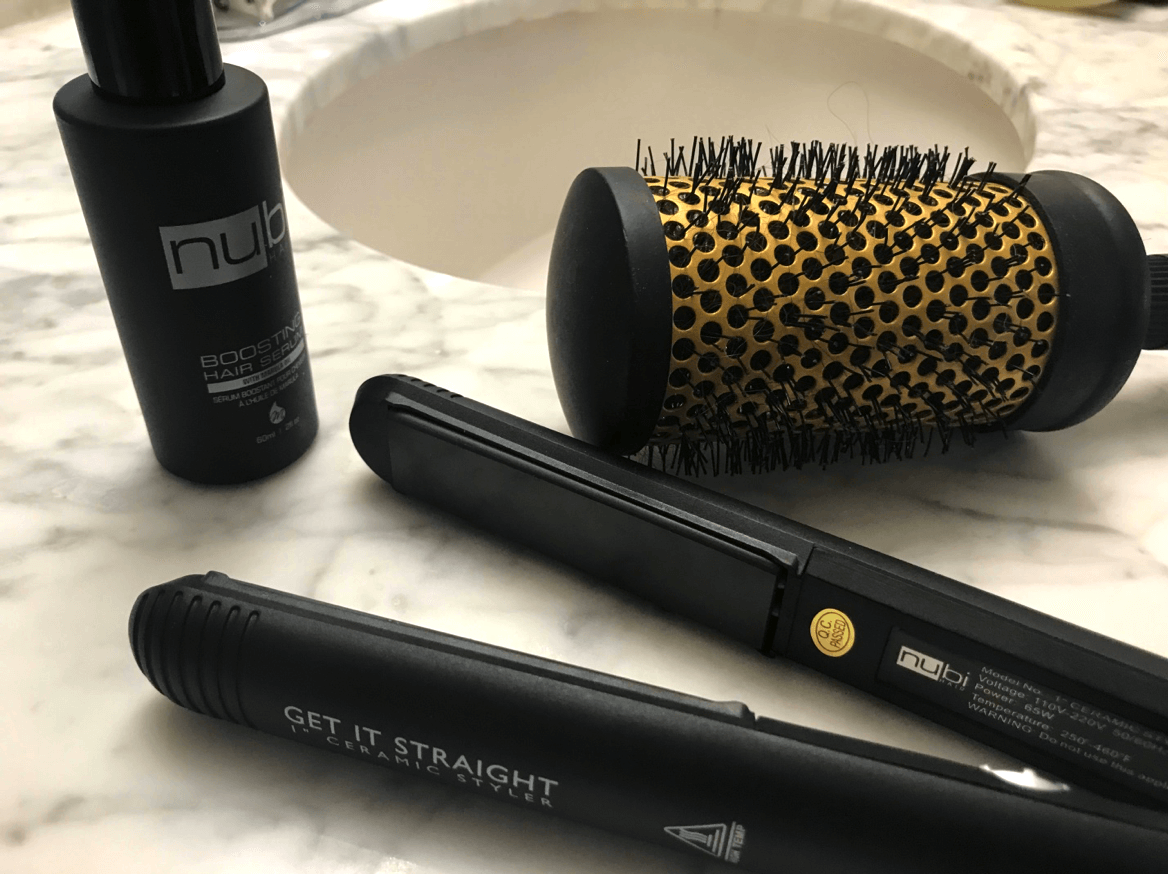 While I was giving the boosting hair serum a try, I also had a chance to try the Nubi 'Get It Straight' hair straightener. Let me just say…I've used quite a few different hair straighteners over the years (really though…a LOT). To be honest though even though I have experimented with straighteners I've never really found one I fell in love with, so I wasn't exactly sure what to expect from this styler but in an effort to give my hair a boost (pun intended) I figured I would give it a go. 
For starters, the Get It Straight tool is 1" in width. Because I do have a LOT of hair I was curious to see how a smaller straightener would work for me. At first glance I was excited to see this tool has an adjustable temperature setting, so you can adjust to fit your needs and hair type. Much like with the serum, I did a little background check on the technology behind the straightener to figure out what makes it different. Now I will admit I'm no technology guru but Nubi's website boasted the fact that this particular straightener uses infrared head AND negative ion technology which is meant to be much gentler on hair. Because of the technology used in this tool one of the biggest benefits it's meant to provide is to avoid frizz and damage on the hair. 
Results
Benefits sound great, right? I thought so too, but it was time to put it to the true test to see if the benefits were factual. I'm not saying I think the worst but we've all tried so many hair styling products it's easy to be cautiously optimistic. After using the straightener a few times I'll admit I'm sold! My biggest concern was the size of the straightener with the amount of hair I have…I was wondering if it would take me twice the amount of time to get my hair styled. But, because of the adjustable heat setting (that's TRULY adjustable) it didn't take me any longer to straighten my hair. In fact I think it took me less time. I don't know about you but time is a big thing for me when styling my hair. Meaning the faster I'm able to get my hair styled the better. I'm sure all women are with me on this. 
Not only did the straightener save me some time, but I definitely noticed that my hair was smoother than it typically is when I use this type of styling tool. It wasn't just because of the Nubi boosting hair serum either. I tested the straightener with and without the Nubi serum and found that my hair looked much smoother and felt a lot softer than it does with the other straighteners I have and used. 
The first few times I used the styling tool I just used it to style my hair straight, since I loved the results so much I decided to try my hand at using the straightener to add curls/waves to my hair. More often than not I wear my hair in loose waves but I don't always love how 'done' curling irons make my hair so skinny straighteners tend to work better. However, the issue I've always had with using straighteners to add waves to my hair is they're a much more difficult to maneuver than a traditional curling iron because they don't rotate so easily. BUT the added bonus to the Nubi straightener is the swivel cord. The cord rotates so it acts more like a curling iron than straightener in that way – no more getting caught in the cord. Needless to say this straightener checked another box off my list when it was easy to use to add waves to my hair. 
I'm all about versatility with hair styling tools, if I can minimize the number of tools I have on my vanity when getting ready I'm a happy camper. That being said, I'm pretty confident in saying that this straightener is going to officially be replacing my straighteners (yes, I've had multiple up to this point) and the curling iron I've been using to add waves to my hair. I definitely didn't think I would be getting better hair AND saving space. But even if you don't necessarily want to get rid of other styling tools you have in your collection, I would suggest this straightener to anyone who wants to genuinely keep their hair healthy while using heat. I've used styling tools of all different price points and quality level. To be completely honest with you I wasn't always sure if there was a real difference but after using this straightener I DEFINITELY noticed a difference in the technology compared to others. 
After A Few Weeks
After using this straightener for a few weeks now, my #1 tip to achieving the best results is to find the best temperature setting for your hair type and the style you want to achieve. I love the ability to adjust the temperature setting but it takes a little experimenting on the user's end to figure out what you need. Obviously, you want the heat but you also don't want it too hot. I would suggest starting on a lower setting and working your way up from there as needed. Ease into adjusting the temperature hotter. Even though the technology is advanced with this straightener it is still heat so you want to be cautious – don't jump right into the hottest setting until you've used it at a lower temperature first.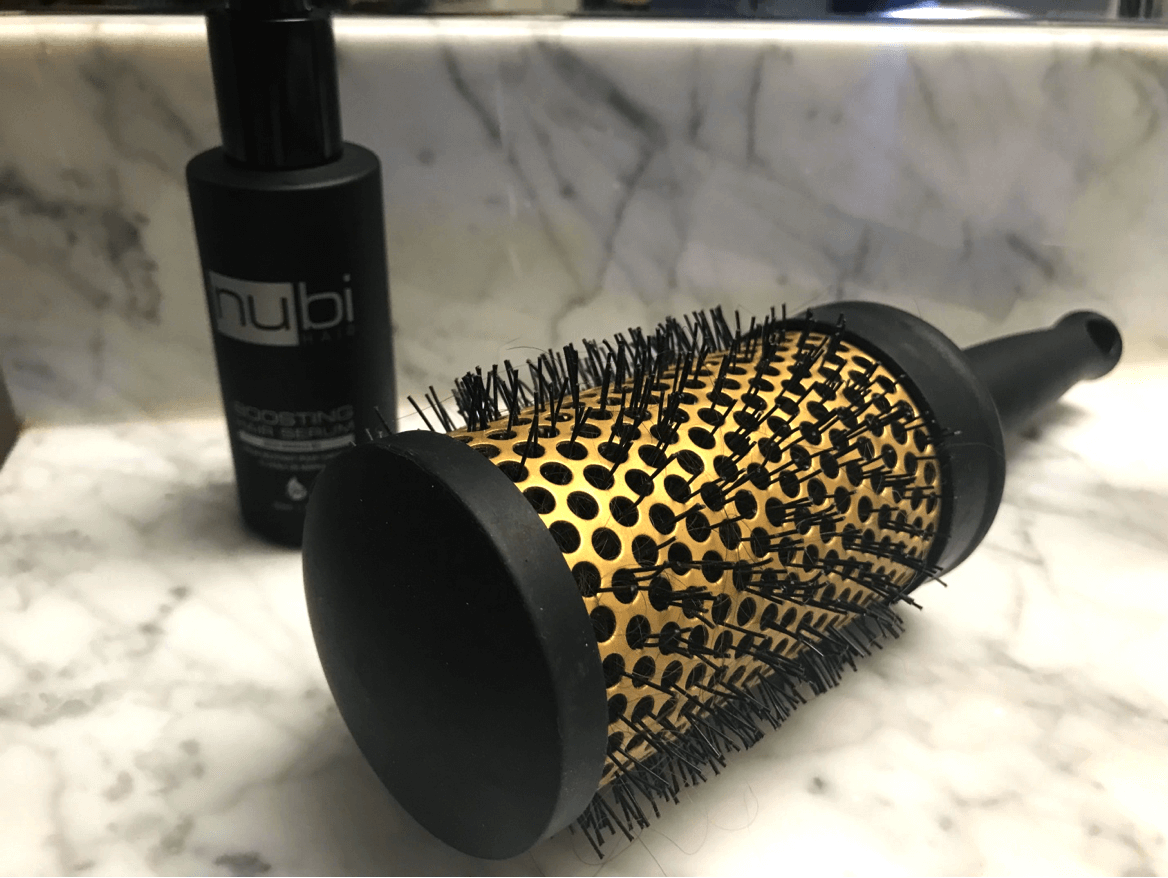 While I tend to hesitate when trying new products on my hair, I can't deny the results from the Nubi hair serum and hair straightener are mighty impressive. Prior to using both products I was feeling like my hair was as good as it was going to get in terms of being shiny and smooth but I was pleasantly surprised. I have to say I think my long locks are just as happy as I am. Also, it goes to show investing in quality products is definitely worth it to achieve real results and keep your hair healthy. Needless to say… I'm officially sold and will be keeping both of these in my routine moving forward.