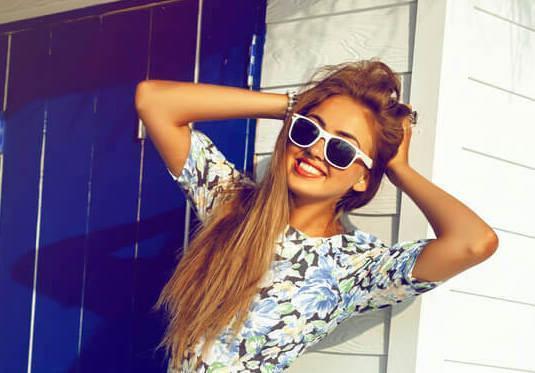 Everyone knows that fall is a great season for fashion. 
You've finally gotten past three months of wearing nothing that was any larger than the a bandanna, and are about to spend the next three months in nothing more revealing than a quilted muffler.
Now it's autumn and you know what that means; you've got a ninety-day window to show off some of the hottest looks on the runways. 
So, carpe diem! What are you waiting for?
You've got to start getting that wardrobe together before your pumpkin turns into a yule log. If you're wondering what you should be looking for to bring the style before the Thanksgiving turkey has been carved, here are some pieces you need to be gathering up for the fall.
The Denim Onesie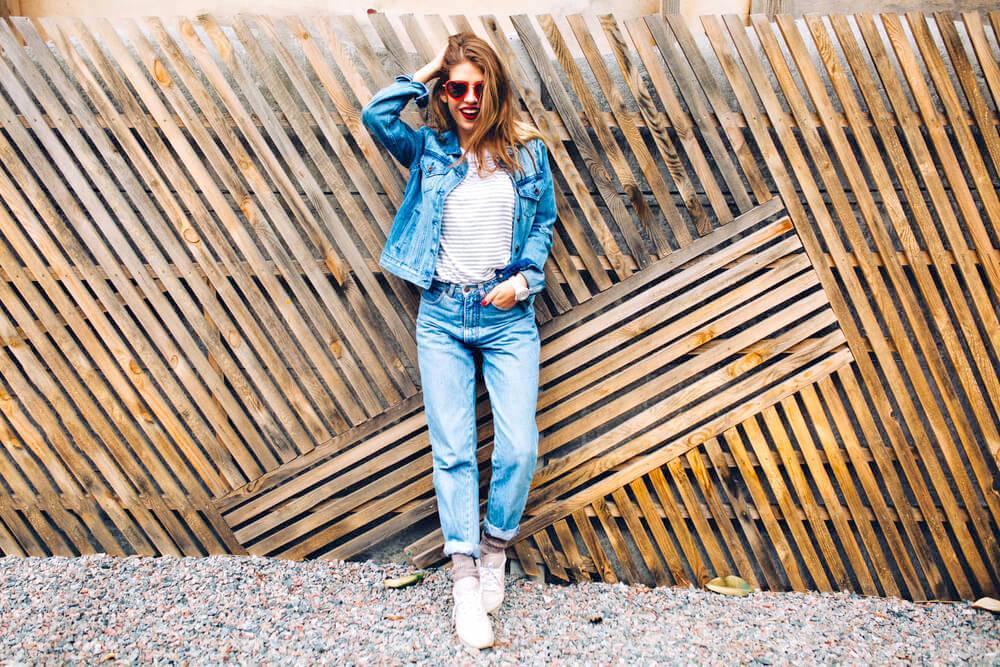 Here's one fashion 'don't' that seems to be coming back as a fashion 'do.' 
Ever since Jay Leno was deemed the 'fashion don't' poster boy for his all denim outfit faux pas, the idea of head to toe denim has seemed almost audacious. Yet, this year, it's making its return.
Dior, Calvin Klein, and Stella McCartney are just a few of the designer putting mono fabric denim back on the runways this year with jacket and jeans sets in high waist, cropped jacket, and dark and light wash variation.
Someone call up Brooke Shields and ask her if she still has her Calvins.
Padded Jackets 
Looks like the puffy coat has received the fashion world's stamp of approval and are good to go for another year, albeit with a few updates.
Versace brings the puffa to a futuristic level with a sharp, angular, pointed collar and Vetements neon blue puffy bomber takes the jacket to new proportions, with superinflated padding. Tod's went for a color block look in black, white, and brown with a high collar.
Multicolored Fur
There's always a place for color in the world of fashion, and there's always a place for fur in a woman's wardrobe. When it comes to mixing the two, there is no holding back this year. 
Fendi's belted blue fur sprouts a light brown collar accented by pink vinyl boots, while Prada chose orange for its statement fur, with structured dark brown collar paired, but Prada was perhaps the most adventurous of the three.
The Prada red leather-trimmed fur incorporated a bit of everything in a feast for the eyes with a blue and black hoop ostrich feather hemline suspended from a patchwork of red and brown fur complemented by multicolored snow boots.
Office Wear
Who's the boss this year? Apparently, whoever has the best office wear.
Stella McCartney's tailored grey mini and double-breasted blazer suit is certainly anything but conservative while Balenciaga took business to a whole new level with a cape like, full length, grey-checked jacket with asymmetrical styling paired with mint green pumps worn over opaque stockings.
Calvin Klein kept it a bit more traditional with a slim-cut tailored two-piece blazer and pants set with red and grey dress shoes adding a burst of color.
Blankets
Have you ever sat on the couch covered by a blanket and wanted to take it with you when you got up?
Perhaps you were more fashion forward than you thought.
The 'blanket' is the latest way of incorporating fashion and comfort and comes in a variety of shapes and sizes. Most dramatic may be the Sonia Royal interpretation.
The quilted black pile is sewn into a vampire-esque full-length cape like shape with asymmetrical hems and sharp collar, while the Junya Wantanbe blanket gives a much more punk effect.
The waist-length blue and purple quilted plaid is a bit more poncho-meets-flannel, paired with combat boots, and ripped fishnet stockings. Mulberry's take introduced a blanket-meets-evening wear concept with figure hugging stitching to define the shape of the body in a black quilted design.
Sportswear
As the world falls more and more in love with athleisure, it seems the fashion world is warming to the concept.
This year, sports meets the runway with Miu Miu showing off a athletic-striped ski jacket ,spiced up with an elegant fur collar, and improbably paired with strappy rhinestone sandals.
Chloe shows a rainbow tracksuit topped with an oversized red fleece. Sacai went for a more out-of- the -box take with a furry collar and sleeves stitched on to a classic ski jacket design, matched with a denim and lace skirt and no nonsense black ankle boots.
Cozy Knits
You may be noticing a comfort meets fashion trend on the runway this year, but don't think of getting too comfortable with the edgy knits the designers are putting out this year.
The cream knit turtleneck pullover on the Sonia Rykiel runway is reinterpreted with asymmetrical hems for added flow and grace. Loewe's textured white sweater is big on the fringes, while Joseph's sweater is overall big.
The white sweater pullover features sleeves that hang well below the hands, and it's not just for growing room. When it comes to knits this year, oversize is the new standard.
Western-Inspired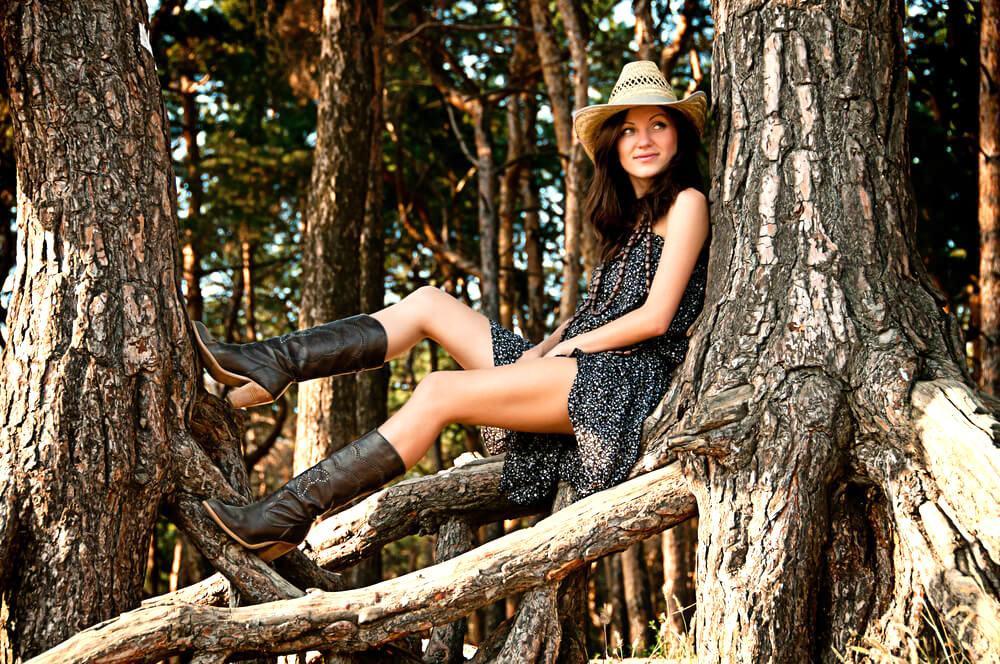 Western-inspired themes are big this year, but not the kind that Laura Ingalls Wilder would be caught dead in. 
This season's recall of the wild west is definitely not of the "Little House on the Prairie" variety. It's highly unlikely that Stella McCartney's steel toe-booted clogs would fit well into any stirrups, and the House of Holland red, white, and blue western mini with fishnets and cowboy boots would probably get Laura thrown out of church.
Also, big this year, furry animal-printed caveman-like materials. Balmain's cow print two-piece Matrix meets Wilma Flintstone mini skirt and top is all about future meets past, as is the Ashley Williams bold pony print crop top, offset by earrings worthy of a true rhinestone cowgirl.
Mid-length Skirts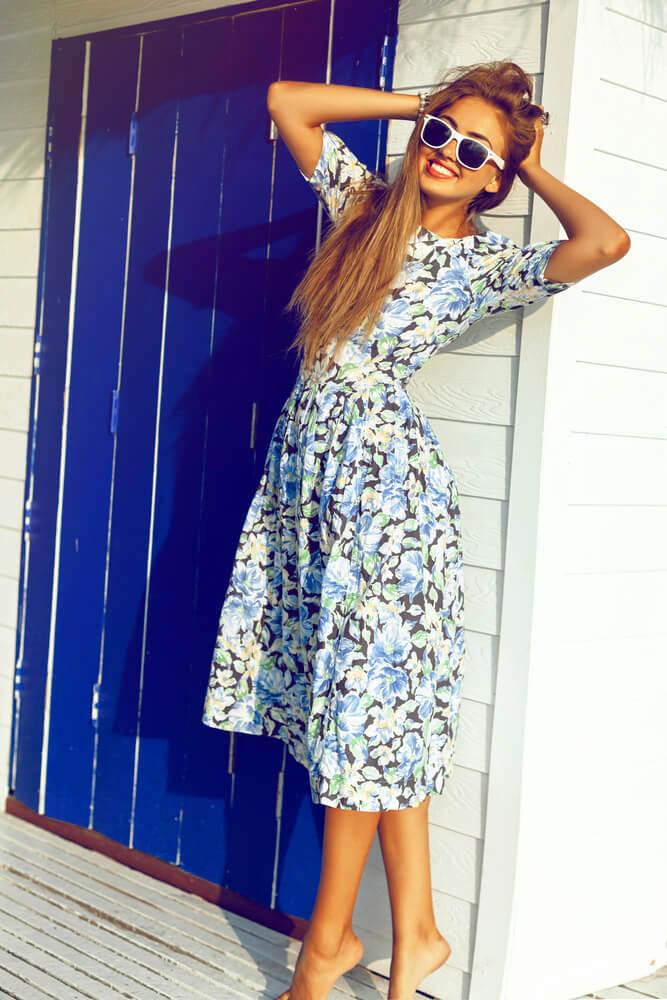 Move over, maxi and mini; this fall, it's all about demure femininity. The skirts this year are flowing, flattering, and ankle-gracing in length. 
Christian Dior's mixes seasons with an ethereal, gauzy, blue skirt topped with a cozy knit sweater, while Victoria Beckham goes two-tone with her half peach, half burgundy mid-length.
Taking it a step further, is No. 2, with a white mid-length dress, worn jumper style over a grey sweatshirt, and Valentino keeps the edge in with sharp lines and contrasts in a black and white mid-length dress.
Nylon Jackets
While the nylon jacket is often played in movies as the quintessential wardrobe piece for seduction, it can also make a very practical and fashionable addition to your fall collection.
Nylon jackets are quite durable, good for changeable weather, and not prone to wrinkles. Christian Dior's fitted black nylon belted jacket with black beret is all mystery and intrigue, while Michael Kors pushes up the sleeves on a khaki nylon jacket to reveal skin tight full length gloves.
Topshop is showing a lot of leg with a gold button up nylon over a barely there mini, and Celine plays it far safer, layering a khaki nylon over a long blazer and tailored pants.
Plaid
There is always a place for plaid in the fashion world, whether it be on Dorothy Gayle from Kansas, or Kurt Cobain from Nirvana (RIP to both).
This year, plaid is all about seventies retro and punk. The Bottega wool-belted button up jacket makes a cozy fashion statement in a psychedelic yellow, brown, and peach plaid and Jenny Packham's plaid Cinderella ballroom gown manages to balance edgy and elegant.
Tome goes for more of a punk effect, pairing tailored, plaid, yellow pants with a black vinyl top, and Chloe's short plaid jacket channels Ali Macgraw in "Love Story."
Broad Shoulders
If you've been ripping the shoulder pads out of your 80's clothes, make sure you don't throw them out.
Broad shoulders are making a comeback in a whole new way this year, especially in the blazer department. 
Alexander Wang's oversize plaid blazer, suitable for business and pleasure, is well padded in the shoulder area, as is the Marques Almeida two- tone black and white tuxedo jacket with oversized sleeves worn with edgy gold boots, and not much else.
Saint Laurent went futuristic with an all black patent Matrix-y leather jacket, and Jacquemus' structured pants suit takes shoulder pads to a new level with a cinched waisted jacket and geometric angles.
Florals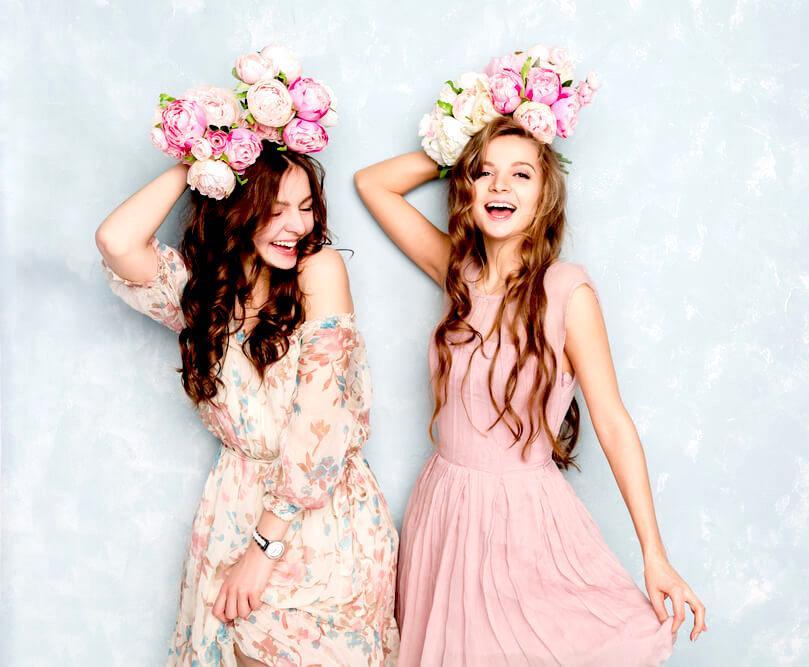 In the fashion world, every season is a season for flowers, and autumn is no exception.
Vivienne Westwood did a mixed print take on florals with a cold-shoulder, long-sleeved kimono dress/shirt worn over silk pajama pants.
Mulberry also experimented with combining floral patterns and interesting shapes with a long flowing mint flower print green shirt draped over a similarly floral themed mid- length skirt.
Coach made no bones about what season it was, by patterning their ski parka and matching pencil skirt in rich florals, and Balanciaga kept it light with a with a cream baby doll with pink flowers worn over black opaque tights.
Velvet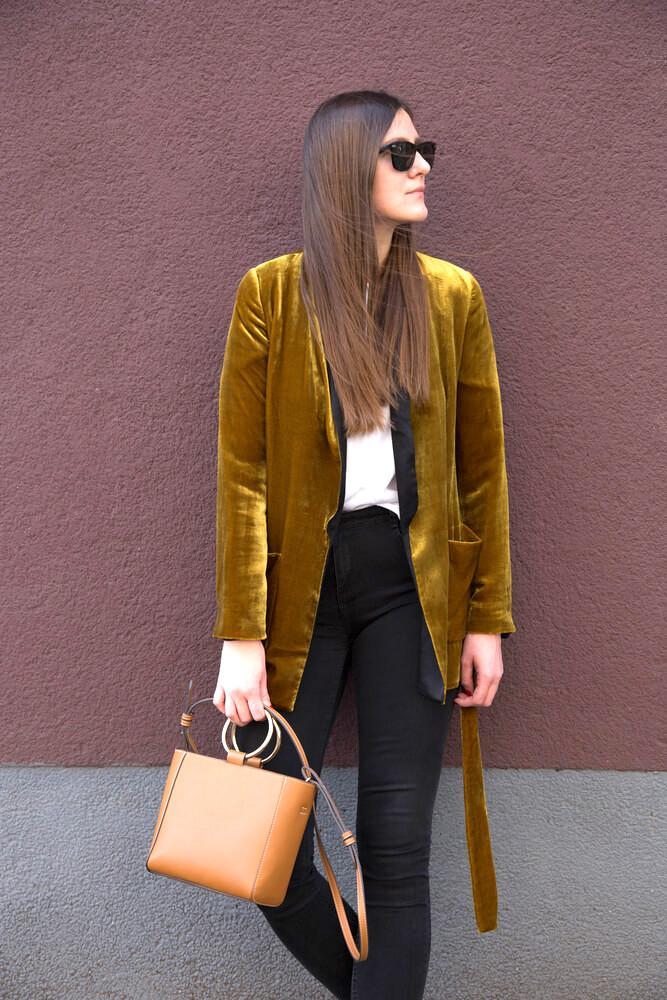 If you're planning your holiday or winter wedding outfit, keep velvet in mind. This season, designers are wrapping their models in jewel-toned velvets for some poetic justice in fashion. 
Skintight full length velvet gowns are making a big splash on the runways. Alberta Ferretti's figure- hugging, ankle- length, long- sleeved yellow velvet gown lent proof to the theory that full coverage can be sexier than baring it all, while Jason Wu's shiny gold velvet artfully wraps itself around the body in the form of a gown.
Altuzarra showed a somewhat looser, low-cut, purple velvet, gown with stunning floral print, and Erdem also went for the gold in a tight-fitting, textured, ankle-length dress.
Buttons 
Be sure to keep your needle and thread on hand this season. Buttons are back in a big way. Buttoned up or buttoned down, it looks like a lot of designers are pressing all the right buttons this year. 
Christopher Kane's black-trimmed pink trench is artfully constructed to button all the way up with a cutout neckline, while Adeam's deconstructed black two piece shirt and top is dependent on buttons to keep it closed or open, depending on how brave you're feeling.
Jonathan Simkhai's black silk dress pants are studded with rows of buttons down the front of the legs, undone at the hem for some elegant calf exposure, and Rosie Assouline's dreamy green caped high necked silk gown uses tiny buttons to give the bodice its elegant structure.
Chocolate Brown
Looks like brown is the new, new black this year. 
Max Mara adorned his model in a brown fur, full-length jacket over a one piece jumpsuit for a monochromatic, brown look, and Emilio Pucci used shiny, chocolate brown fabric for a night club appropriate shirt with diaphanous sleeves gracing the floor.
Moschino went retro in a brown leather skin -tight dress suit and John Galliano showed off an oversize chocolate brown, nylon trench with equally roomy pants to match, while Acne Studios showed a body wrapping figure hugging wool dress in all brown for a mixture of business and pleasure.