Truffoire White Truffle Eye Collection Review
|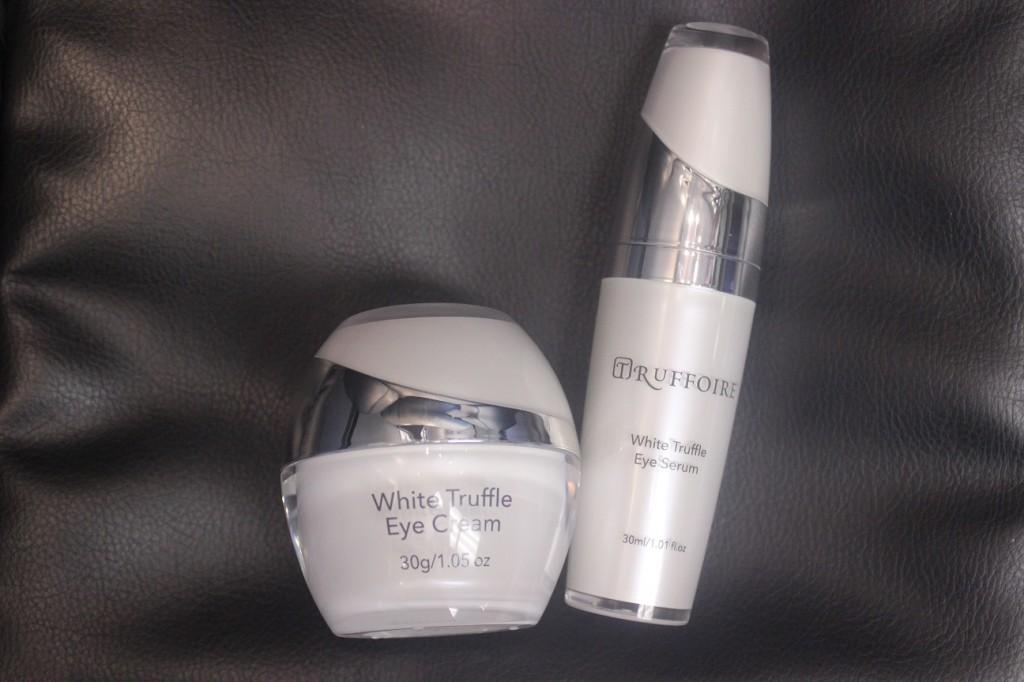 I really love all things to do with beauty and I certainly love reviewing beauty products and cosmetics from all over the world. Reviewing the latest shade of mascara or offering in-depth how-tos always brings about a sense of joy, but one thing that beats them all is reviewing skin care products. As a beauty expert, I have always believed that skin care comes before everything else. Makeup is a great way to highlight your main features, but your skin is ultimately responsible for your look. Take care of your skin and it shall always take care of your appearance.
Something that I realized over the years is that serums without eye creams and eye creams without serums simply aren't as effective. You need to use both to get the look you've always dreamed about, paying more attention to that serum. Serums are highly concentrated solutions which are full of active ingredients that work miracles on your skin. This is why they always bring about faster results.
When Truffoire sent me their White Truffle Eye Cream and White Truffle Eye Serum for review, I instantly knew that it just had to become a part of my daily skin care regimen. At least until I get a chance to review it properly! The first thing that you need to know about this brand is that it uses truffles in its formulation – yes those delicious culinary wonders you long to see in parties and get-togethers. I was really surprised to see truffles being used as skin care ingredients, but turns out that they offer excellent antioxidant properties.
Anyway, I put both products in my skin care regimen for several weeks and am now ready with my review of the Truffoire White Truffle Eye Collection. I hope you find this review to be useful.
Application. I recommend following the instructions mentioned on the product box to the T. These guys really know what they're talking about, and the how-to instructions that they offer are really the best possible ways of applying these products. I use a little bit of both products and applied them on my under-eye area, smoothing it with my fingers. I think this has really helped me in diminishing the puffiness, but more on that later.
Feeling. The products are fast absorbing, which means that there is no greasy residue, whether you use the Eye Cream or the Eye Serum. If you feel that it isn't getting absorbed into your skin, you've used too much product. Reduce the dosage and it should be fine. I like the smell as well. It's not too strong like some of the other ones that I have come across. I prefer not to smell like the product, and I like brands that allow me to do that.
Packaging. Both products come in fancy packaging. The dispenser system ensures that you can control the amount of product you wish to take out, thereby preventing any spillage or wastage. The beautiful look offered to these products also ensure that they look pretty just sitting on your vanity. I am sure that it is bound to leave all your girlfriends feeling jealous.
Results. After using both products for a week, (serum in the morning and cream at night), I started seeing some phenomenal results around my eye area. There was a huge brightening effect and my eyes began to feel younger. Happy with the results, I used the product for a few more weeks. Now, after 3 weeks of product use, I am elated with what I see every day. I don't know if I have told this to you before, but I always suffered from dark circles and puffiness around the eye area. In the past few weeks, I have noticed that both issues have tremendously diminished, leaving the skin around my eyes feeling softer, youthful and firmer.
Bottom Line. Will I go for a refill when I run out of the product? My wallet would like me to say no, but both products have been amazing for my particular concerns. I usually discourage shelling out huge sums of money for cosmetics, but when it comes to skin care, I feel it is ok to spend big bucks on a product that really works for you.