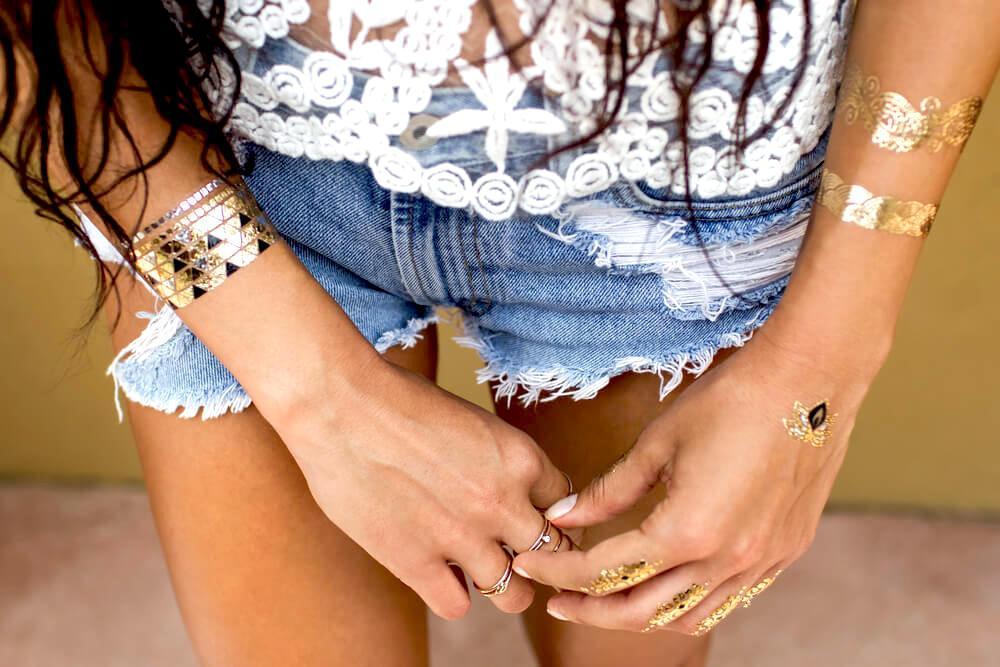 Flash tattoos started off as a fun fad a couple of years ago, and no one expected them to last very long. However, these tattoos are rapidly growing in popularity, with adults all over the world choosing to accessorize with them. 
What Are Flash Tattoos?
Flash tattoos will likely remind you of those temporary sticker tattoos that you used to love wearing when you were a child. 
However, unlike those child-like designs, the flash tattoos of today are intricate and elaborate, adding a whole new dimension to a person's look. Many of the designs have been inspired by jewelry, which is why these tattoos have become such a popular accessory. 
Flash tattoos come in so many different shapes, sizes and colors, making it easy to find designs that perfectly reflect your personality. 
An Alternative to Jewelry
One of the reasons why flash tattoos have become so popular is because they can be worn as an alternative to jewelry. 
This is especially the case with metallic designs, which can be worn as rings, bracelets, anklets or anything else. 
In fact, many would say that flash tattoos are more versatile than jewelry, as you can literally place them anywhere on your body. 
Need some placement inspiration? 
Here are some popular areas in which to apply your flash tattoo: 
The back of the neck – this can easily be hidden with your hair, or shown off by tying your hair back
The inner wrist – this is one of the most painful areas to get a permanent tattoo, making a flash tattoo a pain-free alternative

 

The thigh – this will definitely make a statement, especially during the summer months

 

The shoulder – this area is quite versatile when it comes to the types of tattoos that look good here

 

The collarbone – ideal for those who want their flash tattoos to mimic jewelry

 

The face – this will give you a trendy street style look
Don't forget…
Flash tattoos are temporary, so feel free to experiment with their placement. If you don't like where you end up placing your tattoo, they are easy enough to remove in no time at all. This will be explained in more detail further down. 
Using Flash Tattoos Over Permanent Tattoos
Already have a permanent tattoo?
This doesn't mean that flash tattoos aren't for you…
The two can actually work so well together, especially when it comes to the metallic flash tattoos.
How? 
Well, those of you who have enquired about getting a permanent metallic tattoo will likely already know that there is a lack of metallic tattoo inks out there. The reason for this is down to the toxicity level of heavy metals. Plus, with the skin not being a reflective surface, the effect that metallic inks would have would be quite different to what you would probably be expecting. 
This is where flash tattoos come in…
These can be applied over the top of a permanent tattoo, to give your permanent tattoo a whole new dimension. Even if you don't want to go for metallics, opting for contrasting or complementary colors to your permanent tattoo can really transform its look. 
Using Flash Tattoos As Home Decor
Flash tattoos can be placed on more than just the skin…
One way in which people have been using them is around their home, integrating these tattoos in with their décor. 
What type of items would you place them on? 
Give some of the following a try: 
Mirrors

 

Vases

 

Laptops
Balloons

 

Windows

 
You can mix and match different tattoos around your home, pairing particular ones together to create one-of-a-kind results. 
Personalizing Flash Tattoos
While the actual designs that flash tattoos come in cannot be changed, there are still ways in which you can personalize a flash tattoo…
Some companies offer this option on their website, allowing customers to semi-customize their tattoos.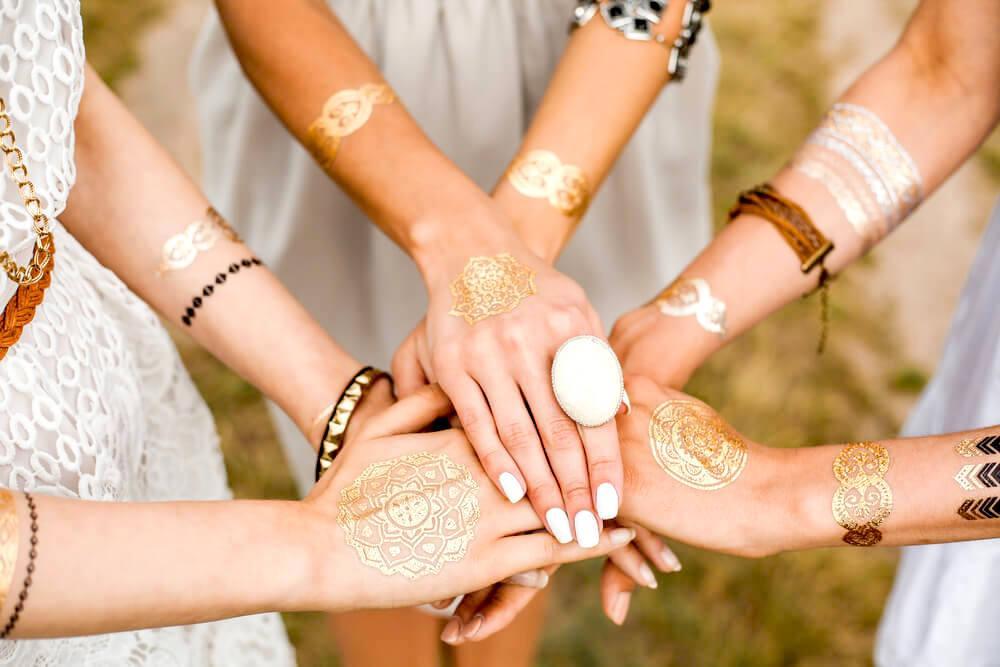 How?
Well, many tattoos come with text, and this is something that you can have full control over. Whether you want the tattoo to be a strong statement word or a thought-provoking question, this is completely up to you. 
Color choices can also be adjusted with customized flash tattoos, giving you the option of picking your favorite colors. 
Celebrity Flash Tattoos
One sign that really points to the rising popularity of flash tattoos is the fact that celebrities are now launching their own versions. 
Beyonce is one of these celebs, and she teamed up with Flash Tats to create a collection of metallic flash tattoos. There are 57 designs in the collection, ranging from song lyrics, words and phrases to whimsical images.
Rihanna is another celebrity who has launched her own line of flash tattoos. 
The star teamed up with Jacquie Aiche, a well-known jewelry designer, to help create the collection. 
Just like Beyonce's collection, Rihanna's is full of personality and really makes a statement. The collection is inspired by Rihanna's own personal style, featuring everything from chains to name plates, and are available in both black and gold. There are seven pieces in the collection, and they are all extremely wearable.
Using Flash Tattoos to Test Out a Permanent Tattoo Idea
Getting a permanent tattoo is a big step. After all, this is a piece of art that will remain on your skin for the rest of your life. 
While you may try hard to imagine what your future permanent tattoo will look like on your body, a flash tattoo gives you the opportunity to physically visualize this. 
Even if you cannot find the same design that you were hoping for with your permanent tattoo, simply having a similar design on your chosen body part can really give you a feel for what your permanent tattoo will be like. 
How to Apply A Flash Tattoo
Flash tattoos are so easy to apply. 
The very first step is cutting your tattoo out. There are usually several designs placed on one sheet, so you need to pick the one you want to use and then cut around the shape with a pair of scissors. While it is important to stay as close to the tattoo as possible when cutting, you do not need to be too exact here. 
If you have bought a pre-cut flash tattoo, then cutting it out is a step that you can skip. 
Once your tattoo has been cut out, you will need to peel off the foil that lies over it to protect it. Be careful not to touch the actual tattoo too much with your fingers. 
Next, it is time to place the tattoo on your skin…
Your skin needs to be clean and dry, and should not be oily. 
Why? 
Because this will prevent the tattoo from properly adhering to your skin. If you are noticing quite a bit of excess oil on your skin, use some blotting papers to absorb this before applying your tattoo. 
Your tattoo will need to be placed face down onto your skin, after which you will need to wet it with water. 
The quickest and easiest way to do this is with a wet sponge, using this to gently pat on the tattoo. 
How long should you do this for? 
Until the tattoo is fully wet, which usually takes about half a minute. 
Then, peel off the white paper behind the tattoo. 
Hopefully, if you have followed all of the steps correctly, the paper will peel smoothly off, leaving the tattoo on your skin. 
It takes about ten minutes for the tattoo to dry, so make sure that you don't touch it in this time. Try not to stretch your skin either, as this can cause wrinkles in the tattoo.
Using Flash Tattoos On Your Hair
This may surprise some of you, but flash tattoos actually work extremely well when worn on the hair. In fact, Kylie Jenner was one of the first people to kick start this trend after wearing a beautiful gilded arrow design on her locks. 
How would this work?
Well, to begin with, your hair needs to be super straight, so make sure that you flat iron it to perfection. Of course, this only needs to be the case with the part of your hair that you plan on applying the tattoo to – the rest of your hair can be styled however you want. 
Once you have straightened the correct section, cut your tattoo out and place it face down over your hair, in the same way that you would do for your skin. 
Now, rather than using water to seal the tattoo in place, reach for your flat iron and clamp it down over the section of hair that has the tattoo on it. 
Remove the flat iron and leave the tattoo to cool for a few seconds, before peeling away its backing.
Using Flash Tattoos on Your Nails
While an entire flash tattoo design is unlikely to be able to fit on a single nail, the beauty of flash tattoos is that they can be cut up into smaller sections. 
If you have a few leftover tattoos that you don't want to wear on your body, they could contain elements that would be perfect for your nails. 
Have a look through your tattoos and cut out any design details that you would like to feature on your nails. 
Then, place the tattoo face-down and press this over your nail. Keep in mind that your nail needs to be completely dry before you attempt applying a flash tattoo to it, so make sure that you apply any polish beforehand and give it enough time to set. 
Use a damp towel or cloth to press your tattoo into place, before peeling off the backing. 
Got some of the tattoo on your skin by accident? 
Simply use a small brush and some nail polish remover to clear this away. 
How Long Do Flash Tattoos Last?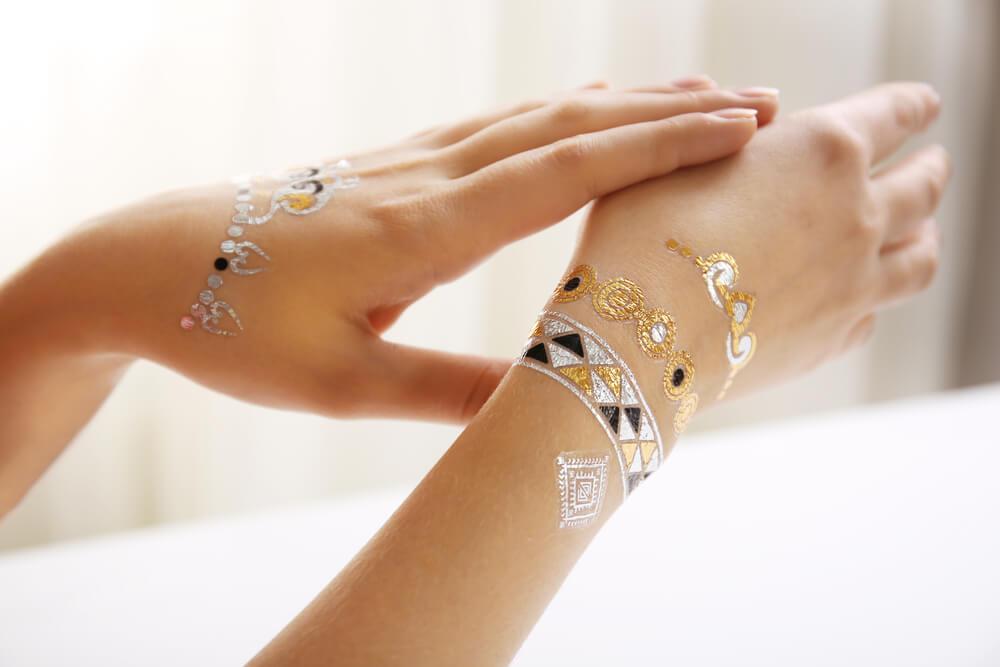 When it comes to how long flash tattoos last for, this depends on a few different factors. 
Firstly, its location on your body makes a difference. 
Ideally, you should avoid allowing your tattoo to come into contact with skin care products, sunscreen, soaps or anything else. However, this can sometimes be hard depending on where you have placed your tattoo, meaning that tattoos that come into contact with those products frequently won't last for that long. 
In general, a flash tattoo will usually last for between four to six days. 
Want your tattoo to last longer?
Try using a makeup brush to dust a thin layer of baby powder over your tattoo each day. Even though flash tattoos are waterproof, you should also avoid allowing your tattoo to come into contact with water whenever possible. 
Need your tattoo off sooner? 
Don't worry, they are easy to remove…
Removing A Flash Tattoo
Whether your tattoo has started to fade, or you have simply grown bored of it, flash tattoos are easy to remove. 
All you need is an oil in which you can soak your skin. Olive oil and coconut oil work especially well, but just about any oil will do. You can also use an oil-based makeup remover instead. 
Once your skin has been saturated in oil, gently scrub at the tattoo until it has been removed. 
After removing it, it is important to apply a layer of moisturizer to the area in which the tattoo had been placed. 
Why? 
Because scrubbing at your skin in order to remove the tattoo can have the effect of drying it out and irritating it, especially if you have sensitive skin. A moisturizer will help to counter all of this, leaving your skin smooth and soft. 
Flash tattoos are so much fun to accessorize with, and they can really be a beautiful reflection of your own personal style. Whether you opt to wear one on your face, your body, your hair or your nails, or simply use them to decorate your home instead, flash tattoos are a trend definitely worth getting on board with.