Your New BFF is Waiting for You on These Apps
|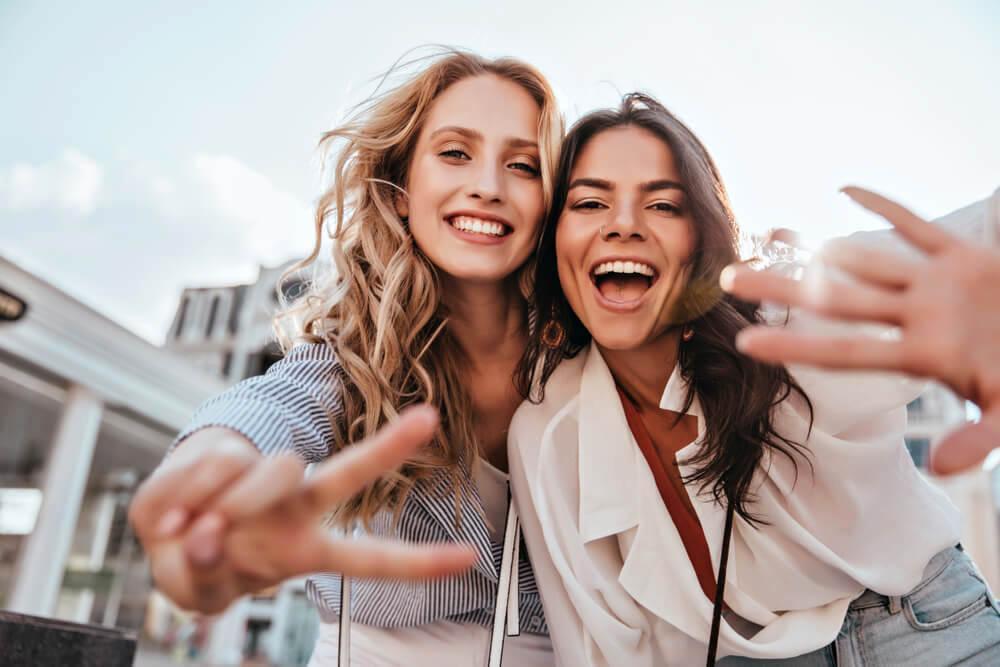 When you were young, making friends probably came easy for you. There was recess to bond with your classmates and the park to meet pals from the neighborhood. As you grow older though, your pool of friends starts to diminish. Your likes are now well defined, meaning you now need friends who share the same values. 
Add career, kids, or other responsibilities to your adult life and friends become fewer and fewer. There is a silver lining though- now that we live in a digital world, there are platforms designed to hook you up with new friends. Does that sound like something you would be interested in? If so, your new BFF is waiting for you on these apps:
https://www.instagram.com/p/BsPRYfMgD-Q/
This is one of the leading apps for creating lasting friendships. The app comes as an update on the already popular Bumble dating app. The platform was already turning heads for its key feature that changed traditional dating- by letting women make the first move while looking for a heterosexual relationship. The BFF feature came into effect early 2016 with over a million swipes taking place within the first week of the launch.   
Here is how it works:
When you opt into the BFF mode, potential matches are highlighted with algorithms basing compatibility on profiles. From there, connecting with a new friend just takes both of you to swipe right. Additionally, you get to scope out their online profiles before deciding to connect or not.   
https://www.instagram.com/p/BmwrXcLlPec/
Do you consider yourself to be ambitious, professional and a go-getter? The League is your kind of app. It's suited for the self-aware; users who owe no apologies for their success, failures or life choices. As Amanda Bradford, the CEO puts it, the exclusive app is meant for "highly motivated professionals" looking to date or just be friends.
What makes The League stand out:
Vetting is done rigorously to ensure that only the closest of matches are brought to your attention. In a true business-like manner, you are notified of the matches at 5 pm every day. Also, if you stay for long without login or responding to matches, you will be kicked out and re-admissions will cost $25- yes, no jokers allowed!           
If you are planning to tour the UK or you live there already, here is an app for you.
As Dan Ware, the founder of beFriend™, explains "people are so busy, that it has become increasingly difficult to make new friends or even convince your current friends to get involved in a new activity or pastime. beFriend bridges that gap and removes those barriers to trying out new, exciting things" 
How it works:
Once you sign in to the app, your profile will be populated by details on hobbies, likes, and specific interests. The app matches your profile to others and notifies you. The list actually comes with an indication of how far the potential matches are. Once you pick people you like, you just sit back and wait for them to beFriend you.
https://www.instagram.com/p/BvrOCgHpKBJ/
Hey! VINA is marketed as the Tinder for making (girl) friends. The app is designed exclusively for women to find like-minded women. It's especially helpful when it comes to users on the move. Friends await to help you find your way around a new town, job and even plan on new adventures. In essence; you get a tailor-made community of friends.
Why the app ranks among the best:
Befriending someone online can be simple, but getting the friendship off the ground and into something meaningful is not so easy. Hey! VINA addresses this head-on; the app will suggest meeting places and times for you and your new friend. This is based on your profiles, which takes schedules and shared likes into account.   
Are you an expat, or alone in a new country with no friends in sight? Here is the app just for you. Patook offers friend-making services via both a website and an app which is compatible with iOS and Android devices. The platform is designed to keep everything platonic hence no flirting allowed.
Why it's unique:      
To begin with, users can join as individuals or couples. This makes it suitable for married couples who want to befriend other couples with similar interests. Its algorithms also allow for community access through posts that can be viewed by people nearby. It also makes friendships to progress faster by suggesting meetings.
Just like you, dogs are social creatures and will welcome a chance to make new friends too. So, do you have a dog and in need of a BFF? Turn to Meet My Dog.
The app is location-based and suited for dog owners. The profile parameters include photos of you and your dog, parks, and locations that both of you frequent, plus favorite activities that you are into. This info is checked against other dog owners in your locality and matches are sent to your phone.
You can also check in when you visit the park to see who else is around and create a play date. The app also allows private messaging and sharing everything dog related- from vet and park advice to grooming techniques.
This is a friendship-only app that matches users with over 100 activities to choose from. To ensure lasting friendships, matches are based on shared activities. Also, you can filter searches by several parameters such as gender, age, activities, and location.
It comes with premium features, and you can upgrade your app for premium features to refine your BFF-hunt. The upgrade allows you to change the location and unlock pre-connection photos. It also gives you unlimited swipes and bumps you up in the search results- making you more visible.
Meetup is one of the oldest online platforms for finding friends. It started way back in 2002- long before Apps were a thing. It's now available in about 180 countries with over 21 million users. It comes with thousands of interest groups which you can join and find your BFF.
Are you all about structure?
Through the app, you can join activities happening near you, from hiking mountains to learning how to cook. These highly specific groups are just the right recipe for you to bond over with new friends.
While the app can be intimidating due to the high number of members in the groups, you can create your own unique activity to further filter the search for a BFF.
Digital devices are sometimes the reason your friendships don't last or are non-existent. You probably spend too much time online and not in the real world. This is where REALU comes in; it disconnects you from your mobile devices and connects you to friends in real time.
No swiping and no waiting.
The app functions in real time by mimicking normal human behavior. You start by filling up information on your current location and favorite activities. Algorithms work to pair you to people with similar search criteria. If a match is found within your location, you get a notification and from there and all you have to do is go over to them- and make a friend in real time.   
https://www.instagram.com/p/Bn78_dNHB1Q/
Tinder is just for finding a date, right? Wrong, you can now join the platform for a purely platonic relationship.
The aptly named update Tinder Social was launched in mid-2016. It made it possible for groups or individuals to join and share in a wide range of activities. The update also allows users who have found their better half through the app to stay on. This was a deviation from the original model where users left the app after coupling up.
How it works:
If already on Tinder, you download the latest update and "unlock" Tinder Social. Next step is to create a group, by adding up to 3 friends and choosing the activity of choice. From here, another group can match and initiate a chat with yours when a member swipes right.
To reduce overcrowding, the app allows users to only be in one group at a time. Additionally, there is a 24-hour deadline within which the match will be undone if no conversation takes place.
Like Hey VINA!, Monarq is focused on creating friendships exclusively between women. By answering questions on interests, goals, expectations, careers and other such defining qualities, the app matches you with friends with similar profiles.
It's more than a friendship app. The app empowers users by encouraging mentorship and new business relationships. Networking within the platform is professional which is made even more streamlined by removing men from the conversation. It's also a good place to pitch and source funds for women-led startups. Now, that's friendship worth having.    
Cliq works by pairing groups of friends, then suggesting real-life activities. It allows up to 5 users to form a group and engage in a chat. From the already filled profiles and GPS location, the app suggests activities that best appeal to the groups' dynamics.
To ensure that finding a buddy is not to be confused with dating, the app has no swiping option- as Nick Wieczorek, the founder puts it, "swiping implies a hook-up vibe". To add to the socialization theme, Cliqs- as its users are known as- can share updates on where they are and what they are up to by posting videos and photos.
What if first dates always start with a low-pressure friendly situation? Squad to explores this possible game-changing scenario by allowing users to bring along friends to the meet.
Bring friends to a potential date
Although the app can end up matching you with a  potential date, the edge is taken off by having groups plan outings together. This allows 'squads' of friends to opt out of one-on-one dates for a larger pool of likable mates. From the pool, you can swap friends and make new connections.
This is another platform that started matching potential friends before you could swipe right or left. Skout has been bringing people together since 2007. This has made it one of the big and trusted names in the industry. It's also available in over 180 countries and comes in 14 languages.
Skouters usually find the app to be really helpful when moving to new cities, joining a college or starting new jobs. Understandably, these are possibly stressful situations and getting a helping hand could be the path to your BFF. Also, users get to learn about new cultures from Skouts from different regions around the world.     
Are you an athlete or aspiring to be one? Well, you can now befriend other people who share your love for sports.
This is an exclusive social app optimized for sports-lovers. The app makes it possible for athletes to find others within their locality, build groups and even host events. Users have over 40 activities to add to their profiles; such as cycling, football, cycling, and swimming.
Joining is easy and so is the matching up. To ensure that you and your new sports-buddies are on the same fitness levels, the app comes with a user-generated rating system. Based on abilities, 'knuckles' are used to show compatibility; one knuckle (fist icon) for novices and five knuckles for pros. This makes it possible to bond based on sportsmanship, endurance, and effort.   
True and lasting friendships are not easy to come by. Having said that, nothing beats having a BFF to walk with you every step of your life; through the good and bad bits. Although life choices and changes in the life of your childhood friends can push you away from this fundamental need, technology is here to help via friendship apps. 
The above list is just an overview of the tens of social platforms that can bring you closer to your new 'best friend forever'. By finding the app that best appeals to you; go ahead and define, filter, choose and hook up with your next BFF.