When it comes to taking care of my skin, my loyalties lie with everything that nature has to offer. So, when the latest technology meets natural skincare ingredients to work in favor of my skin, I can't help getting interested.
This is the case with Pearl de Flore, a brand that seeks to empower you to give your skin the care it deserves using simple but dependable products.
I took them at their word and tried their Flore de Rose collection. A few weeks into their skincare routine, I've got to say that I have fallen in love with their products!
From my own experience and a bit of research, this review covers everything you need to know about the Flore de Rose Collection, and a little about the brand, Pearl de Flore.
Pearl de Flore at a Glance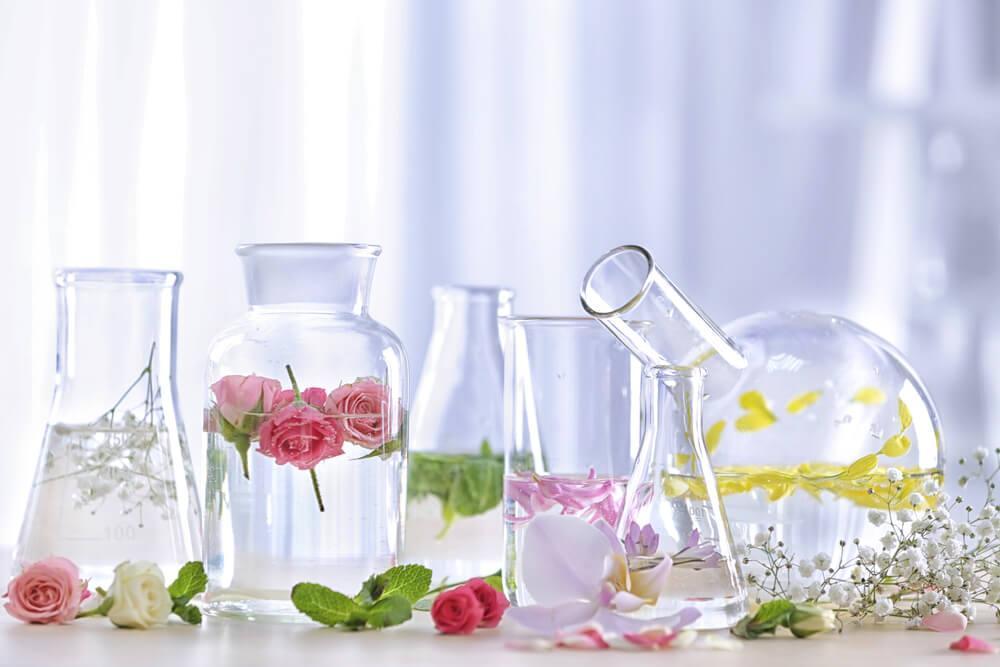 Pearl de Flore employs innovative skincare technology and uses the very best botanical extracts to make skincare products that will cater to all your skincare needs. The brand features rose extract, peony flower extract, orchid extract, and black malva extract among its key ingredients.
These ingredients have been used for skincare since time immemorial and are rich in skincare benefits. In general, these ingredients work by:
Soothing irritated skin
Moisturizing the skin
Brightening dull skin
Fighting off the signs of skin aging
Boosting the skin's immunity
Providing antioxidant benefits
Providing anti-inflammatory benefits
Managing dry and rough skin 
To provide effective care, the brand has categorized its products into 4 distinct collections that address specific skincare issues:
Pearl de Flore Skincare Collections
Flore de Rose Collection – covers daily skincare routines
Rose Noir Collection – takes care of thermal skin detoxing
Flore de Orchidee Collection – works at brightening your skin
Flore de Peonia Collection – provides anti-aging benefits
Further, each product has gone through thorough testing by a certified dermatologist to ensure that you put nothing harmful on your skin.
Although the brand is a fairly new entrant into the market, my experience tells me that it is bound to take the world of beauty by storm.
The Flore de Rose Collection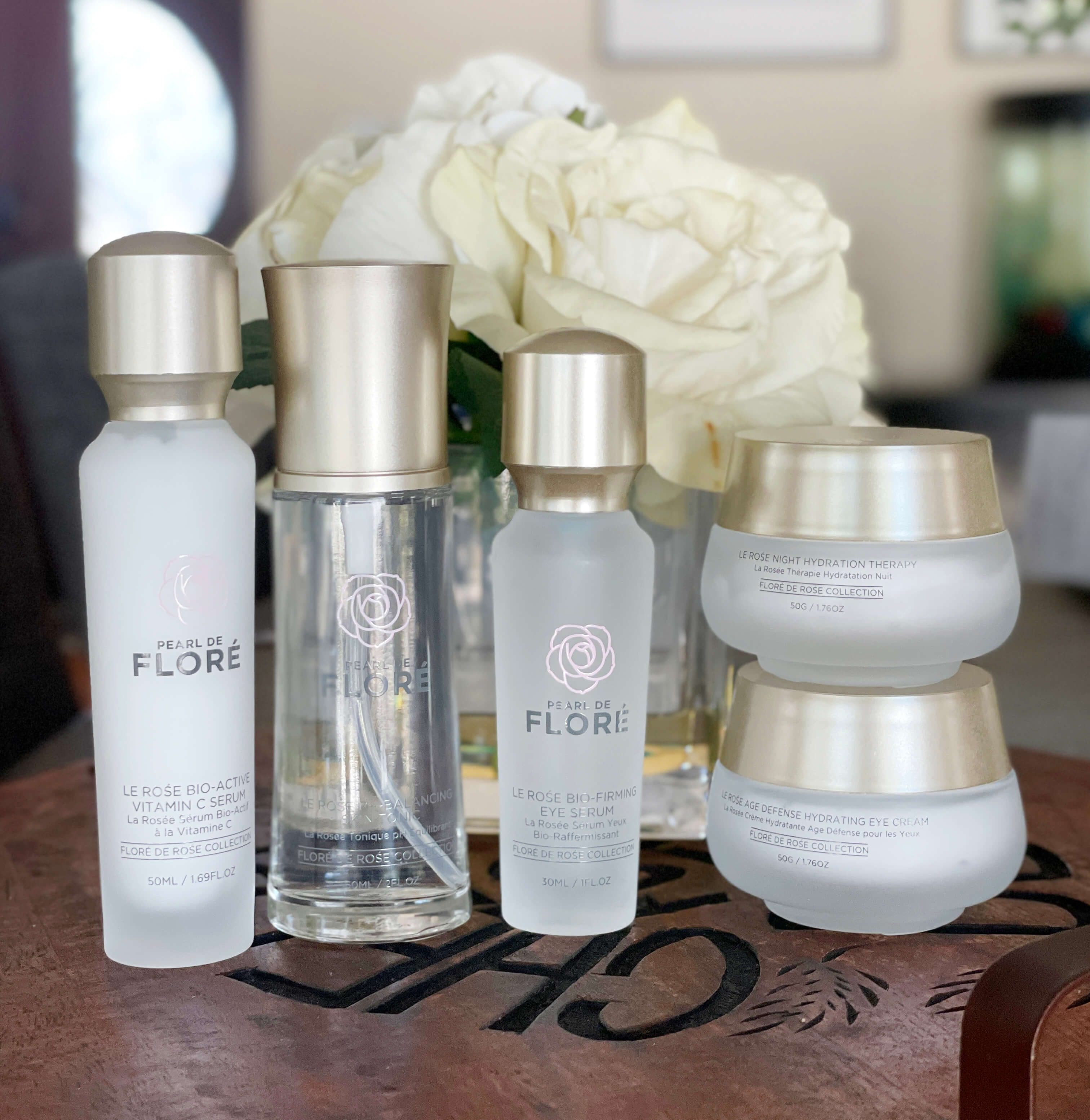 The collection features rose extracts, avocado oil, and cucumber extract among its main ingredients. It contains products that cover daily skincare needs, right from the time you cleanse your skin in the morning to the time you slather on a night cream for a relaxing night.
Le Rose Moisturizing Cleansing Emulsion
Le Rose Moisturizing Cleansing Emulsion comes in a beautiful frosted glass bottle. It contains cleansing and moisturizing ingredients that include marigold extract and argan oil. 
Marigold deep cleanses your skin and rids it of dirt build-up. Argan oil is a great moisturizer yet it is neither too heavy nor too light, making it perfect for all skin types.
To use it, wet your skin, gently massage it using circular motions, then rinse using warm water.
I just love the resulting feeling of clean and refreshed skin!
Le Rose pH-Balancing Skin Tonic
Rose flower extract is a natural toner and this Le Rose pH-Balancing Skin Tonic unleashes these benefits on your skin, prepping it for the rest of your skincare routines. 
You just need to sweep it over your face and neck using a cotton ball and you are good to go.
Le Rose Resurfacing Micro Peel
Impurities and flaky skin can stand between you and smooth skin. Pearl de Flore's Le Rose Resurfacing Micro Peel is formulated to take care of this while invigorating and renewing your skin in the process.
For best results, massage it over your face for 30 seconds then rinse with cool water.
Le Rose Daily Defense Cream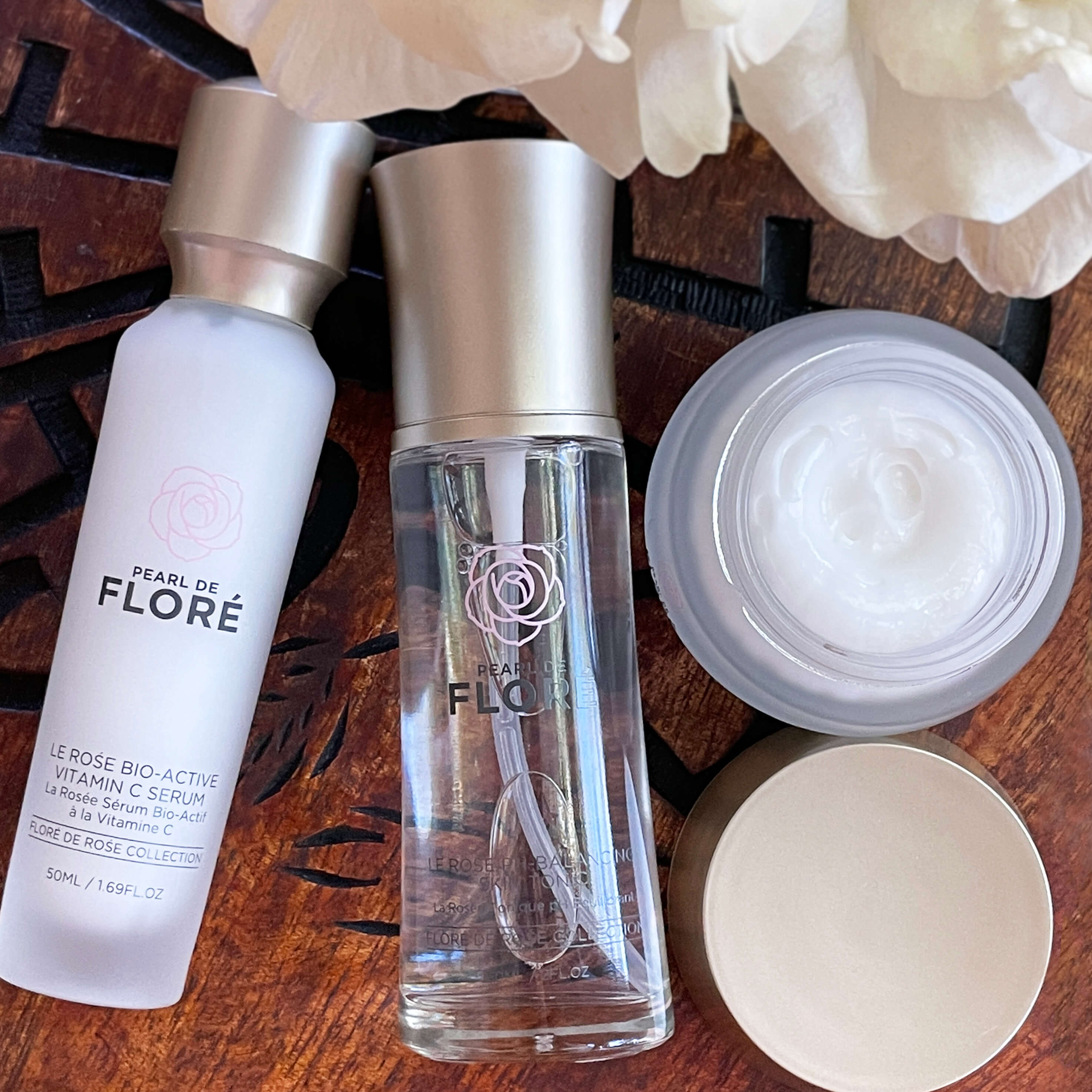 This Daily Defense Cream features shea butter in its ingredients. Shea butter possesses a host of skin benefits, among them, anti-aging, moisturizing, and restoration of skin elasticity. 
This cream, therefore, leaves the skin looking supple, youthful, and plump. A small amount massaged onto the face and neck in upward motions takes me a long way.
Le Rose Night Hydration Therapy
This night cream might just be the perfect addition to your beauty sleep every night. Le Rose Night Hydration Therapy combines the benefits of rose flower extract and shea butter to give your skin much-needed hydration therapy after a long day.
Le Rose Illuminating Vitamin C Cleanser
This is the best makeup remover with benefits I have tried! Le Rose Illuminating Vitamin C Cleanser is infused with vitamin C and aloe vera, ingredients that will cleanse your skin, then brighten and soothe it all in one sweep. 
To rid your skin of all makeup, apply some to your face in circular motions and rinse off with lukewarm water.
Le Rose Bio-Active Vitamin C Serum
The Le Rose Bio-Active Vitamin C Serum contains vitamin C, jojoba seed oil, and coconut oil. These ingredients are loaded with healing, moisturizing, brightening, anti-aging, and anti-inflammatory properties. 
Applying 1-2 drops of this serum on your face daily after cleansing will leave your skin youthful, hydrated, and bright.
Le Rose Instant Wrinkle Treatment Syringe
The Le Rose Instant Wrinkle Treatment Syringe is packed with the best anti-aging ingredients. Ingredients like sweet almond oil peptides and Retinyl Palmitate target and diminish the appearance of signs of skin aging like dry flaky skin, wrinkles, and fine lines. 
To maximize its benefit, dispense the formula on the specific skin flaw through the tip of the syringe then smooth it till it's fully absorbed.
Le Rose Age Defense Hydrating Eye Cream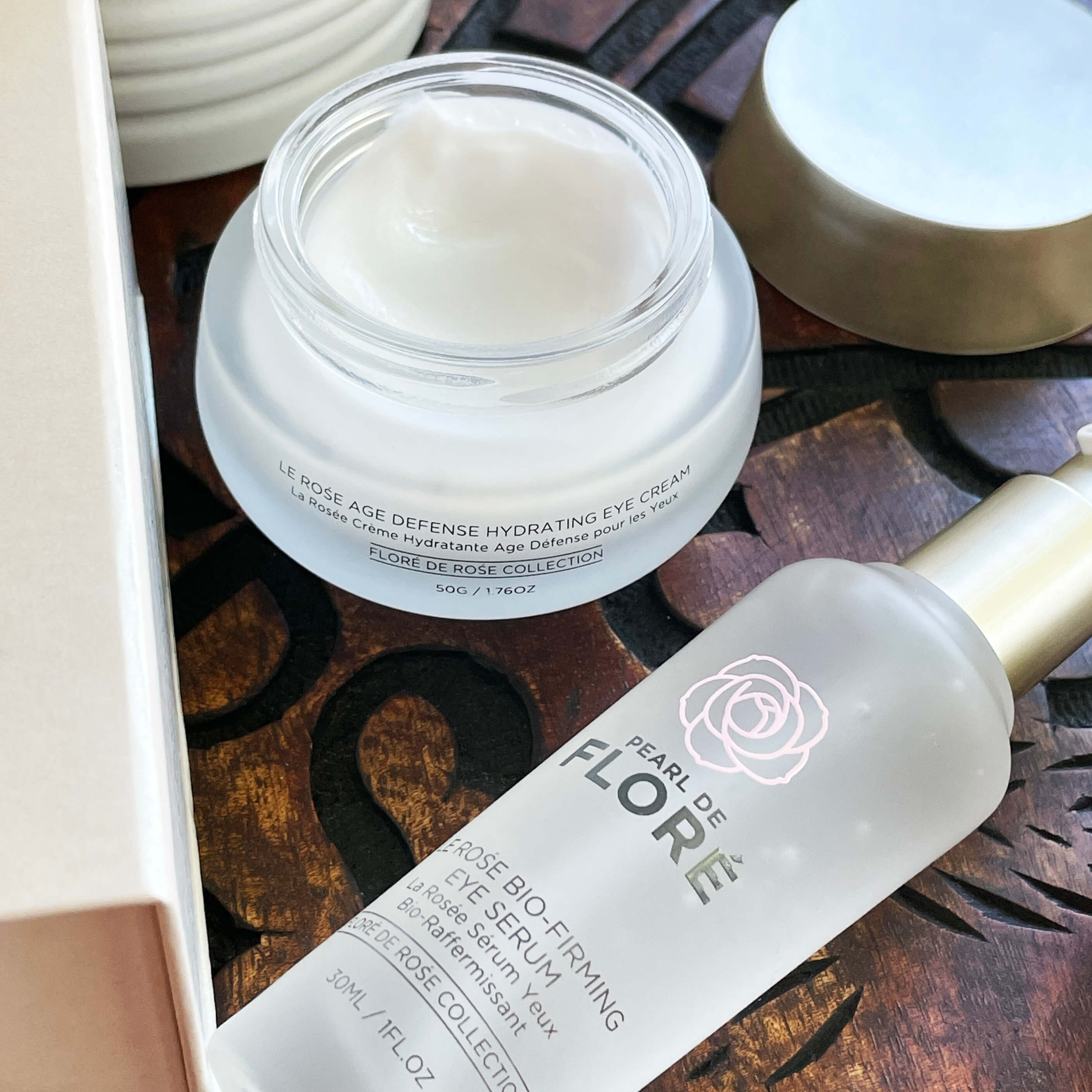 The sensitivity of the eye area calls for ingredients that are gentle yet beneficial. This Age Defense Hydrating Eye Cream is formulated with aloe vera which soothes and nourishes the eye area. The formula also contains peptides and caffeine which work together to reduce puffiness and brighten the skin around your eyes.
On cleansed skin, massage the cream upwards and outwards. It is so light you won't even feel it.
Le Rose Bio-Firming Eye Serum
Le Rose Bio-Firming Eye Serum is another formulation specially made for the delicate eye area. Key ingredients in the serum include Sodium hyaluronate and grapefruit seed extract which possess hydrating, healing, and age-defying properties. 
Daily use of the formulation plumps the skin around your eyes, reduces puffiness, and makes fine lines less visible.
Le Rose Transforming Vita C Cell Mask
Kaolin is the mildest clay used in skincare masks and is effective in deep cleansing the skin. In this Vita C Cell mask, kaolin is joined by glycerine and rose flower extract in a formula that cleanses, hydrates, and rejuvenates your skin. 
You need to use the mask weekly to see results. Massage it on cleansed skin while avoiding the eye area and lips, until it changes from white to pink. Leave it on for up to 15 minutes then use warm water to rinse it off.
Le Rose Daily Defense Cream
This day cream from Pearl de Flore keeps your skin moisturized, youthful, and elastic. As the name suggests, it boosts the skin's defense against inflammation, free radicles, and acne. This is thanks to its main ingredient, shea butter. 
Who Should Use Flore de Rose Skincare Products?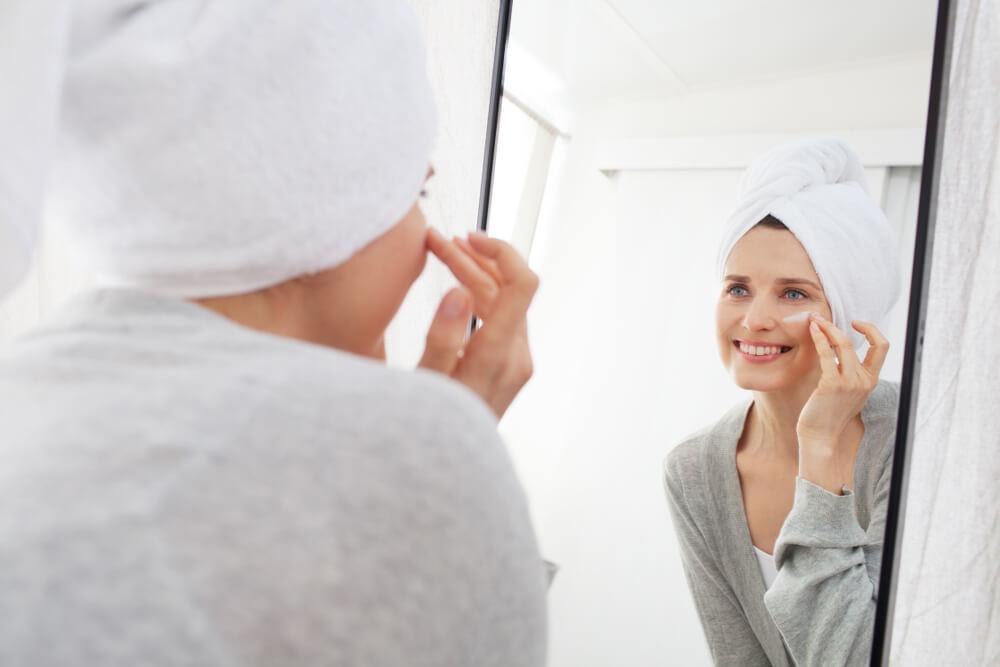 These products are safe for use by people of all ages. Nevertheless, females from 30-65 years old will reap the most benefits and, therefore, make up the majority of the customers of all Pearl de Flore beauty products.
Why? With a bit of research here – starting from the age of 30 going onwards, women start experiencing changes such as slower skin turnover, reduced ability of the skin to stay moisturized, decreased collagen and elastin production, increased tendency to get blemishes, and less tolerance to environmental stressors among other transformations.
A skincare regimen that targets all these areas might just be your skin's savior. The Flore de Rose Collection was formulated with this in mind.
How to Use Flore de Rose Skincare Products
Each product in this collection comes with specific instructions on how to use it for the best results.
When Should I expect to see Results from Flore de Rose Skincare Products?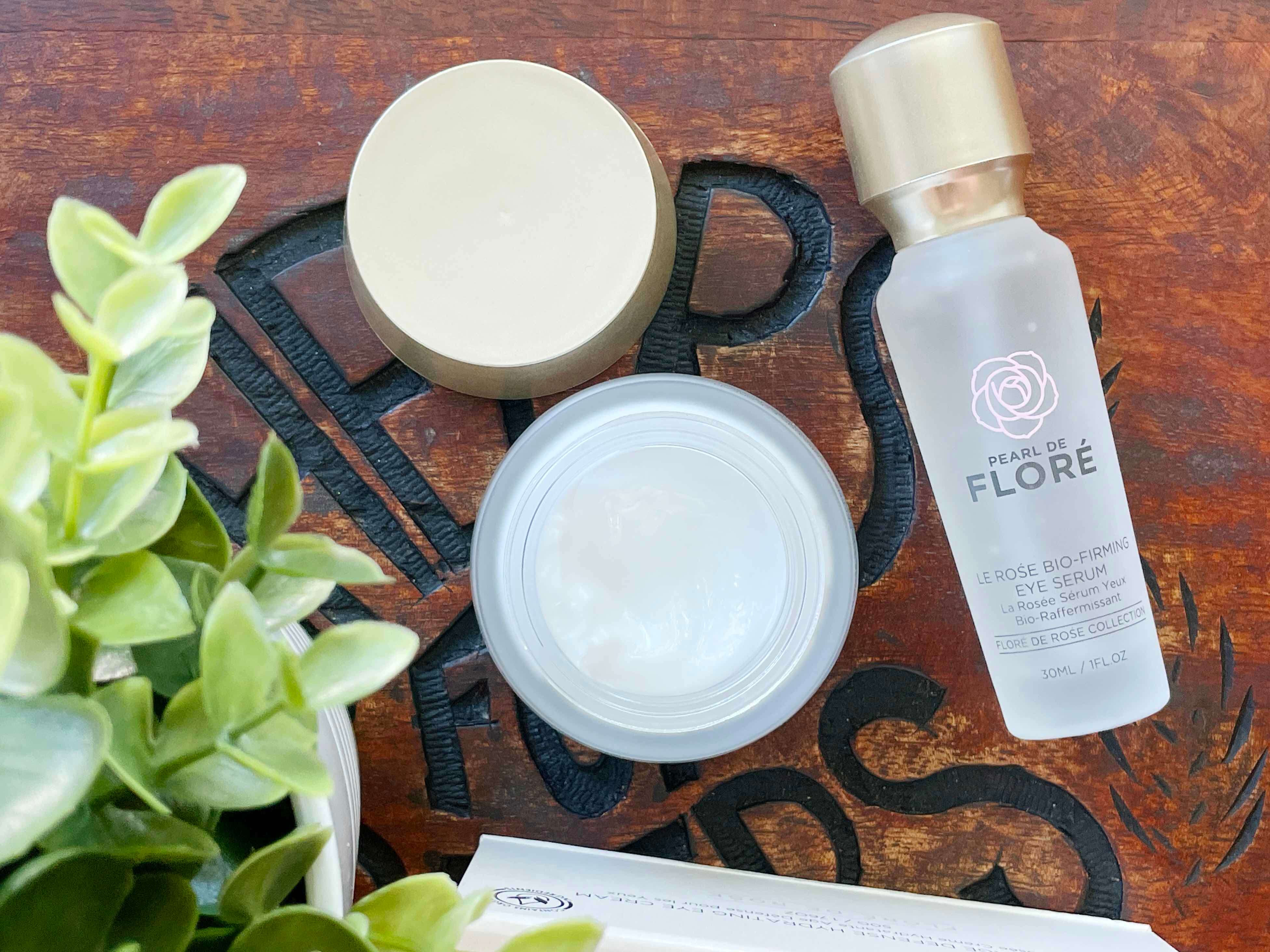 Different skin products take different durations to give results. On average, it takes about 28 days for skin cells to regenerate and so typically, you should give that long for most products to work.
With Flore de Rose Skincare products, you should also see noticeable results within four weeks of use, give or take, and even better with continued use.
Faster results also depend on the type of product. For example, a moisturizer may give instant results while a brightening serum may take time to work.
Other factors include age, skin type, how well you follow the manufacturer's instructions, and the consistency of use.
The Verdict
The Flore de Rose Collection is curated to take care of your daily skincare needs. Each product has been formulated with the best botanical extracts using innovative technology to address the skincare needs of women of all skin types.
The products have been tested and approved by certified dermatologists before being put on the shelves. If you are looking for an all-inclusive skincare collection, then this is a good place to start.