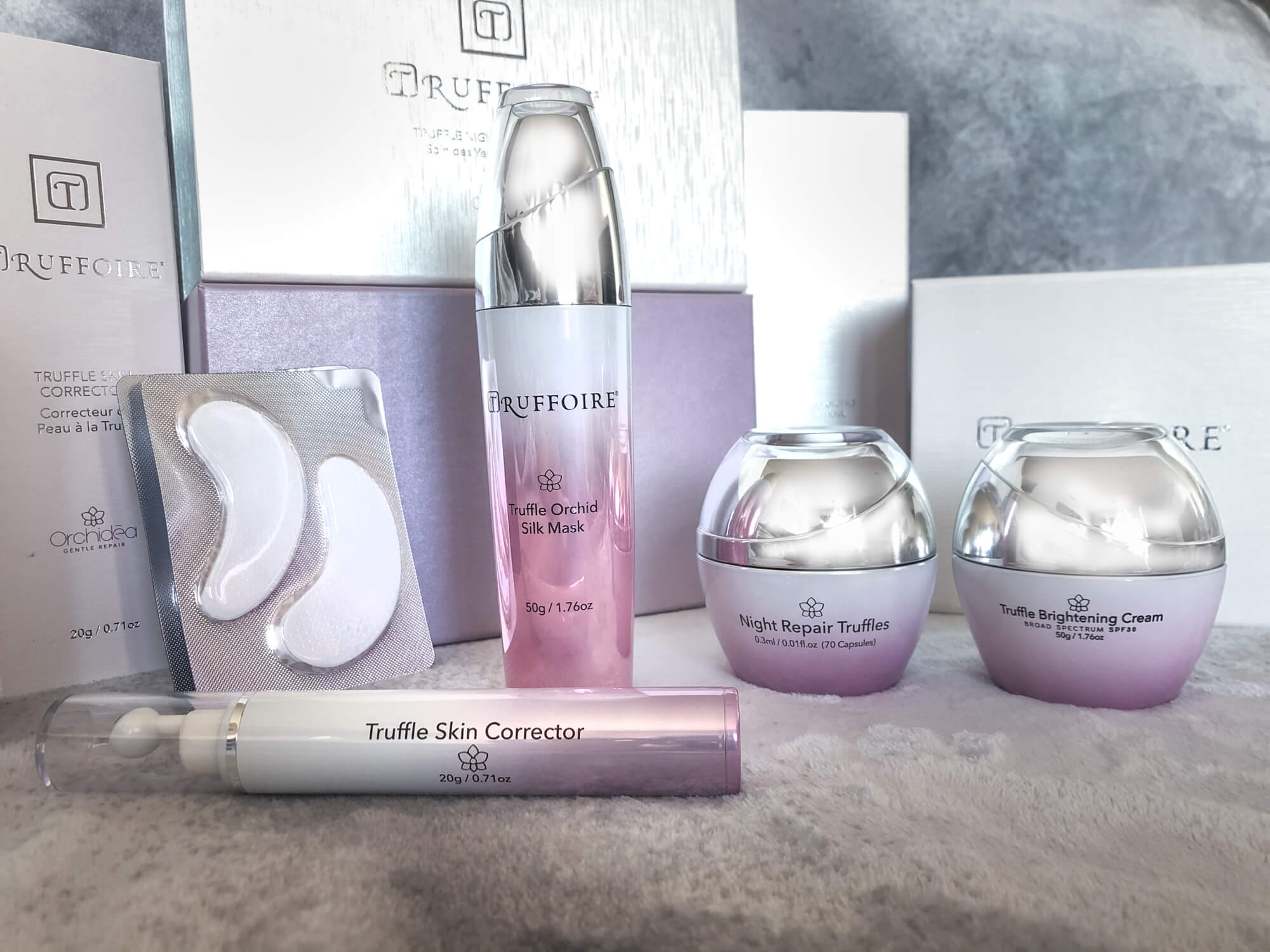 Review by Marlow Jane 
The Collection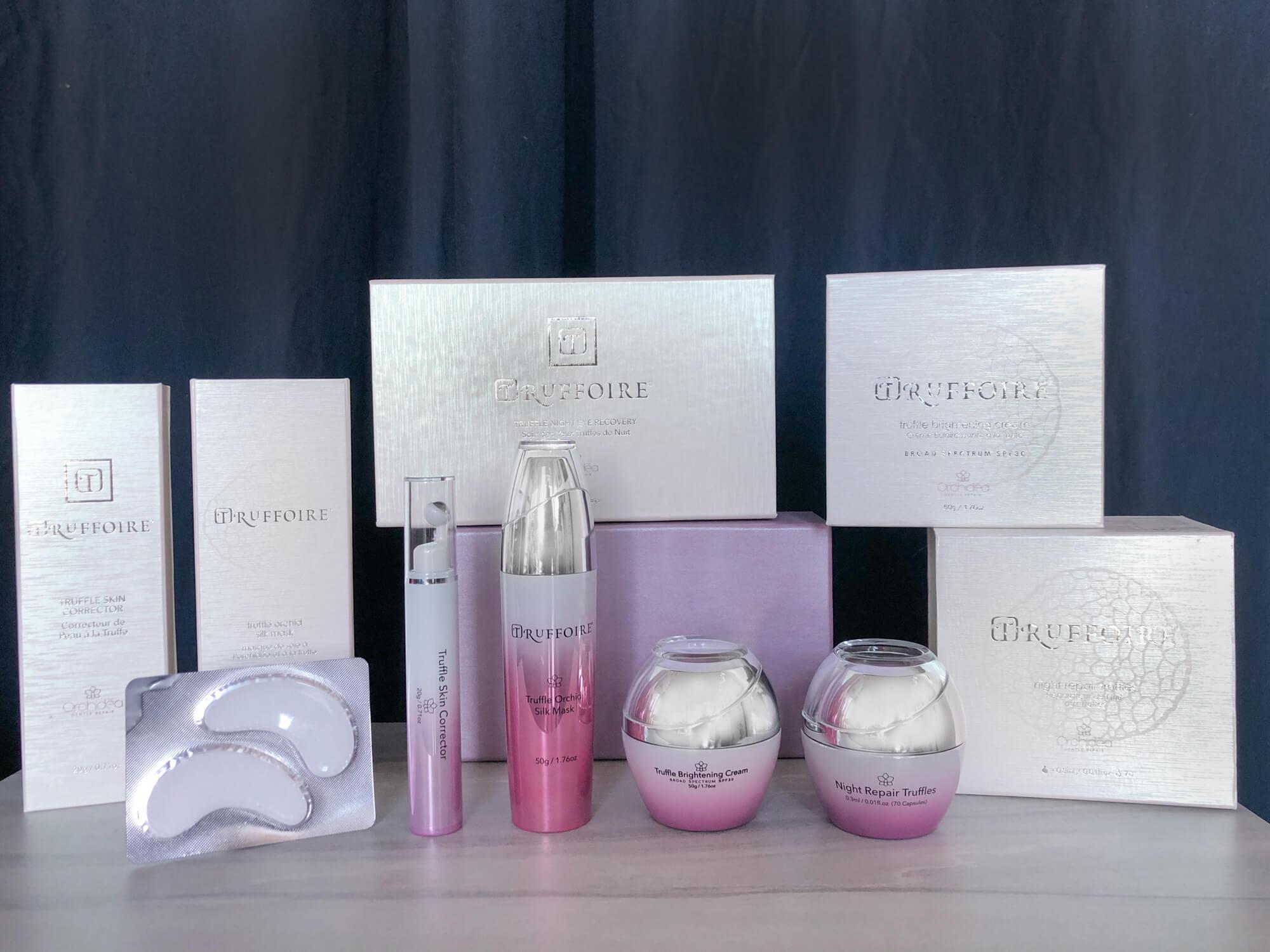 It was only a matter of time before truffle, a mushroom that introduced the world to the taste sensation of umami, was brought into skincare. From the ancient Greeks and Romans believing that truffle has therapeutic and aphrodisiac properties, to the trendy mushroom teas and coffees of today with their maximizing of health benefits, I was excited to try the Truffoire's new skin care line called the Orchidea Truffle Collection.  
This is visually a beautiful collection. The bottles are shiny and clean with a hint of feminine color. The containers are strong enough to protect the creams if I drop them, (we've all had some mishap on our bathroom floor with a favorite product) but light enough to travel with.
I was worried the products might have an earthy smell (delicious for ravioli, maybe not for the cheeks) but this collection blends the rarest white and black truffles with the fresh and fruity bilberry and goji berries resulting in a fresh, clean scented product line that seamlessly diffuses together, no matter the combination of products.
Essentials of a Skin Care Routine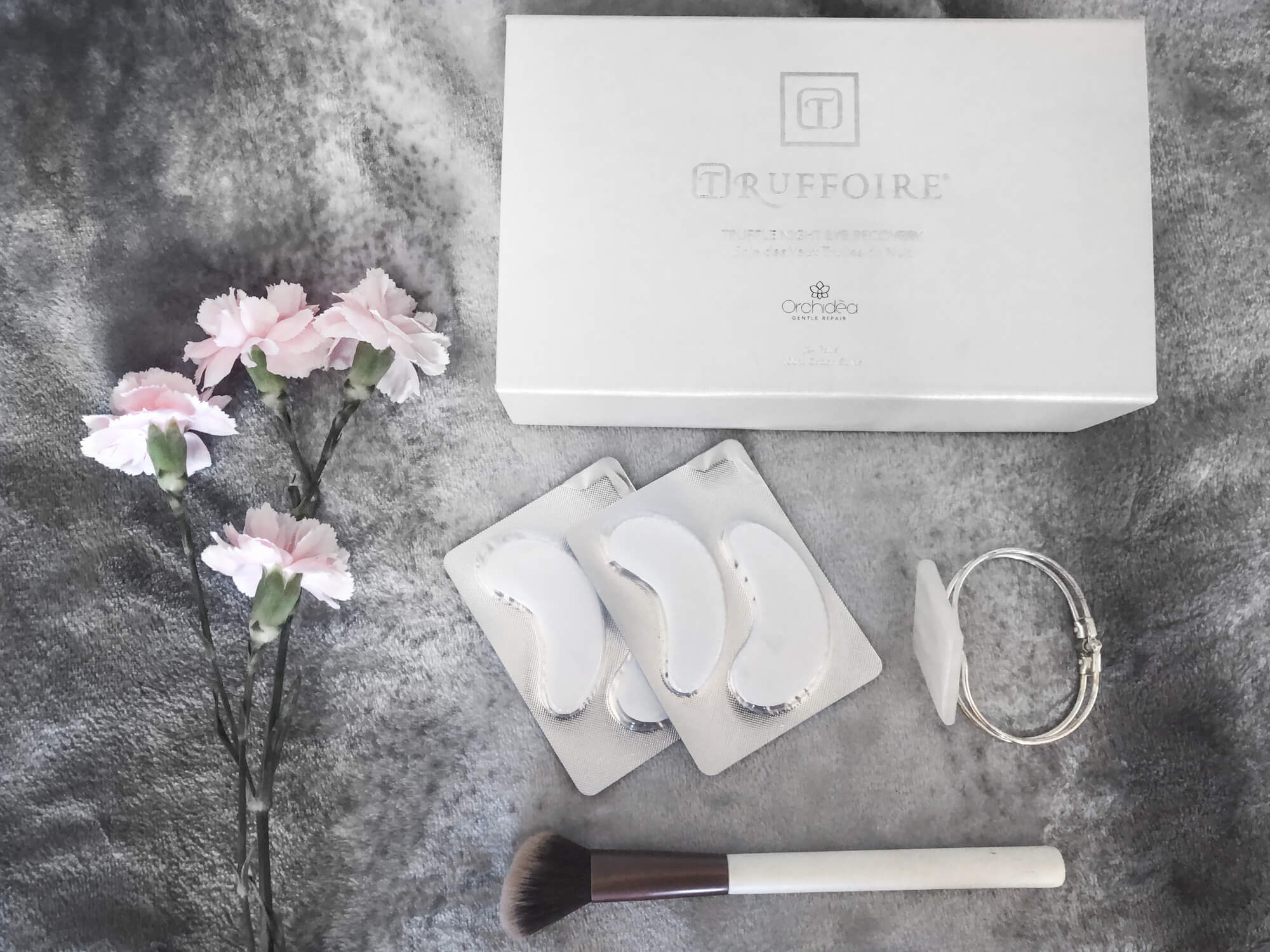 I'm at that age where I feel like everyday I wake up with a new wrinkle while I'm still fighting damage from the past, so I am personally looking for a comprehensive routine that cures and prevents all of my skin woes. I think it's important to establish what to look for and evaluate in a skin care routine:
Moisturizer – More youthful skin will have different needs than mature skin, but everyone will benefit from a moisturizer.
Protection – Incorporating a daily SPF into your routine should be a given by now. But our skin is an organ literally faced with battling dry climate, pollution, and other environmental factors on a daily basis. If our hearts had to encounter these conditions, we would do what we could to protect it, so why are we so lackadaisical with our skin?
Vitamins – Vitamin A, E & C, Aloe, Fatty Acids… These are all age old solutions for aging skin that I look out for in my skin products.
Usability – If your products are complicated to use, messy, or take too much time, then you aren't going to want to use them, no matter their effectiveness.
Value – Considering our skin is an organ that we need to take care of, it's important to find a product that is worth the price tag. This means finding a product that won't go bad or contaminate before it's done with use.
Truffle Skin Corrector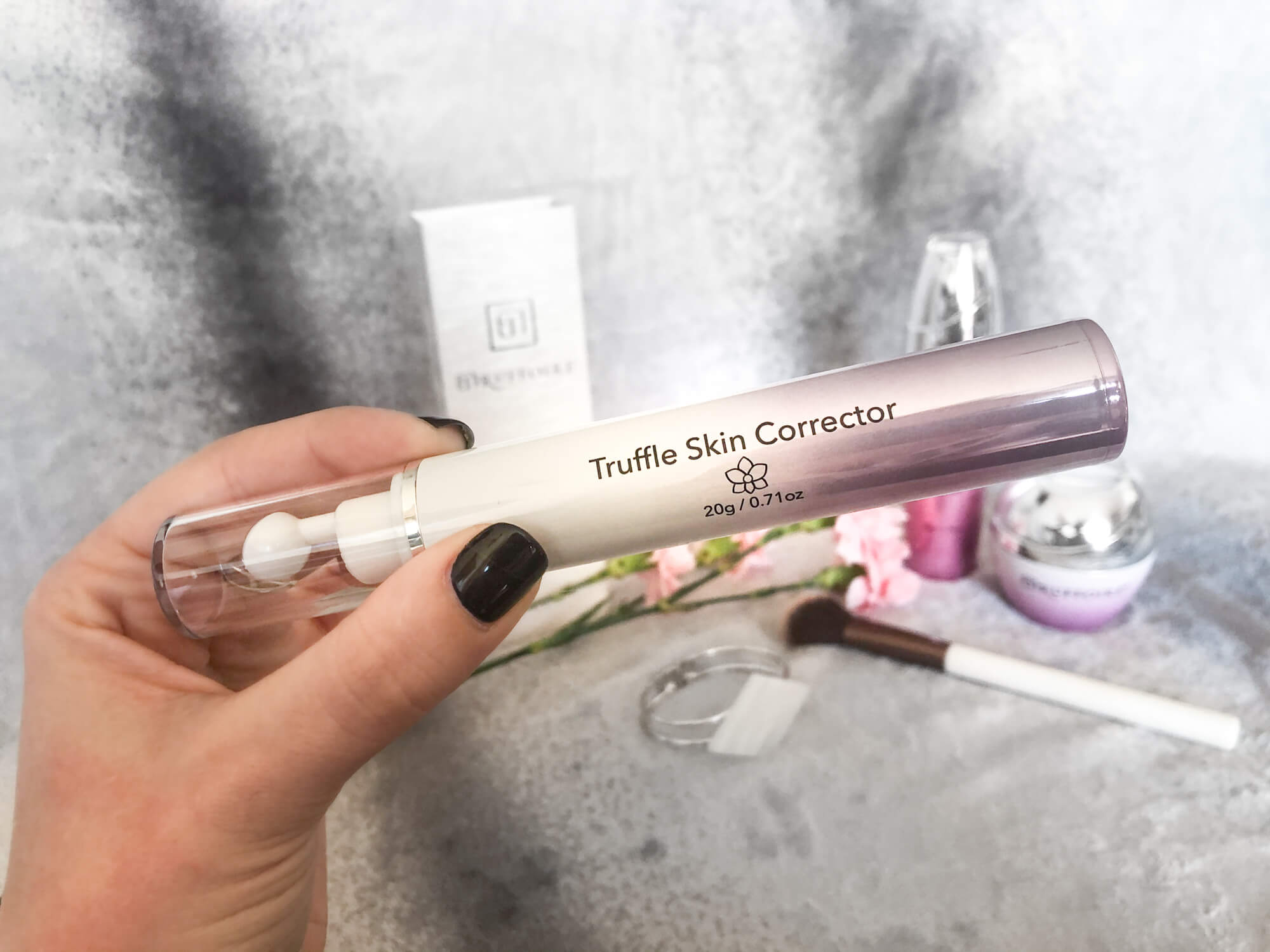 I start the Truffoire routine in the morning with the Truffoire Skin Corrector. Truffiore doesn't call this a "magic wand," but they should. Stress, hormones, and sun damage has gifted me some unsavory conditions; specifically a red sun spot on my upper cheekbone that has not gone away, even with a liquid nitrous oxide treatment from a physician. I am also concerned with acne scars on my jawline from persistent hormone driven cysts, and increasingly dark spots under my eyes.
I've found that after using the Truffoire Skin Corrector just a few days that old spots have lightened and persistent dry spots from healing cysts have completely sloughed away. I didn't think there could be a product that would address the variety of conditions I'm treating, but there is a perfect combination in this skin corrector:
Kojic Acid, working with the Citrus Unshiu Peel Extract, is a 1-2 punch affecting a protein in your skin known as "tyrosinase." Reducing tyrosinase production in skin is what helps lighten the troublesome dark spots.
Retinyl Palmitate, a Vitamin A derivative that is a gentler cousin of retinol, helps unclog pores and regenerates cells, thickening the dermis to plump up small lines and wrinkles.
Tuber Melanusporum Extract, the black truffle extract that improves blood flow by expanding capillary blood vessels, reducing inflammation and stress in the skin.
One little squeeze of the Truffoire Skin Corrector pen pushes product onto the roll-on applicator, which effortlessly glides over my trouble spots. One pump a day does the trick! The ball is cool to the touch, which must already have anti inflammatory properties equivalent to the trick of rubbing an ice cube on your face, but in a much tidier and convenient fashion. Following application is a cool, subtle tingling. It absorbs quickly, leaving no residue.
I use the skin corrector in the morning, right after washing my face, letting it absorb before applying the Truffle Brightening Cream. There is only a hint of a fresh, crisp scent that fades away, which I like since other products will be applied on top of it.
Truffoire Brightening Cream with Broad Spectrum SPF 30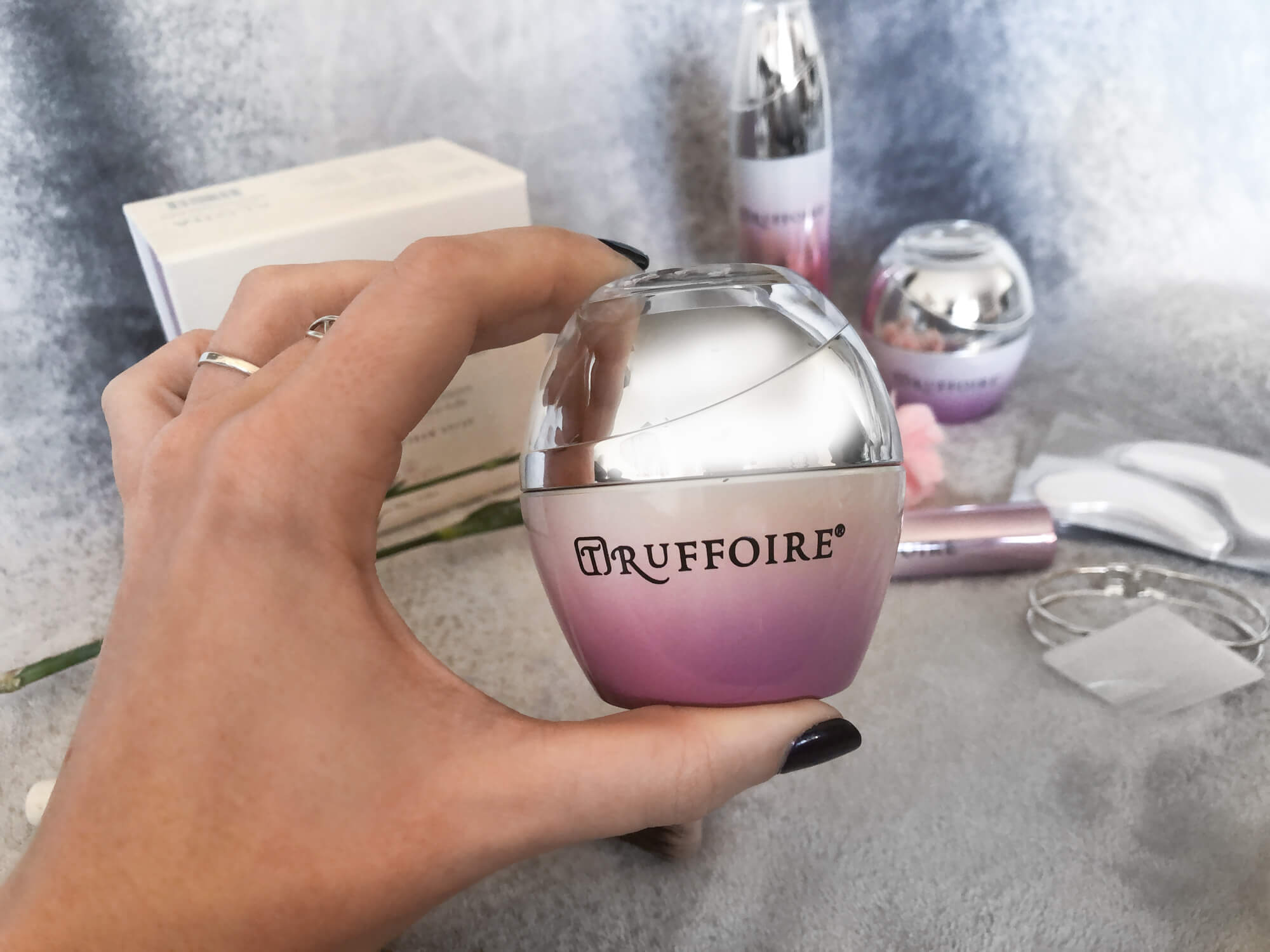 The number one rule about skincare?
Prevention. 
Rule two?
Moisture.
As a California girl who loves the sun, it's much easier to impede sunspots and premature aging with the daily use of a sunscreen than it is to treat skin problems with dangerous fillers, chemical peels, and surgery down the road. So I've tried to incorporate a sunscreen with my morning moisturizer, but have not personally found a great solution.
Most facial sunscreens that I've tried to incorporate into my daily routine have failed:
Most of them sting upon application (that can't be good).
They sweat off as soon as I start my outdoor exercise.
Most sunscreens don't blend in well with a moisturizer, resulting in a chunky product that I have to wash off.
You're supposed to put sunscreen on first, under other moisturizers and make up. But you're also supposed to go from most lightweight, i.e. serums, to saving your heaviest products for last. But sunscreens are typically pretty thick, not to mention having to reapply over your other products every few hours.
It's wasteful and frustrating that these two basic skincare necessities have not found a harmonious balance.
This is why I'm obsessed with Truffle Brightening Cream with Broad Spectrum SPF 30.
First of all, it's more than a moisturizing cream. It's a correcting cream, so it balances out my skin tone for the day. I don't even have to wear makeup which is ideal on days I head straight outside to exercise or to run errands. But that is why it is even more valuable to have a seamless SPF 30 to protect against harmful UV rays.
According to the American Academy of Dermatology, the target SPF 30, meaning "Sun Protection Factor 30," is the ideal level for protection. The SPF works like a sponge, absorbing 97% of UVB rays.
The cream itself has a nice, fresh scent of sunshine that gets me excited to be outside and get some fresh air. There is no overwhelming medicinal sunscreen smell. It absorbs nicely with no stinging and no oily feeling. It corrects skin tones, balancing out any redness or darkness under my eyes, providing me with a fresh glow- no highlighter required! It's an added bonus that the cap is reflective so I can check that the product is all rubbed in when I bring the Truffle Brightening Cream with me on-the-go.
Truffoire Orchid Silk Mask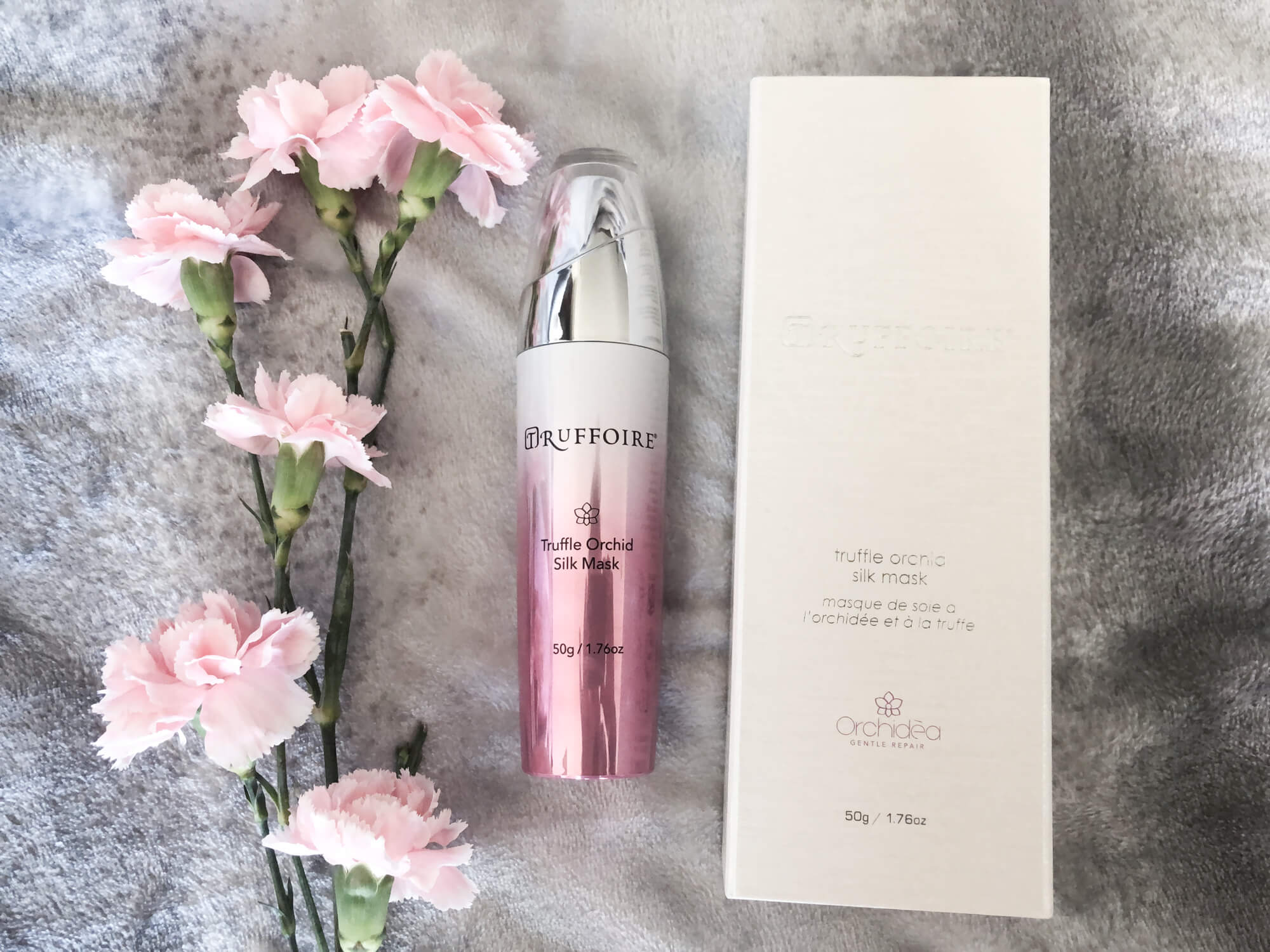 On days I need an extra kick of moisture, or even if it's just a day to indulge in self care, I get excited to use the Truffoire Orchid Silk Mask. This is an extremely effective moisturizer for dry skin.
This mask is so easy to use- there is no scrubbing it off or residual peels dried into my skin. And that's the point, isn't it? If products are hard to use or require "activating serums", then they aren't relaxing or rejuvenating. They become work. No thanks!
But this mask is just a couple of pumps from the bottle – no need for a spatula or contaminating the product with your fingertips – then a gentle massage on the face.
Since I apply this in the morning, I usually make my coffee or take a moment to organize my day as the mask creates tiny droplets on the surface of my skin. Then after about 10 minutes, I rub the extra moisture in and continue with my day. It's amazingly easy with such fantastic results.
Other masks are too overwhelming, too heavy, or require a night application which I am sometimes just too tired for. I have left professional facials with my face red and irritated. There is no way I can go show my face in public until the next day. So I am very pleased to have this treatment in my pocket which skips the dry, patchy, irritated phase and leaves me with unbelievably quenched skin.
The mask is pumped up with Tuber Aestivum (White Truffle) Extract for added fatty acids and loaded with my favorite skin vitamin, Vitamin E, provided by the avocado oil. This mask is like a conditioner for your skin, leaving your face supple and luminescent without being oily or greasy.
The texture of my skin after using these three products in the morning is so soft. I go into my day confident that the moisture, glow, and protection will hold up.
Truffoire Night Recovery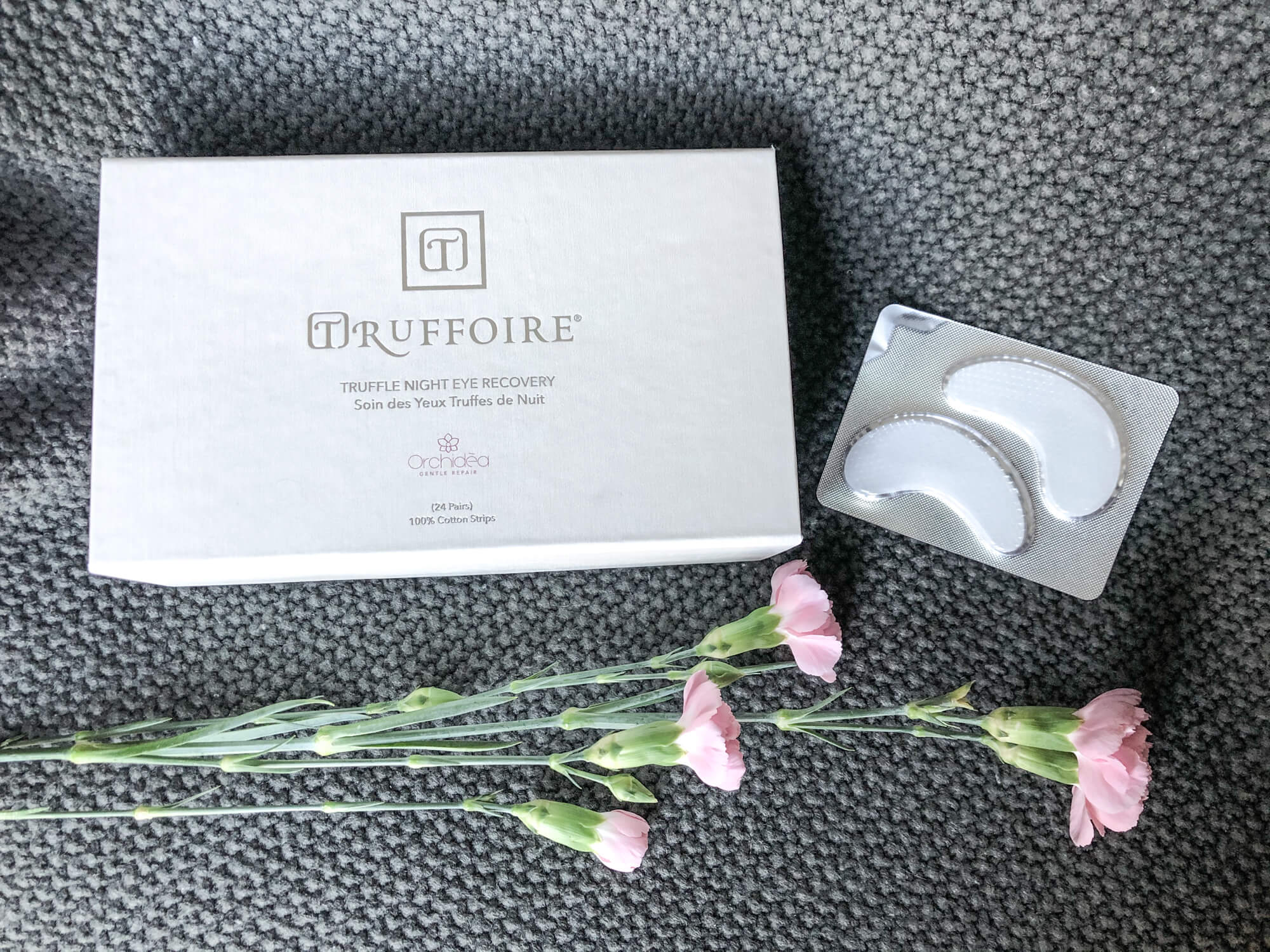 I use the Truffiore Night Recovery system as I'm unwinding for the day. This is an easy to use gel eye pad system, loaded with botanicals to soothe and refresh the stress-bearing skin around the eyes.
After washing my face, I simply place the pads under my eyes. They aren't aggressively sticky where it would hurt to pull off from your delicate skin, but they adhere securely enough so you can move around, perhaps to prepare for the night. That is my preference, as sometimes these sorts of eye pads are too gooey, with product sliding dangerously close to my eyes or forcing me to lay perfectly still for the 15-20 minute application. But these have a perfect balance of moisture. As an added tip, I put these in the refrigerator a few minutes before use for extra invigoration.
After the pads are easily removed (they easily slide off) there is just a slight amount of product to tap in with your fingertips. And voila! The bags that have been accumulating under my eyes all day, the tension from squinting at a screen, and my exhausted look is now firm and uplifted, leaving me feeling refreshed and at ease.
The box comes with 24 pairs, and you can use these two to four times a month.
Truffoire Night Repair Truffles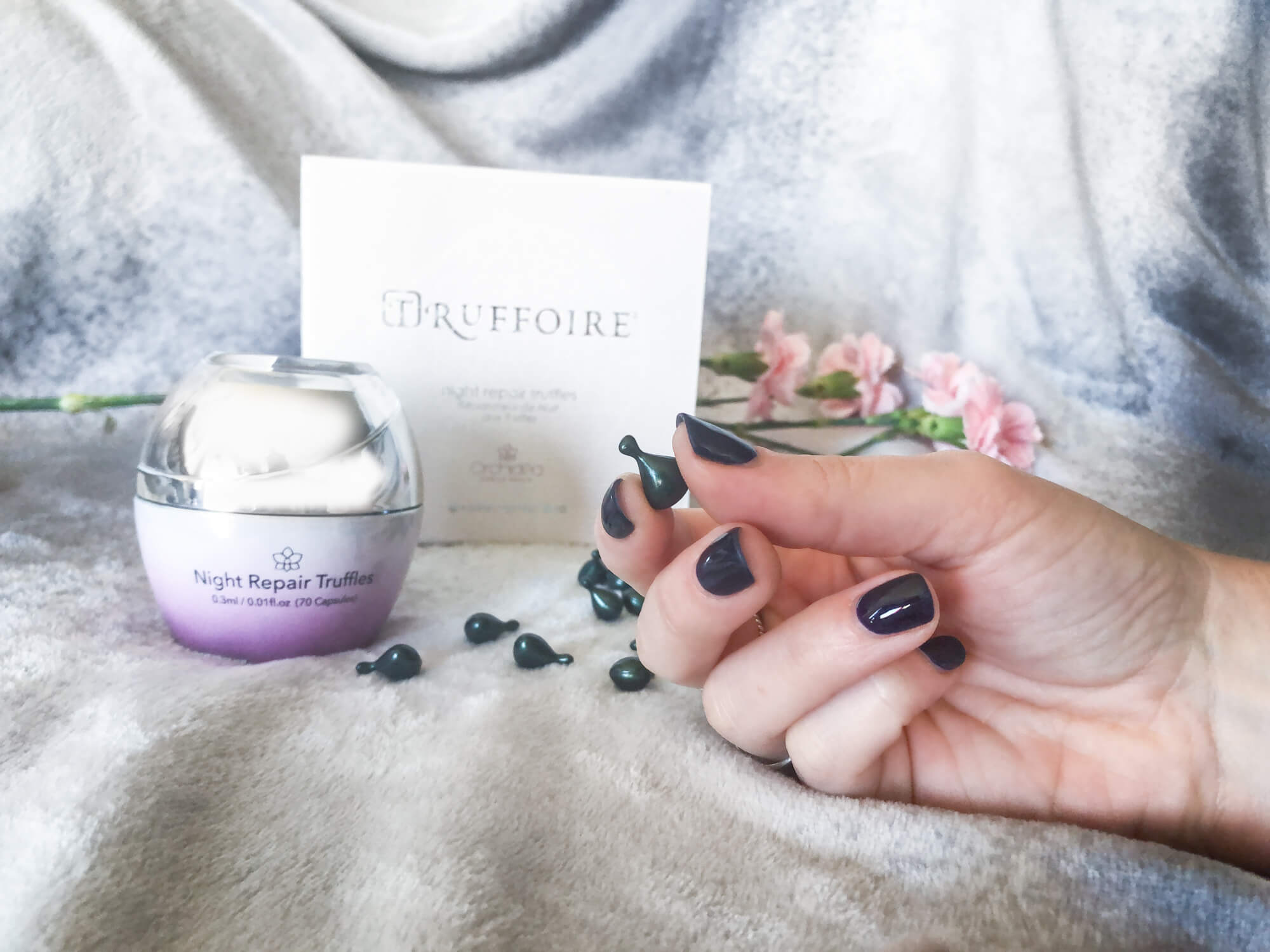 In between using the Night Recovery System eye pads is the option for the Truffoire Night Repair Truffles. You can use these once a week. And I would highly suggest these truffles!
I have never seen a product like this. They are like luxurious little nibs that squeeze out a magical healing potion, as if you are piping your face with drops of delicious icing. I specifically target the "elevens" between my eyes and the fine lines forming around my lips. I was concerned that one truffle wouldn't be enough product to address all of my areas of concern, but I was surprised how far just one truffle could go. Other products which require heavy layers to cover my whole face end up leaving a waxy, soiled feeling. This was just the right viscosity to do the trick without weighing me down.
The bonus ingredient in the Night Repair Truffles is the Plukenetia Volubilis Seed Oil.
Also used to treat sore muscles, this oil promotes cell metabolism and regeneration, which makes it suitable to treat inflammation.
I twist off the narrow end of the truffle, and the silky product comes out with a light squeeze from the larger end. I can tap the product on with my finger tip or dot the product straight from the truffle to my skin. How easy is that?!
The results from these truffles are immediate. My face is so soft and smooth, it almost feels like a waste to use these before bed- my face looks great! I should go out and show off!
But they are also a little treat, your own private spa moment to be shared with a splash of wine and a piece of dark chocolate. The Night Repair Truffles container comes with 70 truffles, so that's 70 nights of guaranteed self care.
The most unique feature about these truffles is the truffle themselves. Having this product "individually wrapped" per use helps me feel like it's not getting contaminated. Aren't the bottom servings of other night creams saturated with bacteria by the time you get to the bottom? The format of these truffles promises that the last truffle will be just as pure as the first.
Overall, the combination of the Orchidea Truffle Collection brings forth an accessible skincare routine that still feels as unique as the rarest truffle. After all, we only get one set of skin, so we might as well take care of it. With this collection I have an arsonal to combat any premature aging, and help renew and restore old problem spots, leaving a bright, fresh, healthy-looking complexion.