What to Do With Your Leftover Lipstick
|
There's always that horrible moment when you come to the end of your lipstick, where you can still see all the glorious makeup still in the bottom of the tube but just can't get to it! This is especially hard to deal with when it's a favorite of yours, but you eventually have to deal and just throw it out. I had always wishes for a better way than throwing out the leftover, so that's why I'm sharing this easy solution with you!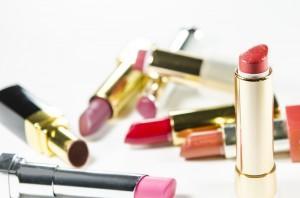 The best thing to do with those forgotten leftovers is to give them new life! You can make a lot of new cosmetics using these bits of leftovers. The first thing you have to do is get a toothpick and scrape out whatever you can from the tube, and put it in an empty cosmetic pot (the kind you can get at any beauty supply store). Then choose which of these following things you want to make!
Lip Gloss
Get some vaseline and put a little amount into the cosmetic pot with your scraped leftovers and mix it all together. Put it somewhere warm to let them melt together and stir some more before letting it harden, et voila! Apply to your lips with a brush or your finger.
Cream Blush
Mix a drop of argan oil into your pot with the leftover lipstick, or use the back of your hand to mix the two together—your body heat will help melt them down and make it easier to mix. Lightly apply to your cheeks.
Tinted Balm
This one takes a bit more work than the other two options but is totally worth it! Mix 1 teaspoon sweet almond oil, 1 teaspoon beeswax pellets (you should be able to find this at your local health store), and your scraped lipstick in a microwaveable bowl and put it in the microwave. Leave it in for 30-second increments, stirring after every time until it's all melted together. Once melted, use a spoon to mix it all and then pour into a cosmetic pot and then let it sit until the balm is solid!