3 Kinds of Guys You Date in Your Early 20s
|
Navigating life as a single girl in your 20s can be fun and exciting. The dating world can get pretty crazy, with so many diverse people out there all looking for some companionship or their future husband or wife. Though there are a lot of different kinds of people out there, these are the 3 kinds of guys that almost every girl dates in her early 20s.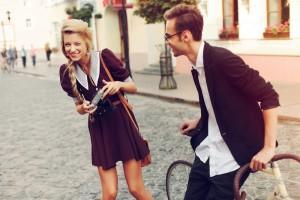 The Guy Who Thinks He's Got It All Figured Out
This guy probably got a decent job right out of college and thinks that he's pretty set for the rest of his life. He's still young but acts like the 65-year-old CEO of a Fortune 500 company. He loudly and often proclaims himself to be a 'young professional' and is very concerned with appearances. His ideal date is taking you to fancy restaurant because he wants to impress you, and he always insists on picking up the tab and insists he can afford to but probably actually can't. He likes to buy you expensive things that you probably don't really need, and shows his affection by throwing his money around.
The Older Guy Who Does Not Have It All Figured Out
This guy is a bit older than you, and at first you think that might be good for you, until you realize he doesn't have his life sorted out much at all. Maybe he has a kid, or recently got out of a long term relationship, or he still lives at home, but he's not quite where you'd hope to be when you're his age. Date nights with him are much more low-key—he likes hanging out with his friends and it's important to him that you get along with them too.
The Dreamer
This guy lives in the big city and probably works at a coffee shop or a temp agency, and is just doing it to pay the bills while he tries to realize greater goals. The thing that's actually important to him is his music/the novel he's writing/that food truck he wants to start up with his best friend. He has big plans for the future and is in a kind of limbo state while trying to achieve them. He's adventurous and takes you to fun new restaurants to try and is always up for anything.